Naming conventions can make the difference between collecting easy to understand data and data that is very hard to use.
Not only web analysts, but also digital marketers need to understand how the different sections in Google Analytics are structured. This is of key importance to deriving greater insights from your data.
In this post I will share my ideas on naming conventions and hierarchies for your account structure, campaigns and events.
By following a few best practices you will save a lot of valuable time for doing analysis instead of losing time just wandering through your account.
1. Account structure
Every user can have access to one or more accounts, properties and views in Google Analytics.

In total you could have access to: 100 x 50 x 25 = 125.000 reporting views. Not that this will be ever the case, but you can imagine how important it is to name your administrative section in a proper way. Read this support article for more information on account structure hierarchies.
Account
Most of you will have access to one or a few website accounts. For the "account name" I recommend to use either the name of your organization or website. In my case:
Organization: Online Metrics
Website: online-metrics.com
If you have access to multiple accounts, try to stick to using either the organization name or website name but not both. It's all about being consistent!
Property
It's a best practice to use numbers if you have multiple properties in your account. Let's assume you have three different environments: production, staging and gtm (test property). You could use the following property structure:
1. Production (UA-123456789-1)
2. Staging (UA-123456789-2)
3. GTM (UA-123456789-3)
This setup makes it more easy to sort on your properties. Remember to use the lowest number for the property that is used most often. By doing this your most used properties will show up on top of your account.
Views
You might only have access to one account and one property. However, very often multiple views are set up to collect different data sets in a separate environment. Here are some rules to incorporate:
Use the property name in your view name (applicable if you have multiple properties).
Use numbers to distinguish between different reporting views.
Use single digits if you are sure you won't create more than eight or nine reporting views.
Use double digits if you might create more than nine reporting views.
This is an example setup for a "production" property:
1. Production all data (no filters)
2. Production all data (IP filters)
3. Production internal traffic
4. Production desktop only
5. Production tablet only
6. Production mobile only
Note: you might want to ask your colleagues to set up a clear naming structure in the admin section if you don't have the access rights to take care of this. At the end it will help everyone to find the data in the quickest possible way. Setting the user permissions in a smart way is another thing you should do to keep in control!
2. Campaigns
Campaign tracking is another crucial piece in getting meaningful, well-structured data in your Google Analytics account.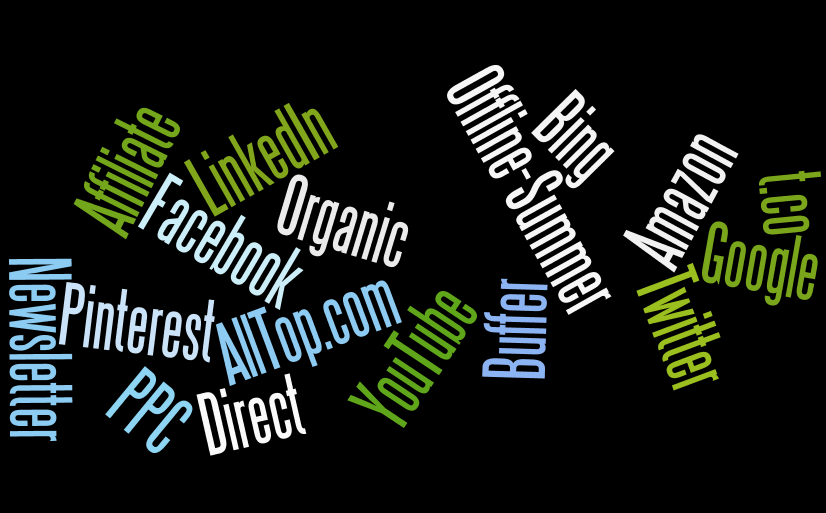 I like to describe campaign tracking as: "The endless process of structuring and measuring your online marketing campaigns so that you can analyze and optimize your online traffic sources and outcomes". The words in bold refer to:
Endless process: you need to do it right today and tomorrow.
Structuring and measuring: you need to use parameters to structure your campaign URLs.
Analyze and optimize: target and optimize subsets of website visitors.
Channels and outcomes: allocate your online marketing spent to the best converting channels.
On default, Google Analytics can correctly measure direct traffic, organic traffic and incoming referral traffic. AdWords traffic can be added to this list as well if you get the integration between AdWords and Analytics right.
Naming conventions for 5 parameters
Google Analytics incorporates five parameters you can use to build a campaign tracking URL:
utm_medium: identify a medium, e.g. email, affiliate or organic (required).
utm_source: identify a source, e.g. yahoo, zanox or amazon.com (required).
utm_campaign: identify a campaign, e.g. fall promotion or summer contest (required).
utm_term: identify the keywords that drive traffic.
utm_content: differentiate ads or links that point to the same URL, e.g. newsletter links.
Best practices:
Start with identifying the medium for your campaign link; this is generally the highest level in campaign tracking.
Create your links using a spreadsheet (for many links) or use the Google URL builder add-on (if you have just a few links).
If you use a spreadsheet, make sure to add the responsible person and start (and end) date of a campaign.
Dont't wait to add campaign tracking parameters to your spreadsheet until you forget about it.
Involve every person in marketing so that they know how campaign tracking works.
Make sure not to pass any personally identifiable information (PII) in a campaign tracking parameter.
Set up Google Analytics lowercase filters on campaign parameters to automatically handle small mistakes (e.g. using Email instead of email).
Thoroughly review your campaign tracking procedure and spreadsheet on a quarterly basis (at a minimum). Is everything going well or do you need to make some modifications?
What if your current campaign tracking looks like a mess? This is an example of a bad setup: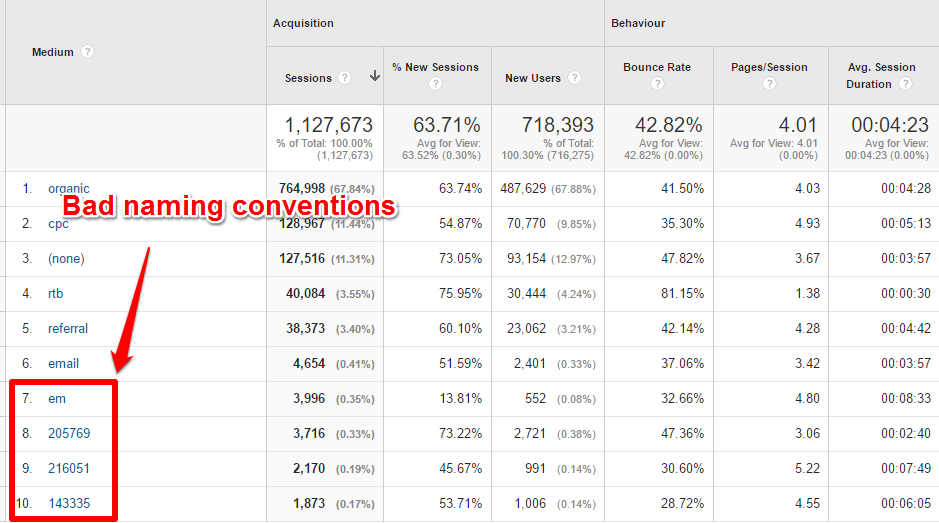 Without doubt this is going to lead to interpretation problems. Who knows in this organization what these media definitions mean? Probably just one or two persons.
In this case I recommend to set up a channel grouping – together with the person who is responsible for creating this medium structure – to retroactively bring the right context to your data.
This great post by Annielytics is very useful if you want to learn more about channel groupings.
What if you make a "mistake" in your future campaign tracking definitions?
Let's assume one of your colleagues uses "e-mail" instead of "email" to tag a few newsletters. First of all, you can't undo any media information that is passed into Google Analytics.
However, if you are on time, you can quickly modify how Google Analytics measures the actual campaign.
Therefore you need to use a "Search and Replace" filter: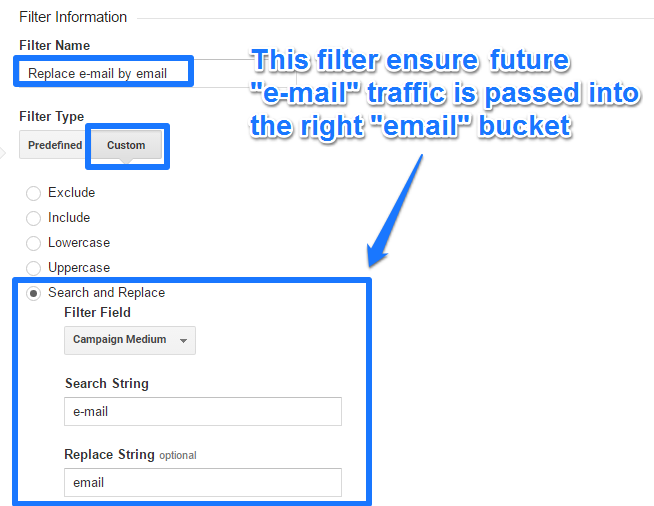 You can set up a few "Search and Replace" filters in advance. So that any future mistakes are corrected automatically. The difficulty is that you need to predict the kind of mistakes that you or your colleagues are going to make!
Without doubt "campaign tracking" is one of the most (maybe the most!) important features in Google Analytics to get right.
You want to analyze and optimize your campaigns in the best possible way and this is impossible if you make a mess of your campaign tracking structure!
3. Events
There is one more feature I want to shortly discuss: event tracking.
You can directly implement events hardcoded on your website, but in most cases I recommend to implement events via Google Tag Manager.
Events can be used for literally anything that describes an interaction or a simple event happening on your website (other than a default pageview).
The three common labels are:
eventCategory
eventAction
eventLabel
eventValue
It's completely up to you how you want to pass this information into Google Analytics. But, here is how I usually go about it:
Event Category – the name of the group of similar events you want to track. For example: Downloads, Outbound Links or YouTube Videos. Make sure to always use the "plural" form to keep your naming consistent.
Event Action – the name of the type of event you want to track for a particular element on your website. For an embedded YouTube Video this could be: play, pause, 0%, 25%, 50%, 75% or 100%.
Event Label – the name of the web page element, whose users' interaction you want to track. For an embedded YouTube Video this could be the title of the video.
Event Value – the numerical value assigned to the event you want to track (optional).
It depends on the involved website and exact informational needs, how I determine the final structure.
However, keep in mind that preferably you shouldn't structure your event category groups in one account in a different way. Usually there are quite a few events implemented on a website. So people will get lost if you create a very unlogical structure.
Finally I like you to create a spreadsheet for your event tracking structure as well. Especially if you deal with a larger website, this makes it much more easy to keep track of what is being measured and where!
Final thoughts
As you have seen, hierarchies and naming conventions are crucial in Google Analytics. They determine how effectively you can spend your time in Google Analytics.
Of course, it is very important to create a good structure for everything you do. But of equal importance is keeping track of what you do. Simple spreadsheets built and shared via Google Drive will do.
I hope you have picked up a few new methods to organize your Google Analytics account in a better way!
What are your thoughts? Do you already use naming conventions in Google Analytics and in what way? I am happy to hear your opinion!
About Paul Koks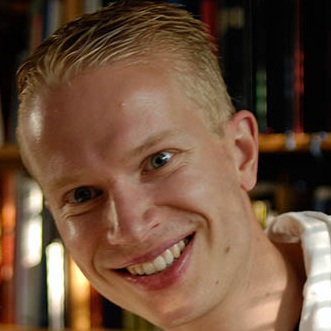 Paul Koks is an Analytics Advocate at Online Metrics and a guest writer forSupermetrics. He is a contributor to industry leading blogs including Kissmetrics,SEMRush, Web Analytics World and Online Behavior and the author of Google Analytics Health Check. Paul helps companies to capture valuable insights from simple data. You can find him on Twitter or LinkedIn.