ANALYTICS TOOLS · 6-MINUTE READ · By Paul Koks on December 19, 2016
As a digital marketer you should not limit yourself to one or two analytics tools. Your understanding of your visitors and customers will start to explode once you combine the insights of multiple tools.
A great marketer or analyst understands the value of a wide range of tools instead of just being an expert in tool X.
You don't have to exactly know how to use all tools on the market; it just makes a big difference if you know which tools are useful and why.
In this post I will elaborate on five different Analytics tools that can be a great help to understand your customers and grow your business.
Each of them have their value, but if you combine the insights of all tools you will gain so much more.
Let's dive right in!
1. Web Analytics Tools
The first one is a no-brainer. You want to have at least a basic knowledge of digital measurement tools like Google Analytics.
Collecting meaningful and accurate quantitative data is the starting point for most companies.
Make sure to spend enough time in getting your measurement plan in place. So that the implementation and configuration can be done in a proper way.
Adobe Analytics vs Google Analytics
I often get asked: "which tool is better?"
There is no single answer here. The best answer would be:"it depends!"
For most companies out there Google Analytics is a great solution. With its free edition and Google Analytics 360 it can serve a large range of businesses.
Read this article to learn more about the differences between the free edition and GA 360.
You need to have the right people, a great process and suitable tools to get the job done.
As a rough guideline:
Google Analytics (free edition) is suitable for most online businesses that don't attract a ton of traffic (more than a million of visitors each month). Or simply don't have a dedicated team and process for optimization in place yet.
Google Analytics 360 is a perfect solution for those companies who have to deal with large amounts of data and run into sampling problems on a weekly basis. In addition these companies should be much higher on the digital ladder than companies who use the free edition. You really have to take Analytics and Optimization seriously if you consider Google Analytics 360. This goes far beyond employing one full-time digital analyst or data scientist.
Adobe Analytics can be a pain to set up. But at the same time, it's so flexible. Especially their ad-hoc analytics module allows you to quickly analyze data sets and apply segments beyond your imagination. If you are in the enterprise world and have both the technical and marketing resources and Google Analytics 360 doesn't completely fulfill your needs, you can consider Adobe Analytics.
In my experience I have found that most companies don't use the potential of Adobe Analytics if compared to Google Analytics. In this case I would strongly suggest to stay with Google Analytics 360 as it is most often much easier to implement and less costly.
And keep in mind, your tool is worth nothing if you don't have the people to take advantage of it. Such a simple rule, but so often forgotten!
2. Online Survey Tools
Your web analytics tool is great in collecting information around the What. So that you can easily find out what is happening on your site! Assuming that you are collecting meaningful and accurate data.
However, if you don't collect Voice of Customer (VoC) data you are missing out.
I have come across many companies who are overly obsessed with their NPS score.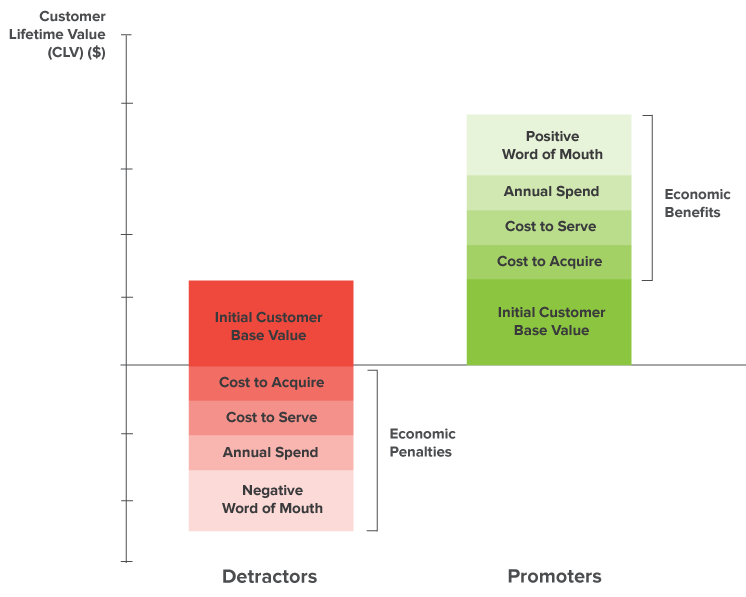 It's a proxy in a sense that it gauges the customer's overall satisfaction with a company's product or service and the customer's loyalty to the brand. It's ok to measure it, but it doesn't tell that much in my opinion.
So in addition I strongly recommend to implement online survey tools to learn more about your website visitors and their desires.
I recommend to check out Qualaroo if you are serious about running online surveys.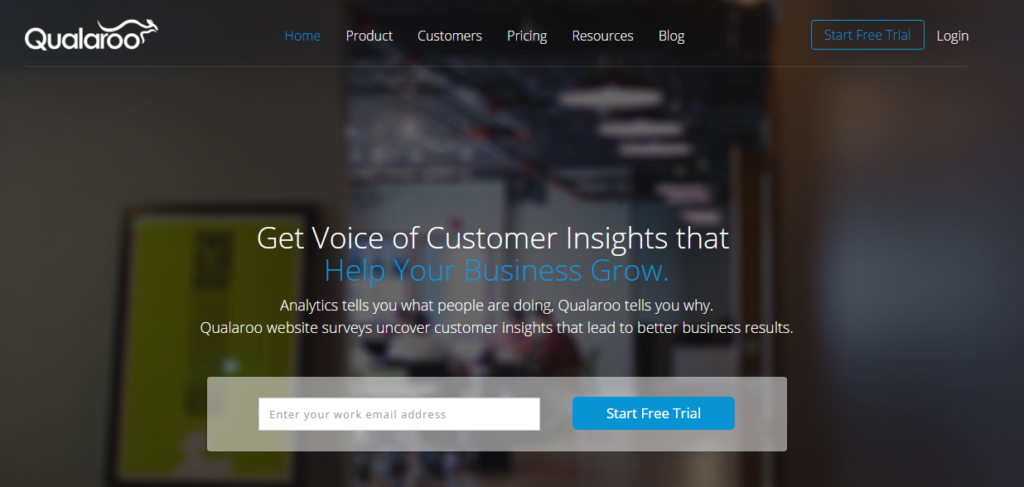 Three ways to make online surveys useful:
Identify who is visiting your website so that you can better segment and personalize.
Identify what people try to accomplish on†your website so that you can better serve them.
Get a more holistic overview of your website visitors by supplementing your behavioral data with VoC data.
VoC data is really powerful and you should definitely collect it.
Always make sure to only ask questions that are relevant for your visitors and cannot be answered with other data sources without bothering your visitors.
You just have to find out how far you can go without negatively influencing the user experience and your business results.
3. CX Analytics Tools
Customer (Experience) Analytics tools can be a great help if you want to get down to the nitty gritty of what's happening on your site.
Typical questions you can get answered by these tools are:
Which forms have the highest exit rate?
Which fields have the highest amount of re-entries?
On which pages are visitors struggling the most?
How do visitors behave in the conversion funnel?
Do visitors read content below the fold?
Do visitors actually see the call-to-actions on this page?
These tools typically come with the option to track all behavior of every visitor on your website. By aggregating the data and using built-in algorithms it is possible to identify on which areas on your website you need to improve.
I strongly recommend to watch this Advanced Funnel Analysis video by Gary Angel if you have a specific interest in form and funnel optimization:
The beauty is that both online survey tools as well as CX Analytics tools can be flawlessly integrated with your web analytics tool.
By doing this you can retrieve the most insights from your data.
There are quite a few vendors in this market. Here are three suggestions for tools in this category:
4. Landing Page Building Tools
According to Hubspot research, the typical landing page converts at 5 to 15%.
The three main reasons that digital marketers are resistant to using landing pages in appropriate situations:
They take too long to create or are too difficult to create
They've never been able to achieve incredible conversion rates in the past
They don't know how to systematically improve their landing pages
Lucky you, all three of these problems can be solved with tools.
Landing pages are a great help in customizing the experience of a subset of users. You can use a ton of different landing pages that best match your customer segments.
Based on my own experience, I recommend to check out these two tools:
1. Unbounce
One of the leading landing page creation tools is Unbounce. The name suggest that visitors to their landing pages don't bounce but convert.
This tool is very simple to use because of its "drag and drop" interface.
Some more features will you like:
100% mobile responsive
Publish to any domain
Easily add any script, without needing IT resources
Drive conversions with overlays
Match your branding
Make sure to check out whether Unbounce might be the right fit for you.
2.Leadpages
On my own website I have integrated Leadpages in the conversion funnel and with great success.
For less than $50 per month you can built an unlimited number of landing pages.
They cannot only be used†as landing pages, but also as "normal" pages on your main domain or any other domain you prefer.
The beauty is that you can literally set them up in minutes because there are so many templates available.
I really hope these tools lessen your dependence on IT and get you ready to deploy high converting (landing) pages in the near future!
5. A/B Testing Tools
The last, but unmissable piece of the puzzle consists of A/B Testing Tools.
Controlled experiments are one of the best ways to actually test all the quantitative and qualitative data and assumptions you have collected with all tools mentioned before.
Simply changing your website pages and structure based on the What and the Why is something you shouldn't do. Running controlled experiments will help you to find out How you can offer the best user experience based on a valid test.
There are many†tools on the market that you could use for running your A/B tests.
Optimizely or deploying your tests via Google Tag Manager (for free) are both a great choice. I have in particular good experience with running A/B tests via Google Tag Manager. You can either use events or custom dimensions to capture your test variations.
Segmenting your test results is one of the best strategies to learn what works and for what audience.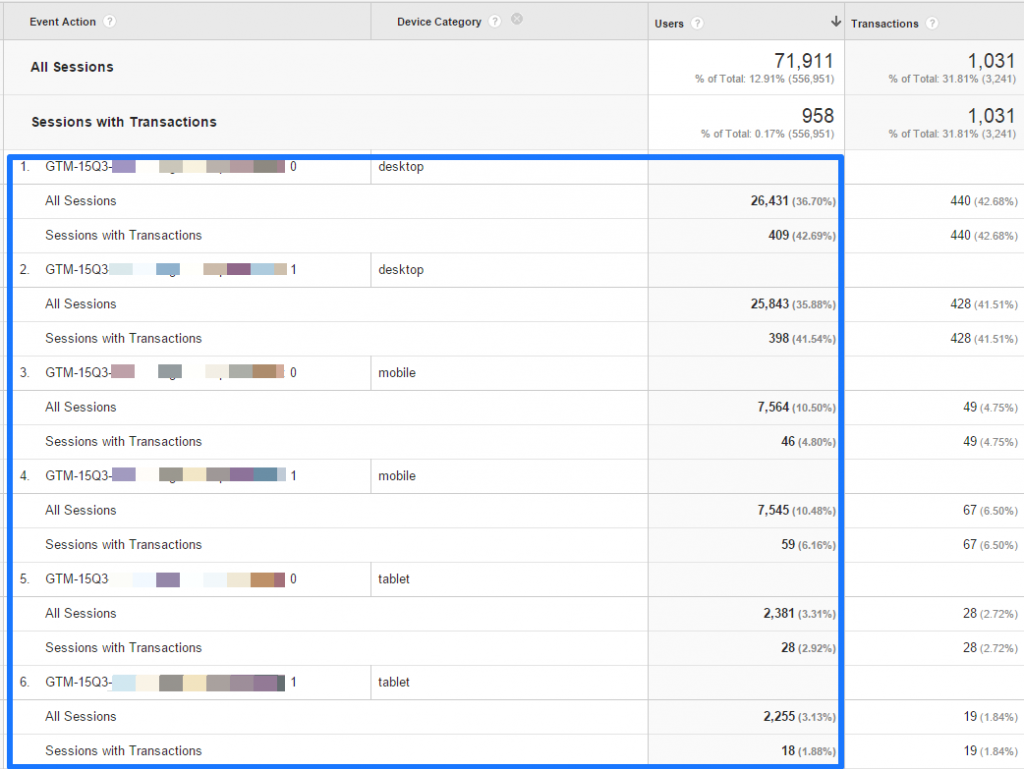 The ideal situation would be when you can feed your Google Analytics account with the test results. Read this article to learn more about integrating GTM tests with GA data.
Hope you have picked up a few great new ideas here. What other type of tools would you recommend to add to this list?
About Paul Koks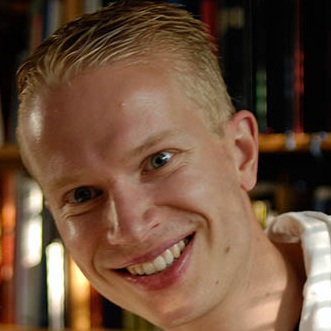 Paul Koks is an Analytics Advocate at Online Metrics and a guest writer for Supermetrics. He is a contributor to industry leading blogs including Kissmetrics, SEMRush, Web Analytics World and Online Behavior and the author of Google Analytics Health Check. Paul helps companies to capture valuable insights from simple data. You can find him on Twitter or LinkedIn.