7-MINUTE READ · By Paul Koks on April 25 2016
Do you spend hours of your time creating reports each and every month? Or do you automate every single piece of it?
A lot of companies still spend too much time manually creating and updating reports.
Report automation is key in a digital world with an abundance of data. It doesn't matter whether your job directly involves SEO, PCC or digital marketing in general, being efficient with your reporting is something you shouldn't neglect.
I like to compare Reporting Squirrels with Analytics Ninjas.
Reporting squirrels
Reporting squirrels spend 80% of their time in data production activities.
This is often manifested in creation of reports for their direct leader or team. The job includes activities as: pulling data, ad-hoc requests, scheduling reports and dashboards, talking to the IT department to collect more data etc.
Analytics ninjas
Then we have analytics ninjas who spend 80% of their time in analysis that delivers actionable insights.
In service of analysis the job includes: pulling and segmenting data, slicing and dicing, modeling, creating unique datasets and answering relevant business questions. It's all about actionable insights that drive your ROI of data and analytics!
Who do you want to be?
Let's dive into the benefits of report automation.
1. It frees up valuable time and resources
Freeing up valuable time is one of the main benefits of building a fully automized reporting system.
Let's assume you are employed as a Web Analyst. Every month you spend 20 hours creating, updating and distributing reports.
Imagine what you could do with 20 extra hours:
Take a course to further strengthen your analytics skills
Write blogposts to share your knowledge and build your brand
Educate junior analysts in your organization
Come up with thorough advice on how to serve your customers better
You will come up with great ideas that will both benefit you and the organization you are employed!
2. No more waiting line
Here is an example from my own experience.
Ten years ago I was spending a lot of time filling in numbers in an Excel sheet for one of my clients, each and every week. Unfortunately it wasn't automated yet at that time.
This company always liked to get the numbers (new reports) as soon as possible.
You don't have any problems with this anymore once you automate the creation and distribution of your reports. Your clients or boss can directly access the most important KPIs.
Please be careful to not just send plain reports, but add valuable insights and context to the data as well.
3. Data accuracy is usually higher
Manual intervention leads to errors which can be prevented with reporting automation.
Copy and paste a number at the wrong section and there you go.
Many companies use Google Analytics, Google AdWords and a few other tools. And things can get very complicated. You don't want to take the risk to mess things up.
This could be the difference between taking the right decision to move your company forward or getting bankrupt.
The more reporting that you do and the more tools you use, the higher the chances are that something goes wrong.
4. Increase ROI
It doesn't matter whether you create reports for your own organization or clients.
Freeing up time for other activities than reporting usually helps you to gain more insights from your data.
For example, you have more time to come up with a great hypothesis for A/B testing or to find out how to spend your marketing budget most effectively.
Acting on these insights will greatly lift the ROI of your online business.
5. Increased flexibility
Google Analytics standard reports are great to get a first idea on how things are going.
Custom reports are definitely a better option that the standard reports since you can fully customize them to your needs.
However, if you wish to combine data sources, e.g. Google Analytics and Mailchimp, you need to do data manipulation in an external tool.
So if you decide to automate your reporting and use an external tool, you have all the flexibility you need.
In general, you will develop a better overall understanding of your visitors and their behaviour if you combine multiple data sources.
6. Higher job satisfaction
Good, loyal analytics employees are scarce. You don't want them to be tired and bored because of doing "reporting".
Once a Web Analyst get's bored because of plain reporting, the job satisfaction drastically declines. And this is not only true for Web Analysts.
In a market with a huge demand, switching jobs is then often unavoidable.
It's a mutual responsibility to keep the job satisfaction high.
So it doesn't matter on which side you are. Work on projects that keep everyone motivated!
7. Higher ROI on your services
Let's assume you work at an agency and one of your services is providing your clients with recurring reports and dashboards.
The first setup for a client might take some extra time if you are new to report automation.
The next time you will be much quicker to provide similar or even better results because you know what to!
And very often you can use your last template as a foundation for your new report.
Another thing is that you have a lot of time left for deeper analysis so that you can come up with great insights and advice.
8. Quick wins
Report automation is most often quick and inexpensive to implement.
Of course it all depends on the size and complexity of your current reports. And the knowledge of automation within your organization.
Spending your time to learn how to automate your reporting will pay off big!
Here is what to do you when you have lots of tools and reports in your organization:
Start with automating the reports that eat up most of your time
Prove to your boss that it saves time
Apply the same strategy to the following set of reports
Continue until all your reports are automated
Do you think the price is too high?
A full installation of Supermetrics for Google Drive will cost you between € 40 and € 90 a month.
I guess I don't have to do the math if you spend 10 or maybe even more hours on reporting every month. Your hours are much more valuable and should be spend on generating wisdom instead of plain reporting!
9. Rethink the numbers that matter
Automation takes a lot of time if you have hundreds of reports distributed in an organization.
But is it really necessary? How many people do actually read the reports and act on the data?
Once you decide to automate your reporting efforts, you want to take a critical look at your reports.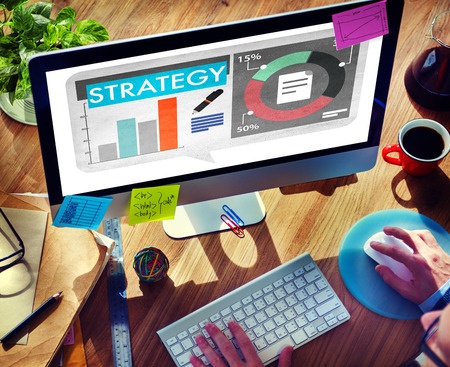 Do you have dozens of Google Analytics reports scheduled each and very week? You need to change that..
What are our main KPI's? What information does my company or client really need?
This decision will make you re-think your numbers and the information you need to provide to your stakeholders.
10. It's both fun and rewarding
You might not agree with me here, but I think report automation is a lots of fun.
It is very rewarding if you have accomplished to automate your reporting process and it simply makes you feel good!
In short, you will want to create a data-driven culture, where you minimize reporting time and focus on the analysis and insights.
There are seven steps the legendary Avinash recommends to follow: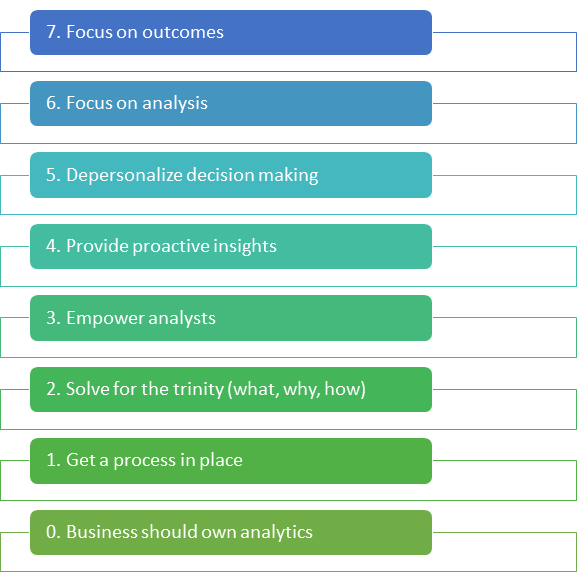 This is it from my side. I hope you have enjoyed reading this article!
Do you already automate your reports? And what are your main challenges? I am happy to hear your thoughts.
About Paul Koks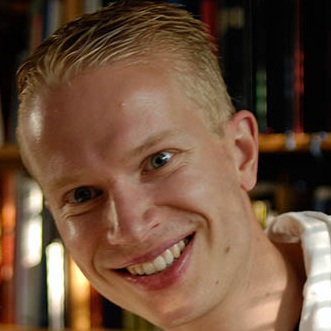 Paul Koks is an Analytics Advocate at Online Metrics and a guest writer for Supermetrics. He is a contributor to industry leading blogs including Kissmetrics, SEMRush, Web Analytics World and Online Behavior and the author of Google Analytics Health Check. Paul helps companies to capture valuable insights from simple data. You can find him on Twitter or LinkedIn.