Jun 15, 2020
How to improve business performance by combining marketing and business intelligence in your data warehouse
8-MINUTE READ | By Moulaye Traore
[ Updated Mar 8, 2023 ]
Are you thinking about unifying your marketing data to maximize its impact on your business performance?
If your answer is 'yes', there are two important concepts you need to master:
performance at the enterprise level: goals, business performance, business intelligence and your enterprise data warehouse;
performance at the marketing level: goals, marketing performance, marketing intelligence and your marketing data warehouse.
Easy access to the right information and the ability to generate (and act on) insights are at the core of business performance.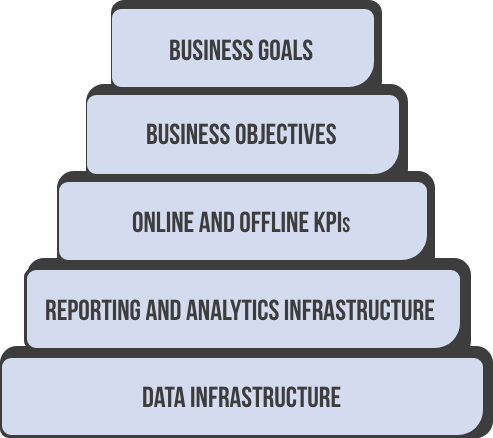 In the context of this article I would like to clarify what I classify as business intelligence and marketing intelligence vs. business analytics and marketing analytics.
Business & marketing intelligence defined
I define business intelligence as all the tools and techniques that allow an organization to gather facts and information about the performance of its business processes and operations. These techniques are mostly descriptive statistics (What happened?) and the tools are mostly reports and dashboards (supported by a data infrastructure).
In a nutshell, it allows a company to monitor the performance of its business operations. The definition is similar for marketing intelligence, but applied within the boundaries of marketing initiatives (campaigns, competitions, products, pricing etc.).
Business & marketing analytics defined
I define business analytics as all the tools, methodologies, and techniques that allow an organization to find meaningful patterns in the data, from which it can derive actionable insights and optimize its processes to reach its business goals. Of course, descriptive statistics are included in these techniques since you can't derive conclusions if you don't understand your data. These tools and techniques mostly involve running diagnostics and predictions.
Business analytics tools are often integrated within a business intelligence environment (OLAP, connection to the data warehouse through SQL clients, data mining tools to run predictive analytics etc.). Here again, the definition is similar for marketing analytics but applied within the boundaries of marketing initiatives (campaigns, competitions, products, pricing etc.). Marketing intelligence and marketing analytics are often used interchangeably.
Business performance, business intelligence, and the enterprise data warehouse
All businesses have goals or targets to achieve and these goals are usually achieved by departments or lines of business. Enabling these departments to monitor how close they are to their targets requires a set of metrics known as key performance indicators (KPIs). These KPIs are usually accessible through an intuitive reporting interface.
These performance reports are powered by a set of technologies operating in the background, which are part of a business intelligence ecosystem.
One of these technologies is the enterprise data warehouse. The data warehouse is a centralized storage infrastructure that groups together all enterprise data (multiple data sources). Traditionally this data comes from transactional systems (sales transactions, customer transactions, operations, etc.).
Needless to say that data quality, consistency, and relevancy are key attributes when designing a data warehouse. These data warehouses can be hosted on-premise (infrastructure inside the organization) or in the cloud.
Your data warehouse will usually reflect key facts about your key processes: purchasing an item (in store or online), subscribing to a service or plan, fulfilling orders, opening an account, submitting issues or tickets, etc.
In some organizations subsets of the enterprise data warehouse are built to be tailored to a specific department or business unit, we call these entities data marts.
The following graph illustrates an enterprise data warehouse with some data marts: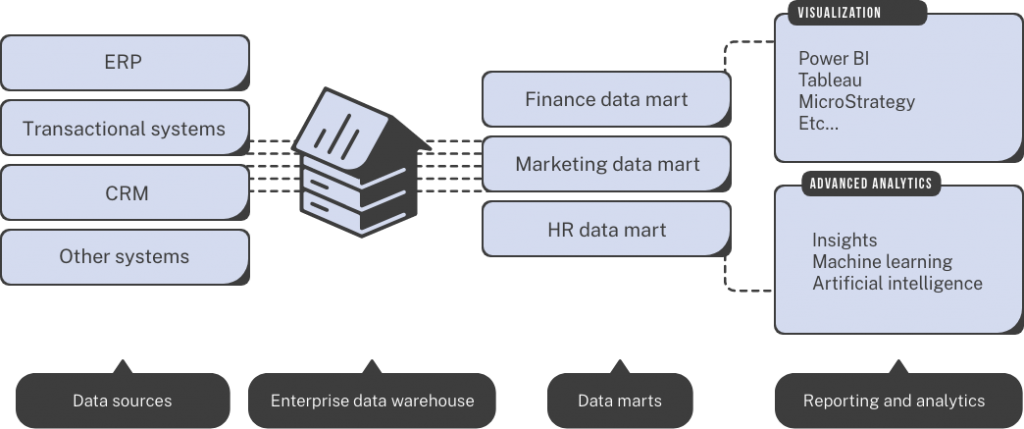 Marketing departments and specifically digital marketing departments have specific needs when it comes to data and performance metrics. They need tools that can respond to these specific needs.
Marketing performance, marketing intelligence, and the marketing data warehouse
The marketing department helps an organization promote its brand, and sell its products or services to customers and consumers; it contributes directly to the business' top and bottom lines.
Marketing performance is aligned with business performance (it should be) to have a maximum impact on the company's results. The marketing department, like other departments, has targets to reach on a monthly, quarterly, and yearly basis.
The marketing department needs tools to monitor its performance, usually in terms of return on ad spend (ROAS) or return on investment (ROI). The set of technologies used in the marketing sphere to monitor performance is classified as marketing intelligence systems or marketing analytics platforms.
The explosion of digital marketing over the last 15 years has created a lot of data sources to monitor to ensure that your marketing dollars are bringing you the kind of return you expect. To solve this issue, many vendors have released cloud-based data warehouse solutions and data connectors to make life easier for marketers and business analysts.
Many organizations have started to see the value in unifying this huge volume of marketing data in one place.
In a nutshell, a marketing data warehouse is just a data warehouse that enables you to store a large volume of granular data coming from multiple marketing data sources (web analytics, mobile analytics, ad platform, CRM data, etc.) to enable you to have an holistic view of your marketing performance.
When talking about structured data (e.g. a transaction or a set of well-defined dimensions), we often refer to the data warehouse as the central repository for your data, when talking about unstructured data (e.g. text files, images, audio) you will usually use a data lake.
You may also store raw structured data in a data lake as part of a staging ground for your data warehouse, which is an increasingly popular scenario. This is due in part to the cheap cost of storage in a lake. Moreover, you accommodate multiple and diverse reporting scenarios using the same raw data during the staging phase from lake to warehouse. Please refer to this article, written by my colleague, to understand differences between data warehouses and data lakes.
The true power of these marketing data warehouses is the ability to share this data across your organization using any type of reporting or dashboarding interface (Microsoft Excel, Google Sheets, Tableau, Google Data Studio, Power BI, etc.) or access it directly using SQL for more advanced data consumers (data analysts and data scientists).
Remember the data mart we discussed in the previous section? Your marketing data warehouse could be treated like a marketing data mart within your enterprise data warehouse ecosystem. To ensure data consistency, you should have a strong data governance plan in place. This allows your marketing data warehouse to become an integrated part of your business intelligence ecosystem (and not just another data store living in a silo).
There are a few key components that comprise a marketing data warehouse:
You can connect to the marketing data warehouse using visualization tools like Tableau, Datorama (marketing data integration engine), Power BI, Google Data Studio, Looker or a simple spreadsheet tool: Google Sheets or Microsoft Excel.
The following graph shows a marketing data warehouse as the centerpiece of a marketing intelligence system.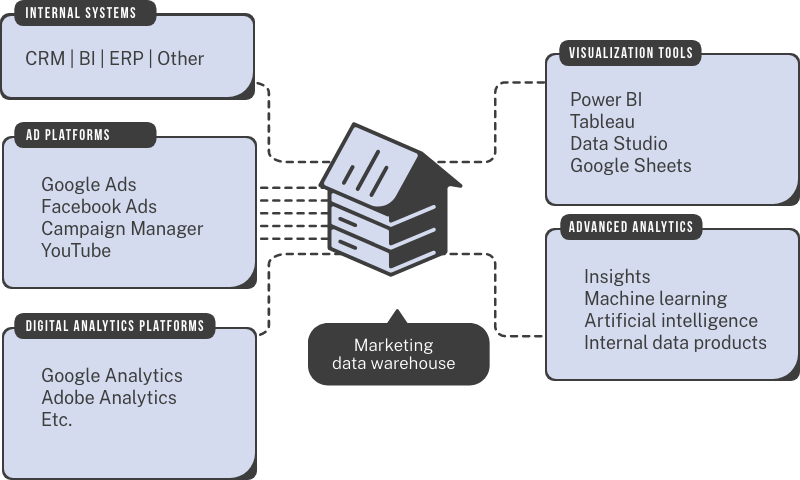 Some of the benefits of adopting a cloud-based marketing data warehouse:
Time and cost savings. You generally don't have to hire an army of data engineers and system engineers to set up a cloud-based marketing data warehouse. You will find that many pre-built data connectors already exist to load your data. It will take you days not months to have a working prototype. Furthermore you will not have to deal with the infrastructure necessary to scale; this operation is handled by your platform provider.
Improved productivity. You will enjoy faster time-to-insights since all the data is available in one place and accessible to the key stakeholders (marketing analysts, data analysts, financial analysts, and data scientists).
Improved business performance through augmented analytics. By combining automation and artificial intelligence with your data warehouse you can embed analytics into your marketing and business processes to improve decision-making and performance. It enables you to develop unique internal data products for your operational teams.
Better data governance through standardization and access to the same data sources at the enterprise level.
Data ownership. All your marketing data is accessible in your own cloud environment.
If you are currently looking to improve your productivity by unifying all your marketing data to get a 360 view of your marketing investments, please contact us.
About Moulaye Traore
Moulaye is the Marketing Analytics Director at Adviso. With over 10 years of experience in analytics, Moulaye helps his clients by leveraging the untapped potential of their data. His main focus is to create value for businesses by enabling them to transform data into insights. He is committed to providing a tailored solution for each client based on their data needs and challenges.
About Adviso
Adviso is an agency made up of strategy and digital marketing experts. Based in Montreal, Adviso has served over 750 clients within their 15 years of operation. Adviso is a part of Supermetrics' channel sales partner program.
Read more about Supermetrics' partner program and apply today >>
Turn your marketing data into opportunity
We streamline your marketing data so you can focus on the insights.