Today, we're excited to announce our partnership with Proof Analytics, an automated marketing mix modeling platform. But before we get to that, let's take a moment to talk about how we got here.
In the late 1980s, Procter & Gamble began deploying a system of analytics that eventually became known as Marketing Mix Modeling, or MMM.
Accurate and effective, the operational challenges of MMM were non-trivial. Given that everything was powered by tech stacks and data scientists, even the most basic program could cost many millions of dollars.
Scalability and speed-to-insight were major hurdles for the same reason, and the results required extensive interpretation so that typical business and marketing teams could understand them. Yet despite these challenges, the current market for traditional marketing analytics services exceeds $25 billion annually.
Sounds like a classic disruption opportunity, right?
Speaking of disruption… If you're interested in learning more about the Supermetrics bundle with Proof, feel free to use these links to navigate the article:
Otherwise, read on!
What is marketing mix modeling (MMM)?
Marketing mix modeling (MMM) refers to statistical analysis on historical marketing and sales data to estimate the impact specific future marketing activities will have on revenue. This helps marketers better allocate resources between different channels and tactics.
Over time, MMM has evolved into the practice of using regression analysis to estimate the relationship between a dependent variable (typically either sales volume or value) and one or more independent variables (i.e. individual marketing channels and/or tactics).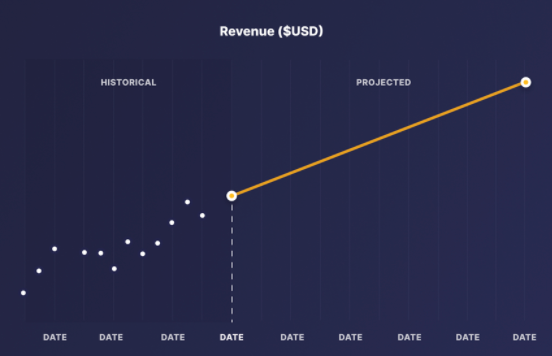 Marketing mix modeling vs. attribution modeling
While marketing mix modeling and attribution modeling can both be used to better understand the return on marketing investment, there's a fundamental difference between the two concepts.
Attribution modeling boils down to assigning a specific dollar value to each individual marketing and/or sales touchpoint in or near real time. Marketing mix modeling, on the other hand, is used to aggregate (a combination of internal and external) historical data to arrive at macro-level conclusions about different marketing activities' effectiveness.
Historically, marketing mix modeling has been especially popular among omnichannel brands across categories like CPG and retail, since their customer touchpoints are heavily divided between online and offline, making reliable attribution difficult.
However, in recent years, more and more ecommerce and SaaS businesses have also started investing in MMM to better understand which growth levers to pull based on historical performance data.
What is automated marketing mix modeling (AMMM)?
Instead of manually calculating the relationship between sales and different marketing activities, automated marketing mix modeling quite literally does the math for you.
This way, you don't have to be an econometrician or statistician to quickly estimate the potential impact of a particular marketing tactic.
Automated marketing mix modeling allows you to compare a variety of "what if" scenarios and base your marketing mix decisions on reliable data.
It's the best tool out there for making fundamental decisions like "Should I stop advertising on Facebook and move all my budget to Google Ads?" or "Should we start doing virtual events instead of sponsoring physical events?"
But how do you get started with automated marketing mix modeling? Keep reading to find out.
Automated marketing mix modeling with Proof Analytics and Supermetrics API
Okay, so enough with the theory. Let's take a look at what you can do with the brand new bundle offering that consists of Proof Analytics' platform and Supermetrics API.
Step 1: Define the business question(s) you want to answer
The results of your marketing mix modeling efforts will only ever be as good as the questions you ask. And that's why the very first thing you have to do is to define the question or questions you want to answer.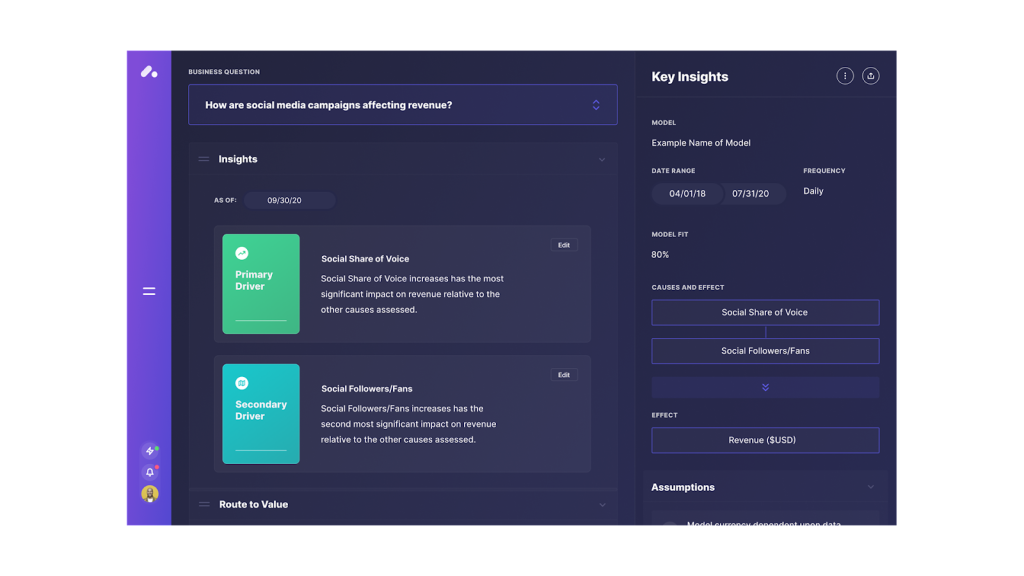 Here are a few examples of the kinds of questions you can ask:
How does our brand's social media engagement correlate with sales?
How do our Facebook Ads correlate with brand awareness?
What drives retention?
As you can probably notice, you'll need to define a dependent variable (sales, brand awareness, retention), and either define the independent variable (social media engagement, Facebook Ads) or leave it open.
Step 2: Pull the data you need to answer each question
If your heart is set on answering the first question: "How does our brand's social media engagement correlate with sales?" you would basically have to pull two kinds of data:
Social media engagement data from platforms like Facebook, Instagram, TikTok, Snapchat, LinkedIn, and/or Twitter (independent variables)
Revenue data (dependent variable)
Supermetrics API allows you to export this data and feed it into Proof's platform in just a few clicks.
First, select the data sources, metrics, and dimensions you want to pull for a chosen time frame.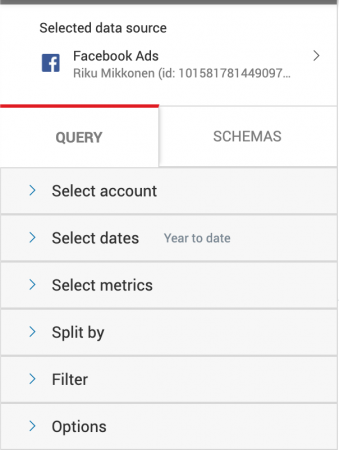 Next, when you've selected all the metrics you want to extract, run the query in Supermetrics API, and simply copy/paste this URL into Proof's platform to transfer the data.

Step 3: Run the model and iterate your data inputs
Once you have your first dataset ready, you can let Proof take care of building the model. Depending on the complexity of your question, you may need to test out the model with different data sources, metrics, and dimensions.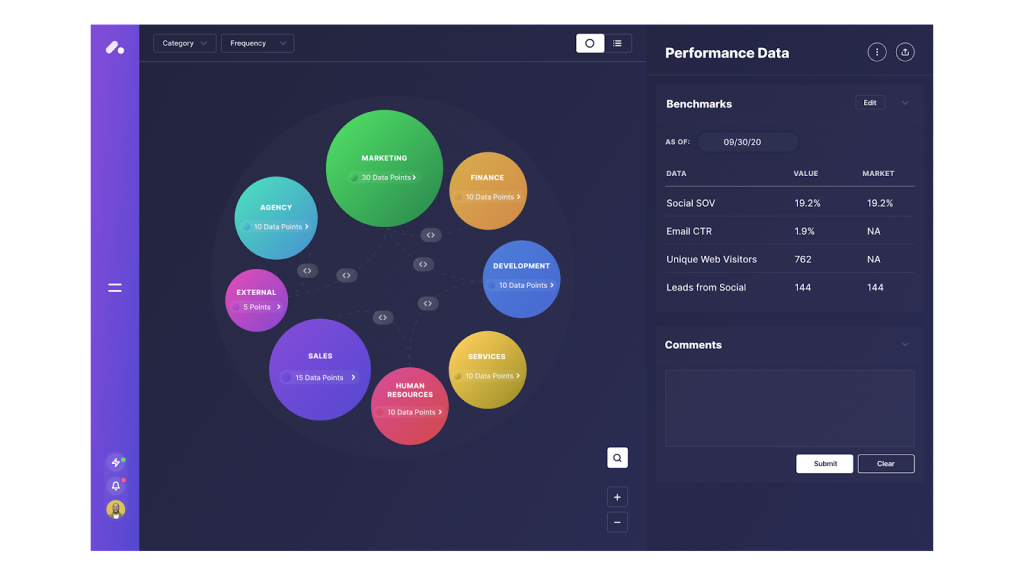 The platform will automatically calculate the confidence level of the model, which allows you to tweak and iterate your data sources and metrics until you're happy with the model's confidence level.
Step 4: Rinse and repeat
By repeating this same process, you can find answers to any and all your marketing related questions that involve a correlation between a dependent variable and one or more independent variables.
Taking marketing mix modeling one step further with the BusinessGPS
While answering individual business questions can be extremely useful, the real kicker is this: Proof's BusinessGPS can calculate your "route to value" from a number of alternate scenarios.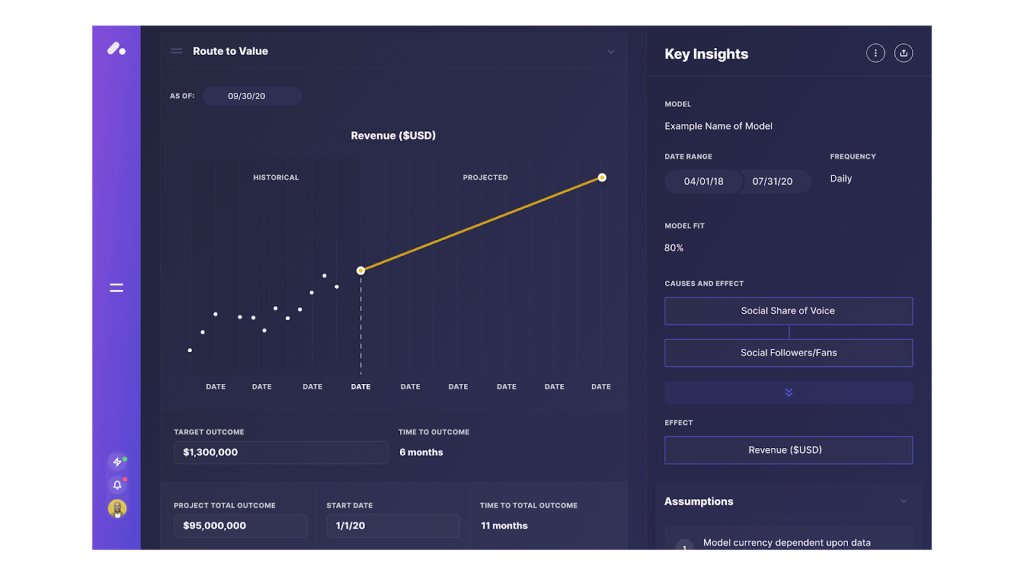 In other words, by feeding enough historical marketing and business data to the platform, you'll be able to set a revenue goal, after which the platform calculates a few alternative routes through which you can reach your destination — just like any modern GPS would.
The alternate scenarios feature allows you to adjust your input variables (such as social share of voice, website visitors, email CTR etc.) on dynamic sliders. The platform will then calculate the (revenue) outcome of the changes you've made, allowing you to quickly prioritize the elements in your marketing mix that yield the highest possible returns.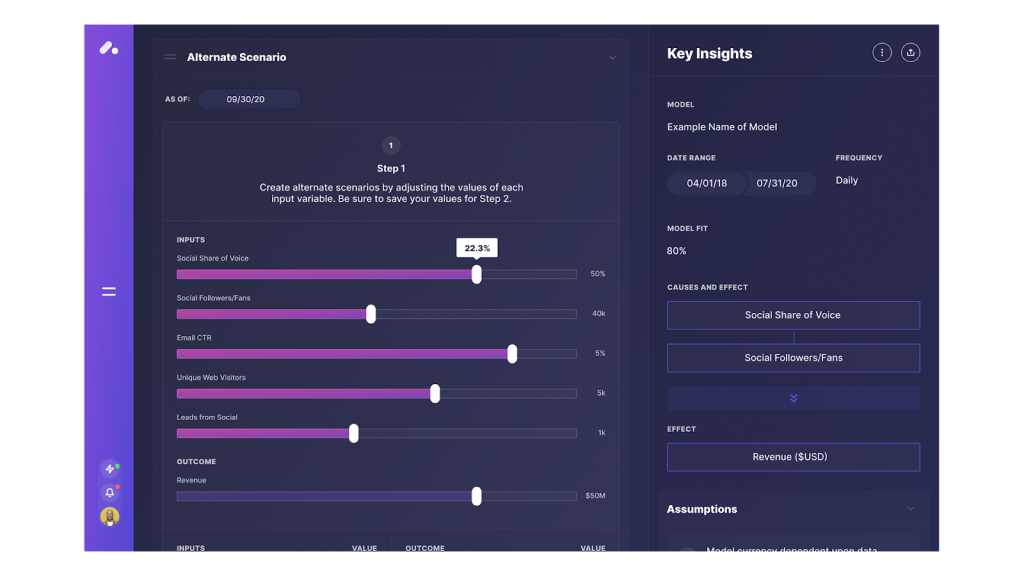 The BusinessGPS also allows you to keep track of your primary KPIs with clutter-free dashboards that can be shared with any internal or external stakeholders.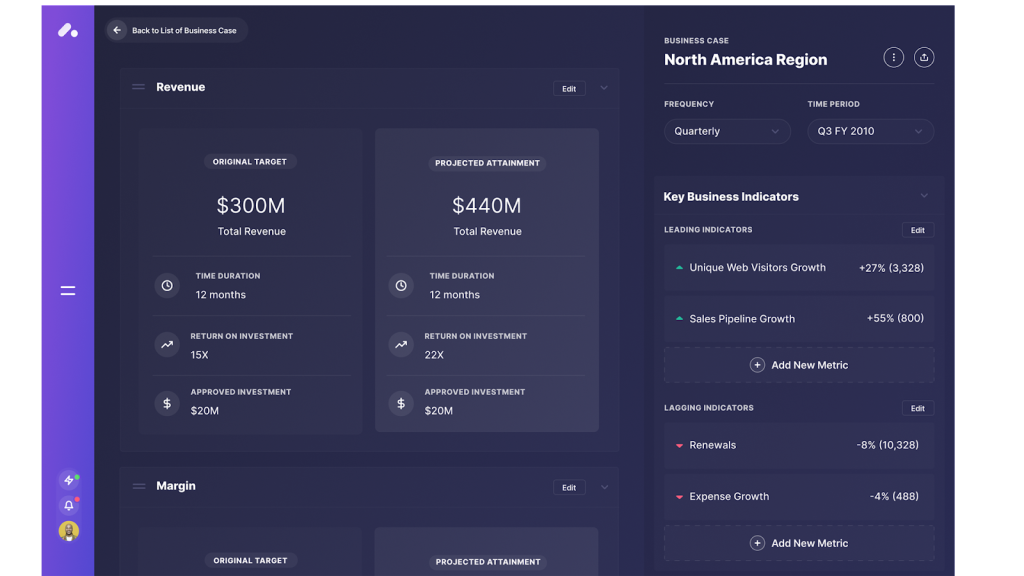 Itching to get started?
If you want to see the brand new Proof and Supermetrics bundle in action, you can request a demo today.
Turn your marketing data into opportunity
We streamline your marketing data so you can focus on the insights.