Jun 30, 2023
Marketing data governance for marketing leaders: how to build trust in your data
7-MINUTE READ | By Joy Huynh
[ Updated Aug 22, 2023 ]
Most marketing data problems are masquerading as data governance problems.
If you don't know which campaigns are driving results, you should revisit your tagging setup. If you're unsure who has access to what data, you need to improve your data-sharing process.
Without a good governance strategy, data becomes a liability rather than an asset.
Keep reading to learn how to improve your marketing data governance and build trust in your data.
Skip ahead:
If you prefer video format, watch our webinar recording with Buki Froelke, Senior Product Manager at Google.
What's marketing data governance?
Marketing data governance is the process of managing your data access, quality, and security—including collecting data and organizing from various sources and using it to make critical business decisions.
The goal of marketing data governance is to make sure the right people have access to the right and consistent data that they can use to make decisions. Additionally, good data governance safeguards your data from unauthorized access and security breaches.
Why should you care about your marketing data governance?
Besides security benefits, good marketing data governance helps your business improve marketing efficiency, for example:
Effectively report and monitor your performance.
Get accurate and reliable insights.
Activate data and deliver personalized campaigns.
Campaign monitoring and reporting
Most businesses should already have a way to track and follow their performance. For example, build a budget pacing tool to monitor your global spend.
Since doing marketing reporting manually is time-consuming and error-prone, you should automate it as much as possible. This way, your team can focus on optimizing campaigns and improving performance.
Performance insights
Since tracking technology—such as third-party cookies, is deprecating—many businesses are looking into different techniques to navigate the signal loss and extract insights from their campaigns. For example, figuring out the ROI of each marketing channel or mapping out the customer journey.
In this case, you need to ensure your naming conventions and tagging are aligned and have a tool to do those analyses—such as marketing mix modeling.
Data activation
Analytical-matured companies also look into data activation. With it, you'll take data from your system—such as CRM—and bring it into different marketing platforms—such as Facebook Ads—to build personalized campaigns. For example, you can create lookalike audiences based on your existing customers' purchase history. This will help you deliver the right message to the right people at the right time.
The infographic below shows how data governance is the foundation of your marketing data collection strategy and it ensures you get a good return on investment from your data. Additionally, the importance of data governance increases as you go from campaign reporting to data activation.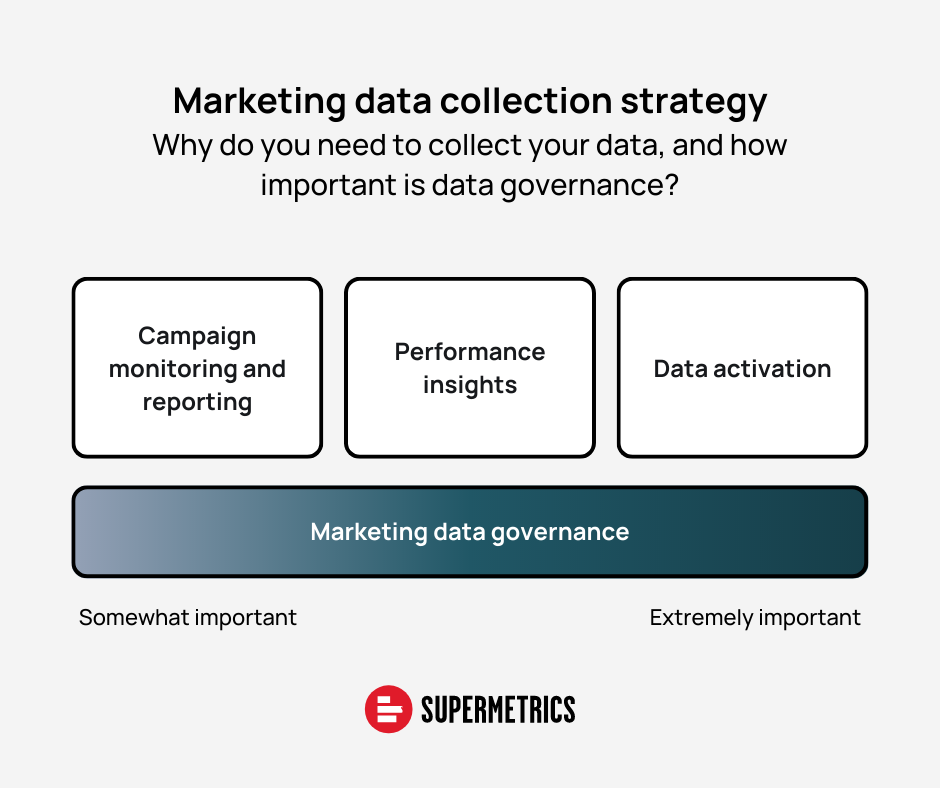 Ultimately, if you want to improve marketing efficiency, you need to understand what data you're generating/capturing and the quality of your data. And those fall under the marketing data governance umbrella.
A marketing data governance framework for marketing leaders
Good marketing data governance includes three pillars:
Data access helps you bring data to people who need it for analysis and decision-making.
Data quality makes sure you can trust your data and get accurate insights.
Data security allows you to protect your company and customers from security breaches.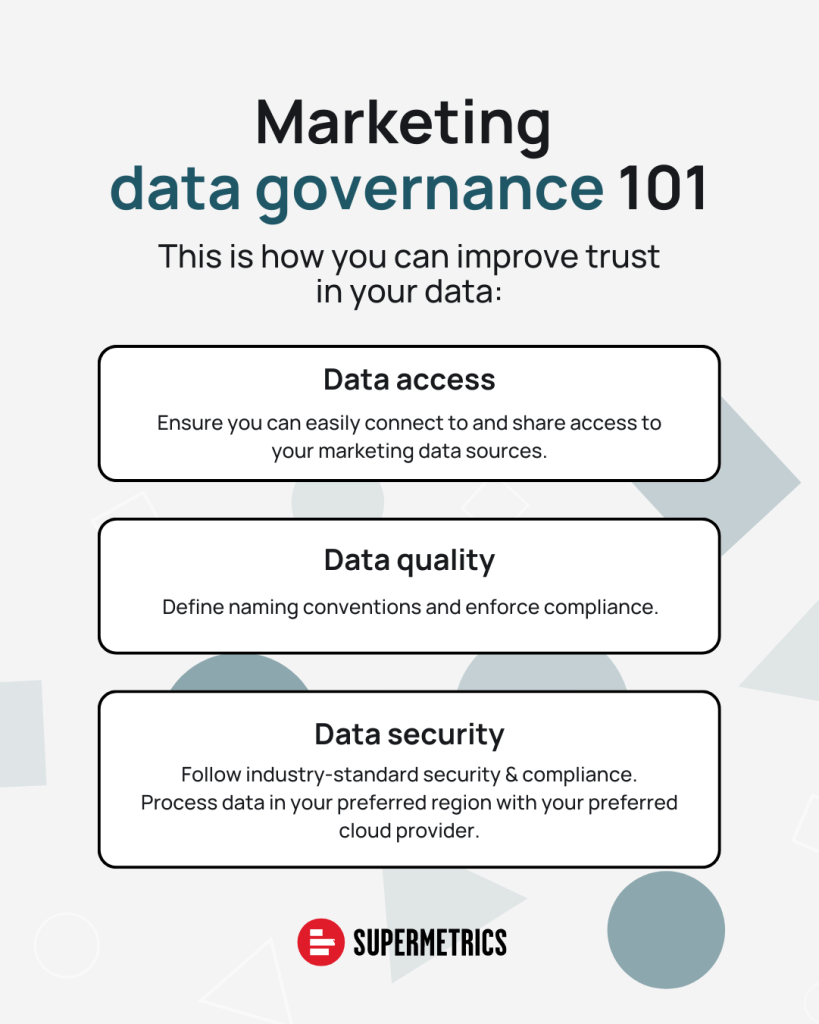 Data access
Data access is making sure that the right people in your organization have access to the right data they need to do their jobs. You may have a centralized data access model where the central data team manages the data— usually stored in a data warehouse— and builds dashboards for the whole organization.
Alternatively, you may have a decentralized model where your team can easily get data directly from sources to their spreadsheets and dashboards without waiting on the data team.
Regardless of the approach, you want to make sure that people should only have access to the data that's relevant to them. You don't want to end up in a situation where someone who left the company still has access to your ad or social media accounts, and inadvertently causes a data breach.
Watch how you can use the shared connection feature in Supermetrics Hub to manage your data access.
Data quality
Data quality refers to organizing your data—including naming conventions, media taxonomy, and tagging infrastructure— and ensuring you can link it to suitable campaigns.
You may run marketing campaigns across different channels—brand, SEO, or product campaigns. Without following unified naming conventions, it's challenging to figure out what campaigns work and what don't.
And again, if you don't get your tagging setup right, your data team may need to work extra hours to clean the data and make it analysis-ready.
Evan Kaeding, Lead Solutions Engineer at Supermetrics, says, "If your data isn't trustworthy, it'll be very challenging for you and your team to effectively make decisions and drive efficiency across channels."
In this video, Evan explains how you can manage your naming conventions with Supermetrics.
Data security
Data security is all about making sure that you have a secure way to collect, process, and store your data. Typically, this includes:
Follow local security laws and regulations. For example, GDPR for European companies.
Work with vendors and partners who follow the same regulations as you do.
Ensure to only give data access to the right people. No one should have access to data that isn't relevant to them.
Kurre Ståhlberg, Lead Security Engineer at Supermetrics, says, "With the customers becoming increasingly aware of what data is collected from them and how marketers use it, the sooner you adjust your strategy to take data security into account, the sooner you keep your consumers' trust."
Now let's say you want to improve your marketing data governance. Where should you start?
How to improve your marketing data governance and build trust in your data
Here are 4 steps to improving your marketing data governance.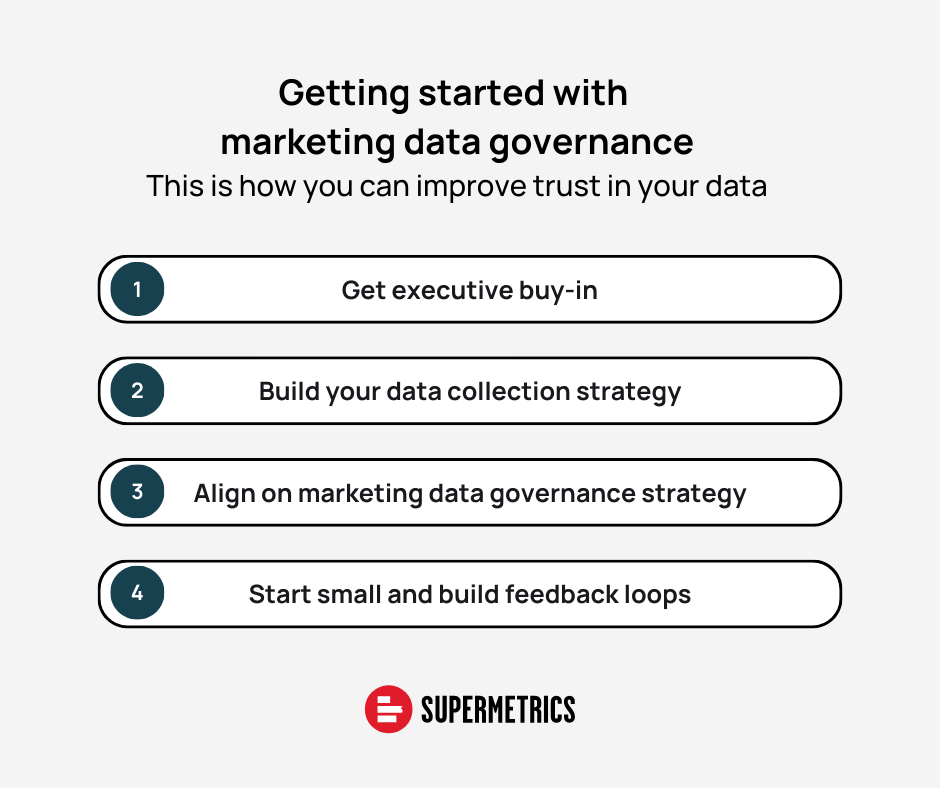 1. Get executive buy-in
Improving marketing data governance is a top-down decision. That's why you need to be on the same page with your management team—especially your Head of Data or VP of Analytics—and iron out the challenges, limitations, and opportunities.
One tip to get your management team's buy-in is to refer back to your data collection strategy and communicate the ROI associated with your campaign monitoring, performance insights, and data activation. Finally, do a proof concept and explain how a good data governance strategy will get you there.
2. Build your data collection strategy
Once you get that buy-in, it's time to build your data collection strategy. This means deciding on what data you want to capture and what you'll use it for. For example, if you're an ecommerce agency, you should be able to recommend and suggest to your clients what they should collect and what is safe to ignore.
3. Align on marketing data governance strategy
Then align on your marketing data governance strategy. Decide with your data team what your governance policy should look like—ensure you have your data access, quality, and security in place.
4. Start small and build feedback loops
Unfortunately, marketing data governance isn't a set-and-forget project. As with anything, it's best to start small, build feedback loops, and iterate the process. Ensure everyone in your organization is educated on and follows your data governance policies.
Wrapping up
We hope you feel less intimidated about marketing data governance by now. Ultimately, it ensures you can trust your data and feel confident when making decisions. We'll leave you with a quote from Buki.
It's a part of your data culture—being able to govern and control data so that you can empower decision-making across the organization.

Buki Froelke, Senior Product Manager, Google.
If you need help with improving your marketing data governance, check out Supermetrics Marketing Hub.
Improve marketing efficiency using the Supermetrics Hub
See how you can use Supermetrics to manage and transform your data, and increase marketing data efficiency
Learn more
Joy Huynh
About the author:
Joy's working at Supermetrics as a Demand Gen Manager. She loves writing stories where the customer is the hero.
Turn your marketing data into opportunity
We streamline your marketing data so you can focus on the insights.