Apr 17, 2020
Ad spend tracking in Excel or Google Sheets: a step-by-step guide for keeping your paid campaigns on budget
5-MINUTE READ | By Pinja Virtanen
[ Updated Aug 3, 2023 ]
If you're running campaigns across multiple ad platforms and/or for multiple ad accounts, you've probably noticed that keeping track of your total ad spend is borderline impossible.
Besides, the daily spend caps of many popular advertising channels, such as Facebook Ads, Google Ads, and LinkedIn Ads, are notoriously unreliable. They can easily exceed your budget by 10-20%, which isn't great — especially if that happens across multiple channels and accounts.
That's why in this article, we'll walk you through a simple two-step process for keeping you on top of your ad spend across every channel and ad account.
1. Create a budget pacing tool in Excel or Google Sheets
The very first thing you want to do is build yourself a budget pacing tool in the spreadsheet of your choice.
If you're only managing one account in one ad platform, follow the steps under A). If, on the other hand, you manage multiple accounts across multiple networks, scroll down to section B).
A) A simple budget pacing tool for a single ad account
Here's an example from a guest post Andrew Garberson wrote for Supermetrics a while back:

Pull in the month-to-date cost data (cell B1)
Get the number of past days in the month (cell B3)
Calculate how many days you're into that month (cell B4)
Calculate the current position in the month (cell B5 – divide B3 by B4)
Calculate how much of the monthly budget has been used (cell B6). The second part, "3000," is the monthly budget. Update that to reflect yours.
Once you get all these formulas set up, you'll get a table like this one below.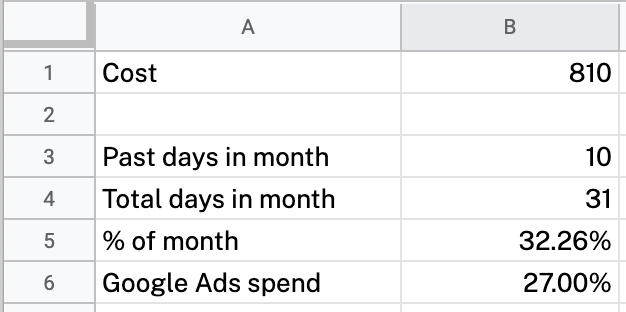 For more advanced ad spend tracking, you can take a page from AJ Wilcox' book. He recently joined us for a LinkedIn Ads webinar and built this monster of an ad spend tracker. For more details on how his LinkedIn Ads spend tracker works, watch the webinar recording or read this article.

(Psst! The template only works for LinkedIn Ads, but after watching the webinar, you'll understand the logic behind it and can then apply it to any other channel.)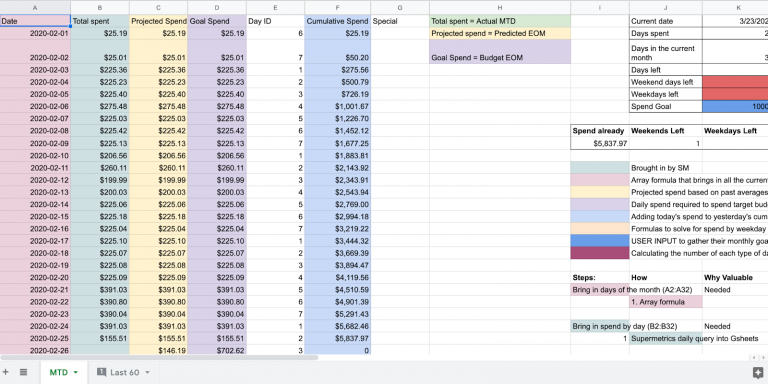 B) Client ad spend tracking in Excel or Google Sheets
If you work in an agency, chances are you're managing multiple client accounts at once. Instead of logging into all the different ad platforms of all the different clients, you can set up a multi-account budget pacing report that brings all that information into one place.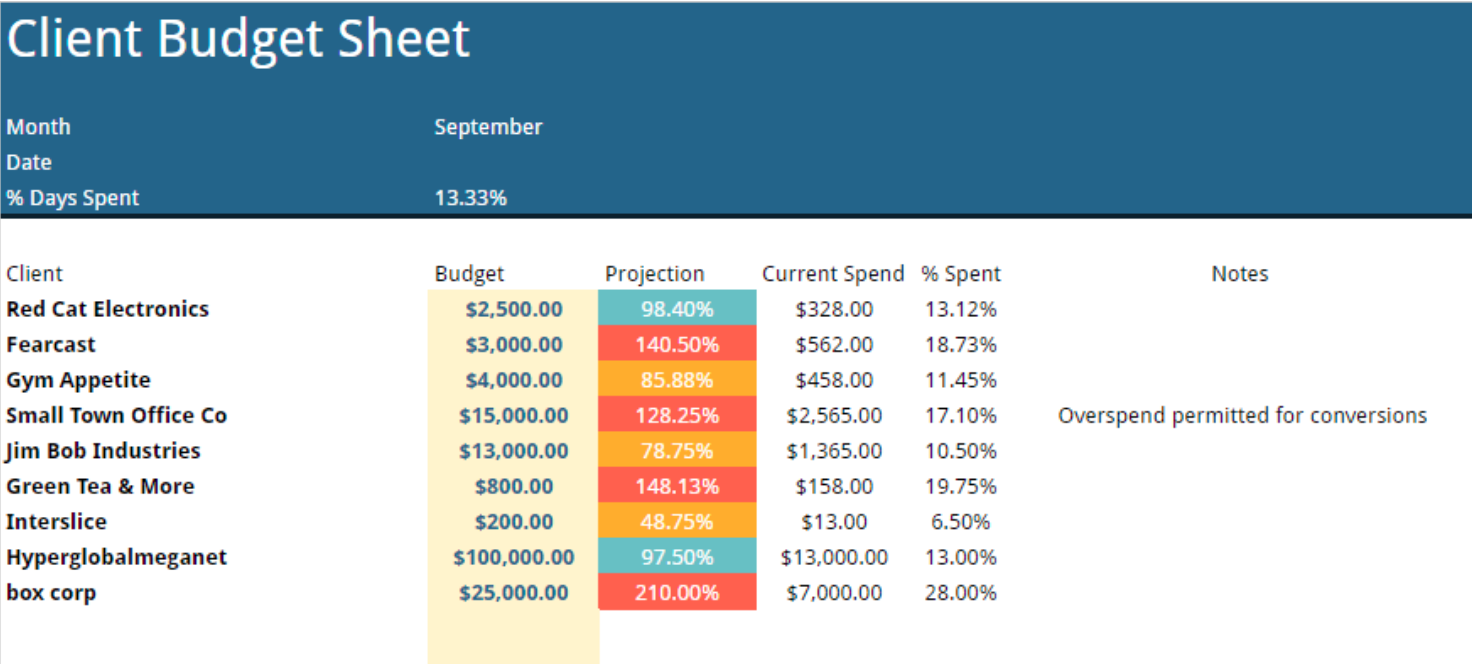 In the first column, you have a list of clients or accounts. The second column reflects the monthly budget for each client. Then it shows you the current spend, % spent for each client. In the projection column, it shows you what percentage of the monthly budget will be spent by the end of month if you keep your current pace.
Copy the client ad spend tracking report here >>
Depending on your industry and preferred ad channels, you may also want to make adjustments to the projections based on historical data. For example, B2B campaigns on LinkedIn Ads typically spend approximately 50% less on weekends than they do on weekdays. The reverse is true for B2C ecommerce campaigns on Instagram, which typically see higher spend on weekends.
For more ideas and information on how to predict your ad spend, check out the LinkedIn Ads webinar.
2. Set up rule-based email alerts
You could, of course, set up automatic alerts through each and every ad platform and ad account, but the more complex your setup is, the more emails will start flooding into your inbox and the harder it will be to manage and react to every single one of them.
Instead, you can use Supermetrics' scheduled refreshes and advanced email settings to freely determine when you'd like to be notified.
For example, here's a simple spreadsheet for tracking multiple Google Ads and Facebook Ads accounts' spend.

In the Supermetrics for Google Sheets add-on, or the Supermetrics for Excel add-in, navigate to "Schedule refresh & emailing", choose "Refresh & email hourly/daily/weekly/monthly" from the dropdown. Once you see the "Advanced email settings", tick the "Conditional emailing" checkbox and then determine which criteria should trigger an email alert.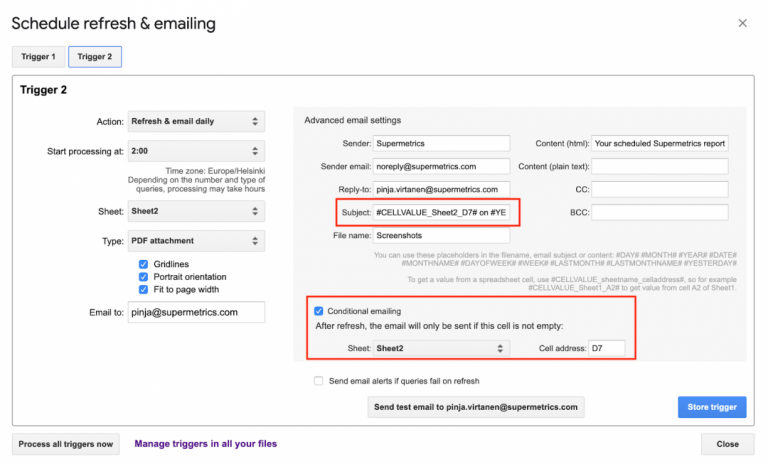 Note that you can play around with the email subject line and content as much as you want to. For example, here I've chosen to include the cell value and the date of yesterday in the subject line so I don't even have to open the email to see how much I'm over budget.
This is what the email looks like in my inbox:

The attached screenshot, on the other hand, gives me more information as to which of my campaigns are overspending.
The beauty of conditional emailing is that you can set up all kinds of alerts using any calculated metrics, instead of being limited to the short list of metrics that are available in different ad platforms' alerts.
Psst! If you're not using Supermetrics yet, you can start your free 14-day trial today and set up any kinds of alerts you might find useful.
Over to you
Now that you've learned the basics of ad spend tracking, we'd love to hear from you! Let us know what kinds of alerts you've set up to stay on top of your game. Tweet at us @Supermetrics and share your best tips.
Happy reporting!
Turn your marketing data into opportunity
We streamline your marketing data so you can focus on the insights.