GA4 replaced Universal Analytics
Are you making the most of your Google Analytics 4 (GA4) data? On this page, you'll find GA4 tutorial videos, support articles and blog posts, and free reporting templates to ensure the best use of GA4 after the sunset of Universal Analytics.
How to make the switch to Google Analytics 4
In this video series, you'll learn how to set up Google Analytics 4 and you'll hear real-life use cases of how others have done it. We'll also cover topics on how to save your historical UA data and best practices for reporting in GA4.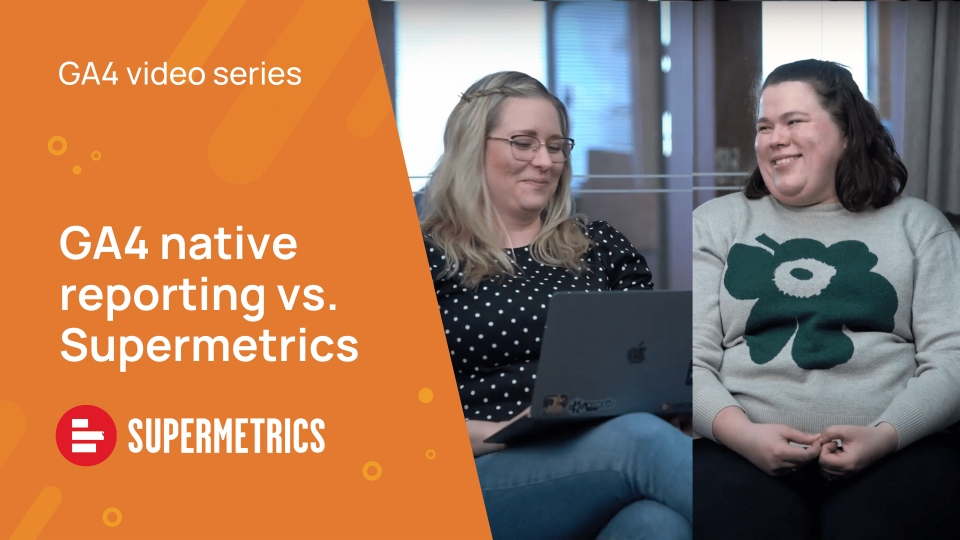 GA4 native reporting vs. Supermetrics
In this video, our Performance Marketing Lead, Sofie, and Growth Marketing Manager, Minna, will discuss the differences in using GA4 native reporting and what benefits there are to export the data to a spreadsheet or any other analytics tool.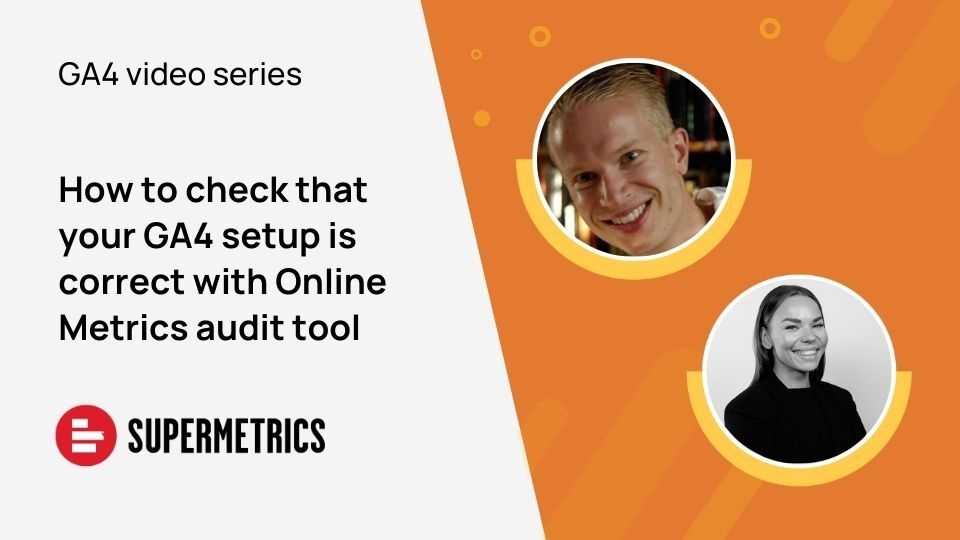 How to check that your GA4 setup is correct with OnlineMetrics audit tool
In this video, our partner Paul from Online Metrics, will tell you all about an audit tool he's built that lets you check that your GA4 has been set up correctly.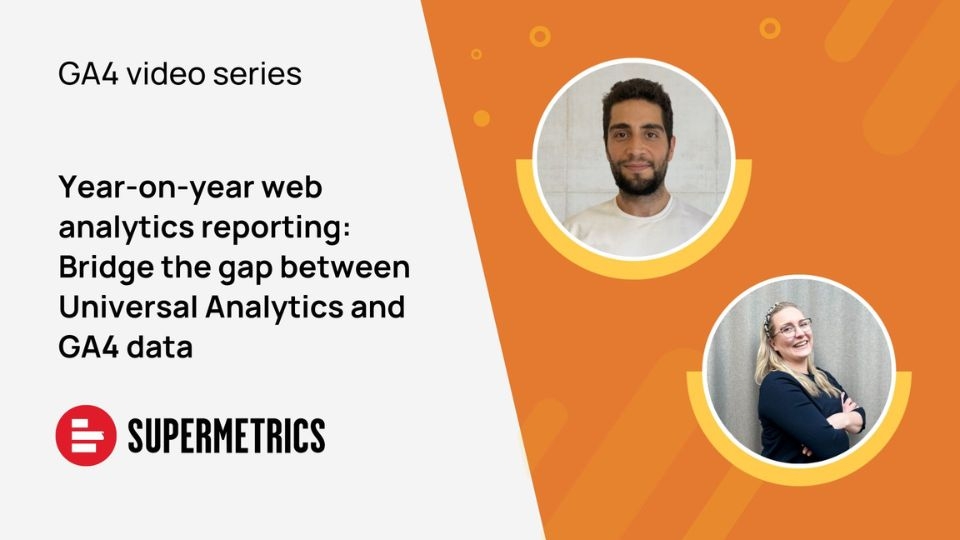 YoY web analytics reporting: Bridge the gap between Universal Analytics and GA4 data
In this video, we're joined by Fouad Mawla, Data Analyst at marketing agency Kemb GmbH, to discuss year-on-year reporting with Universal Analytics and GA4 data. We'll also share a free YoY reporting template for Power BI using a Google Sheet data set.
Want to get more out of your GA4 data?
Bring your GA4 data to Google Sheets. Just choose the metrics and dimensions you need and Supermetrics does it automatically. Add more data sources and you can easily analyze your full-funnel performance directly in one sheet.
14-day free trial. No credit card required.
Get started with our free GA4 reporting templates
Thousands of marketers trust our templates for best practice reporting. Use our free GA4 templates with Google Sheets or Looker Studio and get started with just a few clicks.
Save all your available Universal Analytics data
After July 1, 2023 you'll be able to access your previously processed data in your Universal Analytics property for at least six months. Soon after, you won't be able to access your older UA data at all.
Supermetrics automatically brings your Universal Analytics data and your GA4 data into your data warehouse so you can focus on finding and acting on the insights. This allows you to perform historical and long-term trend analyses and take ownership and governance of your marketing data.
If you want to hear more about data warehousing, fill out the form to book a data warehouse demo with one of our experts.
If you're interested in moving your GA4 data to Google Sheets, Looker Studio, or Excel, you can start a 14-day free trial here.
Request a demo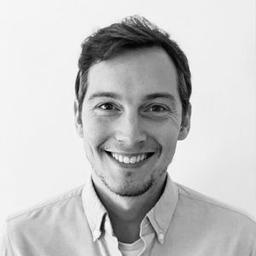 Google Analytics 4 alternatives
Still not sure about migrating from UA to GA4? There are some alternatives when it comes to web analytics. Check them out and know that you can use Supermetrics to bring all their data into your spreadsheets, dashboards, and data warehouses of choice.
Why do marketers choose Supermetrics and the GA4 connector?
57% more metrics and dimensions than Google's native GA4 connector
100+ other data sources to combine with your GA4 data
Take the next steps on your Google Analytics 4 journey
Get full access to the GA4 connector with a 14-day free trial. No credit card required.
Not sure about the next step? Talk with our sales team.