Jun 7, 2022
The ultimate guide to Google Analytics 4
10-MINUTE READ | By Joy Huynh
[ Updated Jul 31, 2023 ]
You've probably noticed that Google Analytics 4 —or GA4—has been the talk of the town recently—unless you've been living under a rock.
On the one hand, most marketers are excited about this new era of analytics since GA4 unlocks and gives more analytics capabilities. With, for example, probabilistic matching and event-based tracking.
On the other hand, many marketers also fear losing all historical data when Google sunsets Universal Analytics.
But worry not, because, in this post, we'll cover everything you need to know about GA4, including:
As long as you understand the basics of GA4 migration, we promise the move will be smooth sailing.
Want to know more? See our guide on how to prepare when Google Analytics 4 is replacing Universal Analytics!
With that in mind, let's get into it.
What is Google Analytics 4
Google Analytics 4 is the newest and updated version of Universal Analytics. For almost a decade, marketers have been using Universal Analytics to collect, track, and analyze visitor behavior on their websites. But, nowadays, consumers have expanded their shopping experience to mobile and apps. Additionally, they also want a better privacy policy and control over their data.
As a result, GA4 was born to answer this shift.
GA4 has all tried-and-true features in Universal Analytics plus some new features powered by big data and machine learning that help marketers uncover insights about customer journeys across platforms and devices.
Why you should move to GA4 right now
First, if you're serious about analytics, you'll want to jump on the G4 bandwagon as soon as possible and explore different ways to analyze your data. Since Universal Analytics is going away in July 2023, you don't have much time to learn and improve your GA4 expertise before the big move.
Second, Google will stop processing new sessions very soon in Universal Analytics. The sooner you set up your properties in GA4, the more historical data you'll accumulate. Additionally, you won't have a blackout period during your transition since you can use both at the same time until you transition fully.
Let's say you've made up your mind about moving to GA4. Are there any updates or features you should look out for?
10 things you should know before switching your reporting from Universal Analytics to Google Analytics 4
We teamed up with Martijn Burgman and Tetiana Turmer from Kemb to compile a list of 10 things you should know before moving to GA4:
All-in-one app and web tracking. GA4 will automatically pull in data from all your websites and properties. This means you no longer need to create a separate setup for your website and mobile app.
Engagement rate will replace bounce rate. Instead of bounce rate, there will be a new metric for measuring visitor engagement called 'engagement rate.'
Session will be tracked differently. Unlike Universal Analytics, GA4 doesn't create a new session when the campaign source changes mid-session. As a result, your session counts in GA4 will be lower than your session counts in Universal Analytics.
Average session length. Since GA4 has a different data model, you'll see a discrepancy in average session length between GA4 and Universal Analytics. Instead of comparing apples and oranges, we advise you to stick to the result in GA4 and report based on that.
Average pages per session isn't available in GA4. But, if you'd like to know your average pages per session number, you can pull GA data into a spreadsheet and create a custom metric with views and sessions. Average pages per session are views divided by sessions.
IP anonymization is enabled by default in all GA4 properties.
Landing page reports aren't available anymore in GA4.
Site speed isn't measured in GA4. If you want to monitor and optimize your site speed, you can integrate Lighthouse with GA4.
The BigQuery schema. The good news is that GA4 already connects natively with BigQuery. But, since the native connector's schema is completely different from the Universal Analytics schema, you may need to remap your GA4 data before moving it to BigQuery.
Data retention. In GA4, your data will expire after 14 months. If you don't want to lose the opportunity on historical data, it's best to store your GA4 data in BigQuery.
Exporting data from Google Analytics—or Universal Analytics—to Google BigQuery: Saving your historical data
Another important step you should take before migrating to GA4 is moving important data in Universal Analytics to BigQuery. This helps you secure historical data and prepare well for the big move.
The best way to move Universal Analytics data to BigQuery is using Supermetrics. The Supermetrics for Universal Analytics connector gives you the flexibility to analyze your data. With it, you can:
Add multiple accounts, views, and segments to your report.
Pull 463 metrics and 618 dimensions directly from the GA4 API
Avoid data sampling
After connecting, pull up to 14 months of historical data
Combine Universal Analytics data with other marketing data, including Facebook, Instagram, TikTok, etc.
To get started with the connector, set up a Google Cloud Platform.
Then, open the BigQuery page and create a new project. After filling in your project name, organization, and location, click 'Create'.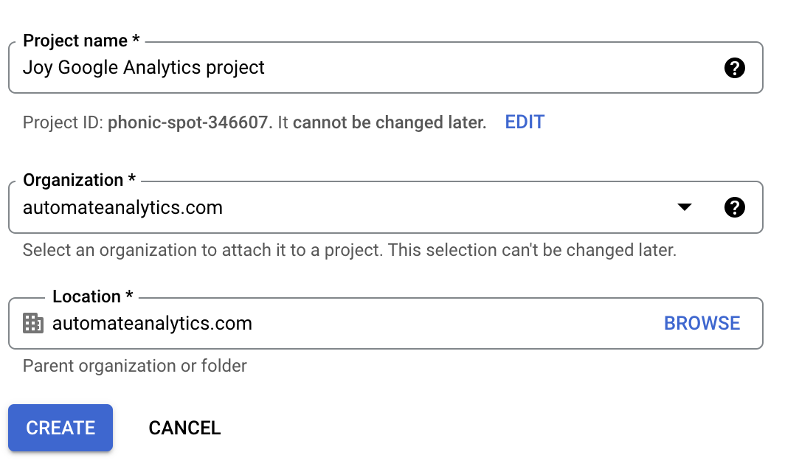 Continue by navigating to 'Marketplace' and search for a connector called 'Google Analytics by Supermetrics'. Supermetrics' → 'Enroll' → 'Configure transfer'.
Next, choose 'Google Analytics by Supermetrics' as your data source. Fill in your display name, schedule option, dataset, refresh window, and notification options. Click 'Connect source'.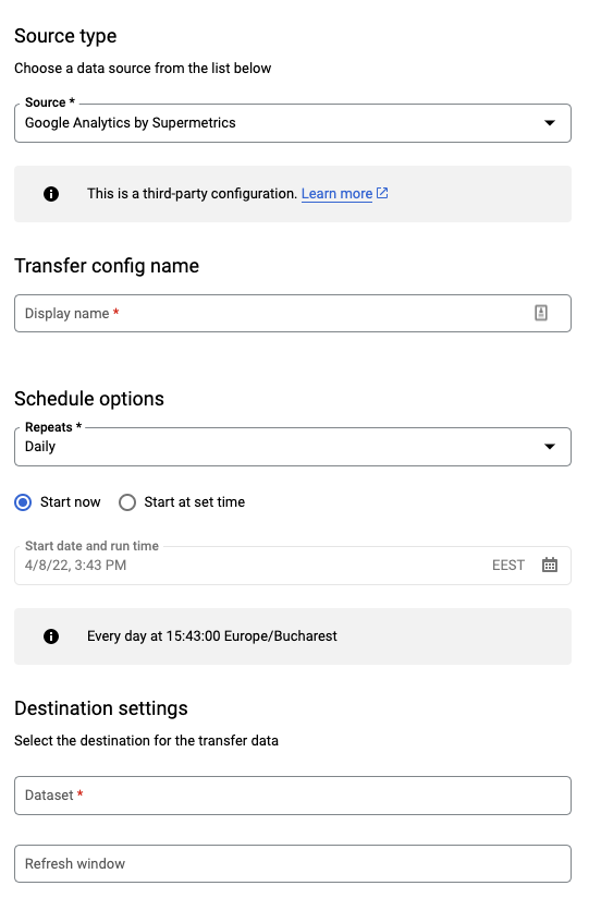 Continue setting up your schema by filling in schema, accounts, and segments. Then, click 'Save'. Click 'Schedule backfill' and choose 'Run for a data range' to schedule a backfill with this configuration.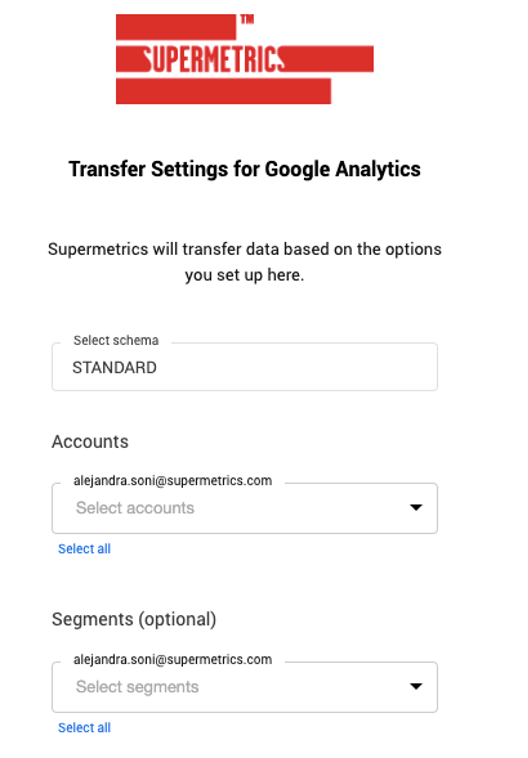 Once you set up your date range, you'll see the status of your transfer when you hit refresh.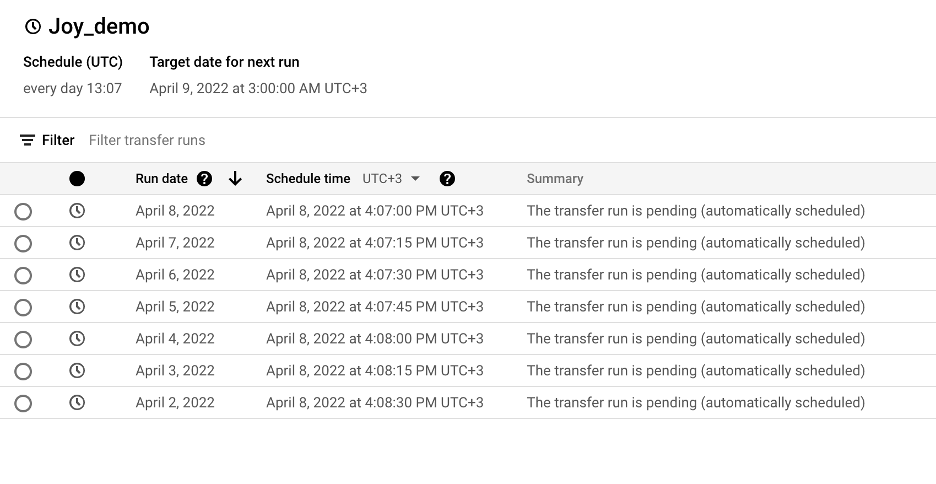 You can find your project in the 'SQL workspace'.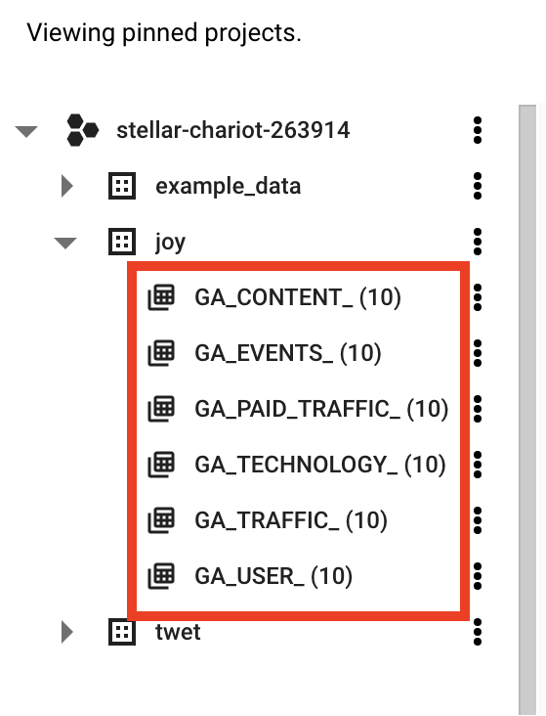 Select the schemas that you want to see data from. For example, here's a preview of your data if you choose 'GA_CONTENT_'.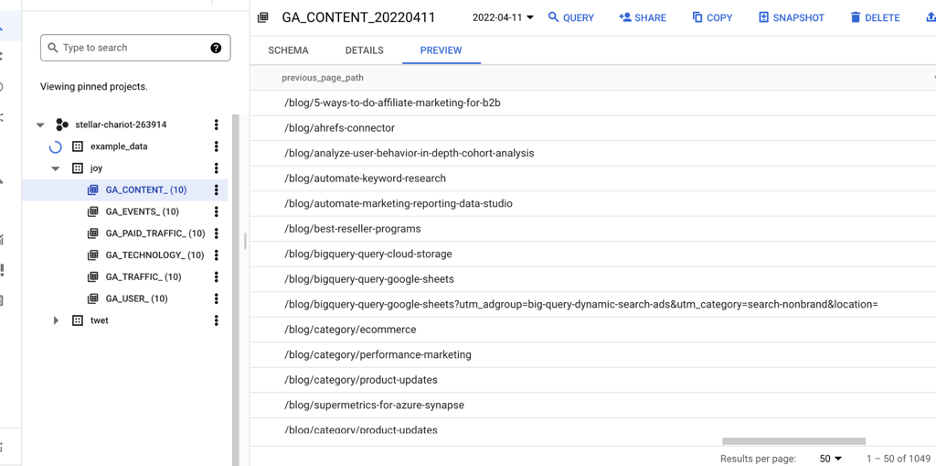 How to analyze data and create reports with Google Analytics 4
You'll also find some pre-built reports in GA4, including
Acquisition: shows new and returning users and what drives the users to your site.
Engagement: shows how engaged users are with your site and app.
Monetization: shows what drives your revenue, for example, ecommerce purchases, in-app purchases, subscriptions, and mobile ads.
Retention: shows how good you're at turning new users into returning users.
GA4 also allows you to create a better and more meaningful funnel. Charles Farina from Adswerve says,"For the first time, you can build a meaningful funnel in GA4. For example, you can build retroactive funnels—they're user scoped, you can define your steps, and they're very flexible.
There's also pathing in there, so we can do meaningful pathing for the first time. You can do forwards pathing, backward pathing, and all sorts of rich components. And one of my favorite features that shows the new capabilities in GA4, to your point about new metrics, is, for example, when you're building audiences or funnels, we can do meaningful analysis for the first time.
Time-based analysis also gets better in GA4. Let's say a visitor lands on your website and fills in a form. In GA4, you can add a metric called 'elapsed time' and build out a five-step funnel to understand how long it takes for them from start to finish."
Google Analytics 4 reporting template in Looker Studio
We created a Looker Studio template for Google Analytics 4 to get your reporting running. Let's take a look at what's in it for you.
The first page gives an overview of the performance of your website. It helps you understand:
The total users and new users on your website
How your active users grow or decline over time
How your monthly cohort looks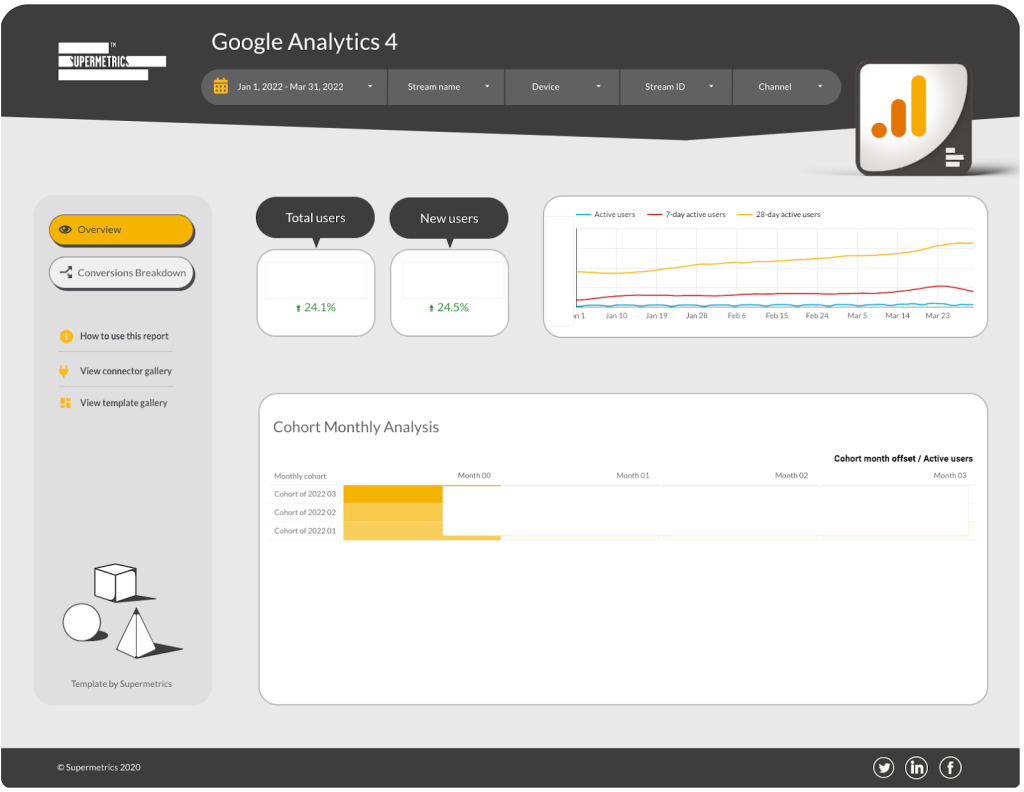 The second page of the template shows a conversion breakdown. You'll see:
The most popular pages and events on your site
Active users per page and event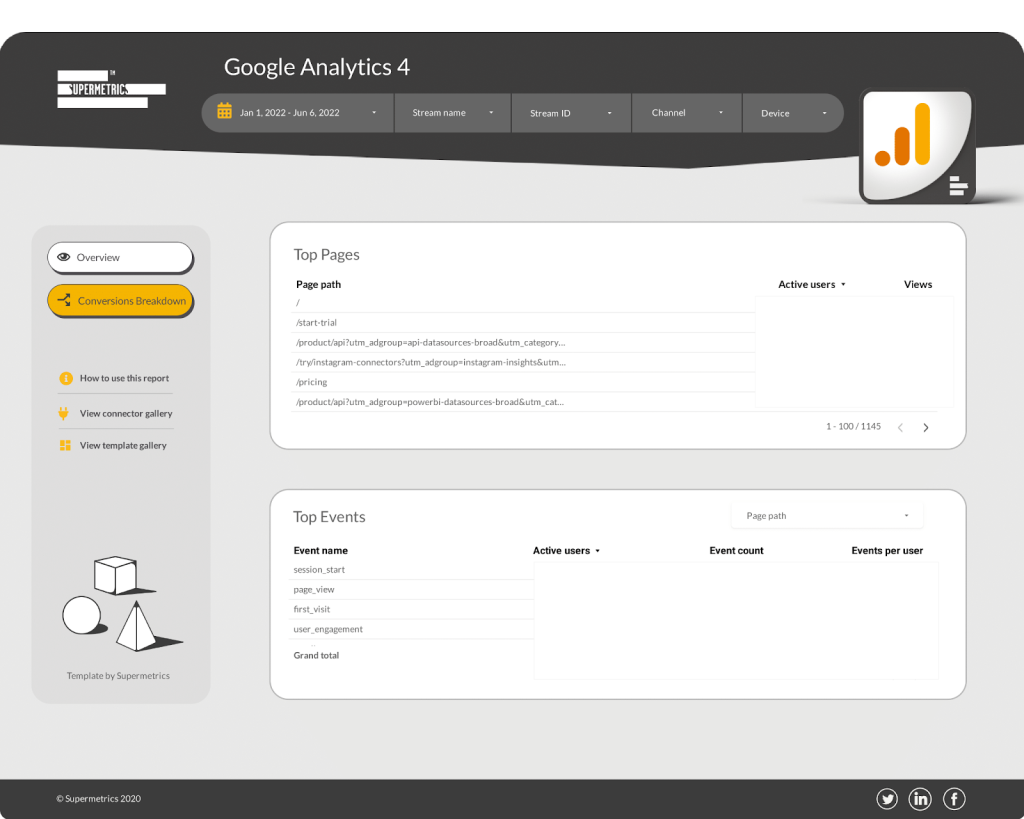 Once you connect your data to the template, you can use any filters and date range to drill down to your data and get more insights. The best part about this template is that it's fully customizable. You can easily add or remove any metrics and dimensions that suit your needs.
Learn how to set up and use our free templates for your reporting! Also, check out our article on how to import Google Analytics 4 data to Looker Studio.
Your Google Analytics 4 reading list, sorted!
And that's all you need to know about GA4. For further reading, you can check out Google Help, Charles Farina's blog about Google Analytics and Google Tag Manager, and the Kemb blog.
We hope that the resources we shared can help you learn more about GA4 and ease the pain of moving to a brand new platform.
If you need help with moving your Google Analytics 4, check out a 14-day free trial of Supermetrics.
Try for free
Have a look at your GA4 data with a 14-day free trial
Start trial
Turn your marketing data into opportunity
We streamline your marketing data so you can focus on the insights.