If copy/pasting Google Analytics data to Google Sheets is bogging you down, how about I show you a much faster (and much less painful) way to import your data?
So open a fresh Google Sheet and let's get into it.
Step 1: Install the Supermetrics add-on
First things first. To import Google Analytics data (including data from the brand new Google Analytics 4) to Google Sheets, you need to install the Supermetrics add-on.
On your spreadsheets, click on the "Add-ons" menu → "Get add-ons" → "Supermetrics" → "Install."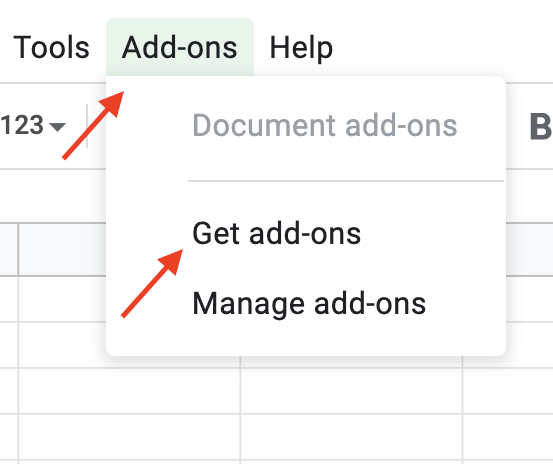 Or, you can install Supermetrics directly from the Google Workplace Marketplace.
Search for "Supermetrics" → "Install."
Next, sign in with your Google account and give Supermetrics all necessary permissions.
After installing the add-on, you can find Supermetrics under the "Add-ons" menu in your Google Sheets.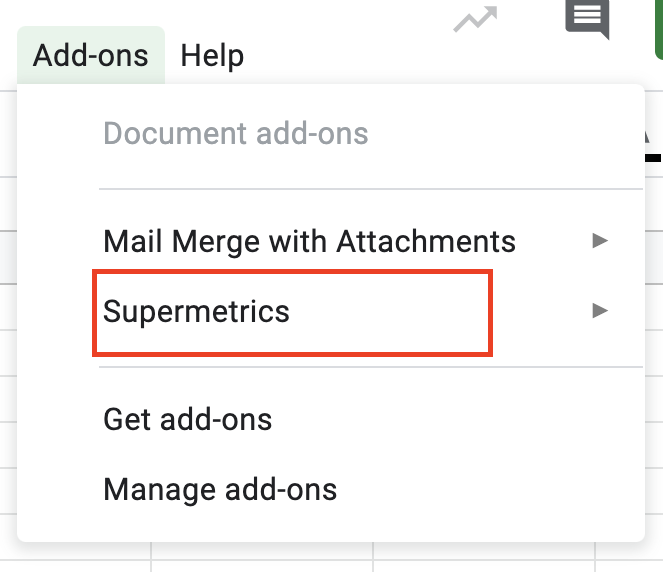 If you need help installing the add-on, check out this video.
Step 2: Get your Google Analytics data into Google Sheets
First step done. Now, it's time to get some data into Google Sheets.
Launch the Supermetrics sidebar by clicking on "Add-ons" → "Supermetrics" → "Launch."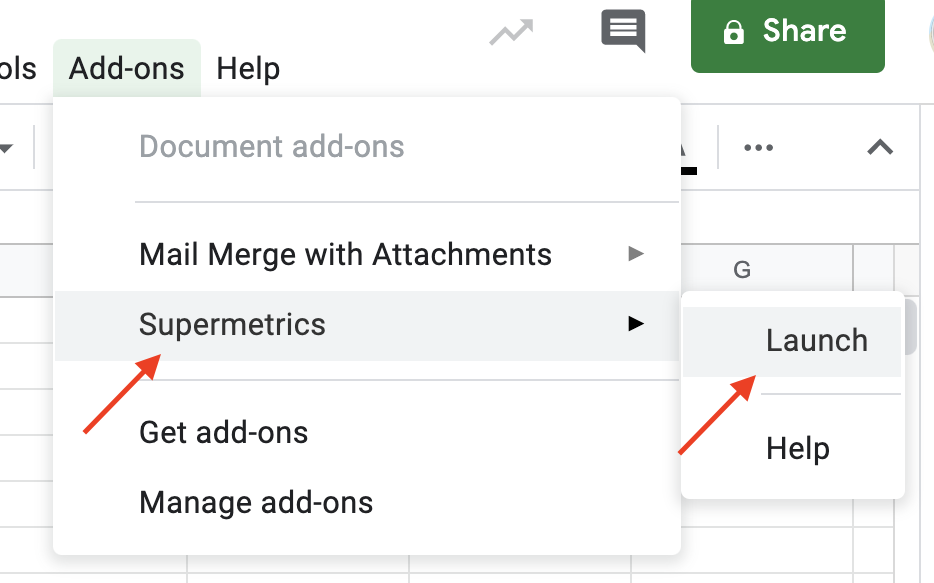 The sidebar lets you control what data you want to import to Google Sheets.
Next, it's up to you to choose relevant values from each of the drop-down menus:
Data source: This lets you choose the data source you want to pull data from.
Select views: This lets you select the Google Analytics view or property you want to get data from.
Select dates: From here, you can set the date range for your data. You can either choose one of the preset dynamic date ranges or set a custom date range.
Select metrics: This lets you select the metrics you want to add to import to your spreadsheet For example, sessions, pageviews, or bounce rate, etc.
Split by dimensions: This lets you choose how you want to split your metrics. For example, you can break down your metrics by date or campaign, etc.
You can also play around with segments, filters, and options to pull more granular data.
For example, my query setup is:
Data source: Google Analytics
Select view: Supermetrics blog
Select date: Year to date
Select metrics: Pageviews
Split by dimensions: Page path vs. Year & month
Filter: India (I'm going to keep our total pageviews a secret for now ?)
Option: Try to avoid Google Analytics' data sampling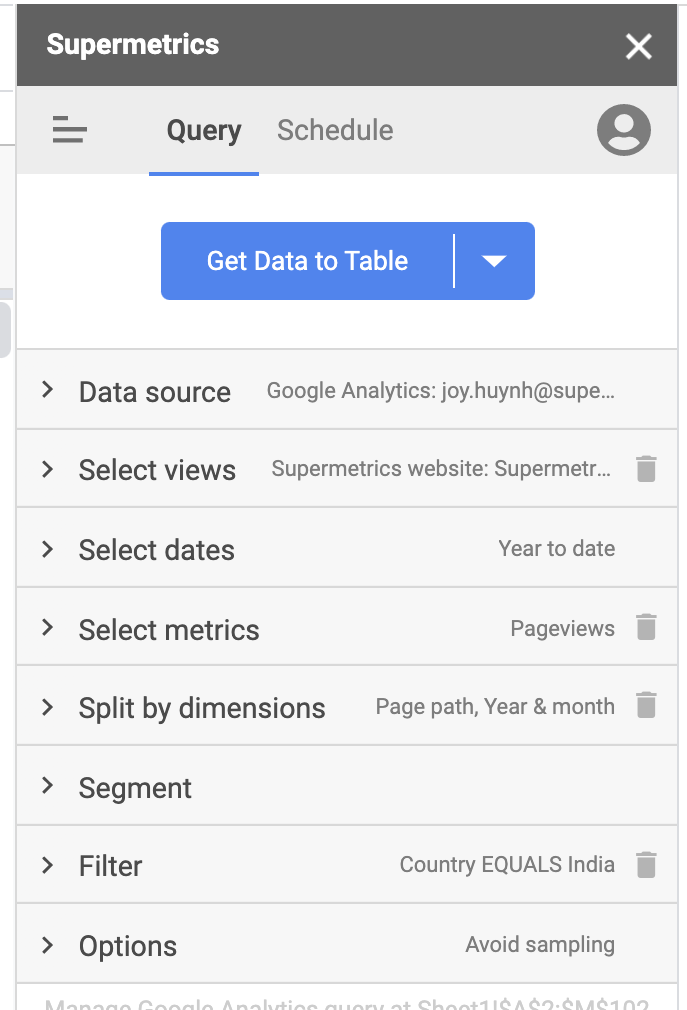 Pro tip: You can avoid Google Analytics sampling by checking the "Try to avoid Google's data sampling" box under the "Options" drop-down menu.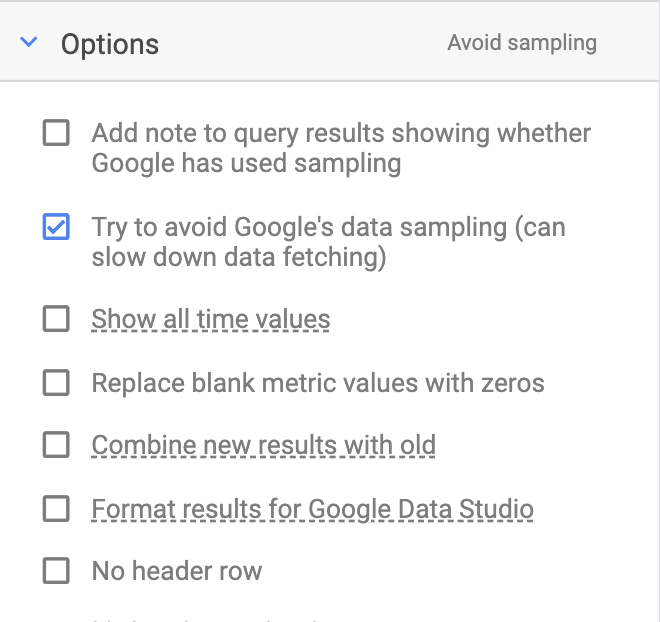 And if you've already jumped on the Google Analytics 4 bandwagon, note that our GA4 connector is already in early access, which means that you can access it with a free trial or any Supermetrics for Google Sheets plan.
Happy with your query? Great. Now click on "Get data to table", and your data will appear in the spreadsheet.
Mine looks something like this:
If you want to modify your query, simply click on any cell that contains data from the query, and the sidebar will reopen. Then click on "Modify" to make any changes you want.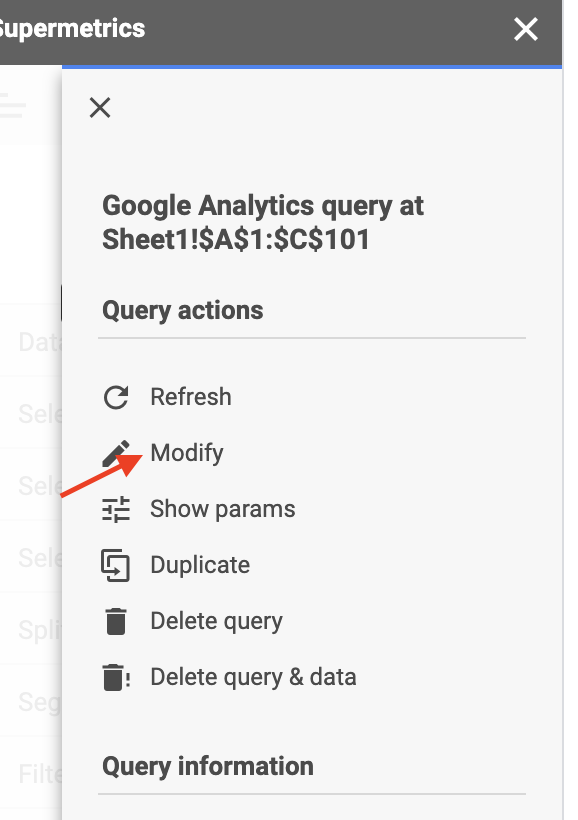 For more tips on running your first query, check out this video:
Step 3: Set up automatic refreshes and triggers
Instead of running the same query every day, week, or month, you can set up automatic refreshes to get new data to Google Sheets whenever you need it.
With the scheduled refreshing and emailing features, you can:
Set up automatic data refreshes in Google Sheets
Send recurring emails to your inbox
Trigger emails from Google Sheets based on a cell value
Manage all your triggers in one place
Now, let's see how you can set up a trigger.
On the Supermetrics sidebar, click on "Schedule" → "Add trigger."
The "Trigger" view will appear. From here, you can choose to refresh your data daily, weekly, or monthly. If you want to get an email every time the data has refreshed, choose one of the "Refresh & email" options.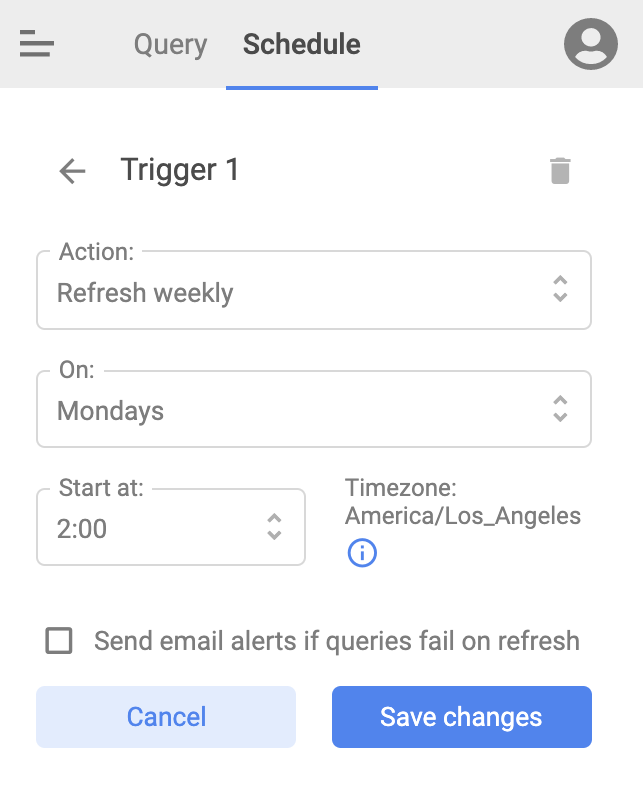 To manage the triggers across different files, simply click on "Manage triggers in all your files" in the "Schedule" window.
From here, you can easily manage all your triggers.
Google Analytics report templates for Google Sheets
Since you've now completed the crash course on how to use Supermetrics for Google Sheets, I've got a graduation gift for you: some free plug-and-play report templates to help you jump start your reporting.
I'll quickly walk you through each template and explain what's in it for you.
Ecommerce reporting template
If you're managing an online store, this template will come in handy.
The ecommerce reporting template will help you understand:
How much revenue your store has generated
What your best selling products are
Who your customers are
What marketing channels drive the highest ROAS
Get the ecommerce reporting template >>
Post-click analysis template
Post-click analysis is really helpful if you want to understand how visitors behave on your website.
With this post-click analysis template, you'll see:
How your customers convert
What stops your visitors from converting
How well your paid traffic converts compared to traffic from other sources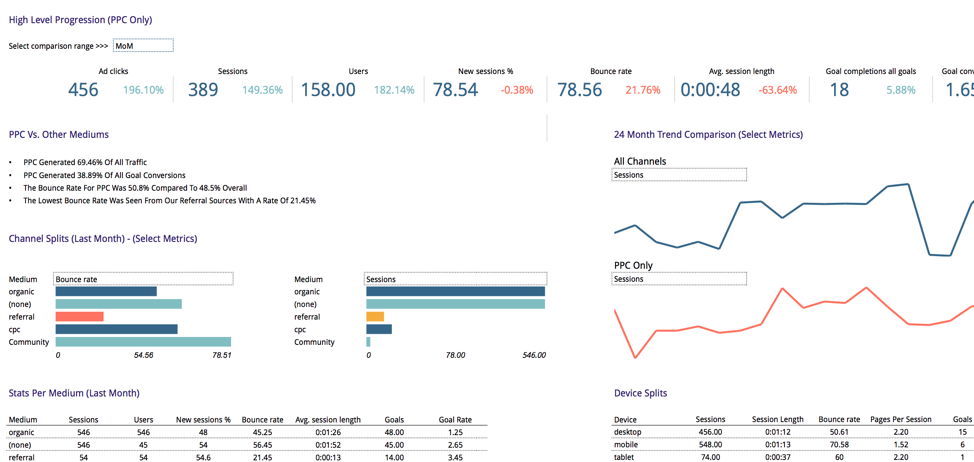 Get the post-click analysis template >>
Website cohort analysis template
Running a cohort analysis will help you understand how different groups of customers behave.
This website cohort analysis template tells you:
What your retention rate is
How your retention rate has evolved over time
How different cohorts compare to one another
Get the website cohort analysis template >>
Website traffic dashboard template
The more traffic you have to your website, the more chances you have to convert visitors into customers.
Analyzing your traffic helps you understand:
How your website is performing
What your top landing pages are
How your traffic has evolved over time
Get the Google Analytics traffic dashboard template >>
SEM and SEO data comparison template
Our friends at OIKIO have built an awesome template to help you keep track of your paid ads and organic performance.
This SEM and SEO data comparison template will tell you:
What your paid and organic conversions look like across the same search phrases
The search phrase you may want to target with paid ads
The ratio of paid/organic traffic for any given search phrase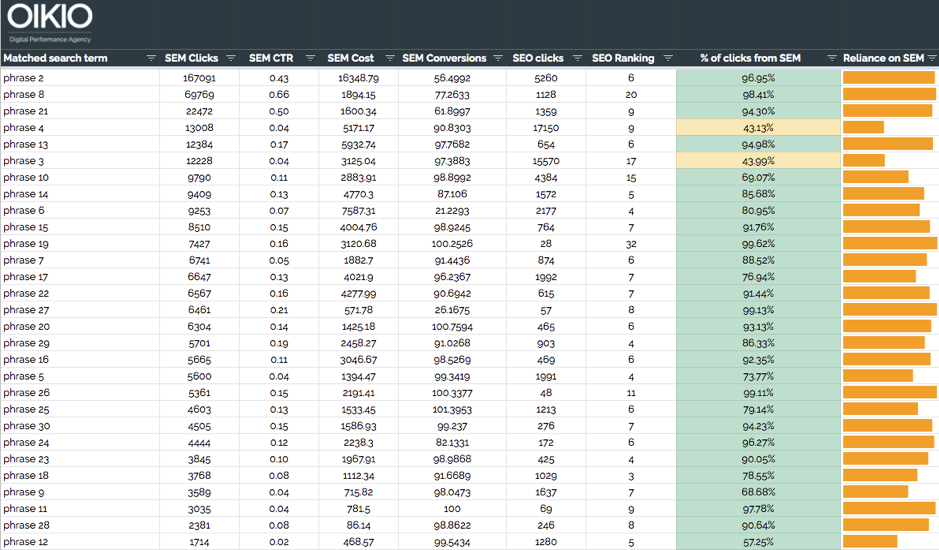 Get the SEM and SEO data comparison template >>
You can also check out more reporting and analysis templates from our gallery.
Over to you ?
That's it! That's how you can quickly and painlessly import any Google Analytics data to Google Sheets.
P.S. If you have any cool reporting or analysis templates, you'd like to feature in our template gallery, let me know on LinkedIn or Twitter.
Turn your marketing data into opportunity
We streamline your marketing data so you can focus on the insights.