Jun 28, 2022
Google Analytics 4 vs. Universal Analytics: what's the difference
6-MINUTE READ | By Ha Tran
[ Updated Aug 3, 2023 ]
Hey! Are you ready for the sunset of Universal Analytics in July 2023? We got you covered – see our guide on how to prepare, when Google Analytics 4 is replacing Universal Analytics!
If you've seen the news, you know about the sunset of Google's Universal Analytics. As customers no longer browse through products on the web in an expected path but rather through multiple touchpoints, you need a modern and improved data measurement solution. That's what Google Analytics 4—or GA4—is for.
Before all standard Universal Analytics properties stop processing new hits in July 2023, it's time you move to GA4 and start getting familiar with it. If you're already one step ahead, check out how to save historical data from Universal Analytics for a smooth transition.
But, if you're still new to the whole concept, read along to learn more about GA4 and the main differences between GA4 and Universal Analytics.
Fast forward >>
What is GA4?
Currently, we still rely on Google Analytics for measuring website performance and Google Analytics for Firebase for app engagement. Although both platforms do their job well and give businesses powerful insights, it's rather difficult to have a comprehensive picture of how the data compares.
Google Analytics 4 is designed to unify both app and web analytics. In other words, GA4 is the new generation of Google Analytics, where you can navigate and better understand the complex, multi-platform journeys that your customers take. 
With GA4, customers' data privacy and security are greatly enhanced since the tool no longer stores IP addresses. This feature is an advantage for businesses in today's international landscape, where the need for more data protection and controlled sharing is increasing.
The differences between GA4 vs. Universal Analytics
GA4 has many key features that are different from its predecessor that requires time to get used to. So, before you jump on the bandwagon and start migrating to GA4, let's look at the differences between them. In this article, we've narrowed them down to 5 main points.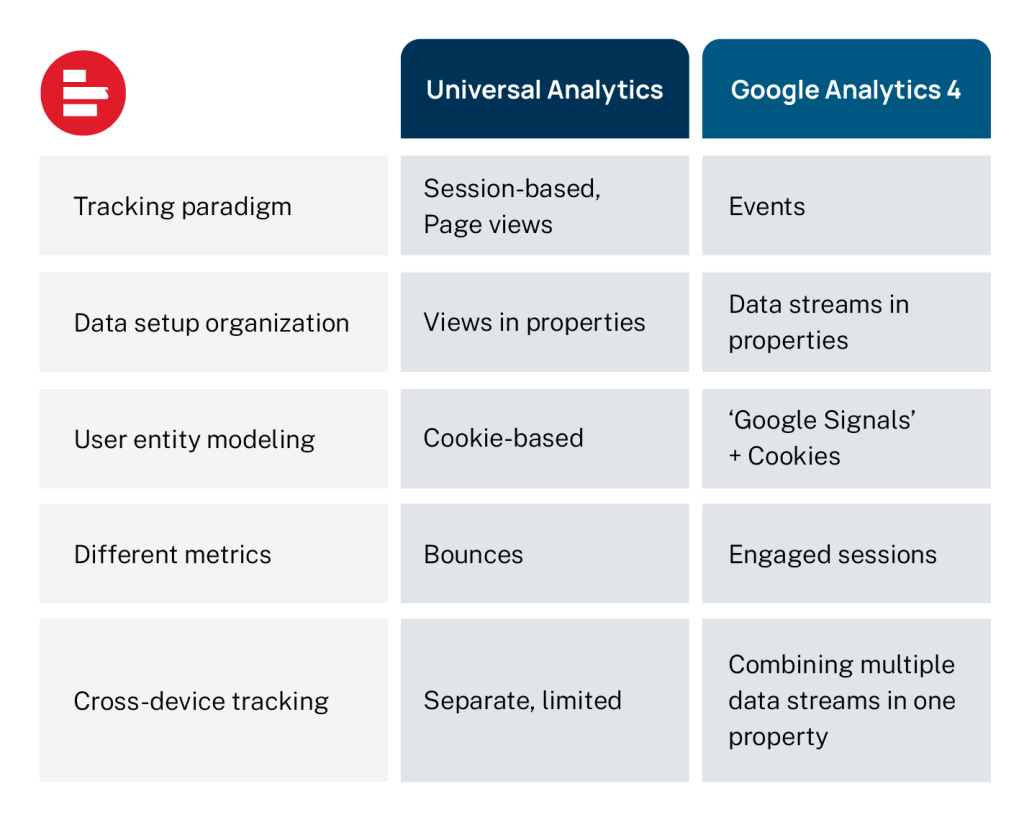 Tracking paradigm
A fundamental difference between the two tools is how they track data. Universal Analytics uses a tracking paradigm based on sessions and pageviews, but GA4 measures event-based data.
Universal Analytics collects and measures different user interactions with your website within a given period as sessions or 'hits'. Primarily, Universal Analytics tracks only page views across your properties. While a session in Universal Analytics can also include multiple additional events, it requires some technical skills in event tracking and Google Tag Manager to make that happen.
GA4 is built to capture what's happening on your website and app as 'events' instead. This new data measurement model gives a full overview of your user engagement on and off the web, regardless of your technical capabilities.
There are 4 event types in GA4:
Automatically collected events are triggered by basic interactions when you install the GA4 code base. Some examples of this type of event are page_view, first_visit, and session_start.
Enhanced measurement events are also automatically collected and allow you to track engagement with your content. For example, with enhanced measurement events, you can see data related to scrolls, outbound clicks, site search, video engagement, and file downloads. Some specific measurements in this event type can be manually disabled in settings.
Recommended events are not automatically collected but can help you measure additional data and thus create more useful reports.
Custom events consist of names and sets of parameters defined and unique to your business. Before setting up a custom event, review the list of automatically collected, enhanced measurement, and recommended events first to avoid duplicates.
Data setup organization
In Universal Analytics, you need to create separate properties for your website and app. In addition, each property is recommended to include 3 distinct views. The first view is unfiltered, where you store all of the raw data. The second is a test view, in which you add filters and conduct experiments. And the last is a master view that gathers all the goals, filters, and other customizations you've tested in the test view.
In GA4, a website or an app will be considered a 'data stream', and they can fall under one single property. A data stream is a data funnel starting from a customer's touch point to GA4. Each GA4 property can have a maximum of 50 data streams.
User entity modeling
Whenever you visit a website, you'll most likely be asked to give consent to the cookies settings. Once you've accepted the terms, the website that integrates with Universal Analytics sends the cookies into your web browser, and they'll be able to record and monitor your actions online during a specific session.
Unfortunately, nowadays, websites aren't the only channels through which customers interact with businesses. More and more people engage in-app and find information from multiple platforms where cookies aren't available. Relying only on cookies makes combining user behavior data from various touchpoints difficult to get a big picture of their interactions.
With GA4's new user entity modeling—offering both cookies and Google signals, you can now stitch the data together in a single unified cross-device user journey. Google signals are data from users who are signed in to Google. They can help fill the gap of data that the lack of cookies leaves behind.
Different metrics
GA4 introduces a new metric called 'engagement rate'. 'Engagement rate' is the percentage of 'engaged sessions'. 'Engaged sessions' is the number of sessions that lasted longer than 10 seconds, had a conversion event, or had at least 2 pageviews or screenviews.
On the other hand, Universal Analytics has the 'bounce rate' metric—the percentage of single-page sessions without interaction with the page. A bounced session has a duration of 0 seconds.
'Engagement rate' is more useful than 'bounce rate', when measuring the behaviors of users who may have viewed a single page and left without taking further action. Note that 'engagement rate' isn't the opposite of the 'bounce rate'.
Cross-device tracking
Since you can group various data streams—a website or an app—together in a property in GA4, you can now create reports where you can see cross-domain traffic and aggregate data, while still maintaining the ability to break down data per stream.
What's next?
Now you've gained a better understanding of what GA4 is, as well as its differences from Universal Analytics. If you still feel uncertain about this change, check out the 10 things you should know before switching your reporting from Universal Analytics to GA4.
You can also test and try out our pre-built Google Analytics 4 reporting template in Looker Studio.
Get the power to manage any data source
It's easier when the platform does it for you. Try Supermetrics free for 14 days, no credit card required.
Start a free trial
About the author
Ha is a Junior Campaign Manager at Supermetrics. Ha helps answer customers' questions and connect Supermetrics with them by delivering the right messages at the right time.
Turn your marketing data into opportunity
We streamline your marketing data so you can focus on the insights.