Apr 13, 2021
10 things you should know before switching your reporting from Universal Analytics to Google Analytics 4
10-MINUTE READ | By Pinja Virtanen
[ Updated Nov 28, 2023 ]
Want to learn more about GA4? Check our GA4 Knowledge Center for tutorial videos, support articles and blog posts.
If you have a tendency to get nerdy about web analytics data (like we do), you've probably already played around with Google Analytics 4.
In fact, you may have even tried Supermetrics' Google Analytics 4 connector.
And if you've set up GA4, you've probably learned that instead of measuring "hits" on the session level like the old Universal Analytics, Google Analytics 4 measures "events" on the user property level.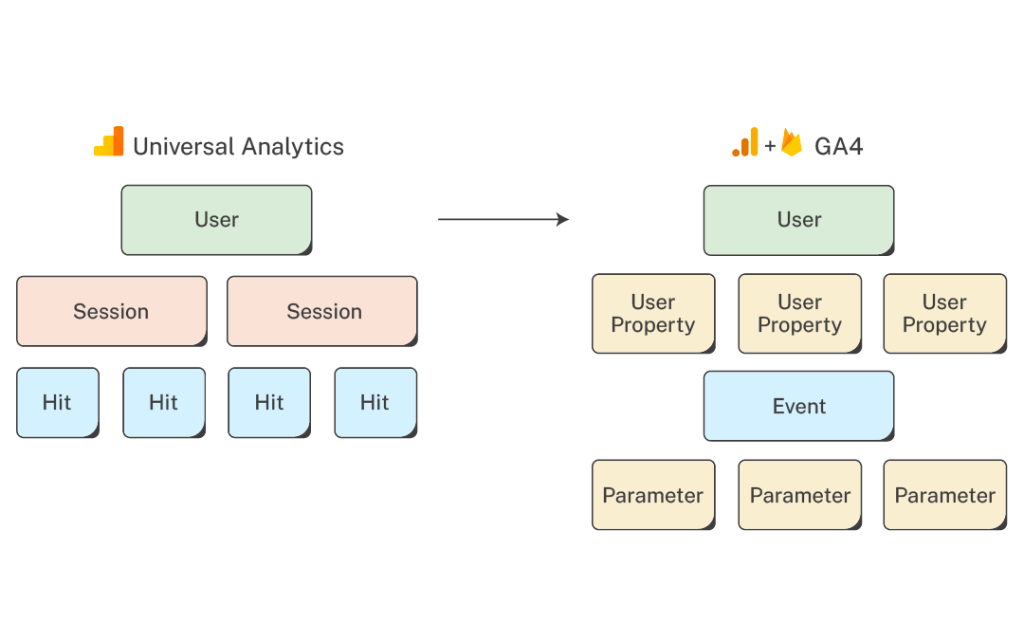 Psst! For more information on the fundamental differences between Universal Analytics and GA4 and how to get started with GA4, check out this post by our friends at Kemb.
But since GA4's underlying data model has pretty big implications on your reporting, we teamed up with Martijn Burgman and Tetiana Turmer from Kemb to discuss whether, when, and how to move your web analytics reporting from Universal Analytics to Google Analytics 4.
Navigate this post:
Ready? Let's go!
Should you switch your reporting to Google Analytics 4?
The very first question you'll want to answer is this: should you just quit Universal Analytics cold turkey and move all your reporting to GA4?
Lucky for you, we recently chatted with Charles Farina on our podcast about this very topic. His recommendation was to start using GA4 and Universal Analytics side by side.
Why? Because as you'll see in the following sections, you're not always able to compare apples with apples between Universal Analytics and GA4.
And as Charles points out in the interview, the other compelling reason to track both is that GA4 hasn't yet rolled out all the capabilities that are available in Universal Analytics. And while you're waiting for them, you may as well start familiarizing yourself with the new data model.
Along these same lines, Tetiana and Martijn from Kemb recommend that if you haven't yet started setting up GA4, you should simply take a copy of your Google Analytics property and make sure to do dual tagging. Because eventually when GA4 features are a bit further along, this step will help you transition fully to GA4.
And if you're already using Supermetrics for your reporting, we recommend that you take a copy of your Universal Analytics based reports, and simply switch out the queries/metrics to the corresponding ones in Google Analytics 4.
And psst! If you're not using Supermetrics just yet, this is a great time to try it out. Simply choose whether you'd like to move your Google Analytics data to a spreadsheet, a data visualization tool, a BI tool, a data warehouse or a data lake, and start your free 14-day trial.
But now, let's talk about the major implications GA4 will have on your reporting and how to compare Universal Analytics data with data from GA4.
1. All-in-one app and web tracking
First up, let's talk about some good news for those of you with a mobile app. Because — you guessed it — you no longer have to separately set up tracking for your website and mobile app.
And because of that, Google Analytics 4 can automatically pull data from your website and app properties. For spreadsheet-based reporting, this of course, is great news as you can save 50% of your formulas and automatically pull all the data together without having to repeat any steps.
2. Bounce rate (UA) vs. engagement rate (GA4)
To many marketers' and web analysts' horror, Google Analytics 4 doesn't track bounce rate at all.
Instead, it gives you something infinitely better: a new metric called engagement rate.
As opposed to only looking at visitors who don't continue to another page on the website, engagement rate also considers time spent on the landing page.
This fundamental difference automatically makes engagement rate and bounce rate incomparable.
To quickly see the difference between bounce rate vs. engagement rate on your website in practice, you can use Supermetrics for Google Sheets (or Supermetrics for Excel). They allow you to pull data from the two data sources into a single spreadsheet tab.
To do that, we need to run two queries: one on GA4 and one on Google Analytics.
My first query looks like this:
Data source: Google Analytics 4
Select accounts: [your account]
Select dates: Last month
Select metrics: Engagement rate
Split by dimensions:

Rows: Page path
Columns: Week (Mon-Sun)

Filter: Page path EQUALS [the page you're looking to compare]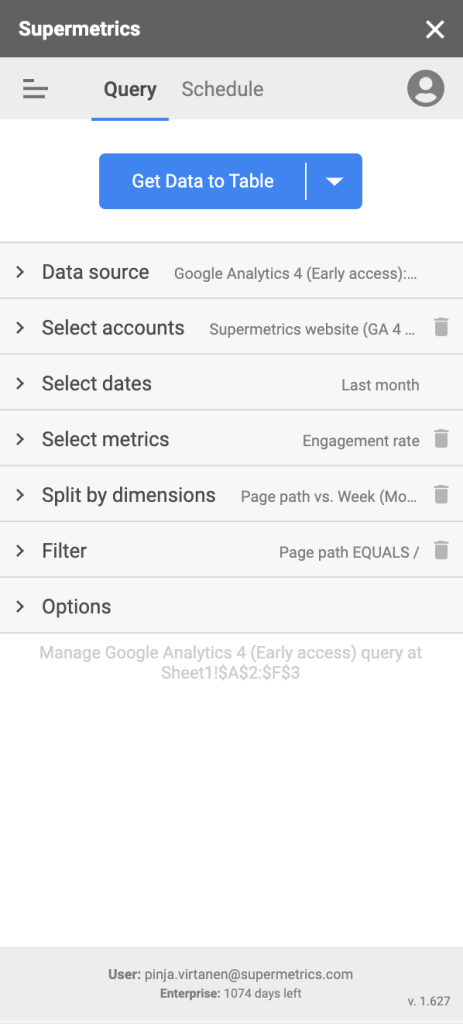 Once I've run the query, my spreadsheet looks like this.

Next, I want to run a similar query but this time using (the old) Google Analytics as the data source and bounce rate as the metric.
Data source: Google Analytics
Select accounts: [your account]
Select dates: Last month
Select metrics: Bounce rate
Split by dimensions:

Rows: Page path
Columns: Week (Mon-Sun)

Filter: Page path EQUALS [the page you're looking to compare]
Options: Avoid sampling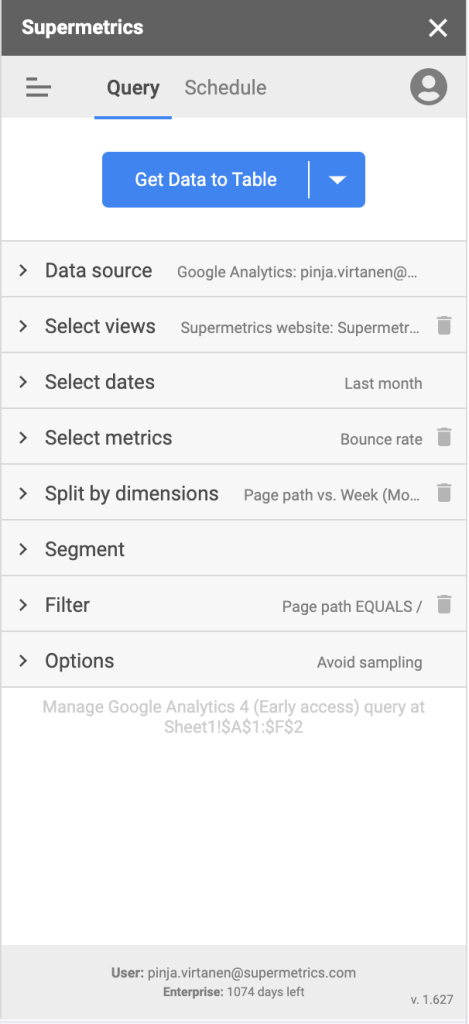 Here's what the finished query looks like.
As I compare the data, unsurprisingly, there seems to be little correlation between engagement rate and bounce rate.

Especially if you're monitoring the historical evolution of bounce rate on different website pages and/or sections, you might already want to start tracking engagement rate on the side. This way, when you're finally ready to abandon Universal Analytics completely, you'll already have an idea of how your engagement rate has evolved over time.
3. Sessions
This is how sessions are tracked in Universal Analytics.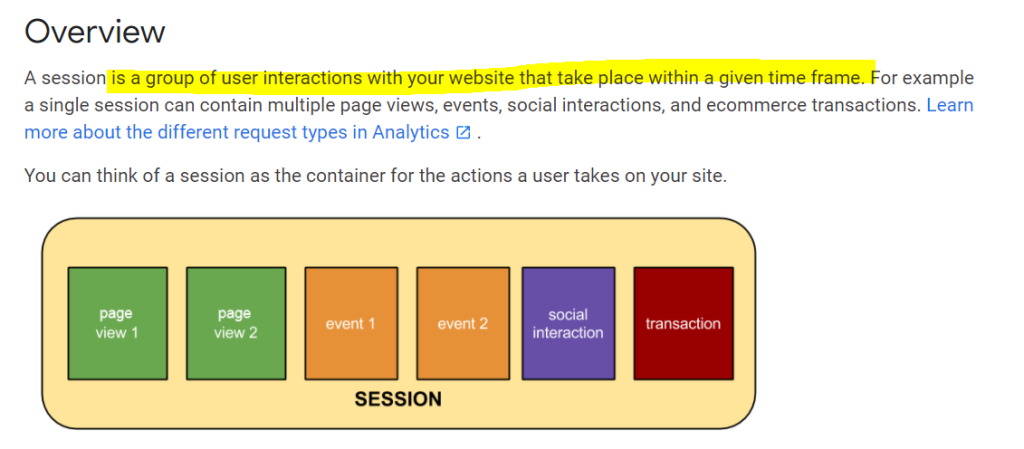 The basic concept of session tracking is slightly different in GA4 than it is in Universal Analytics. In general, you'll see lower session counts than you would in Universal Analytics. That's because GA4 doesn't create a new session when the campaign source changes mid session.
Let's look at an example:
Imagine that you google "supermetrics blog" to check out the newest articles we've published, and click on a link that brings you to our blog listing page. → Your session in both GA4 and Universal Analytics will be attributed to Google / organic.
Now, let's say you take a short coffee break (under 30 minutes, as otherwise your session would automatically end) and then reopen the blog listing page from a bookmark. → Universal Analytics will consider that as a new session with direct / none as the source / medium. In GA4, anything you do after the short break will still be considered as the original session attributed to Google / organic.
4. Average session length
Related to the last point, a key metric that will look entirely different in GA4 compared to Universal Analytics is average session length.
Let's illustrate this with another example.

After running two identical queries with the two connectors, we're left with two completely different results.
This discrepancy is the result of the different data models. As you can see, Universal Analytics shows an average session length that's more than double the average session length we see in GA4.
You do not want to mix apples and oranges here. Stick to one data source and report consistently based on that number. If you ask us, GA4 is probably the more reliable of the two sources, so you may as well start reporting on that number already.
5. Average pages per session
If you're used to measuring average pages per session, you're in for a surprise. Because Google Analytics 4 doesn't track this metric as a default.
However, our friends at Kemb use a workaround for this: pulling views and sessions from Google Analytics 4 and then dividing the views by sessions.
As you can see from below, though, the numbers reported through Universal Analytics are a lot higher than the numbers coming through our little calculation.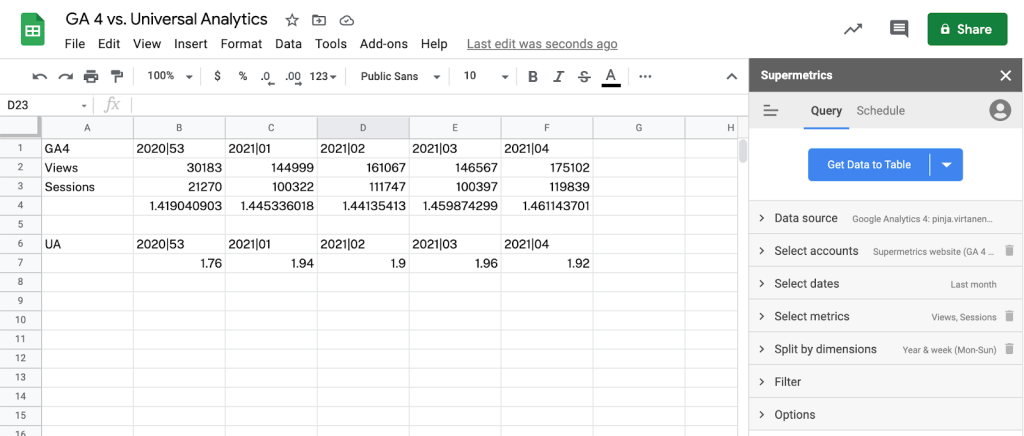 Again, this is due to the different definition of a "session" between GA4 and Universal Analytics.
6. IP anonymization
As many of you know, in Universal Analytics, you had to actively configure Google Analytics to anonymize IP addresses to comply with EU legislation. In practice, the easiest — and the recommended — way of doing this was through Google Tag Manager, which gives you way more control over the data you can extract from your page with Google Analytics.
Luckily, you no longer have to jump through hoops to anonymize IP addresses. That's because IP anonymization is enabled by default in all GA4 properties.
7. Landing page reports
Another thing we'll miss from Universal Analytics is landing page reports.
The silver lining, however, is that you can easily find out how many times the "session_start" event was triggered on a particular page. This will, essentially, help you create your own landing page reports.
8. Site speed
Unlike Universal Analytics, Google Analytics 4 doesn't measure site speed.
This is an interesting development, because page speed has been a ranking factor for the past ten years.
That's why your best bet is to integrate Lighthouse with Google Analytics 4, so you can keep monitoring and optimizing your site and page speed.
9. The BigQuery schema
If you're using Google BigQuery as your marketing data warehouse, I have good and bad news for you.
The good news is that GA4 already connects natively with BigQuery.
The bad news is that the native connector's schema is completely different from Google's Universal Analytics schema. In practice, if you're using Google connectors, this means you'll probably have to spend some time remapping your GA4 data before you can start moving it to BigQuery.
The first piece of good news is that once you've set up your GA4 schemas, running SQL queries should be a lot simpler than before as the new data model stores the data in a neater format.
The second piece of good news is that Supermetrics has a purpose-built connector for GA4 and BigQuery. Here are three reasons why you should take it out for a spin:
It's much easier to set up than Google's native connector. In fact, with Supermetrics, you don't need to set up an integration to Firebase.
Supermetrics' GA4 connector comes with a standard schema that covers the most common use cases out of the box.
If, however, Supermetrics' standard schema doesn't have exactly what you need, you can easily build a custom schema with Supermetrics.
Get your free 14-day trial to see how easy it is to move your GA4 data to BigQuery with Supermetrics!
10. Data retention
While Universal Analytics stores your data pretty much forever, in Google Analytics 4, your data will expire after 14 months.
This is especially important to note for businesses that see a lot of seasonal fluctuations in their website traffic and digital sales. If that's the case for your business, you're better off comparing December 2021 to December 2020, than making a comparison between December 2021 and November 2021, for example.
And while a year-over-year comparison is still possible with the new 14-month data retention policy, your best bet might actually be to start moving your GA4 data to BigQuery already so you don't lose out on the opportunity to use historical data from past years for your analysis.
Pro tip: Make sure to adjust that setting in GA4 as soon as you set up your property as it's set to two months by default.
Over to you!
Even though it'll likely take Google several months (if not years) to roll out necessary features like attribution reports into GA4, you should already start integrating data from GA4 into your reports.
No matter where you're moving your web analytics data, Supermetrics makes it easier for you to compare and contrast the numbers you see in Universal Analytics and GA4. To try that out, start a free 14-day trial of any Supermetrics product today.
Turn your marketing data into opportunity
We streamline your marketing data so you can focus on the insights.