Mar 7, 2023
What is Supermetrics Charts?
10-MINUTE READ | By Ralph Spandl
[ Updated May 23, 2023 ]
Have you ever wondered why some dashboards are more effective than others? One reason might be the way they use data visualization. Instead of overloading the report with tables, they use charts that help you understand the information more easily.
Why does this work? Our brains are much better at processing images than abstract numbers. That's why data visualization is so powerful – it takes advantage of our brain's natural abilities to process visual information. Turning numbers into images — or charts — can make complex data more accessible and engaging.

If you have ever explored different chart libraries, you might have noticed the huge amount of chart types available. Each chart reveals different insights of your dataset. A bar chart will help us to create rankings and compare metrics, line charts will help us to see change over time, and a flow diagram can help us to see how users navigate our checkout funnel, where they jump off, and where they are caught up in loops.
A wide choice of charts will help you precisely visualize all the insights you discover. Different chart types can make your reports more accessible and engaging for all stakeholders.
Unfortunately, the list of charts in Looker Studio is very limited, and many vital chart types, like a funnel visualization, Sunburst, and Sankey diagram, are unavailable.
This is why we created Supermetrics Charts for Looker Studio (formerly Google Data Studio).

Skip ahead >>
The core principles of Supermetrics Charts
Supermetrics Charts is a collection of new community visualizations built to enhance the already existing data visualization capabilities of Looker Studio. Unlike Supermetrics' free community visualizations, they're not in the Looker Studio gallery. You can purchase the complete library as an add-on to most of our Looker Studio packages.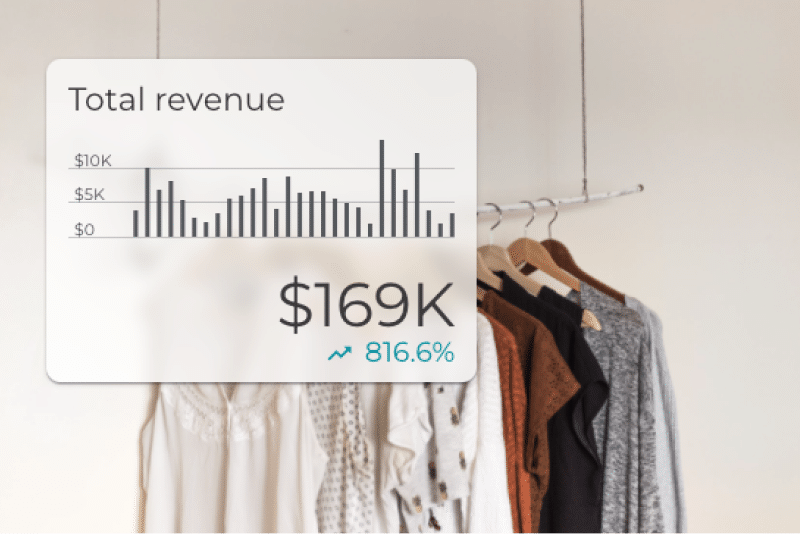 Supermetrics Charts will help you create better dashboards, because they all follow three principles.
Create a better experience for report viewers
Supermetrics Charts help you communicate your insights more precisely with additional charts. Create actionable reports adapted to your brand guidelines.
Solve analytical challenges
You can now visualize user flows through your ecommerce checkout, easily create a site map of your entire website, or generate an email funnel.
Reduce dashboard maintenance
You'll love using small multiples because you'll create fewer charts on your page, meaning fewer updates. Many charts also feature automatic font-sizing, which speeds up changes dramatically.
Features of Supermetrics Charts
These core principles translate into a series of features that make the charts stand out from native Looker Studio charts. To get a better understanding of how these features work in the real world, please view the recording of our webinar "Data visualization in Looker Studio: Better dashboards with Supermetrics Charts".
Small multiples
Small multiples are a data visualization technique that displays a series of small, similar charts, each representing a different data segment. The charts are arranged in a grid pattern, each with the same size, scale, and axes, making it easy to compare the data across the different segments.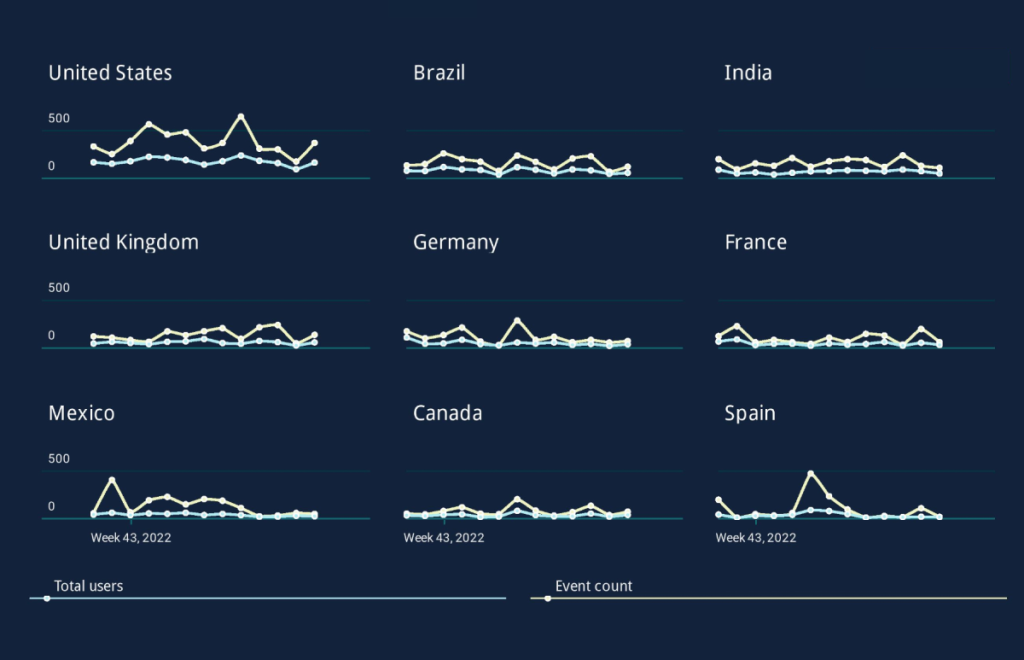 Small multiples can reveal patterns and trends that may not be immediately apparent in a single chart or graph. Small multiples can also help you reduce the number of charts on a report page and speed up the page load. At the same time, rendering 5 scorecards within one chart makes updating your dashboards much easier.
Small multiples also make sure that your report is always up-to-date. If you use scorecards to show the performance of your top three ad campaigns, a chart using small multiples will always be correct.
If campaigns are stopped, the chart automatically replaces the scorecard, and scorecards will never be empty.
Responsive design
Looker Studio is a very handy tool using drag-and-drop and making designing reports easy. It's a breeze to resize the canvas of a chart, and Supermetrics Charts are taking full advantage of this behavior by making the charts reactive to the canvas.

If you have multiple scorecards in one chart, you can organize them horizontally or vertically, depending on your canvas size. For example, if your canvas becomes very small, the scorecard will remove certain elements, like the sparklines or the bar graph.

Supermetrics Charts simply work as long as there is some data to visualize.
Style your dashboard to match your brand
Like any official document that is presented to clients or internal management, reports should follow brand guidelines. Your dashboards will be taken more seriously when they are graphically appealing and blend well into your brand.
Supermetrics Charts give you a lot of flexibility to match the charts with your dashboard design. Each chart has many settings to match colors, typography, and overall style.

Animation and interaction
Animations are not just gimmicks. When applying a filter to a chart, observing the change is important. Animations help you see this change and make it more memorable. This is why most of our charts transition smoothly when a user applies a filter, and the data is updated.
Multi-lingual formatting
Numbers and dates follow very specific rules in each language. And most dashboards are created to be used in a specific language. With Supermetrics Charts, you can ensure that charts are formatted in the language they're intended for and not in the browser's language.

Available visualizations of Supermetrics Charts
Supermetrics Charts now consist of 13 different chart groups, some containing multiple chart variations.
We created a comprehensive demo report for each chart explaining all functionalities, including several inspirational examples.
A second series of reports focus on examples of digital marketing and ecommerce dashboards. Links to the sample reports can be found on the front page of the demo reports.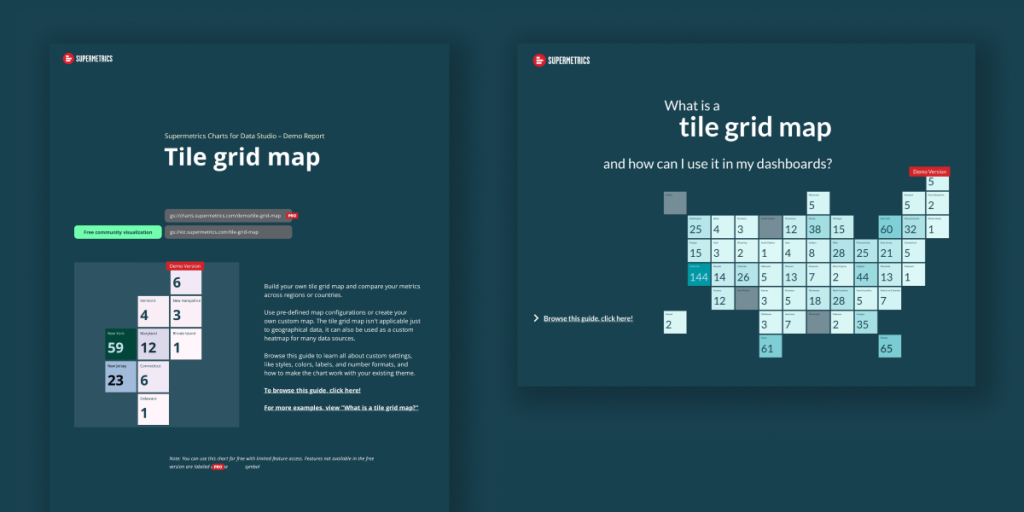 Combo Scorecard
This chart lets you present a single KPI or multiple key metrics and compare it to another time frame or metric.
Adding a date dimension, you can also display a bar or line chart. And finally, by adding a second dimension, you can create small multiples. View combo scorecard demo report.

Bullet graph
Compare a single KPI to a target or to another time frame.
By adding more metrics or a dimension, you can create small multiples. With multiple metrics and a dimension, the chart produces a matrix of bullet charts.
You can use this chart for ad pacing reports or to track your goals in sales. View bullet graph demo report.

Tile grid map
Build your tile grid map and compare your metrics across regions or countries.
Use pre-defined map configurations or create your custom map. The tile grid map applies to more than just geographical data and can also create a custom heatmap. Think about the tile grid map as a table heatmap whereby you decide how the tiles are organized on the page. View tile grid map demo report.

User journey
Discover how users navigate your website or find the spots where your funnel fails.
The chart group User Journey contains two types of visualizations, a Sankey and a Sunburst diagram. Both will help you analyze user journeys. View user journey demo report.

Multi-target gauges, and progress bars
Easily compare single or multiple metrics to targets or a comparison date range. The multi-target gauges are useful when you want to track a budget and need to indicate different levels of danger zones.
The progress bars are available in two versions: the radial and linear progress bars. View gauge demo report.
Tree
The tree collection contains two charts: Create a tree or a sunburst diagram from hierarchical data.
This chart requires only a URL or a file path and one metric to create a beautiful tree to expand node by node.
Both charts can use data from Google Search Console, Google Analytics, or any other file structure and give you a quick overview of how a website is structured. View tree chart demo report.

Funnel
Create Funnel visualizations to see where drop-off and overall conversion rates in your stepped process exist.
This funnel can also help you identify the behavior of single segments. View funnel demo report.

Plans for Supermetrics Charts
We already have many ideas for extending the library. Still, we'd also like to encourage you to help us prioritize future development and share your ideas and visualization needs.
By visiting the Supermetrics roadmap, you can submit your ideas or comment on existing charts that are either planned or in development.
In the roadmap, you will find two currently under development charts, Time series and Tell me.
Time series
The Time series will improve many aspects of the built-in line chart and help you to better visualize time-based data. Like almost all Supermetrics charts, it will ship with small multiples, allowing you to build two or more line charts that use the same scale and can be compared even after applying filters to your dashboard.

Series labels will greatly improve the legibility of the chart because labels can be attached directly to the lines, which is nowadays considered a best practice.
Speaking about labels, the date labels attached to the x-axis will always be horizontal, no matter how big or small the chart is displayed in your report. There will be multiple options on how the date labels are displayed.
A completely new feature is automatic date aggregation. There are only so many data points you can fit into a chart. But what if the report viewer selects a very large date range, and you have more data points than pixels on your screen? The Time series chart will then aggregate data points to weeks, months, quarters, or years. The line will automatically adapt to the situation.
You can pre-configure the date granularity in built-in line graphs, but they won't automatically adapt when a report viewer interacts with the chart.
Another useful feature is dynamic reference lines. Instead of setting a number manually for a reference line, you can use any metric to create a dynamic reference line. The chart can transform two reference lines into a shaded area. This will allow you, for example, to show if a metric is within a machine-learning model-generated range.
Tell Me
When designing data reports, you always need to focus on your audience. Depending on their role in the organization, they will consult the report more or less frequently, and they will be more or less familiar with the data or even the context of the data.
In many cases, you may require more effort to explain your results and point your reader to the correct numbers.
Herein lies the goal of Tell me, being able to create a sentence in plain English, using the values of the dataset so that the sentence is always up-to-date.

The chart will do some of the heavy lifting, like formatting the numbers and dates correctly, and it will also allow you to create some logical operations that will help to explain the results, even if you don't know what the numbers will look like.
How to get started with Supermetrics Charts
Getting started is easy.
Visit the Supermetrics Charts landing page, and start exploring the demo report in the section "Available chart types". These reports explain all features of each chart in every detail.
You can then test drive the demo reports by using the manifest path provided in these reports. If you have never manually added a community visualization to a Looker Studio report, you can find a video tutorial on our support site: How to set up Supermetrics Charts for Looker Studio.
Supermetrics Charts can be purchased from our website as an add-on to Looker Studio Essential, Core, and Super packages. If you're subscribed to a Google Sheets or Enterprise package, please contact our support team or your customer success manager to assist in getting access.
Buy Supermetrics Charts today
Create better dashboards and get one step closer to data insights
Learn more
Ralph Spandl
About the author:
Ralph, Head of Data Visualization at Supermetrics, works at implementing the first commercial Looker Studio chart library—a collection of data visualizations that allow you to push the limits of Looker Studio.
Turn your marketing data into opportunity
We streamline your marketing data so you can focus on the insights.