Oct 6, 2022
The Supermetrics public product roadmap: what it is and how you can submit your request
7-MINUTE READ | By Anastasia Levchenko
[ Updated May 17, 2023 ]
Transparency is the best path to better customer engagement. User feedback is one of the important elements in the decision-making process—it's all about giving the customers the chance to collaborate with the team and weigh in on product decisions and innovations, so customer relationships can grow stronger and the product can be improved.
So what's a product roadmap? Why is it important to have one? And how do we do it at Supermetrics? Keep reading to find out.
Skip ahead >>
What's a product roadmap?
A product roadmap is a tool that offers a high-level visual representation of a company's strategic goals and direction and helps communicate them to internal and external stakeholders. It helps people understand expected developments and prioritized changes for the product according to the product strategy.
Ideally, the roadmap should be able to answer these questions:
What's the team working on at the moment?
What's coming next?
When can development be expected?
Roadmaps are flexible and susceptible to sudden changes—that's why it's important that there are no exact delivery dates so that areas of focus are not seen as strict obligations.
Good public roadmaps allow teams to:
Boost interest and engagement for new customers looking at certain product features
Retain customers by attracting them with upcoming improvements
Build an understanding between product managers and users
Openly share product initiatives
One of the major benefits of having a roadmap is that it promotes stakeholder collaboration and helps collect individual feedback and input that contributes to the product development process. Depending on how the roadmap is used, the company might only have an internal roadmap or an external one as well.
What's a public roadmap?
A public roadmap is a public page where a company shares what it's working on, what's available for testing, and what's been recently released. It gives the public a hint of what the company's product strategy is.
The public roadmap is typically focused on the needs of existing and potential customers. Its fundamental purpose is to gather continuous feedback from current customers and attract prospective users.
Why does Supermetrics have a public product roadmap?
There are a few reasons why we decided to share our product roadmap publicly: development transparency, open channel for feedback, and expectation management.
Development transparency
Transparency is the first step to better customer engagement. And public roadmaps can help build that transparency. Customers appreciate when companies are transparent about their initiatives, so in return, they also become more open and willing to interact. According to a Label Insight 2016 study, approximately 94% of consumers acknowledge that the more transparent a brand is about its ongoing efforts and focus areas, the more likely they'll show their loyalty to that brand.
User feedback is one of the aspects we rely on in our decision-making. By giving our customers the chance to collaborate with the team and influence product decisions and innovations, we create a feeling of unity and help our customer relationships grow stronger.
Open channel for feedback
User feedback plays an important part in our decision-making process. We hope our customers let us know whether they think we're on the right track or not. We believe that customer feedback on planned features can be invaluable to make sure we're prioritizing the right things and building features that our customers actually want, need, and are excited about.
Expectation management
Managing roadmap expectations is one of the most significant ways we can ensure that everyone's voice is being heard and taken into account—that, as a company, we're certain that we're pushing our product development in the right direction. It's also essential for reducing customer churn risk and ensuring long-term success.
What information can you find in our public product roadmap?
The Supermetrics Roadmap gives you an overview of the key features and products we consider valuable for our users. These includes:
Data destinations and related features
Data sources and their metrics, dimensions, etc.
Account management functionality and Hub development
Other Supermetrics initiatives, such as the Supermetrics Slack Community
Our roadmap is focused on a high-level outline rather than specific dates to avoid promising clear-cut deadlines that may be subject to change. It gives you an overview of the development stage the feature is currently in, so you can see what's planned, currently in progress, or has been successfully released.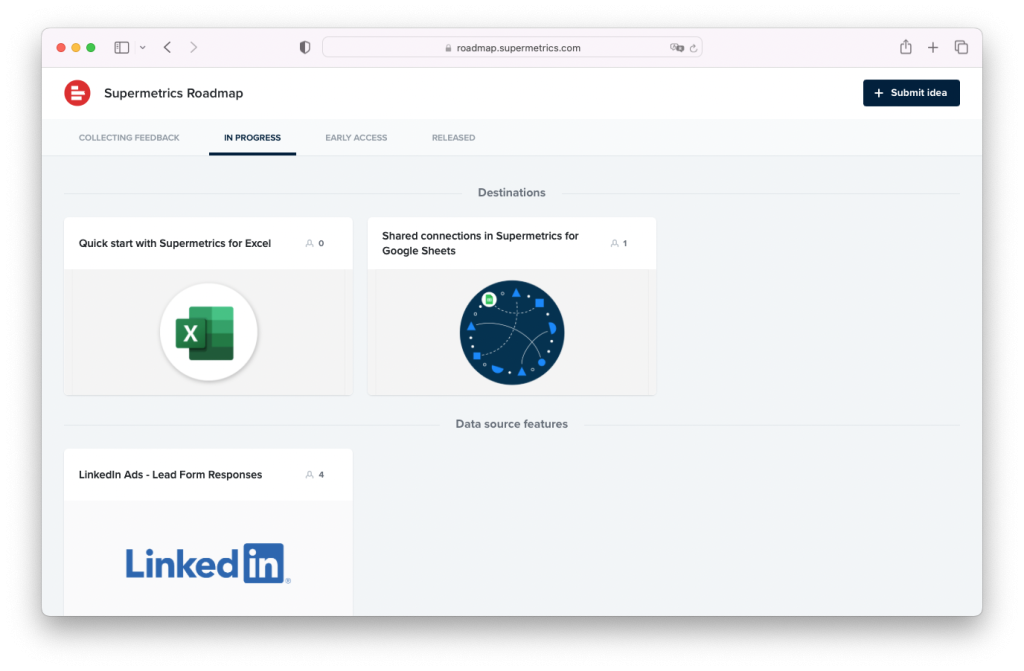 How do we build our public product roadmap?
Here's a little secret: creating product roadmaps on your own requires quite a bit of work from the development team. So, many product teams—including ours—opt for a dedicated roadmapping tool instead of building something from scratch. Thanks to Productboard, we have a platform where we can share our plans and interact with users.
Our product managers are responsible for what appears on the roadmap. But, before they can move forward with anything, they need to at least make sure that:
They have a clear understanding of the overall product vision so they can prioritize features and initiatives accordingly
Product development initiatives that are about to be published are valuable to customers
Product ideas and solutions have been properly validated

Is there a demand for the feature?
Do we have sufficient resources for development?
Have we evaluated the outcomes and risks?
Has customer feedback been taken into account?
What's our prioritization process?
Prioritization determines which products, features, or initiatives product management and engineering teams should work on first. At Supermetrics, we try to match customer needs, business goals, and team constraints when evaluating product decisions.
We ask ourselves:
What's the current demand for this feature or new product?
Do we have the right resources and enough of them?
Does it align with our overall product goals and strategy?
How to submit an idea to our public product roadmap
If you have ideas to share with us, let us know! The Supermetrics Roadmap is now available for all Supermetrics customers and prospects. Join other Supermetrics users and enthusiasts in sharing feedback to help us prioritize our next product development.
To submit your feedback using our roadmap:
Go to roadmap.supermetrics.com.
Browse through the list of existing product features.
Click to open the card and learn more about a specific initiative.
If you find something that appeals to you, feel free to upvote the feature.

Make sure to let us know how important it is for you and why.
Don't forget to leave your email address so we can stay in touch.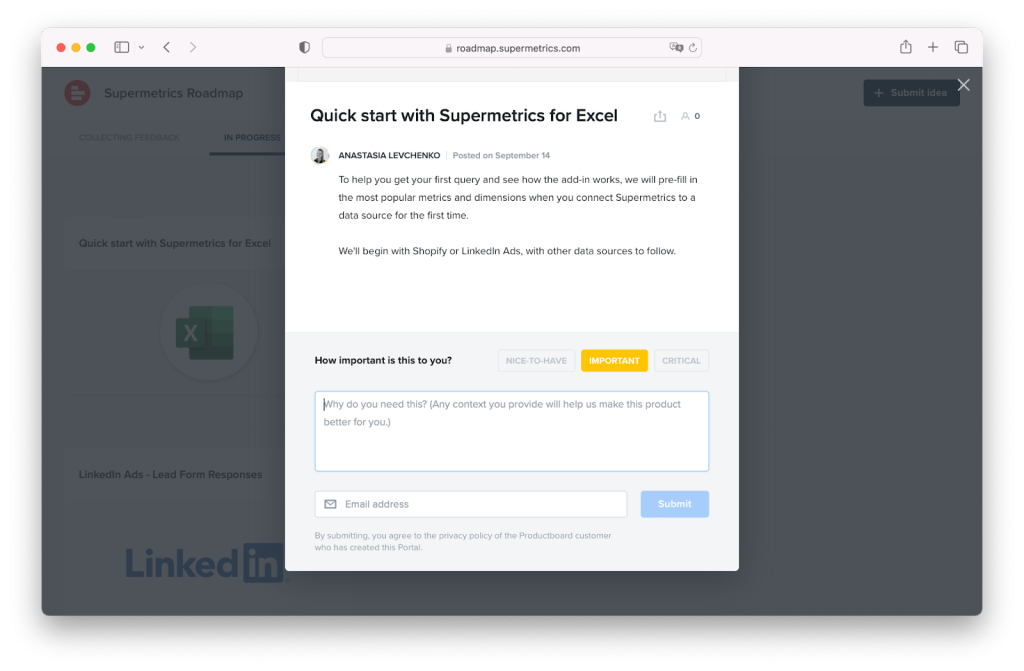 If the feature you're looking for isn't on the list, just click 'Submit Idea' in the upper-right corner of the page to share your feedback with us.
Follow the instructions to confirm your email address.
Make sure you receive the confirmation message from Productboard.
If at any point you experience trouble submitting your feedback via the public roadmap, please contact us at support[at]supermetrics.com. Our customer support team will be happy to help make sure your feedback reaches our product team.
What happens next?
You've successfully shared your feedback with our team. So what's next?
First, one of our product managers needs to review your submission and link it to a corresponding—existing or completely new—feature.
The next step would be for them to validate the feature. Once our product team decides to move forward with that feature, we'll share an update with you using the email address you submitted with your request.
Please note that the process may take some time, from a few weeks to several months, depending on the feature in question. Don't worry if you don't hear from us right away.
While we can't promise you exact deadlines, there's one thing that we can promise for sure: no feedback will be left unnoticed.
About the author
Anastasia is a Product Coordinator at Supermetrics, acting as the customer's voice by highlighting issues and driving customer request prioritization. With prior experience in customer support, she knows customer pain points like no other. By working closely with internal teams, she helps ensure that customers receive the highest service standards.
Turn your marketing data into opportunity
We streamline your marketing data so you can focus on the insights.