Sep 1, 2022
The ultimate guide to ecommerce conversion rate optimization
15-MINUTE READ | By Joy Huynh
[ Updated Jun 13, 2023 ]
You've built a beautiful online store. You've put together an irresistible collection of products and are ready to make some serious sales. But something isn't quite right—your store doesn't convert as well as you expected.
This is where conversion rate optimization comes in handy. It's all about making your ecommerce website more effective at converting visitors into customers.
And in this guide, we'll show you how to optimize your store and turn visitors into customers.
Fast forward:
What is CRO?
Conversion rate optimization is the process of increasing the proportion of conversions on your website. Typically, CRO involves forming different hypotheses and validating those hypotheses with different experimentation. The ultimate goal is to turn visitors into customers or qualified leads.
What is ecommerce CRO?
Ecommerce conversion rate is the percentage of store visitors who take high-intent actions, for example:
Make a purchase
Create a wishlist
Sign up for your newsletter
Add products to their shopping cart
Typically, if your website is well-designed and easy to navigate, your content and product descriptions resonate with your audience, you'll see a decent conversion rate. On the other hand, a poorly designed website and irrelevant content could lead to a bad conversion rate and, ultimately, affect your revenue.
How to calculate CRO
The formula for calculating the conversion rate is quite simple.
Number of conversions = (Number of visitors/Number of conversions)*100
For example, say you had 1,000 visitors to your website last month, and 60 of those visitors made a purchase. That would give you a conversion rate of 6%. You'll get this by dividing 60 by 1000, then multiplying by 100.
You can easily see your conversion rate in your web and store analytics, such as Google Analytics and Shopify.
By monitoring and benchmarking your conversion rate—weekly, monthly, and quarterly—you'll be able to measure success and see if something goes wrong.
Why is CRO important for ecommerce?
CRO is essential for ecommerce businesses because it directly impacts revenue. A higher conversion rate means more sales and leads, which can significantly increase revenue.
It's also important because it can help you acquire customers at a lower cost. When your conversion rate is high, your expenditure on customer acquisition pays off. If you can increase your conversion rate, you'll need to spend less on things like Facebook Ads and other forms of marketing.
CRO is a vital part of performance marketing as it allows you to track and measure the progress of your website in achieving specific marketing goals. You can continually improve your website to achieve better results by understanding what's working and what's not.
Sam Lloyd, Director of Global Media at Groupon, always encourages her team to validate intuition with testing and experiments.
"I highly recommend running A/B testing and then sharing the insights across stakeholders. We've tested ad creative on Facebook and Instagram at past brands and found it worked on one but not the other. And nobody would've guessed that. So, as much as intuition can be really important, A/B testing is the best way for creative tweaks."
How to audit your ecommerce conversion rate
Any growth marketer will tell you that to successfully acquire customers, you should constantly be testing and optimizing your website. This is especially true in ecommerce, where competition and margins are often low.
Before you conduct an ecommerce CRO audit, you should determine which pages to audit. To do this, you need to identify your most important pages. These pages get the most conversions or have the highest conversion rate.
Now that you know the importance of auditing your ecommerce website for CRO, it's time to start. Here's a checklist of things to look for:
Homepage
Is your value proposition clear?
Do you have a strong call to action?
Is the navigation easy?
Do you have a search bar?
Product pages
Are your product descriptions clear and concise?
Do your product photos look professional?
Do you offer multiple payment options?
Is your shipping information easy to find?
Cart and checkout pages
Is your cart page user-friendly?
Do you have a progress indicator on your checkout page?
Are your forms easy to fill out?
Is your checkout process easy to understand and use?
Are there any unnecessary steps that could be causing friction?
Whole website
Is your website mobile-friendly?
Is your website loading quickly?
Is your website easy to navigate?
Do the colors, fonts, and layout appeal to your target audience?
Is it easy to find what visitors are looking for on your website?
How to optimize your conversion rate
Once you've audited your website and fixed any issues, it's time to start optimizing. Here are a few things you can do to optimize your conversion rate.
A/B testing
Nowadays, when business competition is fierce, you can't ignore marketing experiments, and A/B testing is one of the most powerful tools at your disposal.
A/B testing, also known as split testing, is a method of experimentation where you compare two versions of a web page to see which one performs better. It's part of growth marketing as it allows you to make informed decisions about what changes to your website result in the best outcome for your business.
Content enhancement
Content enhancement is a method of optimization where you improve the quality and quantity of your website's content. The goal is to give visitors with the information they need to make a purchasing decision.
Content matters because if you have good content in areas like product description, you can use it in Google Shopping optimization. This process involves optimizing your product listings on Google to appear higher in search results.
Workflow improvement
Workflow improvement is optimizing your website's design to make it more user-friendly. The goal is to reduce friction and make it easy for visitors to find what they're looking for and complete the desired action.
You should assess your website's design and see if you can improve any areas. This might include simplifying your navigation, adding a search bar, or redesigning your checkout page for ecommerce checkout conversion rate optimization.
How to measure your conversion rate optimization success
Measuring your conversion success involves using the right metrics to track your progress.
Some of the most important metrics you should track are:
Conversion rate: This is the percentage of visitors who take the desired action on your website. For example, if you want visitors to sign up for your newsletter, your conversion rate would be the percentage of visitors who do so.
Net new customers: This is the number of new customers you've gained due to your conversion optimization efforts.
Lead goal: The number of leads you've generated as a result of your conversion optimization efforts.
Ecommerce CRO strategy examples
There are a few strategies you can test out on your ecommerce website to optimize the conversion rate. For example, you can make your homepage more inviting and easy to navigate.
Hackwith Design House—Simple and clear CTA
Take, for example, the homepage of Hackwith Design House. The first thing you see is a large image that aligns with the message about the brand's commitment to making versatile and sustainable clothing. The CTA is clear and strategically placed, so that site visitors don't miss it.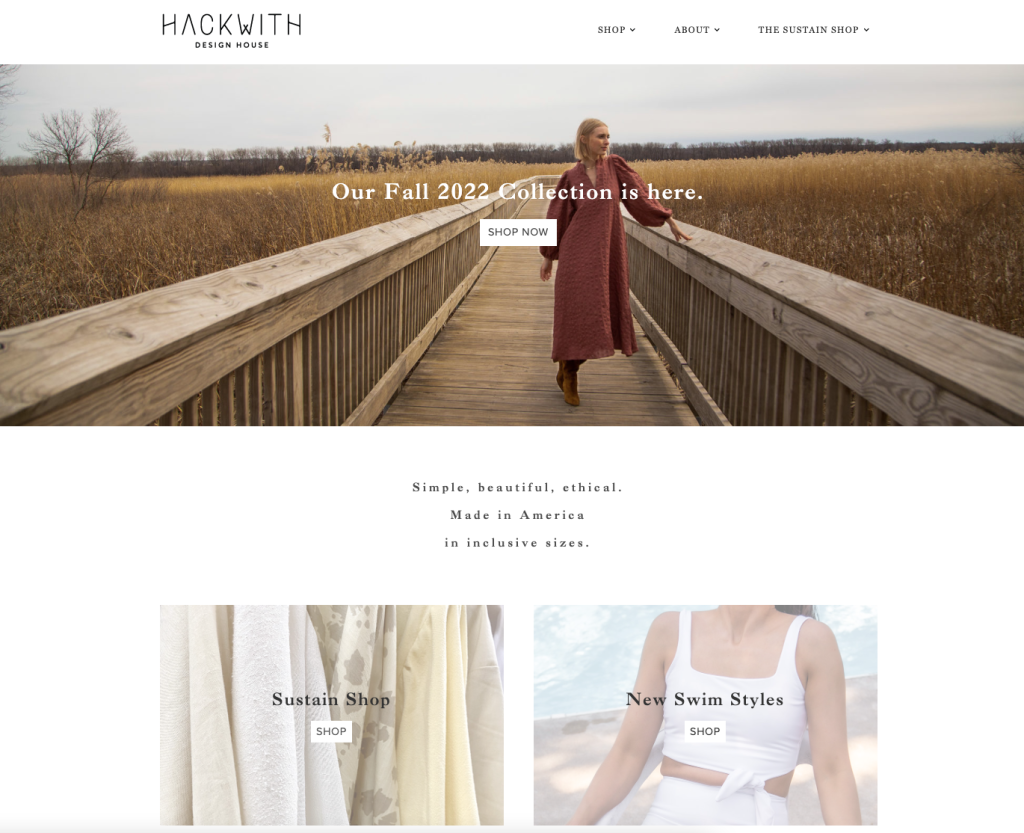 Patagonia—The Stories We Wear
Another example of an ecommerce CRO strategy involves incorporating testimonials on your website to boost trust. Research shows that 88% of customers rely on online reviews to determine whether they will buy from a local business or not.
An example of a brand using this CRO strategy is Patagonia. The brand has a "Worn to Wear Stories" page highlighting its customers' experiences with Patagonia products. The page shows how much customers love the brand and how its gear can withstand extreme adventures.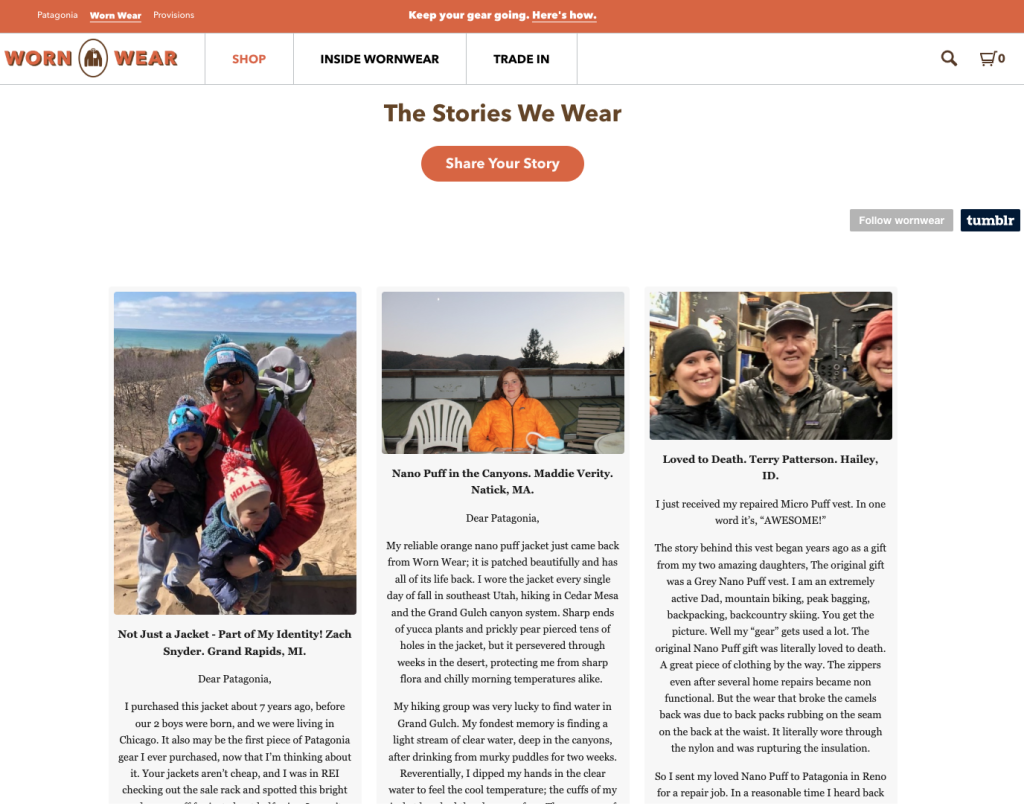 Loop Earplugs—Help me choose
If you have several products, it's maybe challenging for new visitors to understand which product suits them. For example, Loop Earplugs have five different earplugs for different uses on their website.
Loop Earplugs adds a quiz to their website to help their store visitors choose the best product for their needs. Customers will answer questions such as:
What occasions do they want to use their earplugs?
How would they like to hear sounds around them?
At the end of the quiz, Loop will come up with a product recommendation that suits the visitor's preferences.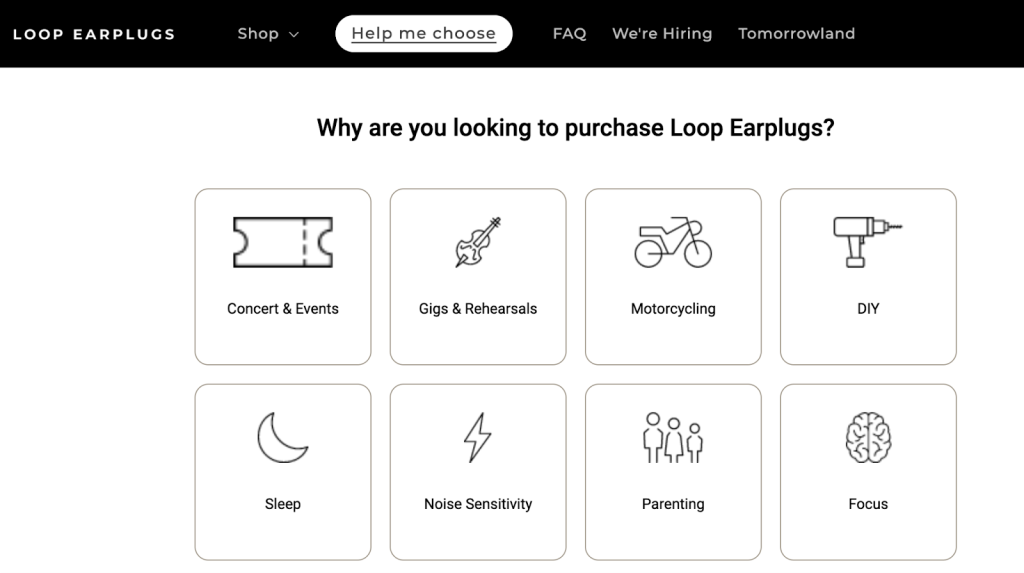 8 tips for improving your ecommerce conversion rate
Specializing in the sales funnel, targeting, and website conversion, Shane Barker has eight tips you can try to improve your ecommerce conversion rate.
So, how do you get more conversions?
1. Find the bottlenecks in your process
Before you set out to improve your ecommerce conversion funnel, you need to figure out the problem areas that need improvement.
The first step is to understand how users engage with your website.
Use a heatmap to see where users click on your landing page. In addition, you can leverage scroll maps to see where people are bouncing off your website.
A good idea is to shorten the landing page to the length where visitors drop off. You can also add a prominent CTA at these points.
Once you understand user behavior, you can experiment with designs, CTAs, content, and more. Run A/B tests to see what works well to boost your conversions.
2. Use high-quality images and videos
When buying a product online, users can't touch the product or try it. The only way for them to get a better idea of what the product looks like is through the images.
Using high-quality images and videos can help you capture the attention of users. Make sure you upload multiple images and videos on your website to showcase your product well.
This kind of media can go a long way in acquainting users with your product and influencing their purchase decisions.
California-based jewelry company Brilliant Earth has used beautiful images for all of its jewelry. What's more, they also have an interactive video option. Using this feature, users can rotate the picture to get a better view of the jewelry from different angles.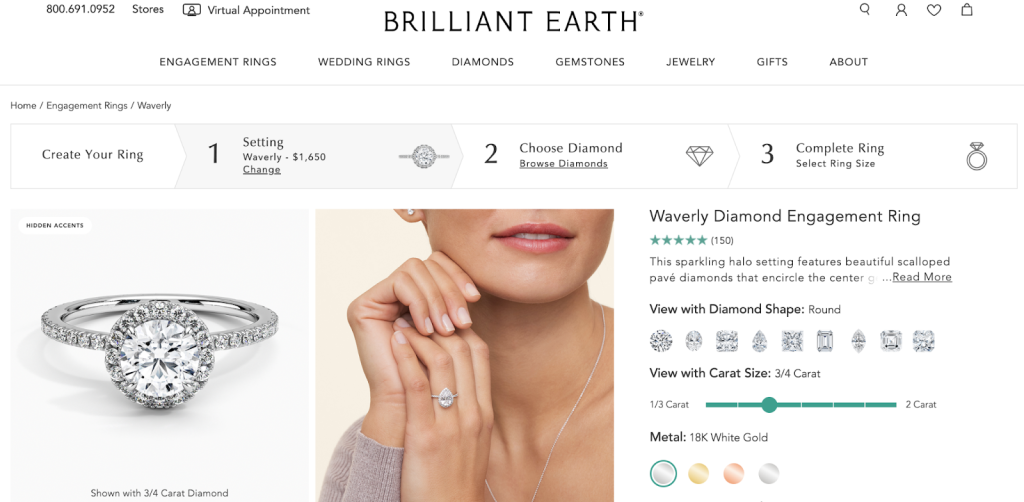 3. Write detailed product descriptions
When it comes to marketing for ecommerce brands, good product copy is a prerequisite to getting more conversions.
It's a great way to tell users what they can expect from your product.
While writing your product copy, be concise. You want to give out as many details as possible without being wordy. Also, keep in mind who your target audience is.
Write your copy in such a way that you can cover any questions that they're likely to have. Also, make it a point to highlight the benefits of the product.
Here's an example of copy that addresses user concerns and highlights the benefits of their outdoor grill at the same time.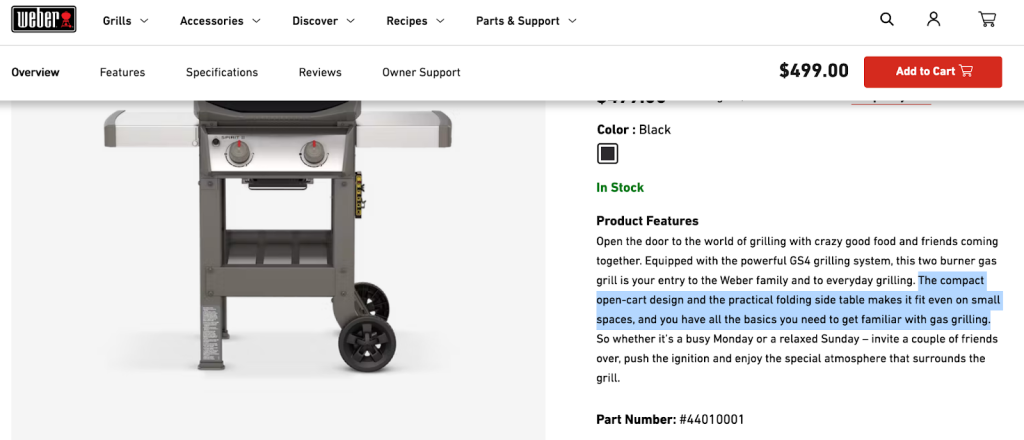 4. Show customer reviews
Reviews can be a great way to give social proof to your customers. To get an unbiased perspective, users rely on reviews to decide if a product is worth buying.
To gain the trust of your target audience, reviews are crucial. When you're designing a product page, make sure you add a section for customer reviews. It should be prominently displayed so that users can find this section easily.
Zappos shows customer ratings for each product at the top of the image. It's one of the first things users see on each product page. And you can read full reviews by clicking on the rating.

5. Simplify your checkout process
If you want to turn clicks into conversions, you need to make sure that the purchase process is as smooth as possible. If the checkout process has too many steps or is confusing, users may get exhausted and lose interest.
For starters, make sure that you're only requesting that users fill in information that's absolutely required. Details like name, address, email address, and payment information should be enough.
To simplify the navigation process, you can reduce the total number of web pages users go through for the checkout process.
Take a leaf from Amazon. They have a very simple process. It's quick and easy. You should strive to have such a checkout process for your ecommerce website.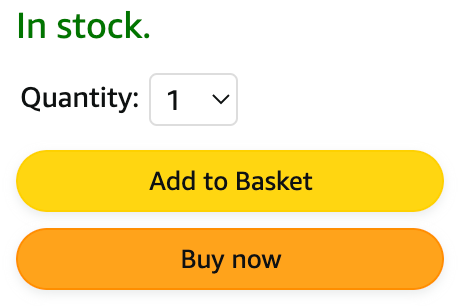 6. Follow up with cart abandonment emails
As an ecommerce marketer or business owner, it's disappointing to see users abandoning their carts. But even if a user goes away, not all is lost. You can still reach out to them via email to remind them to finish their purchase.
For this, you can use specialized platforms for email marketing and cart abandonment. Using these platforms, you can send follow-up emails to users who have abandoned their carts. Since the entire process is automated, you don't have to keep track of all users and their purchase behavior.
When you craft a cart abandonment email, pay extra attention to your copy. Make it compelling to catch the reader's attention and get them to take action.
Online retail company, Ayr, uses humor to make their cart abandonment emails more entertaining.
​​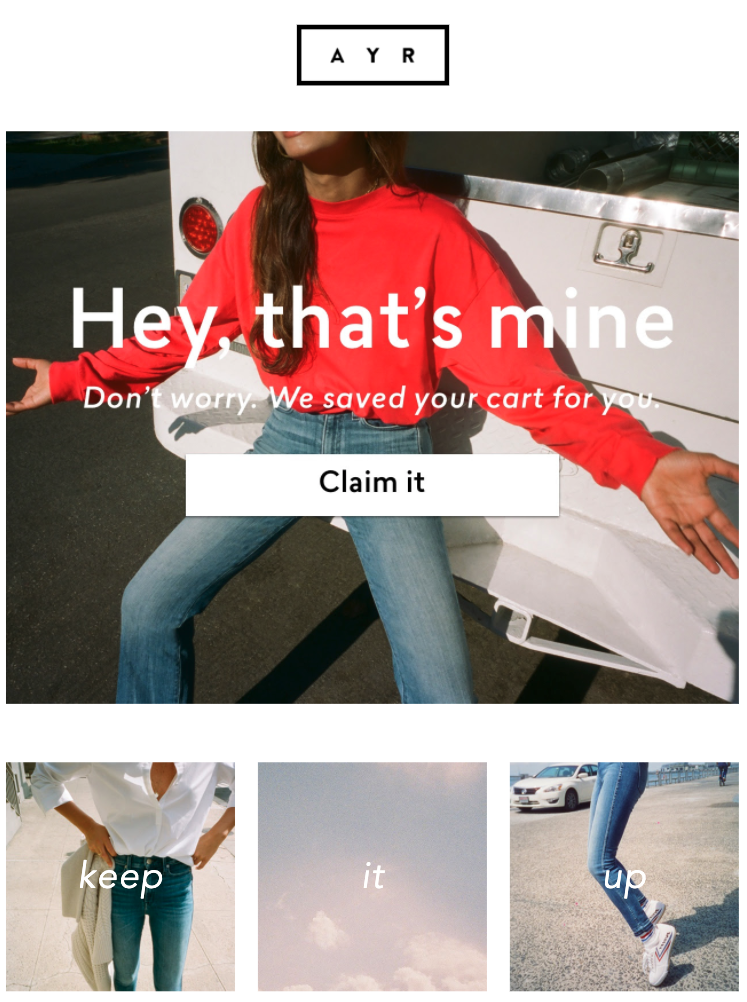 7. Offer multiple options for payment
The payment methods available on your website can be an important factor that may affect conversions. For instance, say you only allow users to pay via a credit card. If they don't have one, they can't buy the product even though they want to.
That's why it's a good idea to offer multiple payment options. Here are some of the payment options that you can offer:
Cash on delivery
Online payments via PayPal, Stripe, and other services
Gift cards
Credit cards
Debit cards
8. Optimize your website for mobile devices
One of the biggest ecommerce technology trends is the shift towards mobile devices. People are using their phones to shop. If your website isn't mobile optimized, you may not be able to reach many users.
Start by making sure your website is mobile responsive. Some users may use tablets, while others may be on their smartphones. Regardless of their screen size, your website should be responsive enough to fit their screens.
Not only will this help give a great user experience, but it can also help your overall search engine optimization (SEO) efforts. If you have the resources, you can also consider developing a mobile app for your brand to boost conversions and loyalty.
Start optimizing your ecommerce conversion rate
Ecommerce conversion rate optimization is an essential part of any ecommerce marketing strategy. By testing and implementing different CRO strategies, you can increase the number of visitors who take the desired action on your website.
If you're looking for an easy way to move your Shopify, Klaviyo, and Stripe data to your analytics platform to track the conversion rate easily, consider using Supermetrics. We'll make it easy to gather all your scattered ecommerce analytics and marketing data for better visualization.
About the author
Joy is the Demand Gen Coordinator at Supermetrics. Together with internal and external experts, Joy helps businesses get rid of the data chaos and turn marketing data into opportunity.
Turn your marketing data into opportunity
We streamline your marketing data so you can focus on the insights.