Apr 14, 2022
Managing full-funnel performance marketing in a global ecommerce brand: 7 lessons from Groupon
5-MINUTE READ | By Joy Huynh
[ Updated Jun 13, 2023 ]
Managing performance marketing for a global brand isn't an easy task.
From foundational pieces like aligning the goals across teams and managing siloed data to more tactical pieces like testing new creatives and optimizing different channels, there are many challenges performance marketers need to solve to create meaningful campaigns and drive revenue.
To help you level up your performance marketing knowledge, we caught up with Sam Lloyd, Director of Global Media at Groupon.
In this post, we'll discuss the best practices and insights about performance marketing that has helped Sam succeed at Groupon and other agencies and in-house brands.
Skip ahead:
Get your pen and paper ready!
Lesson 1: Always align the organizational, team, and individual goals
Creating great and high-converting paid campaigns isn't rocket science. Like everything else, you first need to start with the foundation—goal alignment.
It's critical to make sure your performance goals align with the business goals. The A teams keep their eyes on the prize. They understand business priorities and strive to help the business check all the growth boxes with their strategy. If your campaign is a car, the business goals are the GPS guiding you and ensuring you're staying on track.
Sam says, "It's really important to connect the performance goals with the overall company goals. They can't be disconnected from each other. Otherwise, you'll find you're veering into another area that isn't aligned with that company strategy."
If you're a manager working in a global organization like Sam, it's your job to make sure your team understands the high-level goals. Aligning organizational, team, and individual goals helps motivate your team and give them a better sense of their contributions to the company's growth.
Sam continues, "Especially if you're a manager, you need to provide your team with the bigger picture. When they feel more connected to and understand how their work influences the company goals, they'll focus on the right things and drive performance."
Lesson 2: As important as intuition is, always validate your opinion with testing and experiments
The legendary W. Edwards Deming said it best, "Without data, you're just another person with an opinion."
As much as experience and intuition matter, great performance teams challenge their own best practices and always use data to inform their decisions.
One type of testing that Sam and her team often use is incrementality testing. Many marketers may be reluctant to do incrementality testing because it takes a lot of planning and requires you to stop your ads for at least a month before measuring the incremental lift. During this period, you can't make any changes to your campaigns.
For example, Groupon wanted to measure the effectiveness of their MOFU campaigns. Sam and her team created two campaign groups. The first group was business as usual. There wasn't any change there. For the second group, they added a MOFU campaign. In the end, they measured the incremental lift between the two campaign groups and immediately saw the difference.
According to Sam, incrementality testing helps you:
Understand what works and what doesn't work.
Find better and more optimized channels, campaigns, and/or creatives to grow your business.
Show the value of your efforts to your leadership team.
Sam says, "I think every performance team should do more incrementality testing. It does take planning, and there are drawbacks to every measurement strategy. But I think it's an effective way to measure the impact of a full-funnel strategy. Measuring how much incremental revenue you generated over a 6–12-month period helps prove the value of your work to your finance and leadership team."
Lesson 3: Data is a performance marketer's best friend
But not just any data. You need to have access to clean and centralized data.
In performance marketing, you work with a lot of data.
Data about your campaign performance and audience behavior comes in different formats and from different platforms. If you make decisions based on partial data, you're risking optimizing the wrong things and pouring money down the drain.
Sam says, "If you don't have centralized and clean data, you're flying blind, which is dangerous when optimizing your campaigns."
Typically, combining cross-channel sources requires a lot of time and manual work. Marketers first need to go to each ad platform, export a CSV file, and copy the data to a spreadsheet where they can then clean and reformat it. It's a big bottleneck, and it makes testing new channels difficult because you're adding another manual and repetitive task to your long to-do list.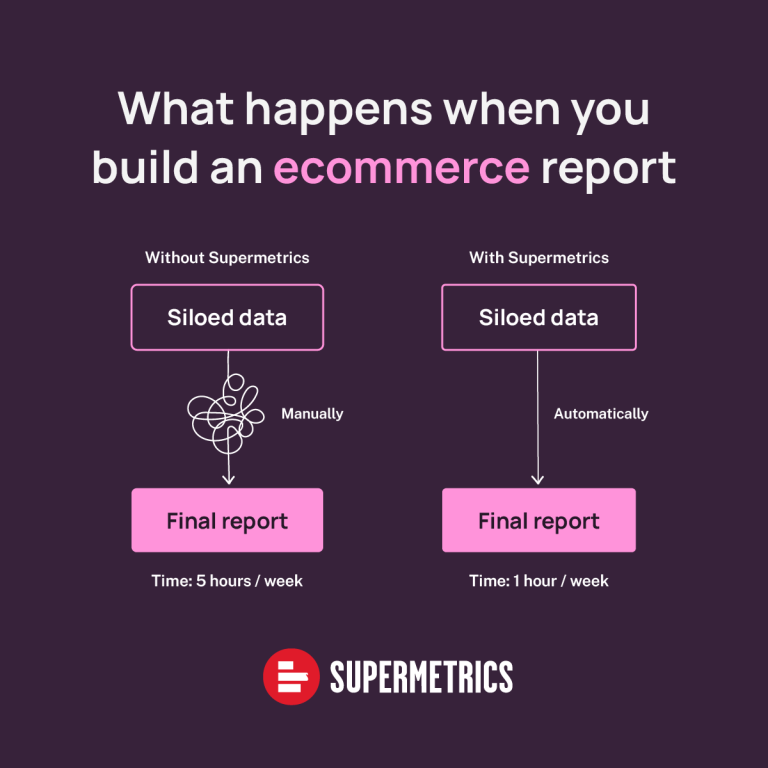 Lesson 4: Marry creatives with performance tactics
Great creatives + tactics FTW!
Powerful creatives—both copy and design—help you grab your audience's attention and speak directly to their problems. Your ad creatives must align with the overall brand messaging strategy to form a cohesive and completed story.
Once you nail that down, fuel your messaging with performance tactics to get the best result. Sam explains, "It's important to marry creatives with performance tactics. You can't do one without the other."
Additionally, feel free to get creative and test different combinations. Sam says, "I've often found significant impacts in performance with small creative tweaks, for example, a change of headline or a button color."
Sam continues, "I highly recommend running A/B testing then sharing the insights across stakeholders. We've tested ad creative on Facebook and Instagram at past brands and found it worked on one but not the other. And nobody would've guessed that. So, as much as intuition can be really important, A/B testing is the best way for creative tweaks.
And then, once you have those results, share them with the creative team. So as we continue to get assets and evolve, they have all of those insights, which is super important."
Lesson 5: If there's an opportunity to automate and streamline your workflow, don't think twice
When the team is small, you tend to wear different hats and manage a million things simultaneously. However, as your company grows and your small but mighty team grows, you need better processes and tools to streamline your workflow and enable your team to work more efficiently.
Sam is a big advocate for automation. She says, "I always say to my team, focus 90% of your day on driving performance in some way. If not, then why are we doing it?"
Some of her favorite tools are
Lesson 6: For peak season campaigns, look at what's happening in the market right now rather than what has happened
Peak season is the biggest opportunity to drive sales for many ecommerce businesses. The preparation for this period often takes several months. According to Sam, you shouldn't only be looking at historical data to plan your campaigns.
Sam explains, "We're now in a new world following a pandemic. You can't just rely on historical data anymore. Last year more people were shopping in-store vs shopping online because of shipping concerns, whereas the previous year a lot of markets had to rely on online because of lockdown and restrictions. I think it's more important to follow the current trend and be as agile as possible to react in real-time."
The easiest way to monitor trends and hot topics is using Google Trends. It's a free tool that shows you what people search for on Google. You can use it to help plan your campaigns, monitor the evolution of relevant topics to your products and business, and identify hidden growth opportunities.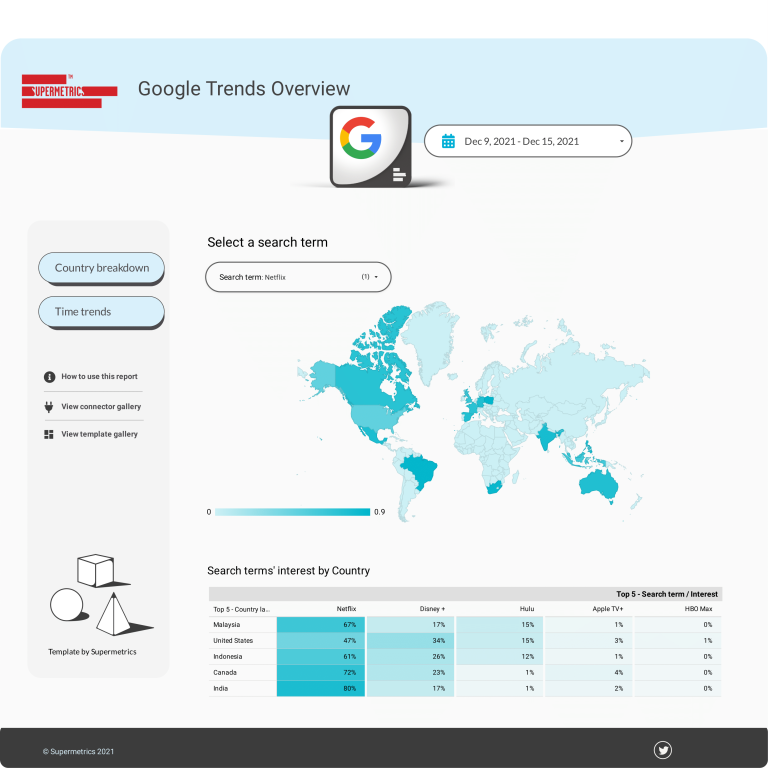 Sam says, "As performance marketers, it's really important to pull yourself out of your internal data and find out what's going on with the market and industry. You can look at Google Trends to understand, for example, COVID interest. Is that at peaking? Are there weather concerns? All those different things. You can get a really good pulse on the market by using Google Trends."
Additionally, you also want to pay attention to your ecommerce analytics data and reporting. As you're going through peak weeks, you and your team must have visibility into the data at an hourly level. Sam says, " I think it's critical for you to be communicating how trends and performance look beyond just your specific channels. I think that can really help in just putting that in the back of the team's minds as they're optimizing daily."
Lesson 7: When testing out a new channel, go small
Brands that rely on one or two platforms run the risk that when the platforms get more crowded, more competition jumps into the game, and CPM continues to skyrocket.
Don't put all your eggs in one basket. Diversify your advertising channels. Even though there may be a small audience overlap between platforms, such as Facebook and TikTok, there's still a huge potential for brands looking to acquire new audiences.
However, rather than jumping into every new and shiny platform, you want to take a step back and evaluate your brand and audience. Then, put in a small budget for testing. Sam says, "Don't try to get on all platforms at once. Instead, try to do a light level of effort testing for the initial go. You don't want to put a ton of resources and engineering effort into a platform that isn't a match for your brand."
Since each platform has its nuances, what works on one, doesn't necessarily work on another. For example, one platform could be great for MOFU campaigns while the other is great for BOFU campaigns. Additionally, you have to cater your creatives to the platform. The last thing you want to do is use the same creatives and same formats across platforms.
What can you learn from Groupon?
At the end of the day, performance marketing brings creativity and data together. With all the data and insight available at your disposal, you can understand the impact of your efforts and create great campaigns.
Although performance marketers face many challenges nowadays, by following these seven tips, you'll be well on your way to driving revenue with paid ads:
Whatever campaigns you're running, make sure they align with the company goals.
Be comfortable with experiments and testing.
Access to clean and centralized data is imperative as a performance marketer.
A successful campaign is a combination of great creatives and tactics.
Automate what can be automated.
Use insights into trends to fuel your peak season campaigns.
Platform diversification is important but make sure you test the water first.
Turn your marketing data into opportunity
We streamline your marketing data so you can focus on the insights.