Aug 18, 2021
The 7-step process for winning at ecommerce email marketing
14-MINUTE READ | By Kaleigh Moore
[ Updated Mar 13, 2023 ]
No matter how popular social networks are, email is still one of the most valuable tools in a marketer's toolbox.
In 2020, the number of email users amounted to four billion and is set to grow to 4.6 billion users in 2025, according to Statista.
According to HubSpot, email generates $38 for every dollar spent. In other words, a jaw-dropping 3,800% return on investment. What's more, in 2021, 77% of marketers reported seeing more engagement with email over the past year.
But, there's a catch. Today, people's inboxes are crowded with all kinds of emails. To stand out, you have to build an effective email marketing strategy to help your ecommerce business thrive.
What is an ecommerce email marketing strategy?
Ecommerce email marketing is the use of email to promote products and services, communicate special releases, discounts, and offers and deliver informational updates to customers and prospects.
An ecommerce email marketing strategy is an action plan designed to achieve long-term business goals. It is half art, half since.
The main difference from a typical email marketing strategy is that for an ecommerce email marketing strategy, marketers need both promotional and transactional emails.
Building an ecommerce email marketing strategy requires setting up a well-oiled machine that leverages the power of segmentation, personalization, and automation.
How to win at ecommerce email marketing in 7 steps
The thing about email marketing is everyone's doing it, but only a few are doing it right. The good news: once you get a hang of it, it can put your business in hyper-growth.
Here are the nuts and bolts of how to create a winning email marketing strategy to step up your ecommerce game.
1. Use data to optimize your email campaigns
To build a house, you need brick and mortar. To build a business, you need data and analytics. If you want a successful business, data should be the starting point of everything you do. The same goes for email marketing.
Understanding the meaning behind the numbers is the first step towards an effective ecommerce email marketing strategy. Using ecommerce analytics and understanding the most important email marketing metrics, you'll be able to make data-driven decisions.
For many marketers, ecommerce analytics seem like a black box. But in order to navigate your business in the direction of your goals, you have to gather, analyze, and act upon the signals you get.
In email marketing, predicting what works and what doesn't is a fool's errand. Instead, use data.
Build a dashboard with all the data you need to analyze the effectiveness of your email experiments: that's everything from campaigns to individual emails and from open rates to revenue.
The first roadblock that you'll face is the fact that most marketing platforms aren't built analytics-first. Each platform comes with its own reporting UI. But instead of scrambling across different interfaces, you can pull data directly into your Data Studio dashboard from various data sources.
Start by building a dashboard, as this will also help you come up with descriptive naming conventions for your campaigns and emails, which will then help you analyze the results and drive action.
First, focus on the top three categories of metrics that answer the essential question: what's the purpose of your dashboard? After selecting the top three, you can continue by adding additional information that can help you improve your email marketing game in the future.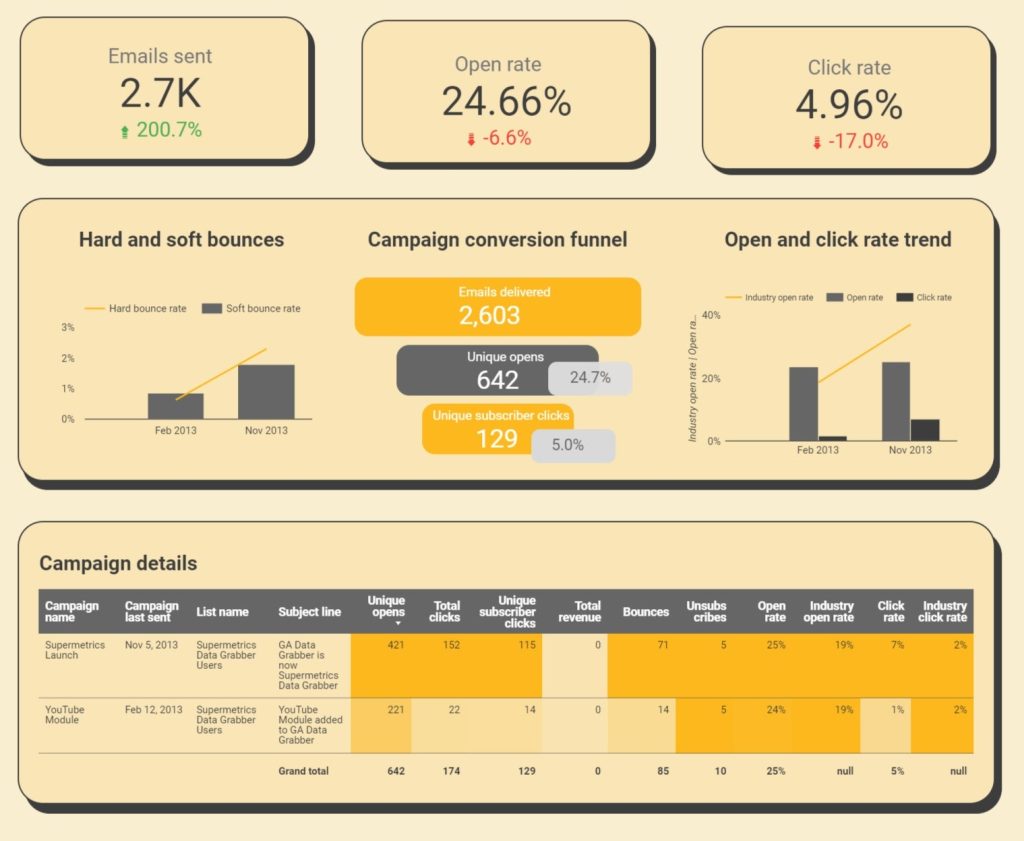 Image source: Supermetrics
2. Segmentation and cohorting
A message to everyone is a message to no one. Sending emails without segmentation is like aiming at a target with feathers instead of darts.
According to HubSpot, only almost 30% of marketers surveyed use audience segmentation tactics to improve email engagement.
Today, customers are exposed to so many different marketing messages that they are immune to generic emails that don't resonate with their pain points.
Instead of the "spray and pray" tactic, businesses should leverage customer segmentation and combine it with behavioral data to deliver personalized experiences.
A simple way to illustrate segmentation would be splitting your email list into segments and cohorts within those segments. For example, you can have two (or more) groups of new customers whose AOV was under $100 last month. And then, you can test the effectiveness of different emails to those two groups.
Targeted emails to clearly segmented audiences generally work much better than mass email blasts. As reported by BigCommerce, Live Chat Inc. found that a targeted email saw a 40% open rate, while a generic one saw an 11% open rate.
3. Strike a balance with different types of ecommerce emails
Every ecommerce business needs two types of emails for a successful ecommerce email marketing strategy: transactional and promotional.
Transactional emails are all the informative messages that a customer receives triggered by an action on the merchant's website. In this category, we have order confirmations, dispatch information, delivery details, etc.
In most cases, transactional emails serve as a confirmation for the actions taken. For example, when you order something from a company, you expect email confirmation that reassures you that your order has been received.
Glossier uses order confirmation emails to check with customers whether they changed their mind or chose the wrong address and gives them a chance to change or cancel the order within one hour. Besides this, they have a recommendation section with some of the most popular products.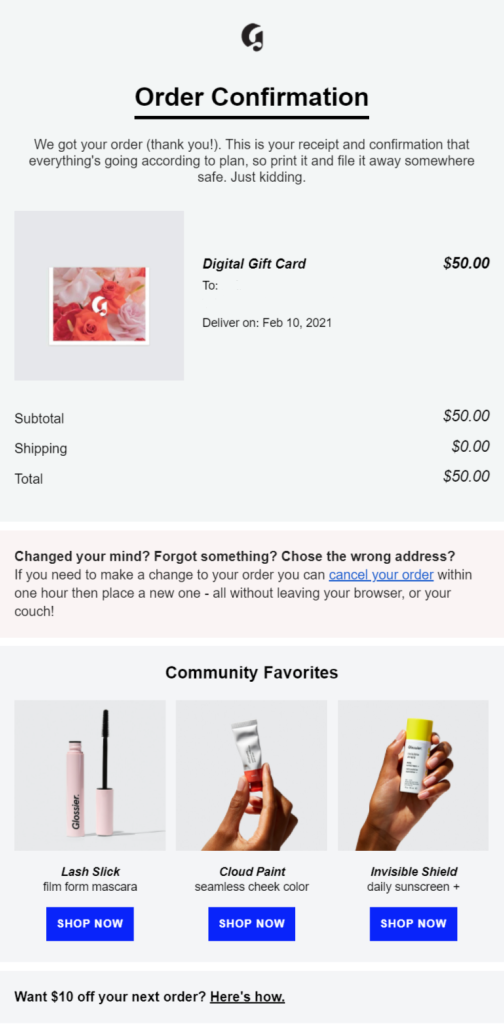 Image source: Glossier
Promotional emails inform the customer about special offers, limited-time deals, discounts, and more. Businesses that want to keep customers in the know send a welcome email, discount emails, abandoned cart emails, win-back emails, upsell emails, etc.
A welcome email is your digital doormat. Setting up an automated welcome email can help you set the expectations and even offer an incentive for the first purchase. According to GetResponse, the average open rate of welcome emails is over 86%.
The DTC furniture brand Joybird uses welcome email to remind subscribers of the benefits they're getting for being a part of the subscriber list, such as VIP promotions and discounts, early access to exclusive sales, product updates , new launches, and decorating trends, tips, and inspiration.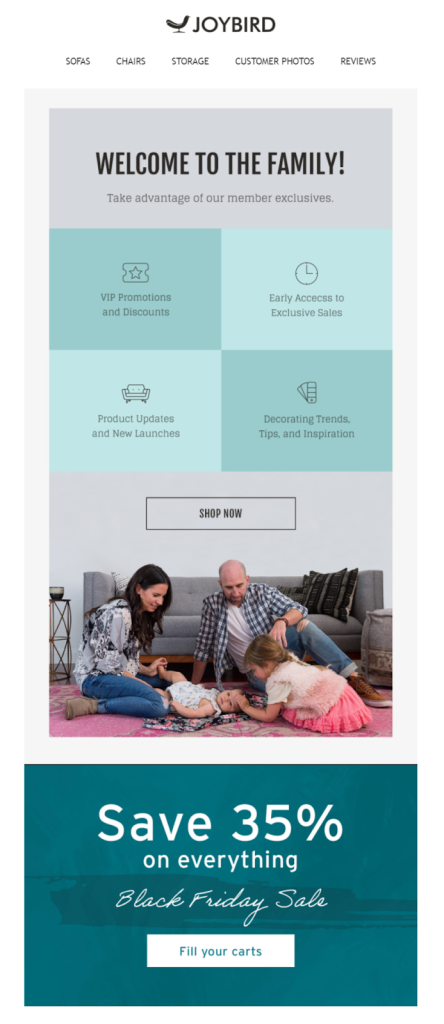 Image source: Joybird
Email subscribers are genuinely interested in what you have to offer. They signed up for a reason. Sending out a discount email sequence can help you boost sales.
L'Oréal uses this channel to promote campaigns and discounts and encourage customers to make a purchase during the promo period.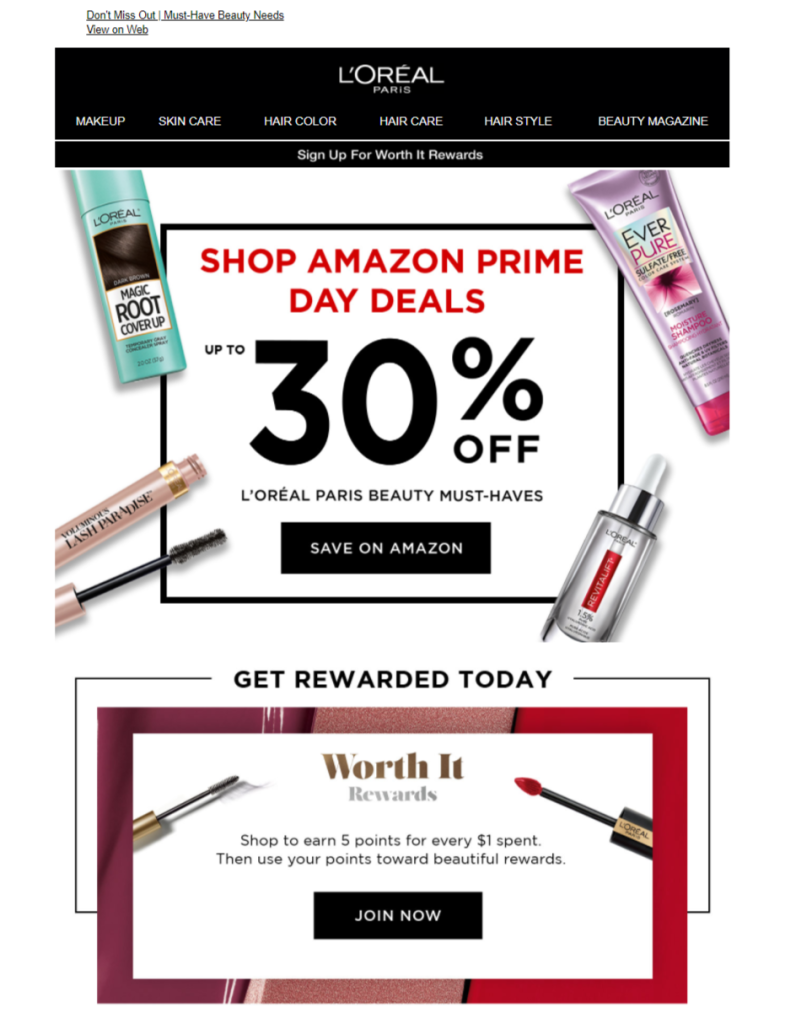 Image source: Milled
One of the most underestimated marketing tactics is sending an abandoned cart email. Data from Baymard shows that the average online shopping cart abandonment rate is almost 70%. An abandoned cart is the equivalent of window shopping, and it's just how ecommerce works.
However, if you're not sending an abandoned cart email to remind the customer and maybe even convince them to finish the purchase is a wasted opportunity. According to Moosend, 50% of the recipients who engaged with the content of the abandoned cart email completed their purchase.
Dyson sends a series of abandoned cart emails to follow up with the customers and remind them to proceed with the purchase. Besides showing the items that the customer added to the cart, they also highlight all the benefits for buying directly from their site, such as free shipping, 30-day money-back guarantee, product warranty, and price match promise.

Image source: Dyson
4. Figure out the right frequency for your audience
One thing that's keeping marketers up at night is deciding on the frequency of email marketing. How often is too often? You don't want to spam people, but you also want to maximize revenue from your email campaigns — and usually, that means sending more emails.
Data from a Hubspot report suggests that almost 40% of marketers send 0-2 emails per week, and more than a third of marketers send 3-5 emails per week.
According to the same report, marketers are sending less weekly emails than last year. Instead, they are prioritizing segmentation, personalization, and automation.
Unlike in the past, marketers today are aware that they don't need to send everything to everyone. Segmentation is the key. Creating segments and tailoring the messages accordingly will help you with the frequency. As long as customers feel that the emails they receive are intended for them, they won't consider that as spamming.
The verdict: You won't know the right frequency until you test. Analyzing data about open rates, click rates, and unsubscribes will help you understand what works and what doesn't.
5. Use behavioral triggers to automate emails
Email automation can save you a lot of time, energy, and headaches. With automated emails, you set up the email based on the customer's behavior once, and customers that perform the same action receive an email without any heavy lifting on your end.
Whether you want to send a welcome email, a limited-time offer, or a birthday discount, with email automation, you can just set up the triggers upfront and enjoy the show.
However, a common trap with automated emails is that marketers set them and rarely look at the metrics afterward. Without this knowledge, a customer's mind is a black box that businesses can't understand.
The purpose of email marketing is not just sending emails but rather inspiring customers to take action.
To decide on the triggers, look for a repetitive behavioral pattern across your customer base.
Frequent site visits can be a good indicator of purchase intent. You can try emails with and without limited-time discounts to drive action from high-intent visitors and see what works.
Lookfantastic uses limited-time discounts to stimulate email subscribers to take action and make a purchase. Besides the standard discount, they give the extra 5% discount for email subscribers and remind them about the free shipping. The recommendation section with selected products can only spark customers' desire to click the "Shop now" button before the offer expires.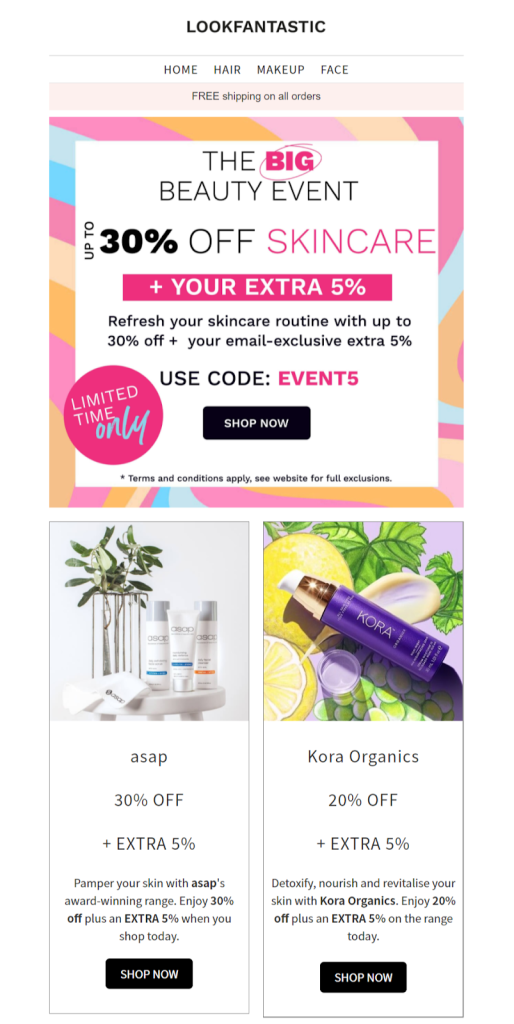 Image source: Milled
6. Experiment with the tactical stuff
When it comes to ecommerce email marketing, even the slightest details can have a significant influence on the performance. Have you noticed that sometimes you have great results, and just the week after, you see barely a few opens and no clicks?
Instead of overwhelming yourself with the results, think about the things you've done differently. That's the only way to understand what resonates with your audience.
But how can you measure the impact of small experiments?
Enter A/B testing.
Also known as the split test, A/B testing is a process of sending two different variants of emails to different audiences.
One thing to note: Don't overdo it. For each A/B test, you want to measure the performance of slight differences. If you send two completely different emails, it will be impossible to figure out why one of them is hitting a home run.
There are many things you can experiment with. Let's take a look at a few of them:
Optimize the sender name — The first thing that your subscribers see when you send them an email is the sender name. When it comes to the sender, have in mind that consistency is the key. After you do the basic A/B testing to see what works better, keep your sender name consistent to avoid any confusion and to help your audience recognize you from the very first look.
Try different subject lines — Subject lines are the biggest nightmare for marketers. They're the gateway to the one-on-one undivided attention from the reader. The fact that you can write hundreds of words for your email, but you're struggling with 40 characters emphasizes how important the subject line is. One thing's for sure — avoid click-bait subject lines at all costs. The subject line should tease your audience about the content of the email. The rest of it comes down to A/B testing and optimization.
Play around with the design — Design is probably one of the most interesting aspects of experimentation. Try different colors, structure, length, and images. The key is to change one thing at a time, so that you can connect the results with a specific change.
Focus on the CTA — The end goal is to get subscribers to click the call-to-action button. To help them do so, focus on a single CTA instead of overwhelming them with different messages and requests. The CTA should be simple, clear, and obvious. Or as Jay Abraham said: "Sometimes the best copy to sell a horse is 'Horse for Sale.'"
The DTC furniture brand Floyd plays with different messages, images, and copy, while keeping the email short and simple, with a clear call-to-action: "Shop now."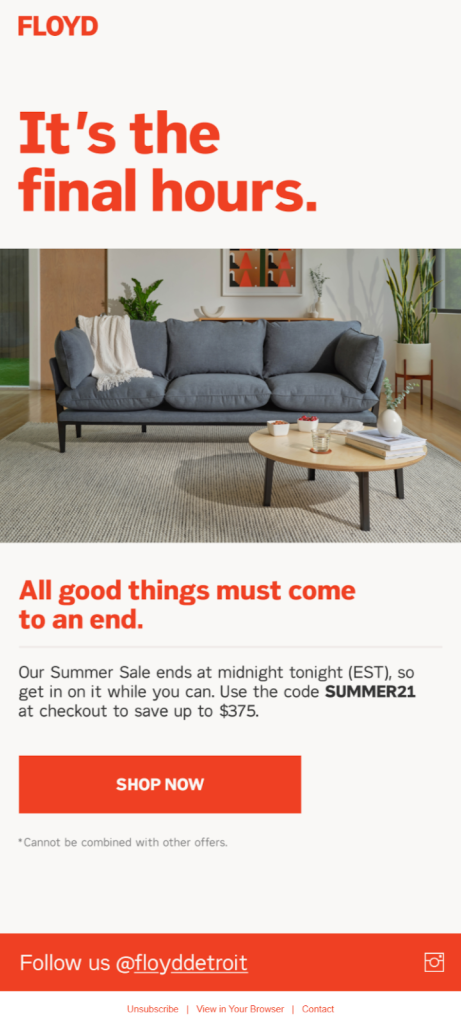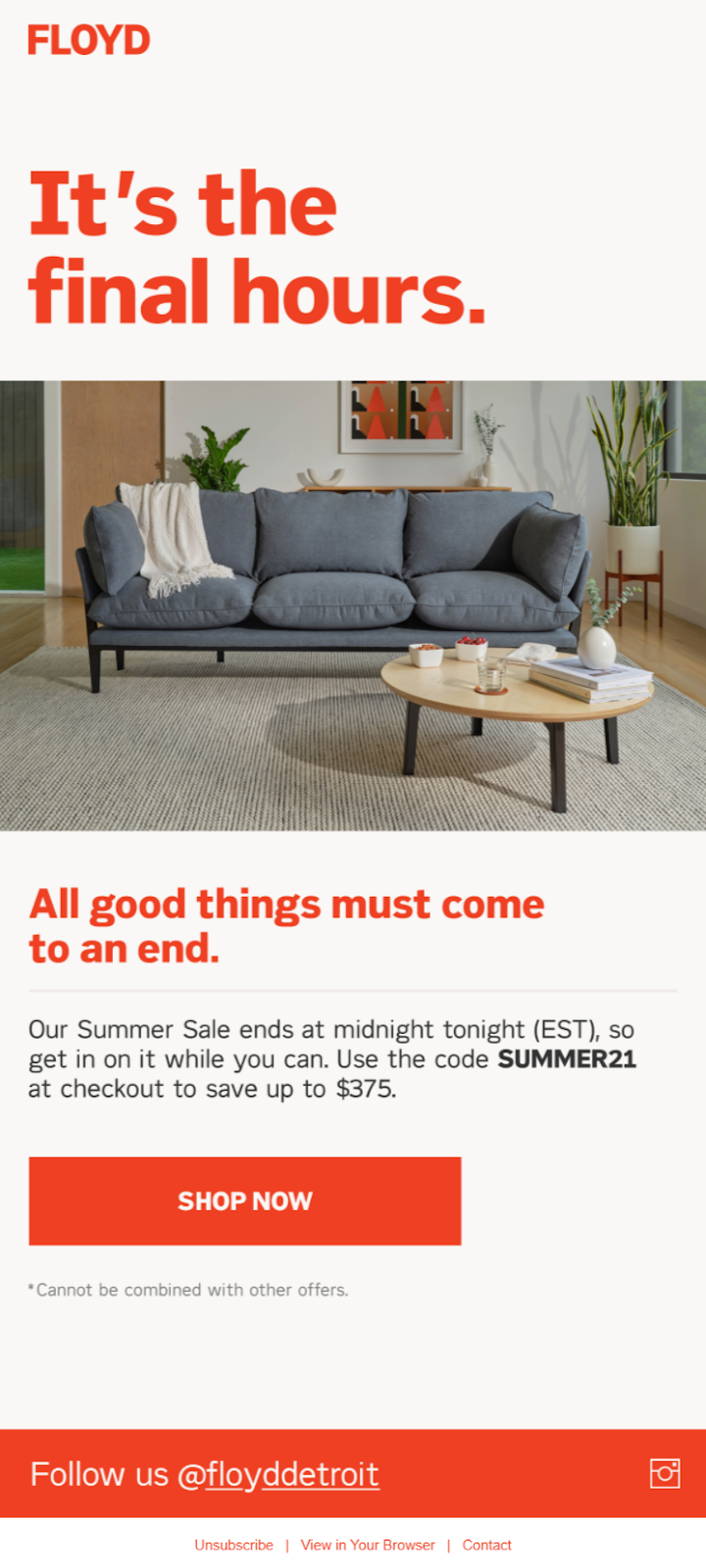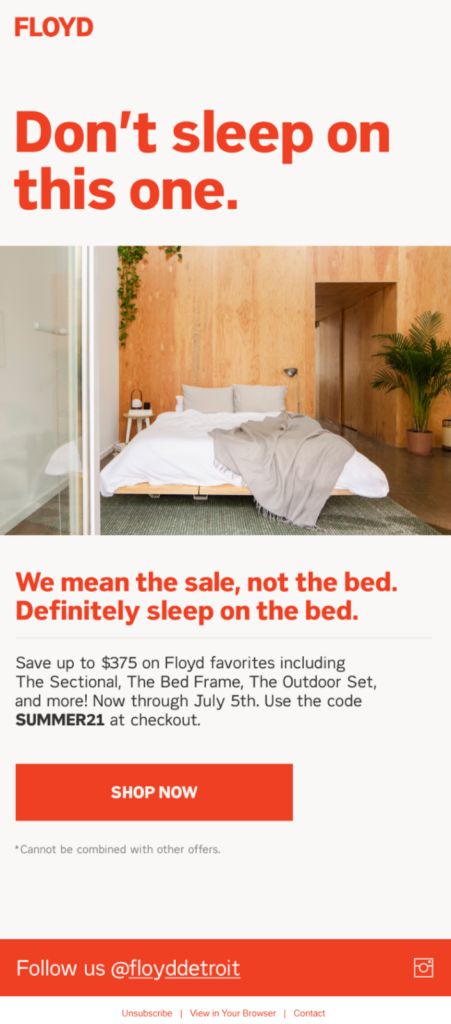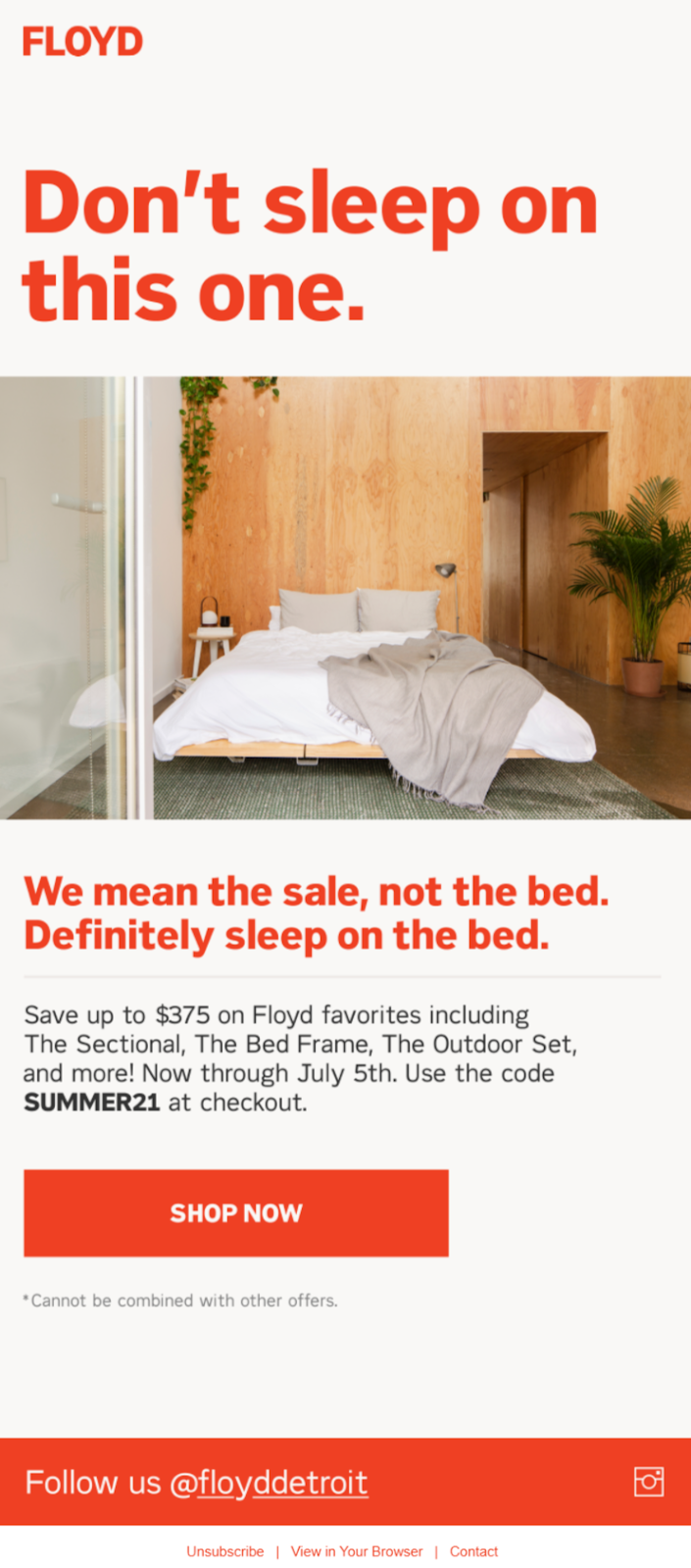 7. Take a step back and analyze each experiment
Experiments only work if you analyze the results. Carrying out tests just for the sake of doing it won't give you any answers.
Email may be a "free" marketing channel, but that doesn't mean you should use it recklessly without a strategy. Data can help you figure out which emails to send and when. The key is to test, measure, and optimize along the way.
Looking at open rates and click-through rates only doesn't help you make the right decisions. You have to read the meaning behind the numbers. In order to see the big picture, you should combine data from your email marketing software (Mailchimp, Klaviyo) and your ecommerce/web analytics platform (Shopify, Google Analytics). This way, you'll be able to understand the revenue implications of your ecommerce email marketing.
Now you're thinking: there is so much data across different marketing platforms that it seems impossible to connect everything together and draw conclusions.
The good news: now you can collect scattered marketing data from your favorite marketing platforms into your go-to reporting, data visualization, data warehousing, or BI tool.
With Supermetrics, you can keep track of what's working and what isn't by pulling siloed data together in your favorite reporting tool.
What's next?
Ecommerce email marketing is a great tool that can fuel your business growth. However, in order to use it to its full potential, you have to analyze and optimize based on the results.
To make data-driven decisions, you have to connect the dots across different marketing tools. But instead of shifting among various reports and platforms, now you can gather all the data in a single dashboard.
Once you decide which metrics you'd like to track and build your dashboard or report, you can set up automatic data refreshes and scheduled emails so that you'll always have relevant data in your reporting tools.
This way, you'll have more time to focus on more critical tasks like analyzing the numbers, optimizing campaigns, and planning new ecommerce email marketing initiatives.
Ready to start using data to inform your email marketing campaigns? Start your free 14-day trial of Supermetrics.
Turn your marketing data into opportunity
We streamline your marketing data so you can focus on the insights.