Everyone knows about the ecommerce giant Amazon. Consumers and brands worldwide research, shop, sell or advertise their products on the Amazon platform. It's the world's leading ecommerce platform, with over 2.2 billion monthly visits to Amazon.com in February 2022.
It's no surprise that many brands want their products visible to the Amazon audience. According to Amazon stats, 3rd party sellers now account for 58% of Amazon sales. All types of businesses sell on Amazon, from large well-known brands to small and medium-sized businesses or emerging brands.
To get shoppers to browse and purchase your products specifically, you need a good marketing strategy. This is where Amazon Ads can help.
In this post, we'll give you an overview of what Amazon Ads are and why you should try them.
Skip ahead
What's Amazon Ads?
Amazon Ads are ads about your brand or product that appear in various places on Amazon, like on the search results or product detail pages on Amazon.com. Amazon Ads aim to promote your products and brand to new and potential customers, streamline the buyer journey, and ultimately drive more sales.
There's a range of different ad types available. Each type aims to reach consumers at different stages of buying. With a mix of different ad types, brands and retailers can achieve the best results and ROI.
You don't have to sell products on Amazon to advertise on the platform. In fact, Amazon is the leading example of a retail media network. It refers to a retail company offering digital channels, like websites or apps, to third-party businesses for advertisement purposes.
The advertising function is one of the company's fastest-growing areas. Amazon is the third-largest digital advertising company in the US, right behind Google and Facebook. Brands constantly invest more of their budgets into Amazon to tap into its potential. For example, in 2022, 63% of marketing professionals worldwide planned to increase their Amazon advertising spending.
Types of ads on Amazon Ads
You can use different types of Amazon Ads depending on your advertising goals. Perhaps the most common types are Sponsored Products, Sponsored Brands, and Sponsored Display. Sponsored Products and Sponsored Brands are Amazon's biggest source of ad revenue. They also create the highest return on ad spend (ROAS), according to a survey conducted among brands advertising on Amazon in the US between 2020—2021.
As with many other advertising platforms, it's commonly advised to implement a multi-solution strategy, which helps reach and engage audiences in different steps of the buyer journey. Advertisers who implemented Sponsored Products, Sponsored Brands, and Sponsored Display saw up to +15% YoY sales at a better return on ad spend than those only using Sponsored Products.
There are other Amazon Ads types, like video ads, audio ads, or display ads powered by Amazon DSP (Demand-Side Platform). Often, advertisers might wonder what's the difference between Sponsored Display and Amazon DSP. One key difference is that to run Sponsored Display ads, you must be either an Amazon seller (list, price, and market product yourself) or a vendor (sell your products to Amazon, which sells for you). The DSP experience, on the other hand, is available to all advertisers.
Supermetrics offers two separate connectors for Amazon Ads (Sponsored Products, Sponsored Brands, and Sponsored Display reporting) and DSP reporting.
For now, we'll focus on the three most common ad types, Sponsored Products, Sponsored Brands, and Sponsored Display ads.
Sponsored Products
Sponsored Products appear in search results and product detail pages. When a shopper searches for a product with a relevant keyword, they get their search results and commonly see Sponsored Products at the top of the page before the organic listings. Sponsored Products can also appear on different product detail pages. They can be recognized by the word "sponsored" or "ad," which indicates paid content.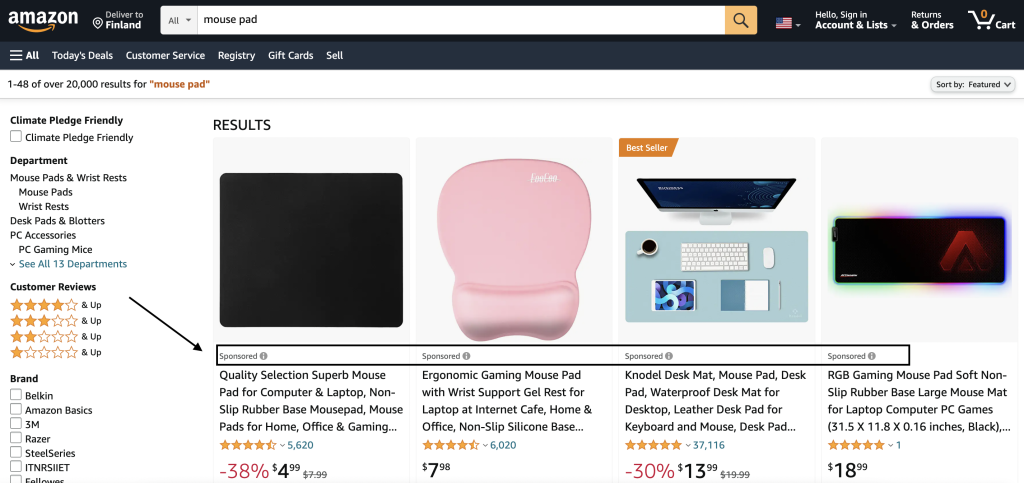 Sponsored Products improve your product's discoverability. They also allow you to increase sales by displaying ads when shoppers search and look for relevant products on Amazon. They're a great way to gain more visibility, display new offers, or promote offers with low product views or seasonal sale items.
Sponsored Products work similarly to pay-per-click ads on Google, where you only pay whenever a shopper clicks on your ads.
Sponsored Brands
Like Sponsored Products, Sponsored Brands (formerly headline search ads) are keyword-targeted ads that appear at the top of search results. The difference, however, is that while Sponsored Products promote individual products, Sponsored Brands promote your brand by showcasing multiple products at once.
As the name entails, Sponsored Brands are especially efficient for brand awareness. The ads are usually large and positioned at the top of the page so they don't go unnoticed.
Sponsored Display
Sponsored Display ads work a bit differently than the two previous search ad types. These aren't keyword-targeted and reach audiences beyond shopping results. With Sponsored Display, you can target audiences like people who searched for relevant keywords, viewed your product detail pages, or previously purchased your products.
The ads can also appear in various places, both on and off Amazon, based on the audiences or product targeting strategy you choose. Some examples are on Amazon's home page, product detail pages, shopping results pages, Twitch, and third-party websites and apps in selected marketplaces.
Sponsored Display ads are a great way to increase product awareness, consideration, and conversions.
Why should you advertise on Amazon?
By now, you're familiar with the different ad types but might be thinking about why you should try advertising on Amazon.
Amazon gives huge opportunities for many types of businesses, but for ecommerce brands, it's a no-brainer. Whether you're new to online selling or have perhaps established a store, Amazon Ads can help you increase brand and product awareness and sales. Next, we'll show you how.
Get more visibility for your brand and products
Quite a few products sell themselves. Instead, brands rely on advertising in relevant channels to get more visibility for the brand and its offering.
Amazon Ads help brands reach new and potential customers interested in similar products. With 300 million customer accounts worldwide, it offers brands a huge potential to connect with diverse customers.
Especially for small and medium-sized businesses, Amazon Ads can increase brand recognition and build a killer brand among an unknown audience. In fact, 75% of shoppers use Amazon to discover new products or brands. And 52% of shoppers say they're more willing to buy an unfamiliar brand in Amazon's store. So it's a great channel to get people to try your products and eventually become loyal customers.
Using Amazon Ads can also improve your organic rankings. As the ads typically drive more product sales, your sales history also improves. Sales history is a very strong ranking factor on Amazon, which in turn will help place your product higher up in the ranking of organic search results. This way, your products can also rank better organically without the advertising spend.
Reach a relevant, engaged audience
One of the biggest benefits of Amazon Ads is reaching an engaged and relevant audience. When shoppers scroll through Amazon, they're more motivated to buy whatever they're looking for than on many other platforms. With Amazon Ads, you can target the right shoppers, as in people interested in similar products you sell. And you can reach them in highly relevant moments when they have their credit card close by and are ready to make a purchase.
Increase sales and ROI
Using Amazon Ads reduces the sales cycle by reaching customers directly through ads. Imagine a shopper scrolling through Amazon searching for a product. They see millions of similar results. Using Amazon Ads lets your products be highly visible in relevant moments and placements to relevant shoppers. Which means they can make a quicker purchase.
The buyer journey on Amazon, from the first touches to a product to making a check-out, can be, in best cases, quite streamlined. In fact, on average, Amazon customers complete 28% of their purchases in 3 minutes or less, and half of the purchases are finished in less than 15 minutes.
The ads also have a crucial role in steering shoppers away from competitors' pages and into your product pages. There are over 1.9 million selling partners worldwide, so the competition on Amazon is intense. It's important to win those impressions and guide shoppers to your products.
It's also argued that Amazon Ads are more cost-efficient than other ads. It's easy to control your advertising costs when you only pay whenever someone clicks your ads. You can follow many Amazon Ads campaign reports that track ad spending and performance, so you'll know what's working and can optimize accordingly.
Gain valuable insights about your customers
While Facebook has data on your interests, and Google has data on what you search, Amazon has a lot of first-party data on their customers, shopping behavior, and habits. First-party data refers to data a company collects directly from consumers and owns. It can be, for example, demographics, purchase history, behavior and engagement, and sales interactions.
An eMarketer study from 2021 reveals that US CPG brands are primarily motivated to tap into retail media networks, like Amazon, due to the first-party data that they behold. First-party data has become increasingly valuable due to recent tracking changes like the loss of 3rd party cookies.
First-party data allows marketers to reach relevant audiences and better understand their customers and the best ways to acquire new ones. Getting data on your customers, especially those new to your brand, is imperative. Consumer habits are also constantly changing, and the only way to keep up is to get data and insights on the evolution.
You can easily monitor the performance of your campaigns on Amazon and make data-driven decisions to optimize your results. Amazon also works with reporting partners, like Supermetrics, that help consolidate your data. We'll look at measuring your campaigns in more detail later on.
How to advertise on Amazon?
Getting started with sponsored ads is simple, self-serve, and straightforward. The first step is ensuring you're eligible for the different ad products under the sponsored ads umbrella.
To advertise on Amazon, you must have an active Professional seller account. An Amazon seller lists, prices, and markets their products, but an Amazon vendor sells their products to Amazon, which sells them on their behalf. While anyone can join seller central, enrolling in the vendor central program requires an invitation from Amazon.
In seller central, you can create your ad campaigns, control your costs and track your results. Like many other advertising platforms, you can choose the products to promote, define targeting, and decide how much you want to spend. You can also download business reports and monitor your seller performance.
Understanding the shopping journey and the flywheel effect
Another key aspect of advertising on Amazon is understanding the "flywheel" effect of Amazon Ads and how each piece fits in and boosts your product discovery cycle.
You can start advertising on Amazon with Sponsored Products, which boosts the discovery of your products to net new shoppers. As you reach more shoppers, your product views increase.
As your product views increase, sales growth should follow with it. And as more shoppers purchase your product, the reviews on that product will also increase.
As product reviews increase, it'll become easier for net new shoppers to discover your products from both organic and paid results. It helps increase interactions with all your products, not just the ones you're promoting.
So you can see it creates a certain "flywheel" effect.
How much does advertising on Amazon cost?
As marketers, we're always interested in advertising costs. Amazon Sponsored Brands and Products are pay-per-click solutions where sellers pay only when shoppers click their ads. It's easy to control your costs, as you can define how much you want to spend for a click. Or set a maximum budget for how much you're willing to spend in a day.
The advertising cost depends on your budget and your competition. On average, Amazon advertisers pay $0.81 for a click. If you're targeting highly competitive keywords, you'll likely pay more.
How to optimize Amazon sponsored ads?
We've now covered how Amazon Ads help brands and advertisers increase sales and product visibility. To make the most of your ad campaigns, you must constantly track and optimize your results.
Perhaps the most important factors to optimize are your keywords and PPC strategy. You want to target relevant keywords that will bring you valuable leads. There are plenty of resources that dive into Amazon PPC optimization and help you recognize keywords that best work for your products.
We talked a little about reviews and how they support the flywheel effect. You want to keep persistent, positive reviews and high product ratings coming in. A study by Northwestern University revealed that if a product receives even five reviews, the likelihood of purchase increases by 270%. Consumers trust sites with high ratings, so if you want to sell more products, focus on your reviews.
You can also use reviews to improve your ads and the products you're promoting. Check at least the following points when planning your next Amazon Ads campaign.
What's the customer satisfaction for similar products on Amazon?
What's the average star rating received by similar products?
What are the benefits of products with a higher-than-average star rating? Are there specific features of your product you can call out that closely align with these?
Do your products have the same improvement needs as similar products with a lower-than-average star rating?
By checking customer feedback, you can learn a lot of valuable information about consumers' expectations and concerns about the product. You can also use customer reviews as a reference for building out campaigns and targeting strategies. You might even be able to use the information to improve some of your marketing campaigns outside of Amazon.
Tracking and measuring Amazon sponsored ads
Amazon offers a lot of advertising metrics and reporting help depending on the ad type and advertising goals. You can follow basic metrics for most ad products, like impressions, clicks, CTR, traffic, orders, and advertising spend.
There are also some Amazon-specific metrics that you should memorize:
Advertising-cost-of-sales (ACOS): Total ad spend divided by total ad sales times 100. It's the percentage of direct sales you make from advertising.
New-to-brand (NTB) orders: Number of first-time orders for products within the brand over a one-year lookback window.
Sales attributed to advertising: Total sales value of Amazon orders from customers after clicking your ads.
With various campaigns, ad types, creatives, and placements, you'll have a lot of data on your performance. You can easily track your results on Amazon, but you're most likely advertising on other platforms too. To get a comprehensive view of your performance, you'll need all your data in one place. Siloed data won't get you anywhere. It'll only confuse you, and, in the end, you'll end up making wrong decisions.
This is where a marketing analytics tool, like Supermetrics, comes in handy. With Supermetrics, you can pull the data from Amazon Ads to a data warehouse or data lake, like Amazon Redshift, Amazon S3, or BigQuery. After that, you can move it to a business tool of your choice.
By pulling the data away from the source, you'll have the opportunity to aggregate the data with your other paid media channels, such as Google, Facebook, and TikTok. This way, you'll shed some light on the spending and better understand your overall performance. Or better yet, if you're advertising your products on multiple platforms, you can compare the results in one location instead of logging in and out multiple times.
"When your marketing data is scattered, and it's just living inside the native reporting platforms, you're not looking at the big picture. It's much harder to determine what impacts your revenue or sales. And it's harder to determine ROI."

— Aleksander Cardwell, Head of Performance Marketing at Supermetrics
Aleksander continues, "Different advertising platforms also have different data retention policies. For example, via the Amazon Ads ad console, the longest lookback window is about 18 months (depending on which product you're using and what information you'd like to get). But with Supermetrics, you can continuously bring in data and start building a data bank. So eventually, you'll have years worth of historical data."
Once you've centralized your data to a data warehouse with a tool like Supermetrics, you can also extend the functionality of your data. You can, for example, create marketing attribution models and better understand how much revenue your marketing efforts are generating.
The Supermetrics Amazon Ads connector allows you to pull metrics such as clicks, impressions, conversions, costs, and so much more. Set automatic updates to your reports, make your life much easier, and save valuable time from your daily schedule.
Want to try out the Amazon Ads connector?
Start a 14-day free trial and move Amazon Ads data to your data warehouse or data lake
Learn more
Turn your marketing data into opportunity
We streamline your marketing data so you can focus on the insights.