Whether you work in a B2C, B2B or D2C, your business and sales depend on connecting with individuals and winning them over.
Social media is all about connection—with each other and with brands. That's why there's a huge amount of—often untapped—potential in harnessing the power of different social media platforms in getting your message across to the right people at the right moment.
Adults in the US reportedly spend 95 minutes a day on different social media platforms. All this time spent on social media isn't just about entertainment but also seeking for inspiration and advice.
How then does all this fit in with your business goals? Can social media marketing bring any real value to your business, or is it a waste of time and money?
If you do it right, it can become a crucial part of your overall marketing strategy that brings measurable results and has a proven impact on your sales.
Note: This article focuses on the paid social marketing funnel, i.e., targeted ads. But, many of the points also apply or give food for thought to your organic social media strategy.
Fast forward >>
What's a social media marketing funnel?
The marketing funnel is a model that describes the customer journey and the different touchpoints that a user normally goes through before becoming your customer. Different cases describe and label the funnel slightly differently, but the idea is the same.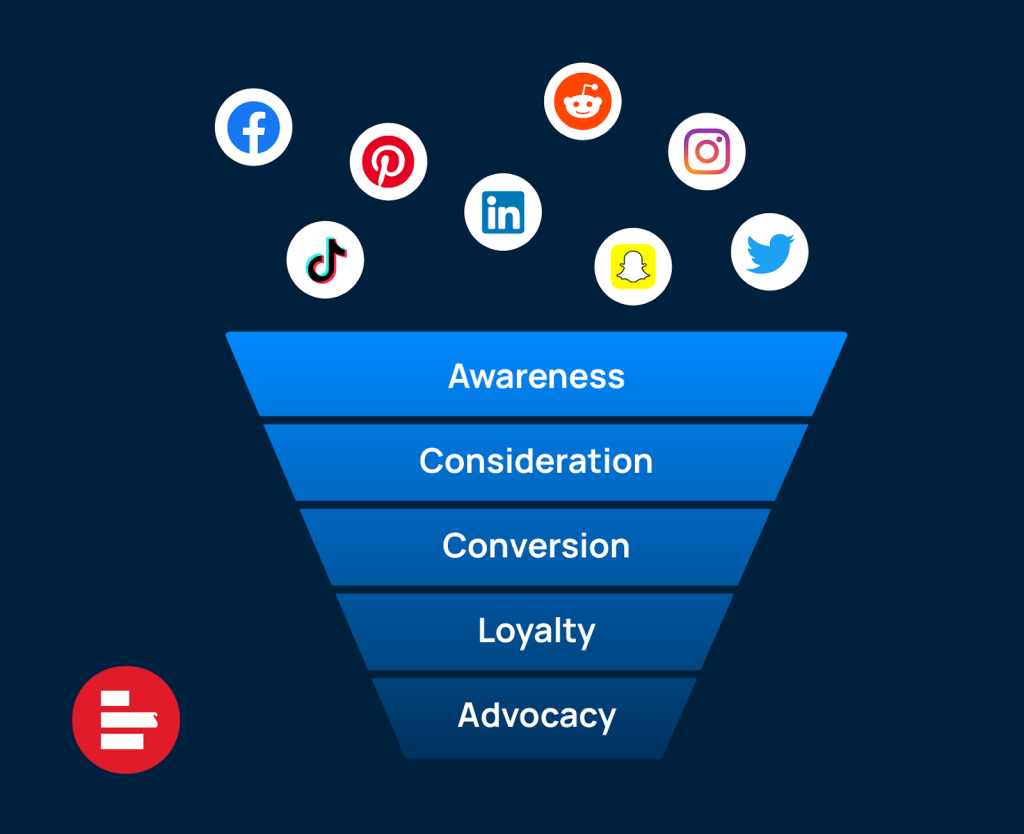 Typically the stages of the social media marketing funnel are described like this:
Awareness: first becoming aware of your brand or product
Consideration: finding out more about it, comparing different options
Conversion: making a purchase, starting a trial, or becoming a lead for sales
Depending on your strategy, sometimes also include the post-conversion stages of:
Loyalty: existing customer satisfaction, upselling
Advocacy: spreading the word and becoming an ambassador for your brand
At each stage of the funnel, you have the opportunity to reach the potential audience and lead them further along the funnel. Ideally, the social media marketing funnel is a collaborative effort between different stakeholders at your company, with
Sales: providing insights about target markets, audiences, and accounts
Paid social: targeting your potential audience with the right message, driving the goals of each funnel step
Organic social: managing content pillars to capture interest and delight your audience
Community management: engaging with users and followers, leading a conversation, and providing customer service through social channels
In reality, the customer journey isn't often as straightforward as the funnel image shows. Users may drop off or go back and forth within the funnel. They might often revisit your website and take actions multiple times before converting—often through a different channel than where the first touch point happened.
That's why it's important to set the right expectations and KPIs for each social media funnel step and be mindful of the attribution you use to measure them. More about those later.
How to build a social media marketing funnel
How should you define your audience for each funnel step, and how can you reach them? Before you can start reaching your audience on social media, you need to know who they are and where they spend their time.
Who are you trying to reach?
Think about what shared attributes your target audience has.
Where and how to they spend their free time?
What kind of content interests them?
What kinds of challenges do they face?
What brings them relief and joy?
Some of this information can be gained through customer and market research and insights from your organization's sales and customer service teams.
Start with the information you have, and gain more through testing along the way.
Where to reach them?
Research the demographic and usage of the different social media platforms to determine which ones have the most potential to reach your target audiences.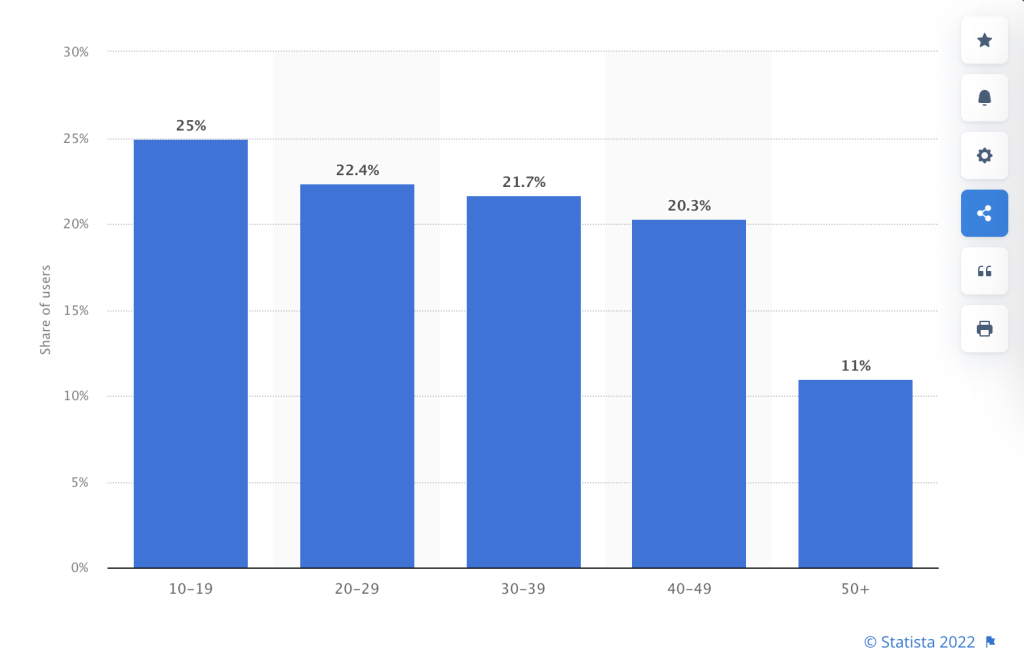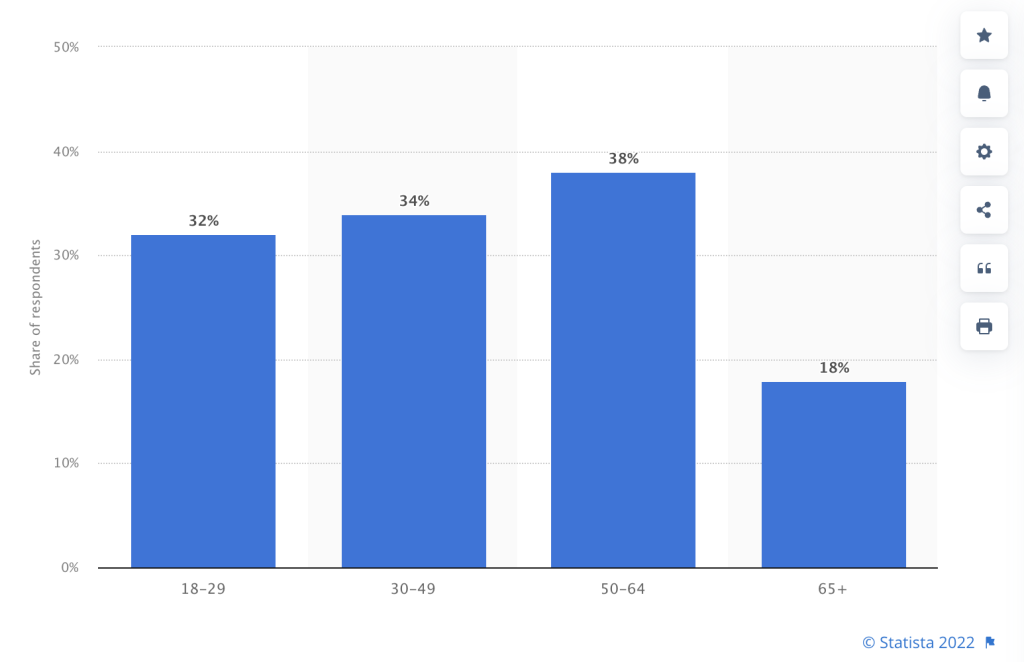 Each platform serves a different purpose and attracts different audiences with different behavior. Find the ones where your audience spends their time. Test different platforms to determine which performs best at driving your KPIs at each funnel step.
Here are some examples and recommendations for each funnel step's goals, audience definitions, and metrics.
Funnel Step 1: awareness
Goal: ad recall and brand lift
Before we want to commit or buy something from a brand—or even spend any of our time with it—we usually want to feel like we know them, trust them, and see them as a match for our individual needs and values.
At the awareness stage, we have the opportunity to communicate this to our broadest possible audiences. That's why we should start big and capture the attention of everyone who can become our customers or influence the purchase decision.
The messaging at this stage could include a problem statement your audience can relate to and the solution you offer to that problem. Or it can be about the values your brand represents that your target audience shares. The main goal for this stage is to catch the user's attention and leave a mark. Ultimately, make them remember your name and what you can help them with when the time comes.
While static image ads work well, the video format is ideal for ads in the awareness stage.
It's great at capturing the user's attention through dynamic visuals and storytelling. Because if a picture is worth a thousand words, then a video is worth a million.
Using video ads unravels new opportunities for building retargeting audiences for your next funnel steps, for example, those who watched 50% or more of your video ads, demonstrating a clear interest in your brand or products.
According to HubSpot's report The State of Content Marketing in 2022, "Video is the number one format marketers used in their content strategy in 2021."
Metrics to measure awareness stage performance
At least:
Reach: how many unique users have seen your ads
Frequency: how many times on average a unique user has seen your ad
Estimated ad recall lift: when running an ad recall campaign
Brand lift tests offered by Facebook and LinkedIn are worth testing if you have a chance.
… but you should also usually track:
Impressions: how many times have your ads been shown
Engagements: how many times have users engaged with your ads
Engagement rate: how many ad impressions led to an engagement
CPM: cost per 1,000 impressions
CPV: average cost per video view
Video views 25%–100%: how many times your videos were watched to a certain timestamp
View rate: how many impressions led to a video view
… and vanity metrics are an interesting extra, too, such as:
Likes
Reactions
Follows
Saves
How to optimize awareness campaign performance
Analyze your campaign performance against the above metrics and your campaign objectives.
Some things to consider:
Which audience segments or targeting methods bring the best results? Does your targeting need adjusting?
Is your budget distributed so your focus segments and markets get their rightful share?
Think, what's more important to you—maximizing your reach among a certain key audience or market, even if that means higher costs or maximizing your reach while optimizing the cost?
Is one of your creatives underperforming, and can you make changes to it? What can you learn from the highest performing creatives?
On LinkedIn, analyze the demographics report to see whether your ads are getting in front of the right people—job titles, seniorities, industries, companies—or whether you should adjust the targeting.
After you've reached and engaged with your audience at the top of the funnel awareness stage, some of them will be more receptive to learning more about our products and services at the next stage. Some might not be ready yet, but you want to ensure they know where to go when the time comes. That's why you should never underestimate the long-term impact of brand advertising.
Awareness campaigns also allow us to recognize our most potential users and build future audiences for our next stage.
Funnel Step 2: consideration
Goals: website visits and engagement
Great, so you've hopefully gotten their attention. Your next job is to convince them your product is what they need.
Use your consideration campaigns to tell your audience more about the benefits you offer and about your unique selling proposition.
Give them reasons to choose you instead of one of your competitors. When I say competitors, that's not only your direct competitors but also indirect ones, like finding an alternative solution to their problem or simply not buying anything.
What makes your products unique? How will the user benefit from them? Is it the amazing selection, price, ethics, time or money saved, experience, or ease of use?
At the consideration stage, you want to target a more specific audience—those who've already shown interest or recognized the need that your product or service could potentially fulfill.
To reach them, you can retarget audiences who've already expressed interest in your brand or similar products. This is also where the previously mentioned video engagement audiences come in handy. Or maybe they're following a relevant discussion on Twitter or Reddit or engaging with brands similar to yours on Instagram. If they've already continuously engaged with content around certain topics, they might also be ready to hear about what your brand can offer them.
As always, test different ad formats, such as video and carousel, both great for engagement, and collection ads, without forgetting the oldie but goodie single image ads. Single image ads can often have a relatively high click-through rate as long as the message and call to action are on point.
Metrics to measure consideration stage performance
Depending on your campaign goal, whether it's website traffic:
Link clicks: number of times the ad link was clicked
Link CTR: the percentage of times a user clicked your ad after seeing it
Link CPC: cost per link click
Or engagement with your social media content:
Video views 25–100%: how many times your videos were watched to a certain timestamp
View rate: how many impressions led to a video view
Engagements: how many times users engaged with your ads
Engagement rate: how many ad impressions led to an engagement
Or performing measurable actions on your website:
Website micro-conversions: users entering your purchase flow or consuming content
Website conversion rate: the percentage of users entering your purchase flow after engaging with your ad
How to optimize consideration campaign performance
After your campaigns have been running for up to a week or so, look at how they're performing against your key metrics.
Compare your campaign performance against your campaign benchmarks and the general industry benchmarks.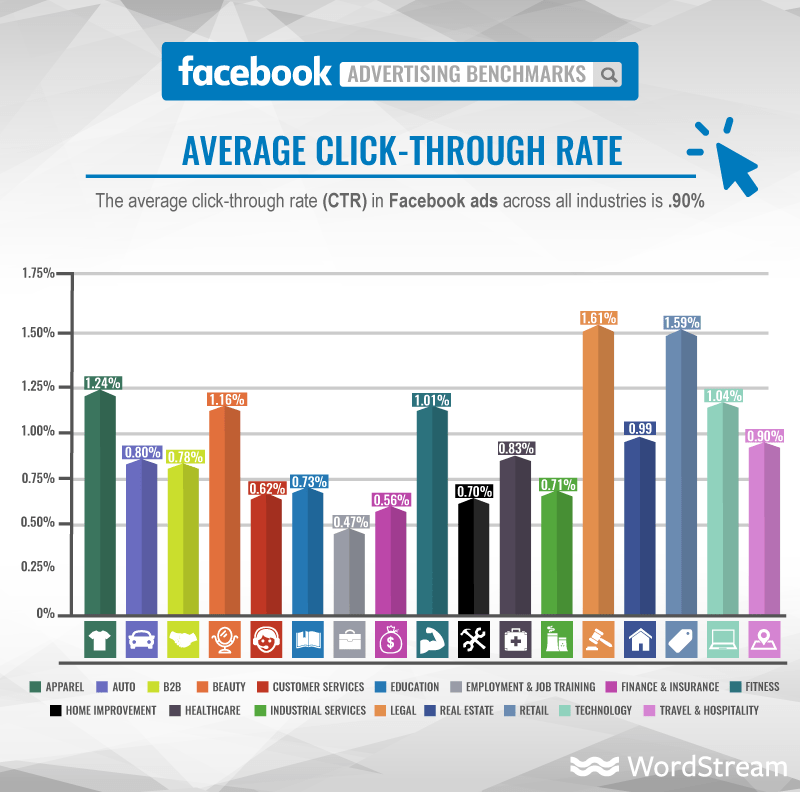 Here are some other tips on what to look for in the consideration stage:
Analyze the volume and quality of the website traffic coming from your social media campaigns. In your analytics tool, pay attention to the bounce rate and time spent on site after arriving through your ads.
Is your engagement rate up to the expected level, and what's the quality of engagements? Remember to monitor the comments and replies you receive and perform community management.
Have your conversion campaigns completed the learning phase and started delivering fully? If not, maybe adjust your targeting to gain more data for the platform to optimize for your goal.
If you're using micro-conversions as your campaign goal, are conversions coming in, or have you set the bar too high? Aiming for conversion events that are too far along the purchase flow in the consideration stage can easily lead to an unreasonably high cost per action.
Don't forget to build audiences from the top segments you've engaged with, brought to your key landing pages, or introduced them to your purchase flow. You'll need them later at the conversion step.
Funnel Step 3: conversion
Goals: conversions, purchases, and leads
By now, you have your potential customers well defined and know how to reach them again. Now all you need to do is give them that final nudge to go ahead and do what you know they want to.
After your awareness and consideration campaigns, chances are you or—in the age of machine learning—the social media platforms have a pretty good idea of who your ideal customers are, how they behave, and what they like.
Now, you want to make it as easy as possible for them to finish their purchase. Use the audience lists you have built in your consideration stage and retarget the users with your best direct response messaging.
Remove any final bottlenecks or shadow of a doubt. Give them social proof through awards, recommendations, customer reviews, or testimonials. Remind them of how easy it is to get started with your product. Maybe give a discount code as a little welcome present. Whatever you think will put a smile on their face and encourage them to become your customer or finalize a purchase.
Pro tip: If you work in ecommerce, Facebook and Instagram offer intelligent catalog sale ads. Not only can they remind the user what they left in their shopping cart, but also recommend other similar products that they may like in an easily browseable format—complete with your branded frame and added discount automatically displayed.
The main thing is to be clear about what you want the user to do after seeing your ad, including a direct CTA that prompts them to do that specific action. Also, a sense of urgency often helps. No room for hesitation at this point.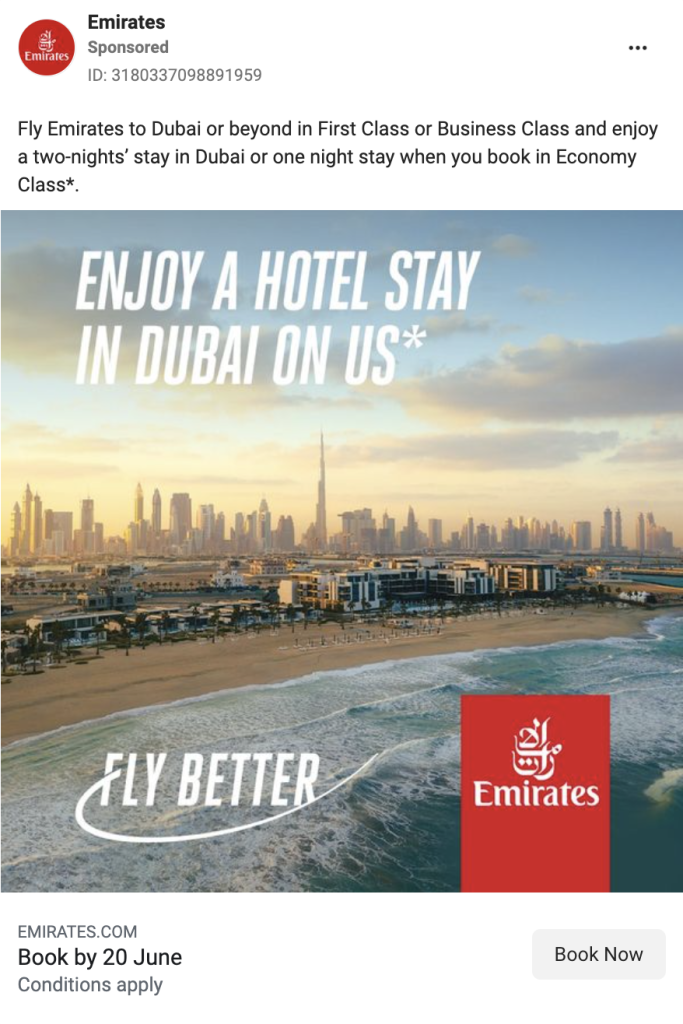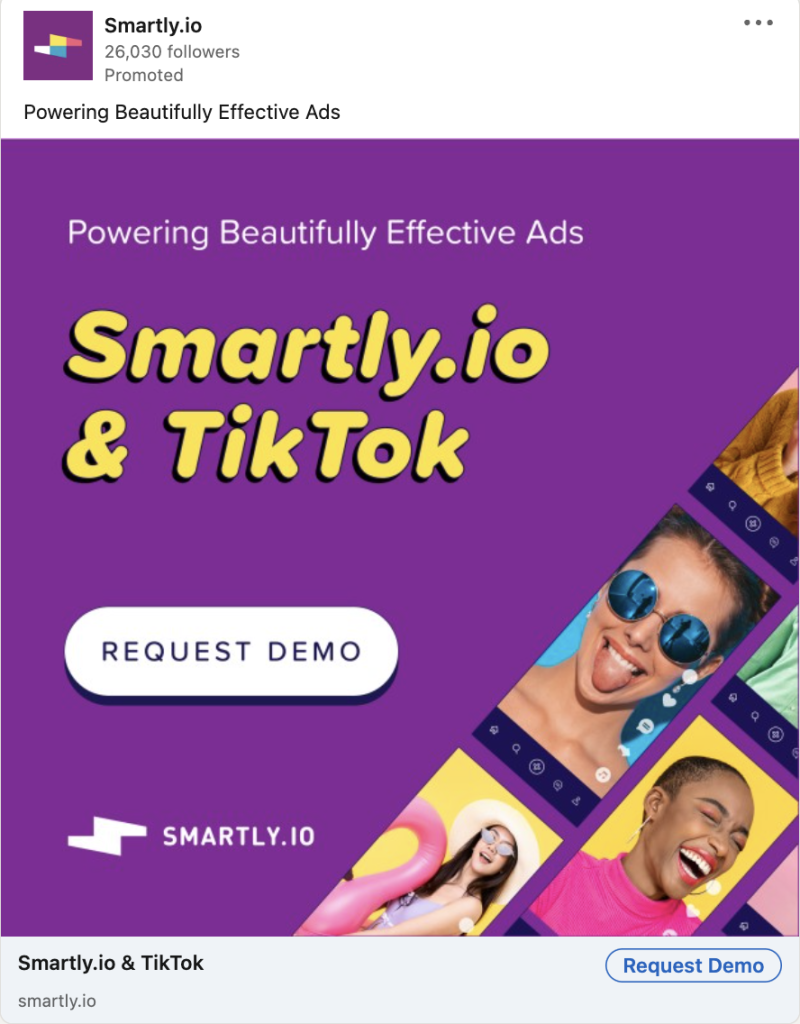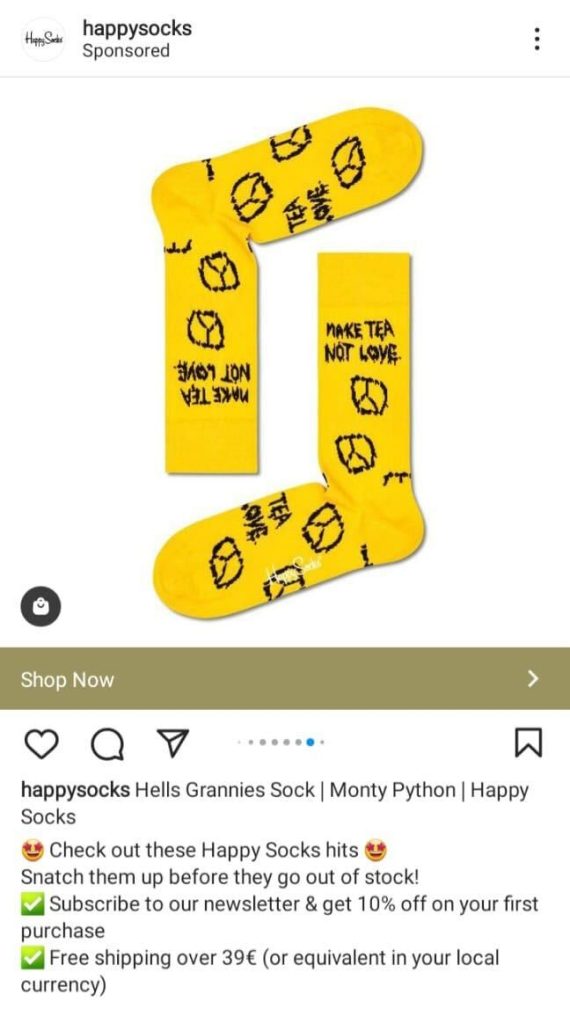 Metrics to measure conversion stage performance
At this stage, it usually comes to your most business-critical metrics, such as:
Conversions: the most valuable events you have set up in your ad tracking
Catalog sales: items sold from your ecommerce catalog
Leads, MQLs, form fills: form submissions on your website
And of course, the effectiveness of these, whether for you it's the:
Conversion rate: the number of conversions divided by visit,
Cost of conversion: ad spend divided by the number of conversions
Value of the items sold: revenue from sold items
ROI, ROAS: the ratio between net income and investment or revenue and ad spend
How to optimize conversion campaign performance
Now it's the time to put your money where your mouth is.
Ideally, you'd know your target ROAS or cost per customer acquisition and be able to optimize the ad spend towards that value. At the very least, you want to:
Make sure that the cost you're paying per action is reasonable to pay for the given action, knowing the value of your products.
Know which social media platforms perform better at driving home conversions depending on your industry and product type. Test what works best for you in each stage of the funnel. Spend a small share of your total budget on testing new channels.
Ensure the page you direct the users to is simple and easy to navigate. For social media audiences, the landing page must be mobile optimized, easy to scan through, and process smoothly to complete.
A/B test different call-to-action and landing pages to see what converts most efficiently. Note differences between different markets.
Look at the bigger picture instead of just the social platform metrics. Compare your ad spend to the revenue attributed to your ads in your analytics platform.
For example, use Supermetrics to pull your Facebook ad spend next to your revenue generated by your Facebook Ads and use a formula to calculate the last click ROAS.
How to calculate ROAS
Revenue generated from your company / Ad spend = the $$$ that each $ generated or ROAS
Example:
$5,000 in revenue / $1,000 in cost = a return on ad spend of $5 or 5:1
It can be tempting to focus on this third funnel step and expect all your campaigns to make direct sales or leads. But suppose you haven't done the awareness and consideration stages right. In that case, the chances are that you're not only wasting money on low or negative ROAS but also irritating your audience with pushy ads when they're nowhere ready to commit. Also, by ignoring the top of the funnel, you're limiting your potential audience size and neglecting the longer-term impact of building awareness.
After someone's become your customer, you want them to move on to the loyalty phase.
Funnel Step 4: loyalty
Goals: upselling and cross-selling
After all that hard work of acquiring new customers, you don't want to lose them. So keep them happy, make them feel special, and give excellent customer service.
This is part of a bigger experience that combines the efforts of many different teams within your organization, including—but not limited to—customer service, account management, marketing automation, and website development. Social media's potential should still not be overlooked at this stage either.
Follow and listen to what people say about your brand and products on social media. This gives you valuable insight into customer satisfaction and how your brand is perceived. There are plenty of social listening tools available for this purpose.
Social media channels are also great customer service channels, so make your brand available and approachable and respond to the comments, replies, and messages you receive. Every touchpoint matters.
Some of the ways you can support the loyalty with social campaigns:
Get people to follow you and keep delighting them with good quality organic content
Promote exclusive sneak peeks, early access to your products, and sales to your existing customers
Express that you want to hear from them, maybe give a little prize for leaving a review
Recommend products that you know they might like, based on their purchase history
Let them know when the products they liked are on sale
Let them know about new products and features that they might be interested in
Give them industry insights, inspiration, and tips and tricks of how to get most out of your product
Metrics to measure loyalty stage performance
The loyalty stage really comes down to the customer experience, and there are multiple ways to measure it. Depending on what efforts you're taking on social media, you might want to track:
Reviews and review ratings: how many reviews your profile has received on social media
Page likes and followers: new followers to your company page or profile
Net followers: new followers minus unfollows
Engaged users: the number of people who engaged with your page or profile
Positive and negative actions: the type of actions taken on your posts
Also for sales campaigns:
The conversion stage metrics but for your existing customer segment
Customer value: increase in the average value of your current customers
Average purchase value: increase to the average purchase value from your customers
How to optimize loyalty campaign performance
Give excellent content that prompts engagement from your current followers and fans and attracts new ones
React, respond, and lead the conversation
Use user-generated content and customer reviews
Try customizing your ads to different customer segments and learn what works best for each
Focus the biggest share of your budget on your highest value customers, but also put a share aside for trying to activate the churned ones
Studies on the impact of positive interaction with a brand indicate how social media help increase customer loyalty.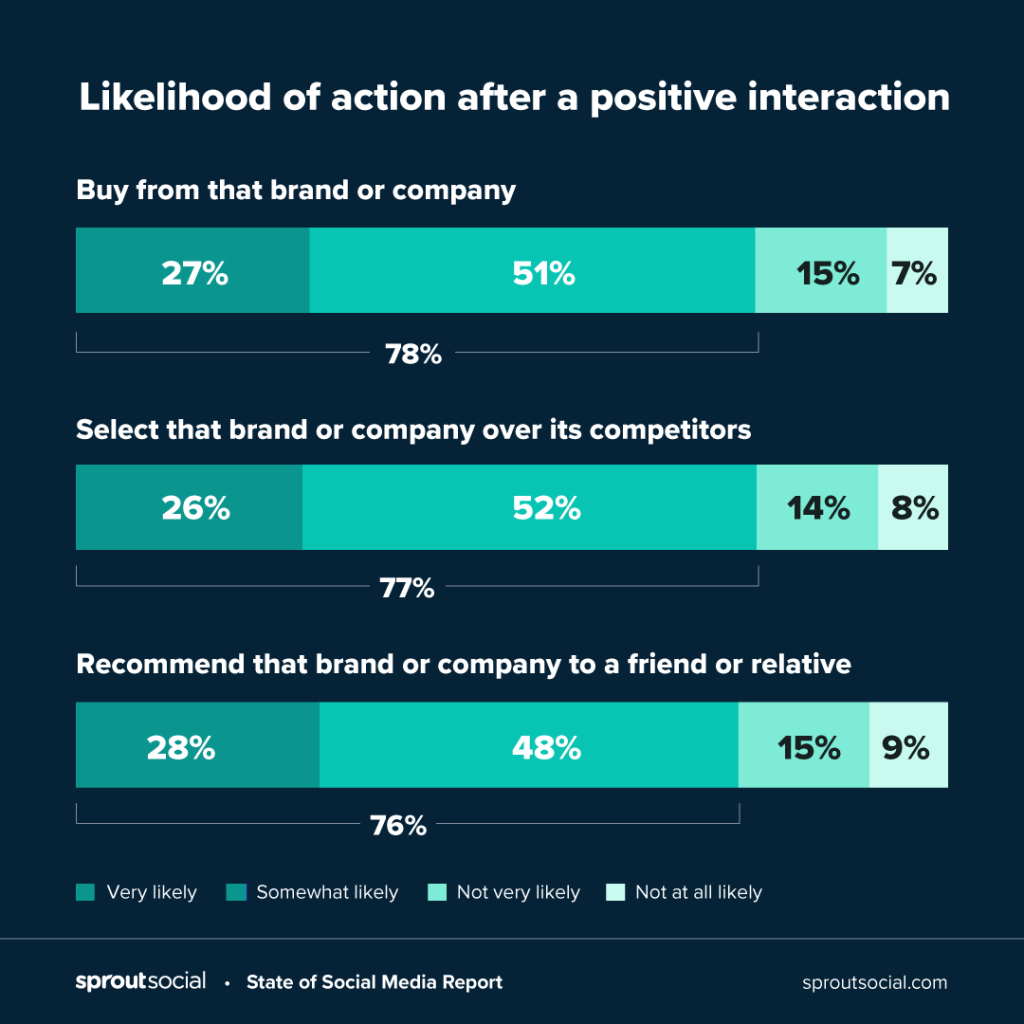 By nurturing and taking good care of your existing customers, some of them will make it to the next, ultimate stage of the funnel.
Funnel Step 5: advocate
Goals: social proof and credibility
Advocate stage is for the customers who have not only gone through the funnel successfully but are so happy with the outcome that they want to spread the word. What better for your brand, and what better channel for it than social media. Harness the power of social media to have your happy customers attract more customers.
In this stage, you can partner with influencers, industry experts, or other organizations to become your brand ambassadors who'll advocate for your brand through their networks.
Some of the ways to do this are:
Collaborate with your fans and power users to create organic content
Share the content they create and add a paid boost if possible to extend the reach
Share positive reviews
Partner with affiliates, offer commission and in some cases co-selling opportunities
Offer a private group where customers can talk to each other and share their experiences and insights
Metrics to measure advocate stage performance
Mentions: times your brand has been mentioned in social media posts
Influencer content engagement: engagement and react or views of your influencer-generated content
When it comes to affiliates:
New affiliate sign-ups: if you have an affiliate program with a sign-up form
Affiliate traffic to your website: users arriving through your affiliate links
Affiliate sales and bookings: sales generated by your affiliate traffic
At best, strong brand advocates can help support your whole social media marketing funnel from top to bottom—spreading awareness and influencing consideration to drive conversions and increase loyalty.
Funnel stages and metrics
This is what your social media marketing funnel could look like, with the key metrics to track at each stage.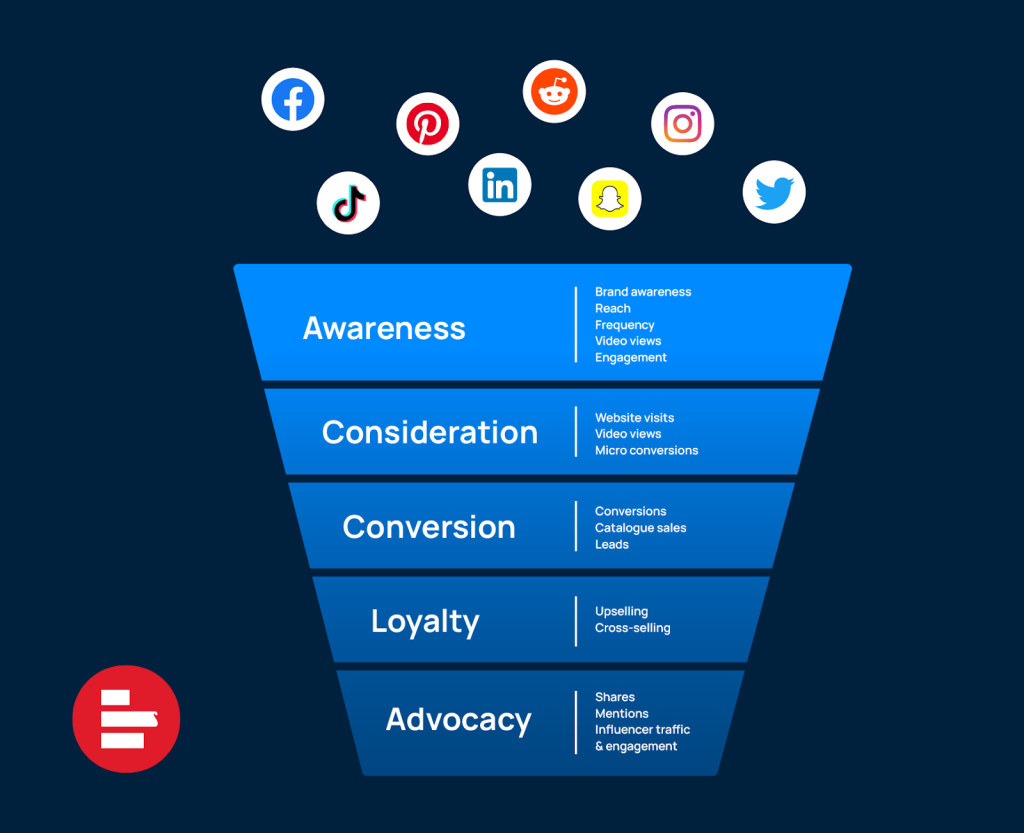 Let's talk budget
Social media marketing budgets, of course, vary incredibly between organizations depending on their resources and priorities.
As mentioned before, it's an easy mistake to put too much of your budget into the bottom funnel and ignore the potential the top funnel has to offer.
Think about it—you have the whole world of social media at your fingertips.
It's not always an easy sell, but top brands and most digitally mature companies are benefitting from the long-term brand impact and audience definition opportunities of the top funnel. When you put enough budget into prospecting, you'll see your brand grow and your customer acquisition costs decrease.
Prospecting
The general guideline is that you should dedicate most of your budget to the top funnel or prospecting campaigns—approximately 70–80% of your overall budget.
As the audience definition is broadest at this stage, the audience size is also the largest. Reaching large audiences and gaining quality engagement costs money. But this step is crucial for every stage to follow. Each will consist of more and more defined—smaller—audiences.
Retargeting
Technically, there are two or more types of retargeting—people who've only just expressed initial interest in your brand and those who are ready to buy.
Because traffic and engagement are cheaper and lower threshold goals to gain, the mid-funnel campaigns might require a slightly smaller share of the budget to bring profitable results.
Your bottom-of-the-funnel audience is the smallest but also the most valuable. So it's worth paying a bit more per every user reached. You want to ensure that your budget is sufficient to reach them and optimize your conversions, with the conversion cost being in the right balance with the value or revenue it brings.
For example, you'll struggle to bring a $100 lead in with a $20 daily budget.
As a guideline, I'd recommend a 10/20% split between consideration and conversion campaigns. But, as always, test different shares of the budget to see what brings the best results cost-efficiently for your brand and products.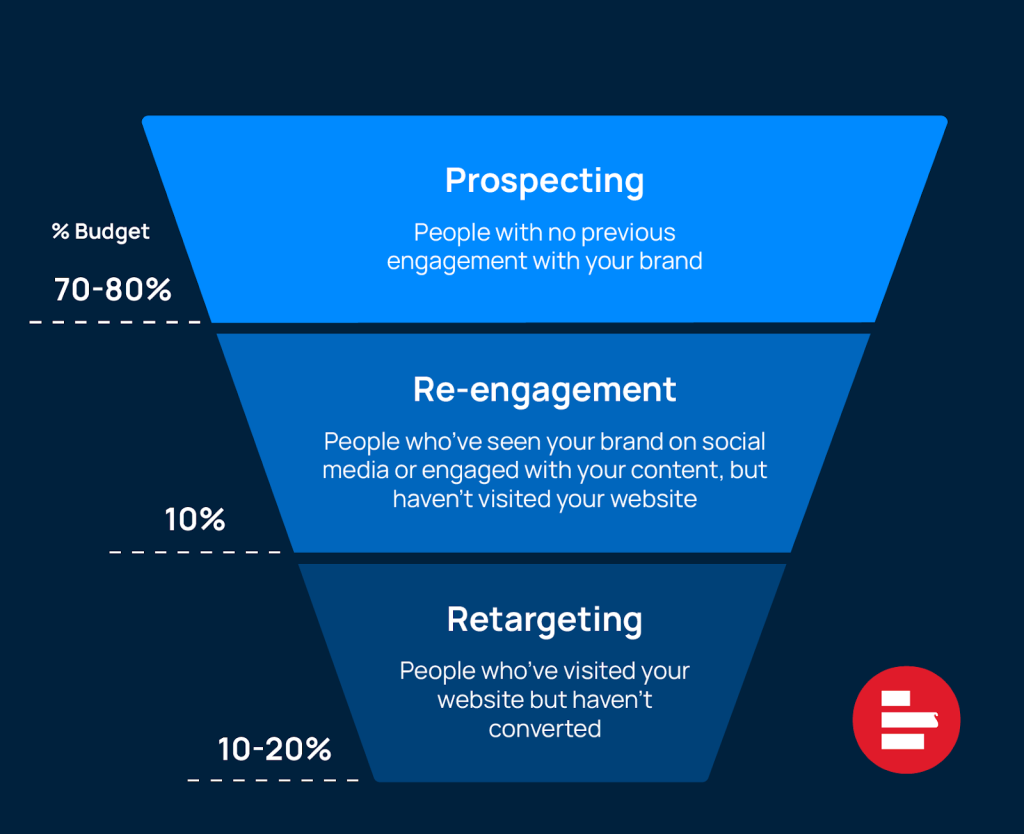 Recap
Being on social media is no longer an option for brands—it's a must.
Whatever your business, there are ways to implement the social media funnel into your marketing strategy.
Depending on your business, social media may not always be your go-to direct sales channel—especially in B2B or products with a long purchase cycle. There's still undeniable potential and value to be gained when you have a social media strategy that supports your sales funnel and business goals.
Build brand value through awareness before asking your audience to commit. Give thought to content for each stage, and remember that it's always about the audience and rarely about you.
Track your campaign performance without forgetting to keep an eye on the bigger picture and see the overall impact on your company's growth.
Always be testing and have fun!
About the author
Anna Leikas is a Paid Social Media Manager at Supermetrics, planning and executing paid social strategy and campaigns. Before joining Supermetrics, Anna worked as a digital marketing consultant at marketing agencies and within data, content, and vendor management in the global technology business.
Turn your marketing data into opportunity
We streamline your marketing data so you can focus on the insights.