How to optimize your LinkedIn Ads campaigns [free report template included]
Heidi Suutari and Sophie Michaud
More from Growth Analytics
If you're running ads on social media, chances are, you use LinkedIn Ads. And you're probably spending a ton of your ad budget on them, too, just like most B2Bs who are estimated to spend almost $2 billion this year in LinkedIn display advertising alone. So why are we still using LinkedIn Ads when CTR is rarely over 1%, and CPC easily goes between $4 and $8 or even more? Cause it's still one of the most important social media advertising platforms. And that's why we're here to help you get the best bang for your buck spent on LinkedIn Ads.
Fast forward >>
How to set up your LinkedIn Ads
How to measure your ads' success
What's a good LinkedIn Ads CTR
How to analyze your ads' performance
Get started with our LinkedIn Ads Looker Studio dashboard
How to set up ads on LinkedIn
First you need to set up your LinkedIn Campaign Manager and connect it with your LinkedIn company page.
The campaign manager is divided into three different tiers:
Groups
Campaigns
Ads
You can set up your campaign groups however you want. For example, if you advertise to different countries, your campaign groups could include ads to only those regions. Or, if you have multiple different products or offerings, you can split the campaign groups between them. It's up to you how you want to create your campaign group hierarchy.
Options are limitless. The key here is to decide how you want to organize your campaigns and stick to it, so you don't get lost once you have a ton of active campaigns.
In a campaign group, you can have multiple different campaigns that have different objectives. For example, traffic, awareness, etc. You can do audience targeting and budgeting on different campaigns separately.
In a campaign, you can have multiple different ads. If you're testing multiple ad options, LinkedIn usually optimizes toward the best-performing ads.
How to measure the success of a LinkedIn ad
Success depends on your objective. Create brand awareness ads if you want to make your brand more known in your target group. If your goal is to drive people to your website, the amount of people who have visited your site is the measure of success.
Generally, we like to drive targeted audiences to my site with traffic campaigns and then retarget and make lookalike audiences on less expensive sites, like Facebook or Twitter. We also use many conversion campaigns where we want the target audience to take action—usually leave their email or even book a meeting.
We also do weekly reviews and constantly check what is going on in my campaigns and how the numbers are. If something is a bit off, we analyze why this happened and then learn something new. For example, we've concluded that it's always better to use people's faces in ads—it tends to draw attention.
Also, try to simplify your message. Don't use jargon or big words that make it harder to understand your message. Make it simple and easy to understand so you're sure your message gets through. Many companies simply don't do this exercise.
What's a good CTR for LinkedIn Ads
It depends on your campaign objective. CTR will probably be lower if you're looking to generate brand awareness. But for traffic campaigns, LinkedIn states that the average is about 0,5%.
What we've learned, though, is that when you hit the right audience and can provide them with something valuable, it's easy to get CTRs to at least 2%. For sponsored messaging and conversation ads—which are no longer available in Europe—a good average CTR in our experience was about 60%, and in some very good cases nearing up to 100%. Talk about your message going through!
How much do LinkedIn Ads cost
Global averages on LinkedIn advertising are:
CPC (cost per click): $5.58
CPM (cost per 1000 impressions): $33.80
CPS (cost per message sent): $0.2
Advertising on LinkedIn is a bit more expensive than on other social platforms, but the targeting features are worth it. You can target specific companies, titles, people with specific skills, industries, etc. Anything that can be really useful, especially B2B companies.
Prices vary a lot. Some target groups and countries might be more expensive than others, but if you have done your initial targeting right, you're guaranteed to get your offer to the right kind of profiles.
A good tip is to create different campaigns for more expensive countries and separate them from those in less expensive countries. LinkedIn will probably spend all your budget on the cheaper countries if you target both in the same campaign. So don't just globally target all your ideal customers on the same campaign, but create different campaigns for different locations.
How to analyze your LinkedIn Ads
Measure the performance based on what campaign objective you set up. LinkedIn probably showed your ads to as many people as possible if your initial campaign goal was to bring awareness. But if you selected conversions as your target, your ads have been shown to people who were most likely to take the conversion action you set up.
You can compare different metrics on the campaign manager, like clicks, impressions, and social actions, to learn which campaigns and ad creatives were most effective.
But we think the real magic lies under the demographics tab. You can learn so much about the audience that's seen or engaged with your ads. What titles they have, their job, where they're located, and even the companies where they work. You might find some very useful, and sometimes surprising, information in that tab.
How to optimize your LinkedIn Ads
The first step to optimizing your LinkedIn Ads is to analyze their current performance. If you don't run any ads yet, start by analyzing your audience or ideal customers.
Then form a hypothesis like this example: "If I use this messaging, then this target group's CTR will increase by X%". Make it specific and measurable.
The next step is to decide where to put your efforts and budget. Try prioritizing by highest impact and lowest effort. At least in the testing stages, you can use smaller budgets until you know what works and what doesn't.
Then you test out your hypothesis. One week at a minimum, but no longer than a month. You should have a clear result by then. And the cycle starts over! Once you have a hypothesis that seems to work, try increasing your budget.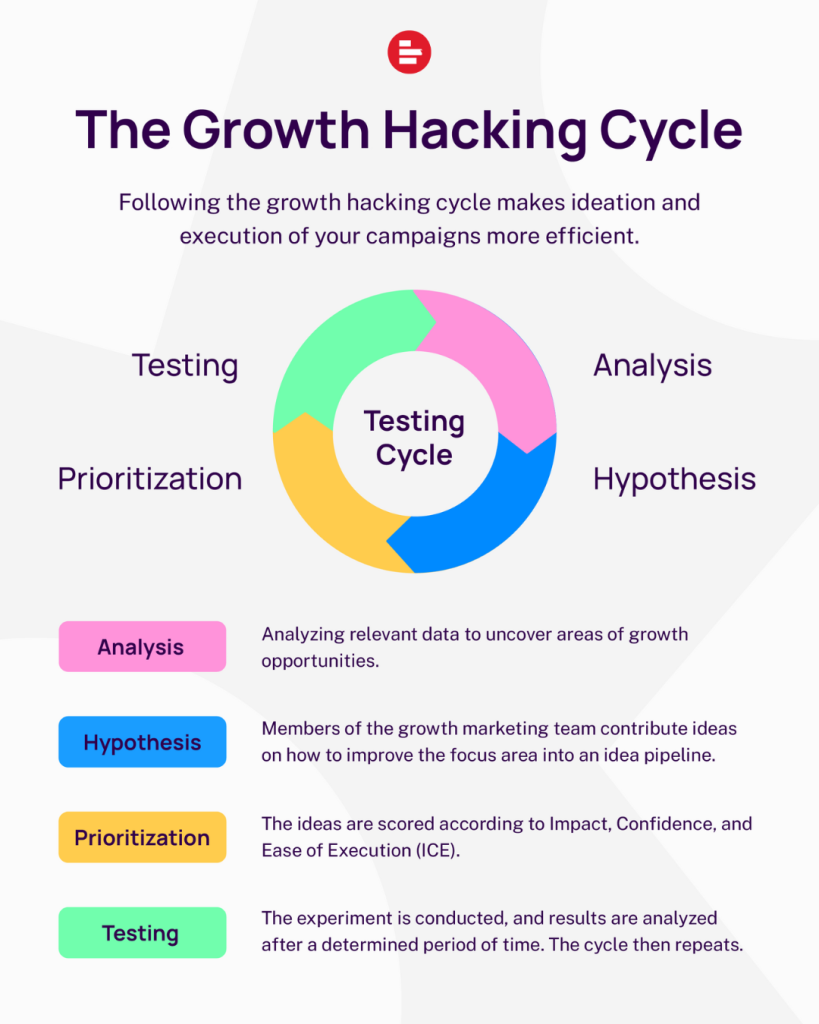 LinkedIn Ads optimization examples
You should really take all the benefits of LinkedIn's audience targeting properties. Because the price is a bit higher than on the other platforms, it's a waste of money and effort to skip on proper targeting.
The key is to know who your potential customers and decision-makers are. Are they HR professionals who work in tech, or are they plant engineers and managers in the US, or people who work in patent law? You can really reach all those people.
We recommend playing around with the targeting feature and getting familiar with all its options. We also like that you're able to exclude people—for example, if you don't want to spend your money on advertising to specific companies or specific people, you can just exclude them from your targeting. Remember to exclude your own employees.
Usually, a good target audience size can be quite small, under 100,000 people, depending of course, on your objective and offer. But if you're able to niche down your audience, you can also create a more relevant offer and get better results. If you target executives in the medical device industry, you only get 17,000 of them compared to advertising to every CEO in the United States which would be over a million. And your offering with a good message gets through even better.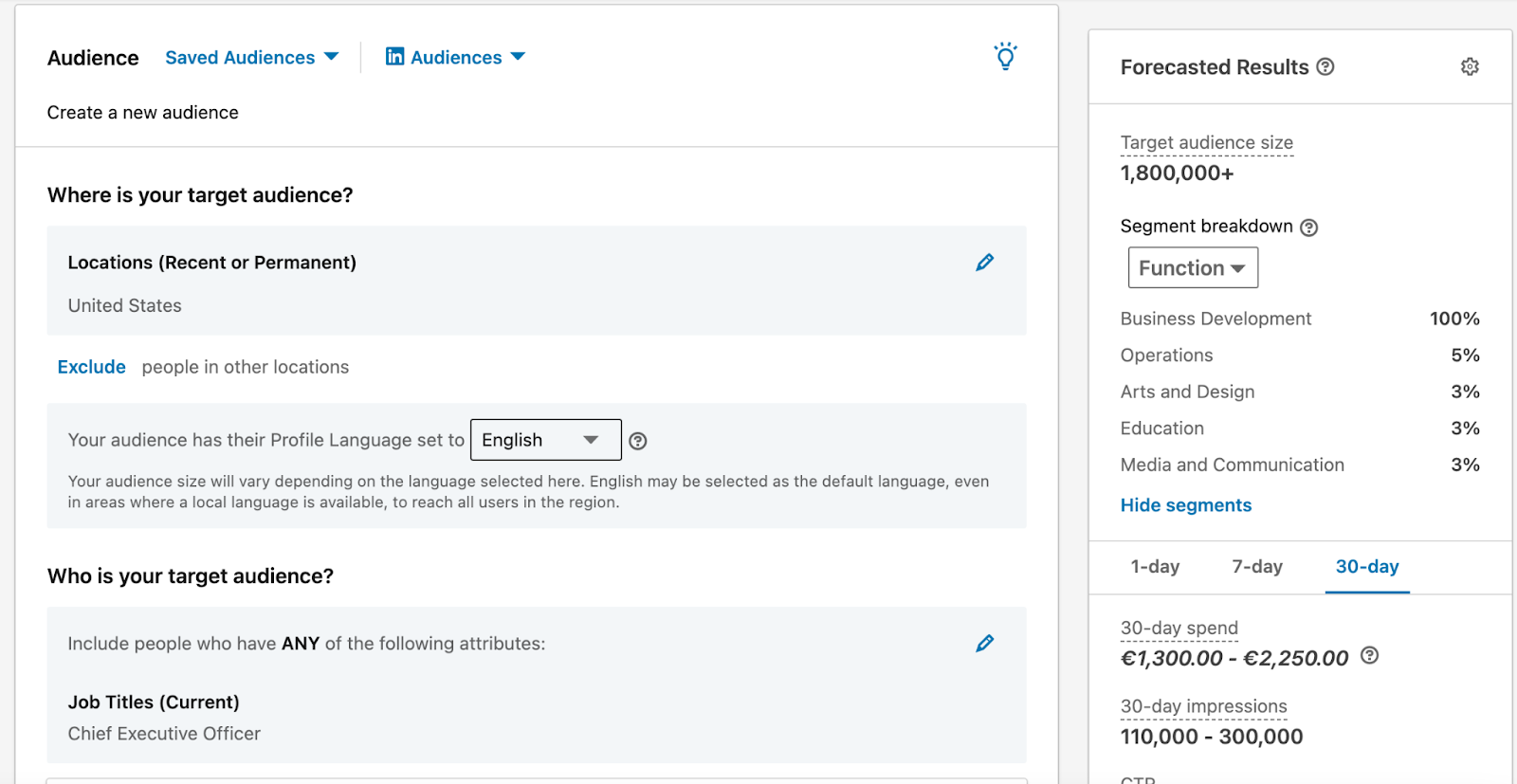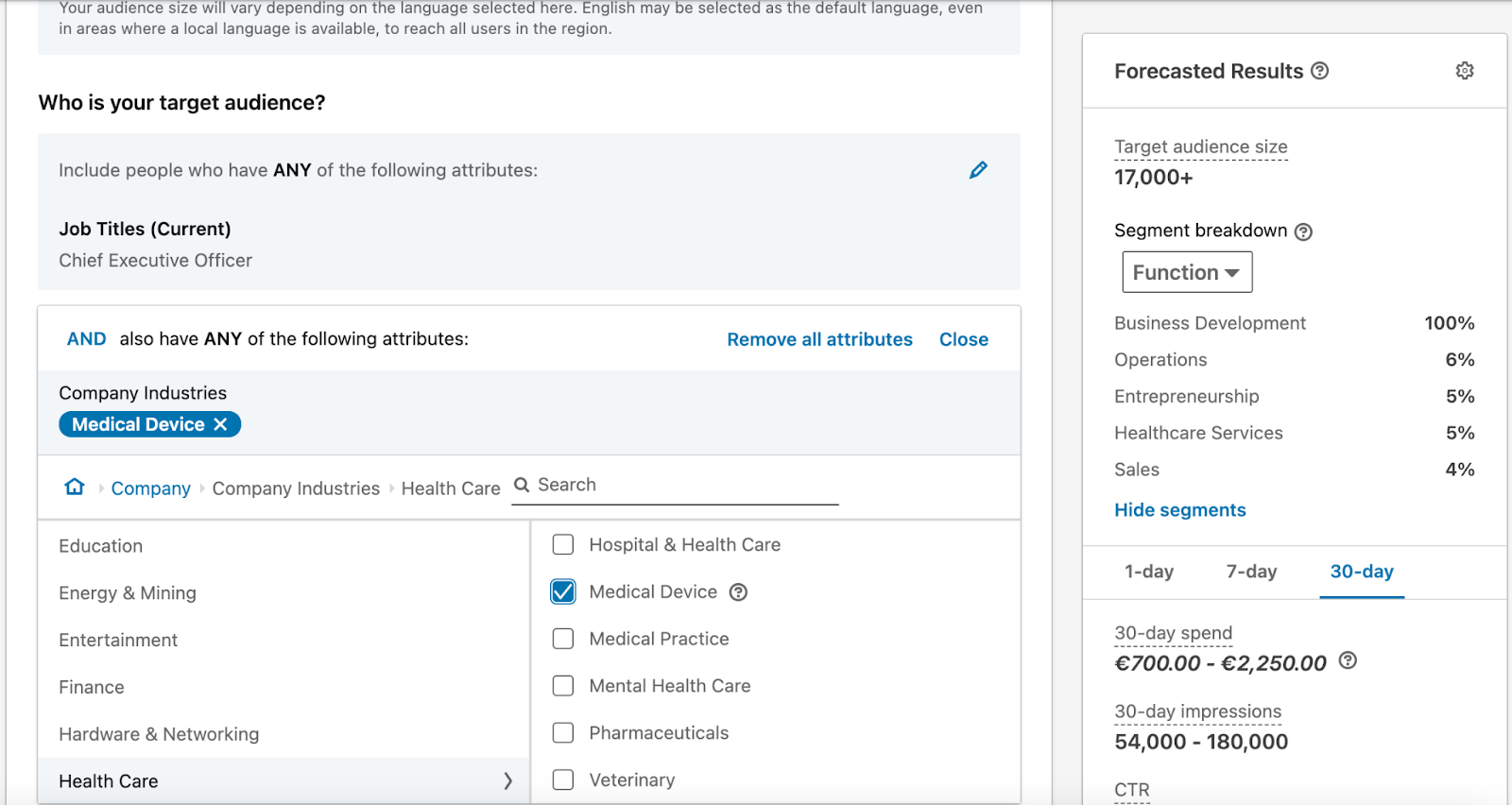 Pro-tip. If you have Sales Navigator, cross-check it with your campaign audience. You'll see on Sales Navigator the audience you're advertising to, so if something you didn't intend to target pops up, there's probably something wrong with your ad targeting.
Get started with our LinkedIn Ads Looker Studio dashboard
In this free Google Looker Studio dashboard, you'll get a good overview of all your active campaigns.
You'll find historical graphs and up to date numbers for:
Impressions
Clicks
CTR
Conversions
Conversion rate
Cost per conversion
Total spent
CPC
CPM
You'll also see the following numbers for your top campaigns:
Total spent
Return on ad spend
Conversions per campaign
Cost per conversion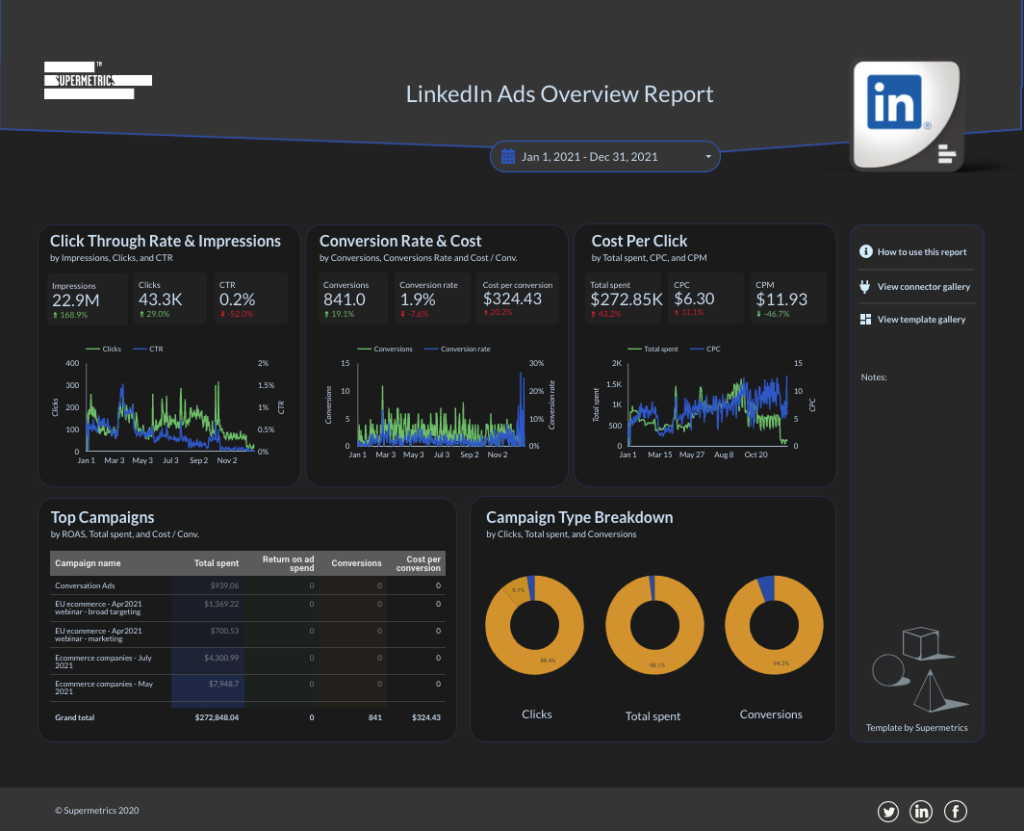 Wrap up
LinkedIn Ads doesn't necessarily have a low return on ad spend, as long as you keep testing and optimizing your campaigns. By starting small, but with a clear goal, you can find the right audience segment and message that resonates with them.
Psst! Are you looking to see how your LinkedIn company page is doing? Read more about how to analyze and improve your LinkedIn page's organic performance!
Spending too much on your LinkedIn Ads? Check out how to build the ultimate LinkedIn Ads spend tracker dashboard!
About the authors
Heidi is a full-stack digital marketing freelancer focusing on B2B tech companies. She's pretty good at Googling and has endless curiosity. Find her on LinkedIn.
Sophie and Heidi started experimenting with growth tactics in early 2020 through the Icebreaker.vc growth hacking program, where they kickstarted growth testing for the venture capital firm's portfolio companies. Combined, they've run thousands of growth experiments. Although they used many channels, LinkedIn Ads was by far the most effective for the B2B SaaS startups they were working with. Wanna join the program they did? Find out more.
Turn your marketing data into opportunity
We streamline your marketing data so you can focus on the insights.