Mar 28, 2019
How to create marketing reporting & analytics dashboards in Google Data Studio
By Supermetrics
[ Updated Mar 28, 2019 ]
10-MINUTE READ · By Jonathan Jacob
As a digital marketer you want to be able to report on the progress of your marketing campaigns and share your reports with your team. There are two main challenges that you will face when trying to do this:
How do you automatically get your data from the different marketing platforms that you are using into your report?
How do you visualize your data in such a way that your data makes sense to your collaborators and you can get insights to make evidence based decisions?
In this article I will show you how to make a marketing reporting dashboard in Google Data Studio.
What is Google Data Studio?
Google Data Studio is a free (for the most part) visualization platform that lets you create beautiful and informative reports/dashboards.
While there are tons of reasons why I love Data Studio, here are five of the top benefits of using this visualization platform:
You can connect to multiple data sources

It's easy to use and customizable

You can share and collaborate

There's real time filtering

It's free of charge
Preparing to make your dashboards
What should you consider before you get started with building your dashboard? Whenever I see a failed reporting project it is usually because the right foundations were not set in place at the start. In many instances the complexities are underestimated and insufficient resources are allocated.
So before we dig in, let's go through five things to consider before you start building your marketing reporting dashboards in Google Data Studio.
1. Analyze your current process and make time for reporting
Reporting generally takes more time than you would expect. Who will be responsible for creating and maintaining the reports? How much time and what kind of budget is available? Having answers to these questions will get you off to a good start.
A good place to start is to take an inventory of the amount of time that goes into the creation of your current reports. What you will find is that a lot of time is spent on extracting data from various systems, combining and then creating a report.
What is the monetary amount that could be attached to this? For one of my clients I found that 60 hours a week (by several employees) was spent just on creating marketing reports. That is an extraordinary amount of time that could be spent in more productive ways.
What you could do is assign one person to be in charge of creating the marketing reports. Depending on the amount of reports this person would work on reporting either full time or just a couple of hours a week. The point is that some time should be carved out to work on creating the reports.
What you will notice is that after the initial reports have been created the time demand for reporting will drop as they will have been automated.
2. Decide if Google Data studio will meet your needs
Before choosing to go ahead with Google Data Studio you will have to determine if this solution will meet your needs. Here are some situations in which Google Data Studio shines:
You work at an agency and need to monitor the performance for multiple clients from a single dashboard.

You work in a team where several individuals need to see marketing reports

You want to be able to quickly create different kinds of visualizations

You work with several marketing platforms and want to frequently analyze which efforts are working well without logging in to each platform to check

You want an interactive report in which the date range or other filtering criteria can be changed
Here are some situations in which Google Data studio might not work well for you:
Your company policy does not allow you to use Google Drive.

The data from the report will be used in some other system.

You need to show large amounts of data in a table format, in that case you might consider using

Google Sheets

or

Microsoft Excel

. Supermetrics has connectors for both of these options.
3. Know what you will be reporting on
This is going to be different for every company.
I worked with a luxury watch company that had a large digital marketing budget. They worked with several agencies advertising in 20 plus countries around the world. However, they didn't actually sell any of their products online, so for them the goal of the was to report on how effective their campaigns were from a brand perspective.
On the other hand, I worked with a robotics startup that was running campaigns to drive qualified leads to rapidly grow their business. For them it was important to see which channels were driving the best results so that they could quickly respond and make changes to their campaigns.
Each company has its business objectives and marketing strategy that it will use to try and achieve these goals. The purpose of a marketing report/dashboard is to help track and help you adjust your marketing efforts.
4. Be consistent with naming conventions in your campaigns
This is something to think about when you set up your campaigns, you might think of naming your retargeting line items/ad groups and your prospecting line items/ad groups in a specific way. This will allow you to easily create custom columns to aggregate your data once it is loaded into Google Data studio.
In our example we will be connecting to Facebook ad data. In Facebook we maintain a naming convention that makes it easy to create new fields and classify our data. We are going to create a new field to categorize data by country. At the minimum this would mean that we would have to put the county in all the campaign names.
5. Connect your ad accounts
Out of the box, Google Data Studio comes with a number of free connectors that allow you to connect Google products like Google Analytics, Google Ads, and Google Sheets.
There are also various paid data connectors that can be used to connect to dozens of other data sources/platforms. Supermetrics has developed many high quality connectors to help you fetch data from platforms like Facebook Ads, Twitter Ads, and LinkedIn Ads into Data Studio directly.
So why do I use Supermetrics? Here are a few reasons:
Supermetrics has been around for a while and their products are mature and stable

They offer great value for money and the price is not dependent on marketing spend

Supermetrics have connectors for all of the largest marketing platforms and a lot of the lesser known ones as well – here is a

full list of Supermetrics connectors

that are available for Google Data Studio
How to build marketing reports in Google Data Studio
Now that the groundwork has been done, we can start building the reports. Here are eight simple steps with screenshots to help you build marketing reports in Google Data Studio. I will use the Facebook Ads connector as an example but the same process works for all the connectors.
Step 1: Add a new data source and log in to get access
1.1 Create the data source
Go to the data source and create a new source by clicking on the "plus" in the bottom right corner.
1.2 Connect the data source
Search for the Facebook Supermetrics connector and click on it.
1.3 Select your account
After you have selected the Facebook connector you will end up on the authentication page where you can select your account and conversions window. Do this and give your data source a name, click on connect and your data source will be created.
Step 2: Data transformation on the data source level
After you have connected your data source you can do data transformations on the data source level like:
Renaming fields

Formatting fields (for example as a percentage or as a currency)

Creating new fields based the imported data
Whenever possible you should do your transformations on the data source level. By doing this you will avoid having to replicate these actions over and over again when you create your reports.
2.1 Formatting fields
Here is an example of setting the type of the field from number to the currency of USD.
2.2 Creating new fields
Here is an example of creating a new field. The new field will classify Facebook Ads campaigns into countries based on their campaign name. This would allow you to make visualisations based on countries later on.
Step 3: Create a new report and add your data source
Click on the new report button and select the data source that you have previously connected.
Step 4: Add your visualizations
There are 30 charts that you can select from, if you don't find a chart that matches your need there are also third party chats that you can choose from. For our report we will use different charts, in this example we will add a donut chart and then add the dimension and metric to show the ad spend by country.
4.1 Add your chart
Click on "Add a chart" and select the the donut chart.
4.2 Add a dimension and metric
From the data pane drag and drop your dimension and metrics.
Step 5: Create chart level filters
Create your filters to exclude or include the data you want to show. In bigger reports/dashboards you will need lots of filters so it's important to use naming conventions in order to keep track. The naming convention might be different for each use case. For me a naming convention could look like this: [data source][field name][quick description of what the filter does].
Using this methodology you might end up with a filter called FB Country Exclude US. This would be a filter to exclude the US in a chart.
Step 6: Add a date picker and filtering options
You can add interactivity to your report by adding a date range or adding filtering controls.
6.1 Date range
The date range option allows the user to choose the range for which they want to show the data. In this case we will set a fixed date range for the month of February. This will be the default however the user will be able to change the date range.
6.2 Filtering control
By adding filter controls to a report the user are able to filter the report to get additional insight.
Filter controls have similar options to the visualisation charts. In the example below we will create a filter control to filter on publisher platform (for Facebook this means Facebook, Instagram, Messenger and Audience Network).
Step 7: Customize your dashboard
Google Data Studio is extremely customizable. Using the style panel you can change the look and feel of the report and the individual visualizations.
Here are some of the options you have for customizing your reports:
Change the background color of the report

Set a custom size for the report

Change the colors of the charts

Add/remove legend for charts

Add a background color to a chart

Format the text in the report

Set the number of bars in a bar chart

Add a grid to the graph charts

Text formatting

Add a logo
Step 8: Share the report with your team
The ability to share your dashboard  as easily as you are able to share a Google Doc is one of the best features of Google Data Studio. You can give access to anybody to only view a report our also edit the report.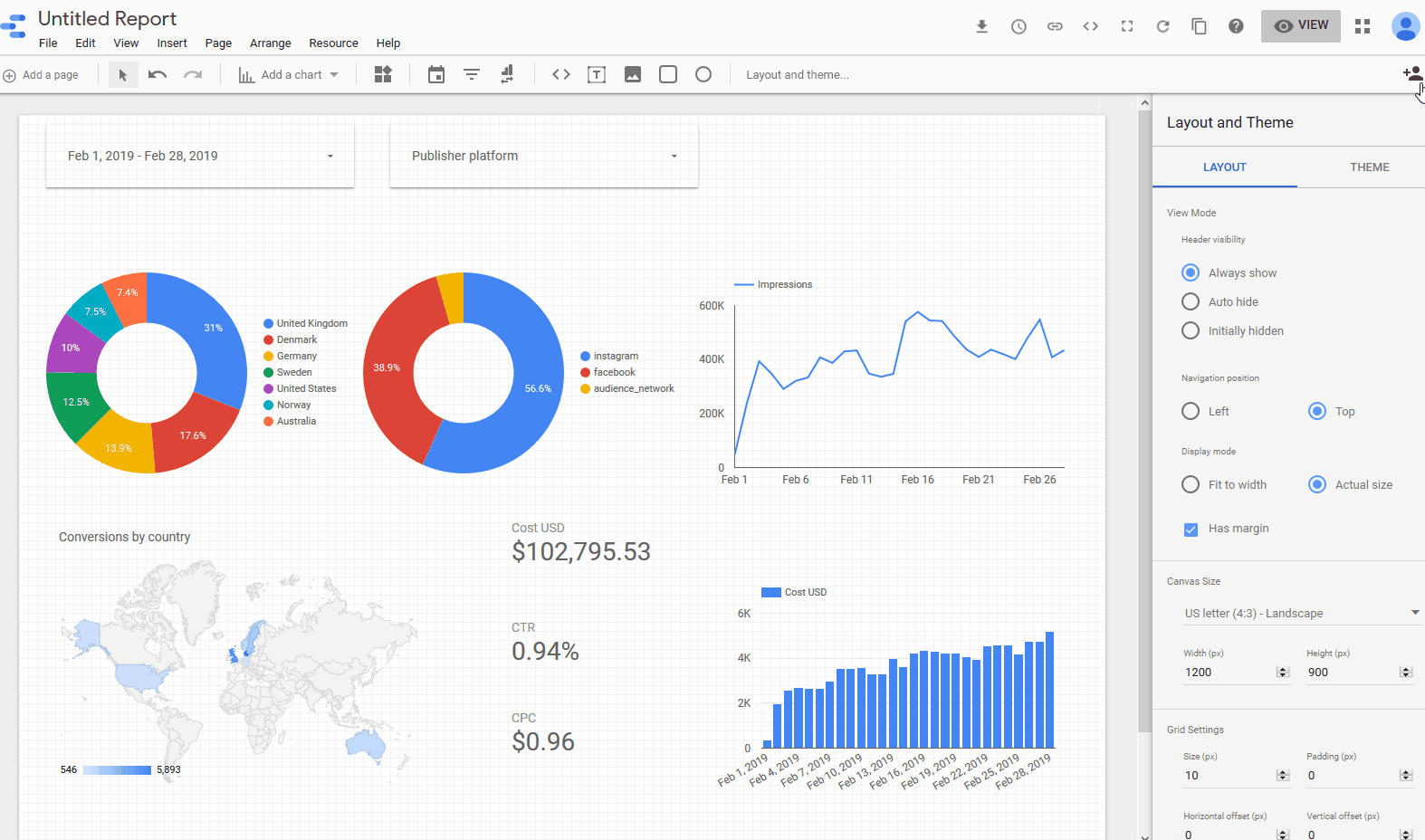 In Summary
Whether you work at an agency or if you are an in-house marketer looking to automate your marketing report, Google Data Studio is an excellent solution. It comes with many data connectors out of the box and Supermeterics provides many of the missing connectors.
There is a bit of a learning curve but using this guide you will be able to overcome some of the most common pitfalls and start creating and sharing your reports.
Start your free, full-feature trial of Supermetrics for Google Data Studio today!
About Jonathan Jacob
Jonathan Jacob is the founder of Levflex, a marketing intelligence company that helps digital marketing teams and agencies automate their marketing reporting. You can learn more about Jonathan on LinkedIn.
Turn your marketing data into opportunity
We streamline your marketing data so you can focus on the insights.