Aug 1, 2023
Improve your Looker Studio dashboards with three advanced charts from Supermetrics
6-MINUTE READ | By Ralph Spandl
[ Updated Aug 22, 2023 ]
Let's be real: simple bar graphs and pie charts have become stale. If you want more striking, detailed, and — best of all — free ways to communicate your insights and visualize your data, you need to check out these bold alternatives for Looker Studio.
Community visualizations have become a substantial part of Looker Studio (formerly Google Data Studio). Since the visualization gallery launched in 2019, Supermetrics has submitted 8 visualizations that are free to use, and some of them just got a major update.
In this article, we'll go over the best and most powerful free charts and community visualizations for Looker Studio in Supermetrics that you should be using in all of your dashboards.
Skip ahead >>>
New features for Sunburst, Hexbin map, and Timeplot
These three visualizations were among the first Supermetrics submissions to the Looker Studio gallery. Since their submission, they've attracted a lot of attention and are now a common feature of many reports and dashboards. Of course, not all possible features make it into the first version, and so after three years, it was time to review their functionality and make much-requested improvements. Over time, we've been able to hone these chart types into cutting-edge charts that are free to use and safe for your data (as it won't be accessible or copied over during processing).
Using a Sunburst diagram
I usually describe a Sunburst diagram as a multi-layer donut chart that can help you to visualize hierarchical data. Like the pie or donut chart, it's a good choice to visualize the whole-to-a-part.
A practical example of this chart in use is in web traffic analysis. You can analyze web traffic from different angles and dial down into the most important parts within the different segments of your data. For example, you can see from just a glance which are the top countries and the best campaign, source, or medium for a period. Instead of creating multiple donut charts, you can combine all dimensions within one visual.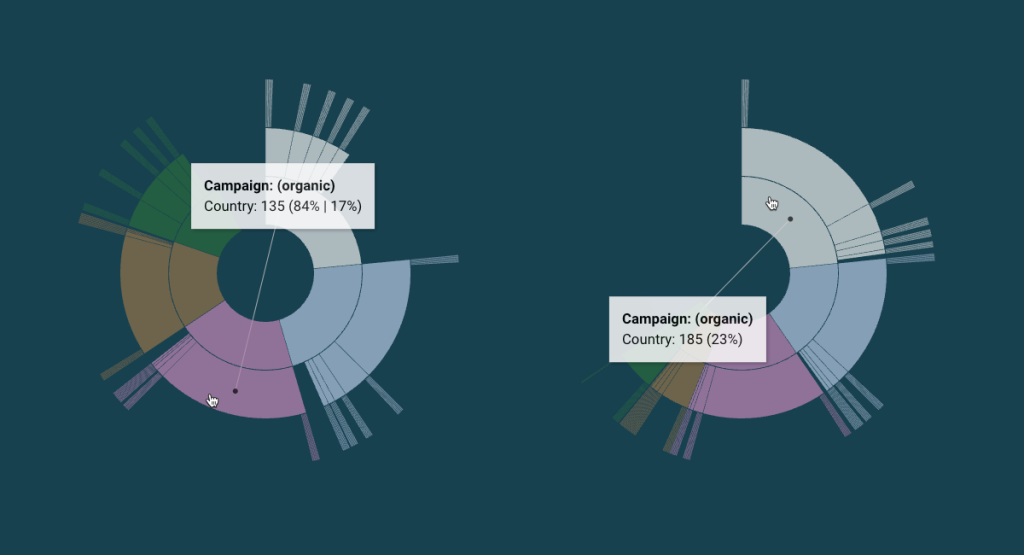 Patterns
The interesting part of the Sunburst diagram is the pattern it creates. You can quickly identify if a single dimension is dominant or if your dimensions are scattered across many values.
Over time you'll recognize these patterns and immediately understand key properties of your dataset: Are there dominant traffic patterns, like a specific campaign from a specific country? Is traffic to our site evenly distributed across organic and paid sources?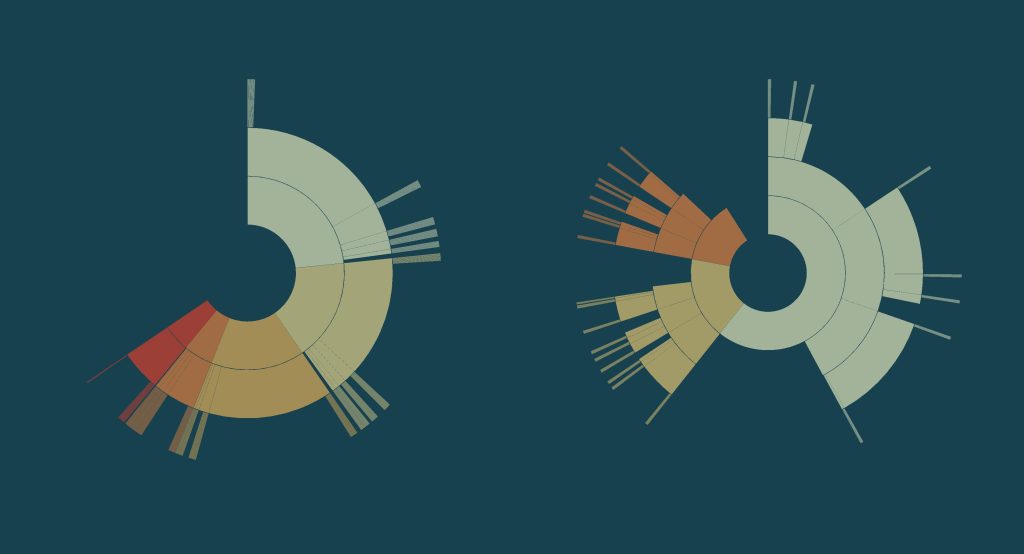 Filter
You can also configure the chart as a filter. Once activated, clicking on a segment will filter all charts in your report. This is a brilliant way to zoom in with even greater detail into vital data points or patterns.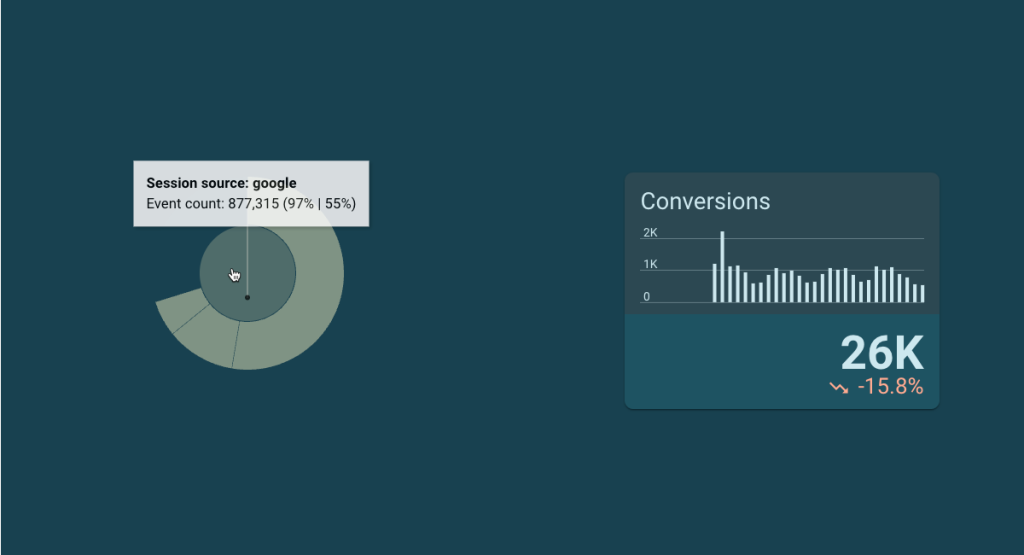 What is new?
The biggest improvement over the first version is the ability to reduce the number of dimensions shown. All values of the other dimensions will be aggregated into a single value.
These "other" dimensions produce "holes" in the graphic, which make the pattern more visible.
In addition, the new version also has some new color schemes that you can easily apply.
How to start using the Sunburst diagram
You can drop the Sunburst chart directly from the community visualization menu into your dashboard with just a few clicks. You can find a complete and simple guide in the documentation of this Looker studio demo report.

Using a Hexbin map
The hexbin map chart is a must-have visualization for any team that operates in multiple geographical markets.
A hexbin map uses geolocation data in latitude and longitude pairs to create hexagon maps for most countries worldwide. This chart produces a result between a choropleth map and a bubble map. Hexagons disregard borders or cities and help you to detect geospatial patterns, allowing a level of detail that simple map data charts can't emulate.
Compared to a choropleth map, the hexbin map has a greater advantage thanks to its more precise color scale, clearer hexagon surface, and more specific geolocation data. Each hexagon in a hexbin map can be used as its own filter, making it a better choice of chart over popular chart types used to visualize geographical data, like bubble charts.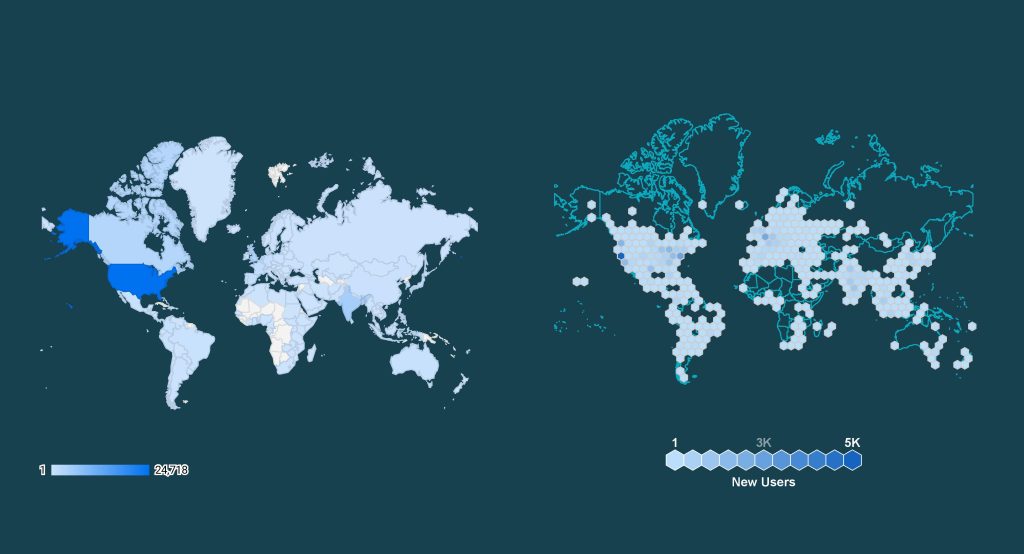 Custom maps
The hexagon map produces beautiful world maps using neat hexagonal tiles that make your data clear to see in every region you operate in. With the newer version, you can create a map with a custom selection of countries. If your business operates only in a few countries and you want to visualize where your sales are coming from, the hexagon map might be the right choice.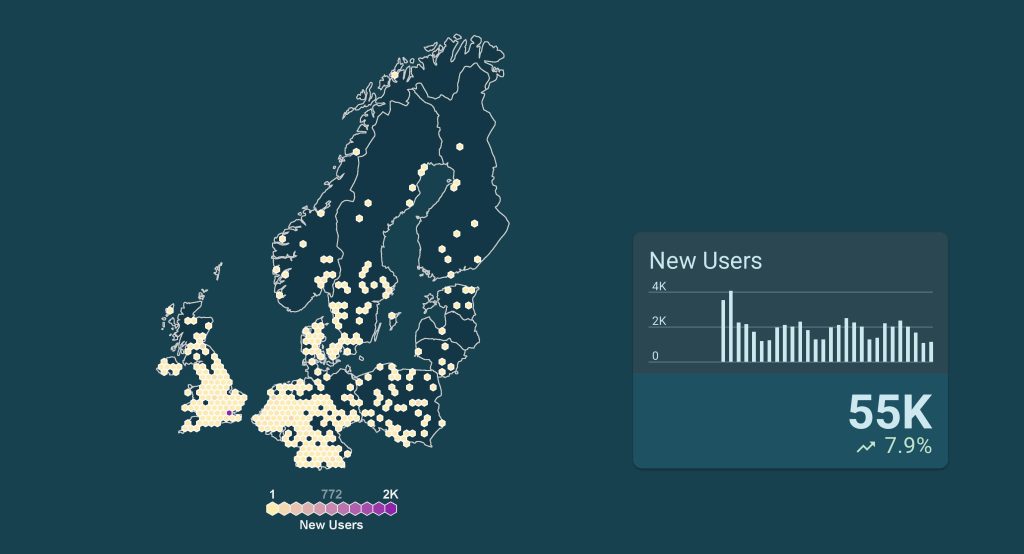 Filter
The new version of hexbin maps also allows setting up your chart as a filter. You can select an area of interest and filter other charts on your reporting page to gain insights into certain geographical areas.
Color scales
The hexbin map also supports diverging color scales, allowing you to visualize metrics with negative values better.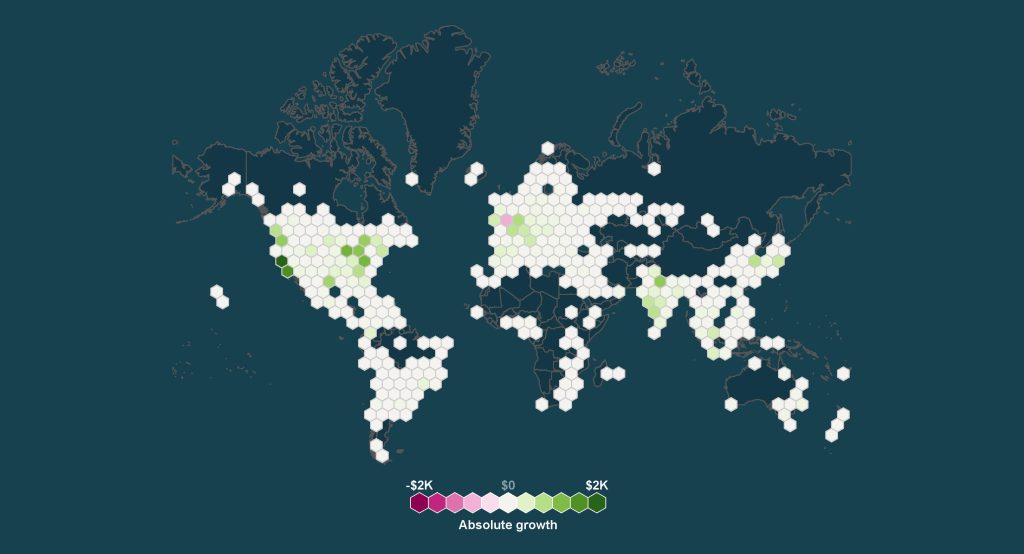 Getting started with hexbin maps in your reports is quick and easy: check out our demo report and insert the chart directly from the Looker Studio gallery.
Using a Timeplot
The timeplot is a scatterplot with one key difference: its x-axis accepts a dimension of type date. This makes it a time series without the connecting lines between the dots, to which you can add a second metric represented by the bubble's size.
Reasons why you would use a timeplot chart instead of a line chart
There are two reasons you'd want to use a timeplot as your chart of choice.
You want to create a relationship between two metrics, represented by the vertical position of the dots and their sizes.
You have many data points and want to see how they're distributed. In such a case, the lines would be disruptive and get in the way of being able to see data distributions.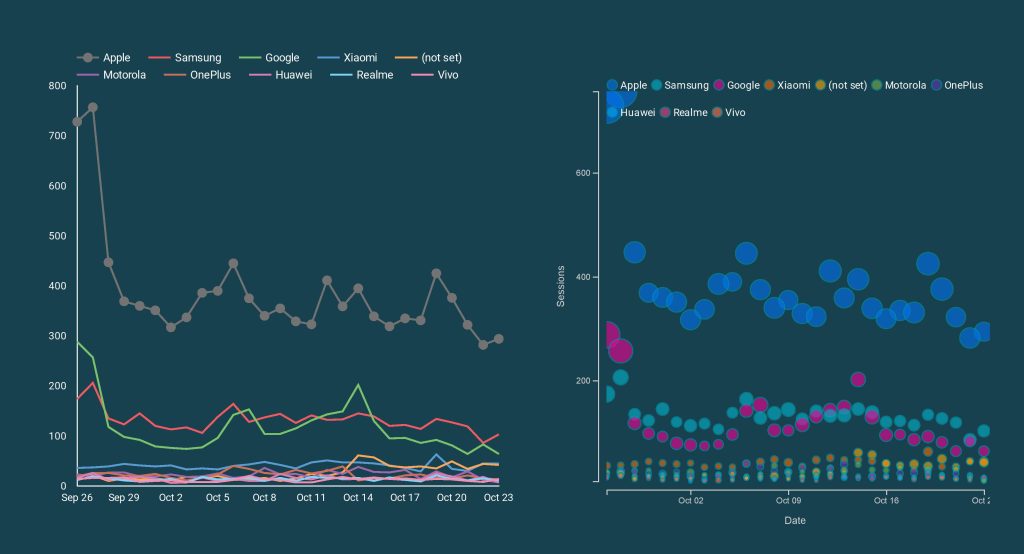 If you inspect the visualization below, you'll be able to see two things right away:
Dots represent visits from Apple devices that create a curve, telling us that most visits are made mainly during working hours. This curve isn't so much visible for other devices.
We may expect more sales from a higher amount of visits. This isn't the case if you compare Apple with Samsung devices. The volume of sales (size of bubbles) is higher for Samsung devices.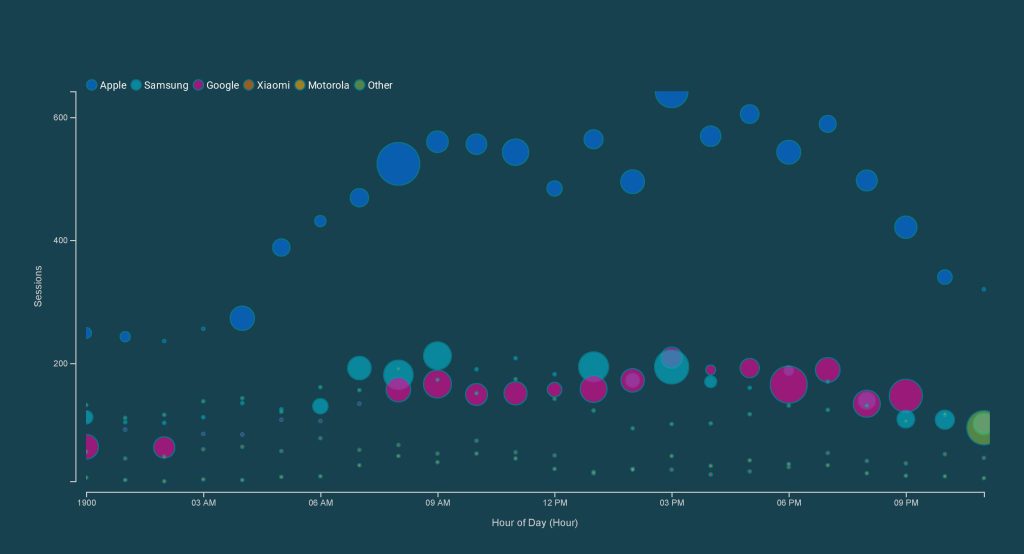 You could get these same insights from a scorecard, but a timeplot is the superior choice because it doesn't aggregate your data and shows much more detail. Depending on your dataset, you can more easily detect outlier and distribution patterns that you may otherwise miss.
Like the Sunburst diagram and the Hexbin map, the Timeplot comes with tooltips and can be set up as a filter. What's more, with the timeplot you can easily zoom in and out with your mouse wheel.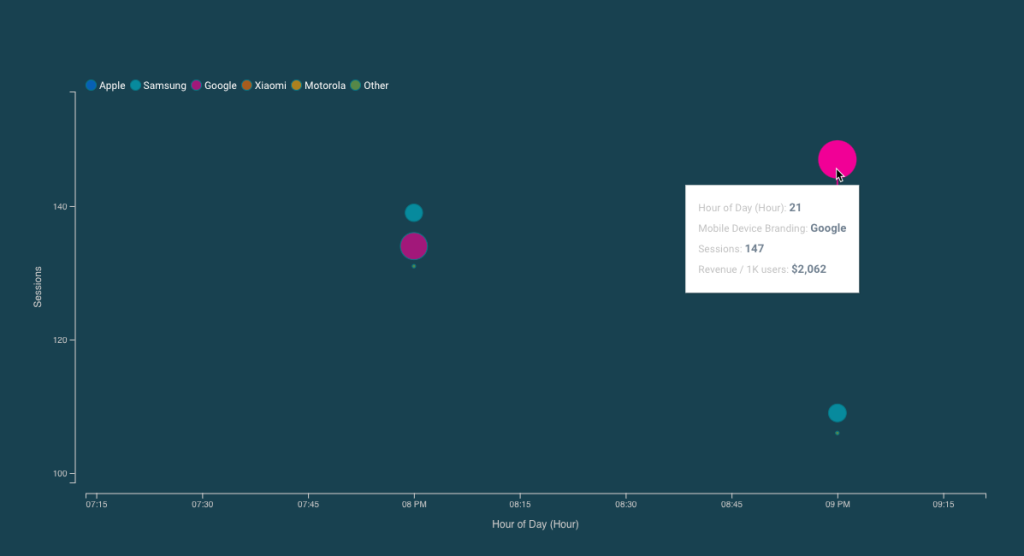 If you want to try a timeplot in your reports, check out our demo report and insert the chart directly from the Looker Studio gallery.
Start using these free Supermetrics community visualizations today
Getting started is easy. Each chart from Supermetrics comes with a detailed demo report and guide to using it effectively.
Simply open up the chart of your choice from the community visualizations menu in Looker Studio and read the official Looker Studio documentation for a complete how-to on using them.
Start a 14-day free trial
Starting using these powerful charts for free with Supermetrics in Looker Studio
Start free trial
Ralph Spandl
About the author:
Ralph, Head of Data Visualization at Supermetrics, works at implementing the first commercial Looker Studio chart library — a collection of data visualizations that allow you to push the limits of Looker Studio.
Turn your marketing data into opportunity
We streamline your marketing data so you can focus on the insights.