Most of us have barely scratched the surface of all the cool things you can do with Google Data Studio. Understanding some of the advanced capabilities of the product will allow you to produce better reports.
That's why we put together a list of advanced tips to help you take your Google Data Studio dashboards to the next level.
But a word of caution. Before you start adding these items to existing reports, you might want to experiment with a dummy template. Nothing is worse than accidentally erasing or ruining your data with a bad function. Once you've perfected your dummy template, you can duplicate the processes into current or new reports.
1. Add date range filters
Most marketers want to see how campaigns are performing over a certain time period. With date range filters, you can group data by specific date ranges.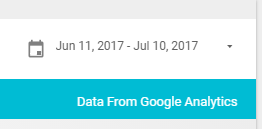 To add a date range filter, you can select the icon, and then draw a shape on the report where you want the filter added. Within the date range properties panel, there is a "Data" tab. Use the default date range selection. In the "Style" tab, you can change the look of how the data appears on the report. Similar to Google Analytics, you can select predefined options like Last 7 days or Last quarter, or you can customize the data.
One issue with the date range filters is that Data Studio will add the filter to every element on your page by default. Yet, you may want other charts or tables to have different date ranges. So, how do you correct this?
The best way to ensure that your date range filter is applied only to certain elements is by limiting the filter to either a single element or a group of them. First, you must group the elements together. To do this, follow the below steps.
Select all the charts that you want to group.

Right click on the set, and select "Group". Alternatively, you can click on the "Arrange" menu, and then click "Group".
Once you group charts, tables, etc., the data filter will only be applied to the selected elements. To change the date of certain filters, you would apply the same principle. Select the icon, and then draw the shape over the widgets that you wish to change. Be sure to group the widgets that you want to add the filter to first.
To take this one step further, you can also add the date range filter to every page of a multi-page report. By default, the date will only appear as a page-level object, meaning that it will only appear on the page where you add it. To make it appear on every page in your report, do the following:
Start editing the report.

Select the date range control icon.

Click "Align", and then "Make report-level" menu.
You'll now see the date range on every page.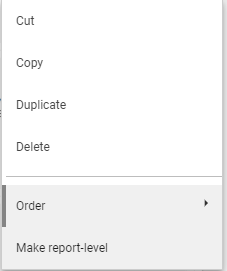 One note about date range filters: These can only be applied to data sources that have a date dimension. If your data doesn't have any dates associated with it, this won't work.
Besides the date range filters, you can also add filter controls for other fields as well, including:
Metrics

Dimensions

Styling
You can find the filter controls in the top right corner of the canvas.
You can also add Object filters, which can be applied to a single visualization. To do this, select the table or chart that you want to filter. And, then, do the following:
Go to the visualization properties.

Then, data and filter.

Add the filter that you want to apply to your chart or table.
You should remember that the filer will override any existing one that you have, but you can reuse the filter for other parts of your report. You can view all your filters by going to Resource and Manage filters. You can also create filters here and then apply them to different sections of your report.
2. Add multiple pages into a single report
Data Studio allows you to showcase different types of data into a single report with the use of pages. You can treat these like multi-page reports in Word or similar programs. For example, you could add an overview or summary page, and group like data from different data sources on a single page.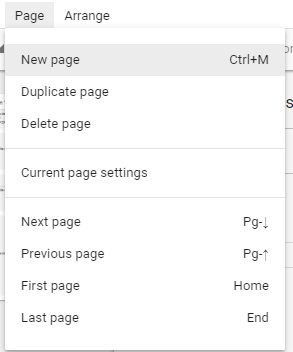 You can generate pages by clicking Page, and then select one of the options. If you like the format of the page on which you are currently working, you can duplicate the page and simply edit the other content.
You can also add a page within the toolbar by clicking the "Add a page" button.

Both sections allow you to easily create new pages as well as navigate to the page of your choice.
Once you produce your pages, you can change the Data Sources and Style of the page within the "Current Page Settings". When you click "Select Data Source", you'll be able to scroll down to see all your integrated data sources and add them.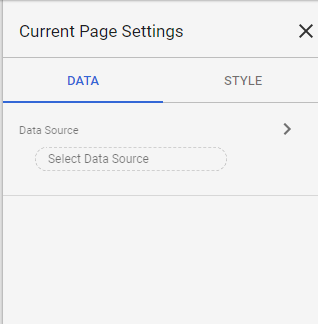 If you want the new page to look like the first page, then you should duplicate the page instead. This will copy all your existing charts and data into the new page. This might be handy if you want to compare different date ranges within a single report. Or, you can edit the data to better match your goals. Either way, you'll have some predefined fields and charts already added to your new page.
Always label your pages. This way, your stakeholders and clients will know what each page is for and add context to the new pages.
3. Add blended data fields
Data Studio lets you import data from all your different campaigns, but that's going to be a "so what" if you can't compare and contrast this data – which is truly the beauty of the platform. Data Studio blended fields allow you to combine the data of different platforms as long as they have a shared data point. You can join up to four different sources. You can't, however, connect all types of data points. They must share at least one dimension in common. This is known as the "join key".
Think of it this way: let's stay that you're comparing data from a Yahoo Gemini Campaign with a Google Ads campaign. While the names of fields might be slightly different on the platforms, they're basically the same thing: clicks, conversions, impressions, etc. If your shared data points have the same names, you can combine the data into a single field.
Now, you can create a comprehensive paid search report that shows the whole picture of how your marketing efforts are working. It's pretty easy to set up blended fields. Just be sure to start with your primary data source and then add the secondary ones.
Please note that you can only blend information in reports, so these won't show up in your data sources. So, if you're trying to find the data sources in your data sources section, you won't see them. This can be a little confusing at first, but you'll get used to the setup pretty quickly.
4. Blend data from multiple sources into one chart
To start blending data, either create a new report or open an existing one. To get started, click on resource, and select manage blended data.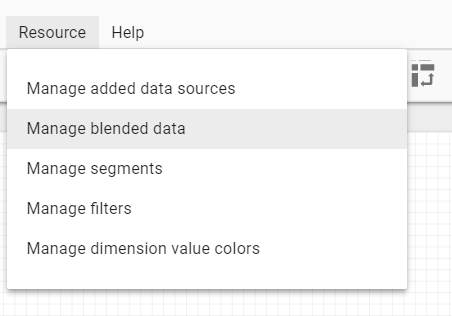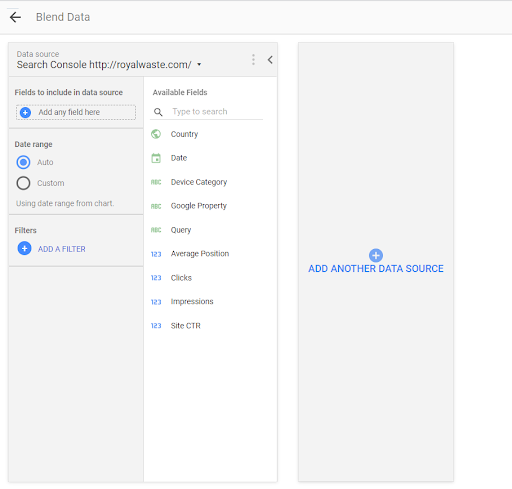 Add your second data source. You must include at least one dimension as the join key.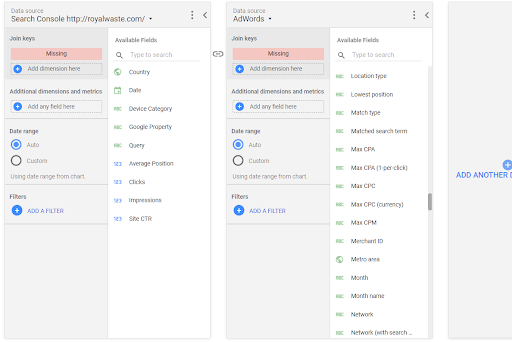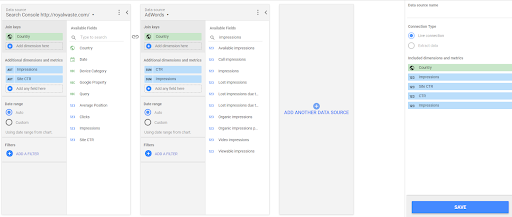 Once you have the join keys in place, you can hit save. You can then add the blended data into your report and create charts.
One recommendation: be sure to pay attention to the guides to help you with the initial setup. There is a bit of a learning curve for this and may take one or two tries to get it right. You will find a more detailed guide on how to use this feature from Supermetrics support forum.
How to benefit from blended data
You might be asking yourself for what can I use blended data? One idea is to compare the performance of different subdomains. Many marketers use subdomains strictly for marketing efforts, but sometimes you want to compare the effectiveness of, say, the main site with the marketing-only subdomain.
In Data Studio, you could pull in both sets of data and look at them side by side. Now, you can determine how effective each landing page is, where users navigate to after they leave the page, ROI on efforts and more. You may even decide that one subdomain is doing better than another, meaning that you can shut down the landing page or stop sending traffic to it.
You can also pull in third-party email data and website performance. Your email data source could include clicks, opens, etc. You can then pull in Google Analytics data to see their journey through the site and compare how different landing pages and messages affect the customers' or potential customers' actions.
Try blending data from several Supermetrics Data Studio connectors to make your data analysis even more insightful.
To read a comprehensive breakdown for setting up Data Studio, check out this article.
5. Create advanced dimensions using formulas
In many respects, Data Studio works similar to certain Excel reports. Like Excel, you can add advanced reporting elements by using different formulas. Known as calculated fields, they allow you to manipulate the data within your data sources.
These calculated fields can be both dimensions and metrics, and they appear as new fields within the data source. For example, you can use a formula like REGEXP_MATCH() to return a specific value if X matches Y, or CONCAT(), which combines text from various sources.
To create a calculated field, follow the below instructions:
Begin by editing your data source.

At the top of the "Field" column, you'll see a blue "plus" button. Click on it.

Give the field a name.

Enter the formula that you want to use for this field.
Once the field is created, you can implement the formula by applying the calculate field to a row of data within a chart.
The formulas within the calculated field use one of the following syntaxes: Functions or Arguments.
With Functions, you can generate formulas that use mathematical equations, logical comparison, text handling and more. A formula can also use multiple functions.

Arguments instruct he function to act upon a certain command. It requires one or additional field-expressions to be used as arguments: Some form of text that corresponds to a field name within the data source.
There are many types of functions you can use for calculated fields. The whole list can be found within Data Studio Help. One example of how you can use these fields is by cleaning up campaign tagging. We've all seen databases where there are different cases for say address, i.e. ADDRESS, address and Address. You can easily fix this by changing all the cases to lowercase.
You can do this by using the formula LOWER (___). For example, the easiest way to change all these to lowercase is with LOWER (Medium). It might be helpful to review the functions list and then experiment with a few of the calculated fields. See example below:
LOWER(Source) – This would convert any source data (i.e. newsletter, AdWords, Facebook, etc.) to lower case. If you want to convert these back to uppercase, simply use "Upper(Source)".
6. Create a theme
For all your different stakeholders, the reports are going to be slightly different – and that should be reflected in the style of the report.
Luckily, you can adjust the layout of your Data Studio report by tweaking the layout.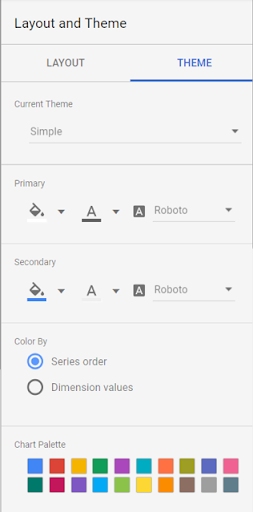 While the default themes are Simple and Simple Dark, you can tweak the theme to a custom one that's designed specifically for your client. Change the chart palette, colors and more. What's more is that you can edit the border and background, potentially adding your stakeholder's or client's colors.
7. Combine several Google Analytics properties
Sometimes, you have multiple Google Analytics properties. Perhaps, you have different business units, or, maybe, you're running some special marketing campaigns that have their own individual landing pages – and separate Analytics account. For whatever reason, they weren't rolled up into a single account and now live in different properties.
This can be quite frustrating if you need to produce a one comprehensive report with your results across all your different platforms. Well, Data Studio can cure this problem by combining your different Analytics properties.
With the blended data feature — or even by importing a Google Sheet into your data — you can now create a single report for all your different Google Analytics accounts. This makes it easier to create automated reports for your individual business units or marketing efforts, and then a roll-up report for the entire organization. This eliminates all the manual labor of trying to combine the reports later in the process.
8. Embed reports
Sometimes, you want to add more data to your existing template – without having to redo it from scratch. One advanced feature is being able to embed Google Docs, YouTube Videos, Google Sheets, and web pages into your report via the URL embed feature. And, the content can be live, which makes the reports more interactive.
For example, perhaps, you're reporting on the effectiveness of a video on YouTube, but most of your stakeholders have never seen the video. You can embed it into the report and then share the entire report with your team or organization.
To do this, go to the upper navigation bar, and click "Insert". Then, select "URL embed".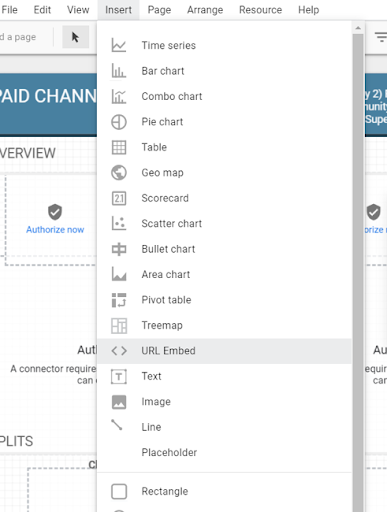 Select the area where you'd like to add the URL, and then paste the link into the box.
This is also a good way to personalize reports. For example, you can add the website of the client or stakeholder.
9. Take advantage of the community connectors
Data Studio is developed by Google, so naturally it allows you to grab data from such platforms as YouTube, Google Analytics, Google Ads and other Google-supported services. However, it is important for the marketer to see the "bigger picture" while reporting and fetch marketing data from, for example, social networks and payment platforms.
This is where community connectors come into play ⁠— they are easy to use and allow you to effortlessly pull data from almost any source you need into Google Data Studio. Check out Supermetrics' Data Studio connectors here.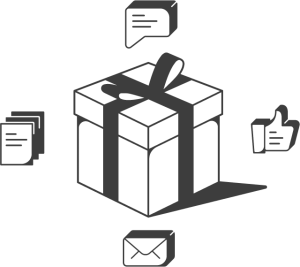 Try Supermetrics for Data Studio
Build interactive reports in minutes with Supermetrics for Data Studio. Start your free 14-day trial today.
Start free trial
10. Make the most of Data Studio with community visualizations
Community visualizations let you build your own custom visualizations without being limited by the current ones provided by the platform. You can use any existing or custom JavaScript or CSS to create these – letting you produce more stylish reports.
Google provides a step-by-step Community Visualization Codelab to help you build your custom one. If you're willing to take the time, then you can do this on your own without the assistance of a developer, especially if it's difficult to get on your developer's calendar.
Take your visualization a step further with the use of custom fonts. Watch this video to learn more!
11. Filter data with metric sliders
Up until recently, it was difficult to filter data in charts and tables by visible values, which meant that your data could look skewed with very high or low values. Metric sliders allow you to adjust the values like you would a price range when you're shopping for other products – think desired low or high price when searching for computers on Amazon.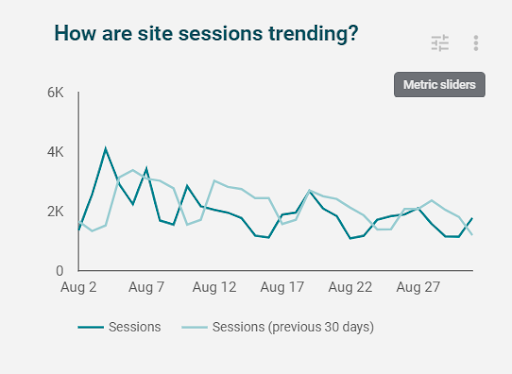 For example, you can filter page views for when they're above a certain number or if visitors drop below a certain threshold.
Note, there may be some limitations when using metric sliders. It might decrease your ability to use other features like optional metrics. This might be corrected in the future – so stay tuned!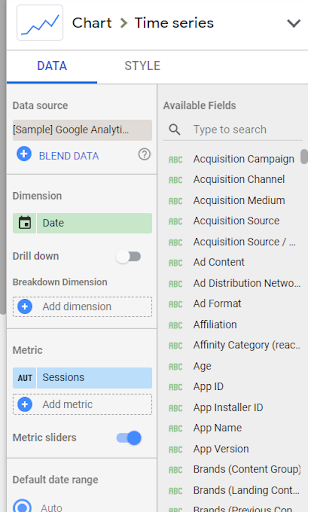 12. Point out high-interest values with reference lines
You can add reference lines to your Data Studio charts, which can be either horizontal or vertical lines. These will show how the data in this chart compares to a reference value. For example, you can create a chart for average order value for your ecommerce store and then compare how major products compare to that average.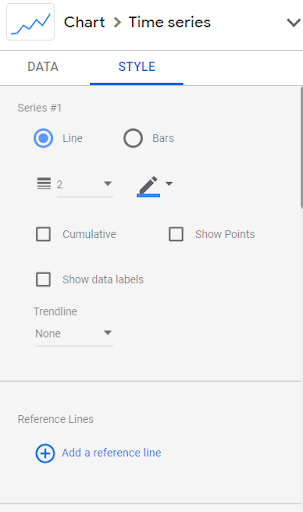 You can only add reference lines to time series, combo and line charts, bar and column charts, scatter charts and area charts. And, you can only add up to 10 reference lines per chart.

Now, that you've got the tips, it's over to you!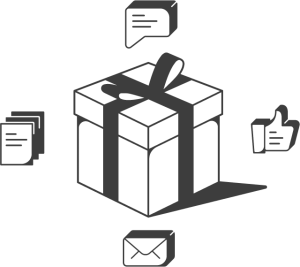 Try Supermetrics for Data Studio
Build interactive reports in minutes with Supermetrics for Data Studio. Start your free 14-day trial today.
Start free trial