Nov 6, 2023
Looker Studio (Data Studio) for marketers: 10 must-know tips
15-MINUTE READ | By Fanny Heimonen & Ralph Spandl & Milja Nevalainen
[ Updated Nov 24, 2023 ]
Using Looker Studio (formerly Google Data Studio) is an easy way to connect your cross-channel data sources and visualize your performance. In this blog post, we share 10 must-know Looker Studio tips for marketers to help you create better and more efficient dashboards.
If you prefer to see these tips in action, check out the 10 Must-know Looker Studio tips webinar.
Throughout the blog post, we'll show an example dashboard that you can copy and try out the tips. (Note: to get dummy data showing on the template, you need to select a date range from July 2023 – August 2023.)
Fast forward >>
Tip 1: Master report-level components
Let's start easy. The first Looker Studio tip is to master the report-level components. As a marketer, you're most likely advertising in multiple channels. In that case, divide your dashboards into multiple pages by the marketing channel or campaign.
To keep your dashboard consistent and aligned with your brand, you should use similar elements on different pages—headlines, colors, or your logo. The easiest way to manage these branding elements is to set them as report-level components. For example, if you edit the component on one page, it automatically copies the changes to each page.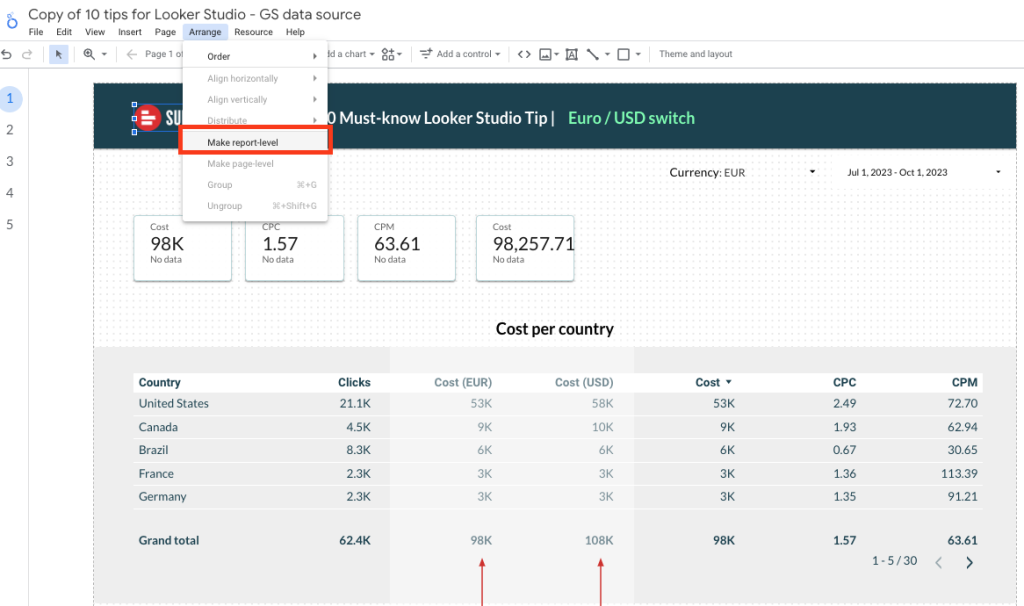 If you can't immediately see your elements on each page, don't worry. Report-level elements are positioned at the bottom by default. You can fix it under "theme & layout", select "layout, and set the position from bottom to top. We recommend you keep the report-level components at the bottom of your page in case you need to hide some elements from certain pages. If you want to hide report-level components, add a white box on top of them.
Watch how to manage report-level components (video) >>
Tip 2: Combine parameters with calculated fields
The second tip is about embracing parameters. A parameter is a custom variable that gives the report viewers more control. The viewers can influence how data is transformed and calculated. Parameters make your reports more interactive and allow very specific filtering. If you're new to parameters, we recommend checking out this introduction to parameters.
With parameters, you also need calculated fields. Calculated fields allow you to create new metrics and dimensions from your data.
There are many ways you can use parameters and calculated fields together. One example is to create a currency switch. A currency switch is especially useful if you're using multiple currencies, for example, Euros and US Dollars. You can see an example of a currency switch in the Looker Studio example dashboard.
Using the currency control, you won't need two separate columns for costs in EUR and USD. You'd have one column for the cost that changes according to the selection in the currency control. You can start creating the currency switch by creating a new parameter.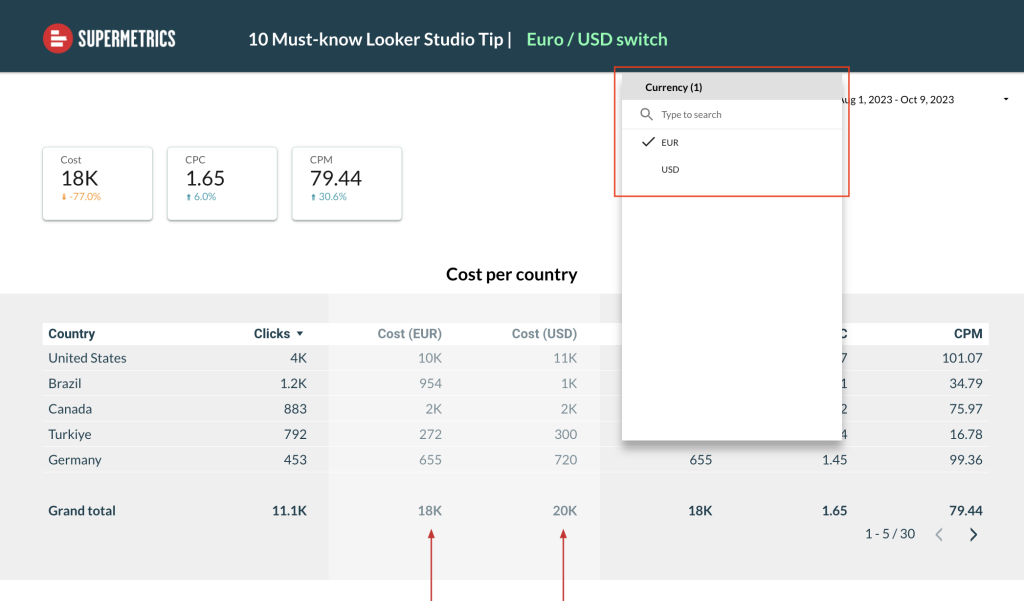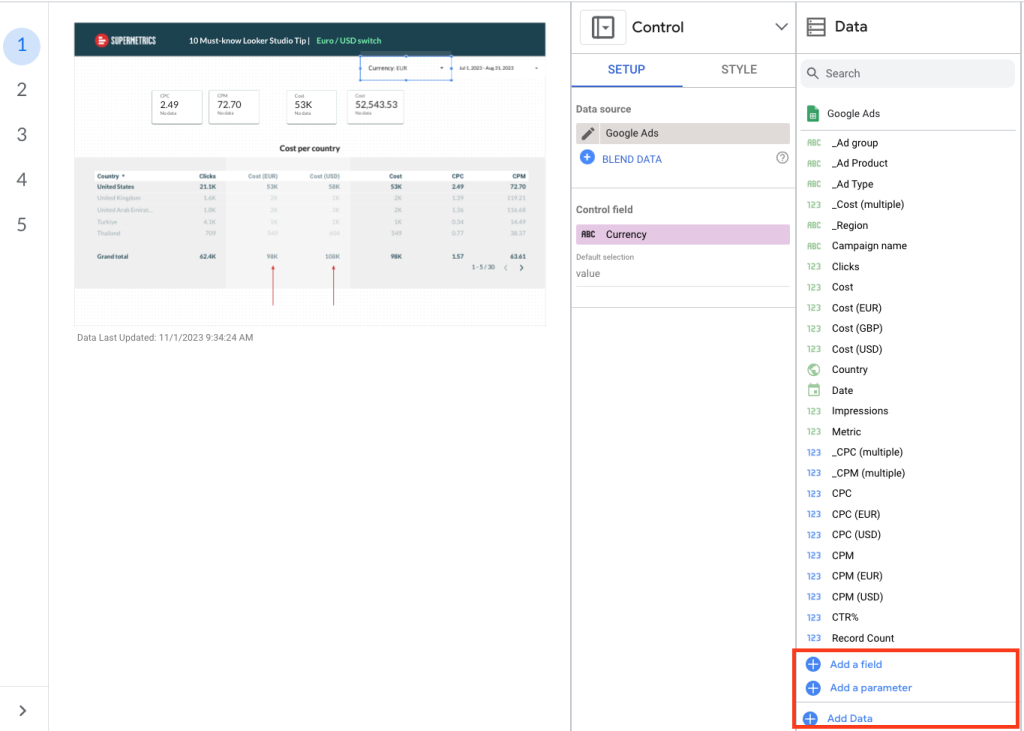 You can create a parameter under your data source. Just give a name, Looker Studio automatically creates a parameter ID, and then you can fill in the values.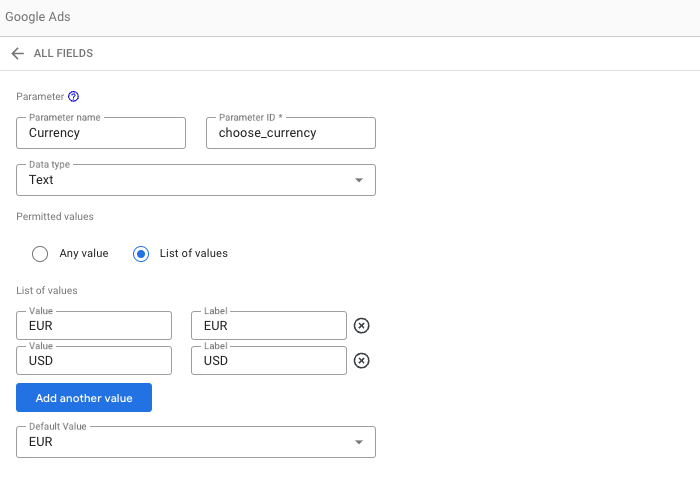 Once you're done with filling in the values, drag the parameter to your control field, and you get the currency selector showing.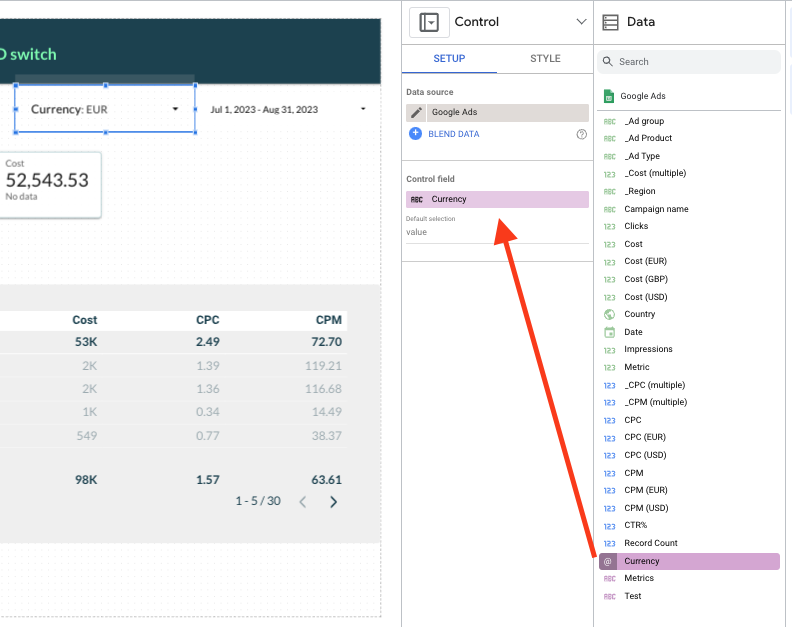 To get the control field to work, you need to create a custom field. You can create a new field under your data source—the same place where you created a new parameter.
It may make sense to use a similar naming convention for each calculated field, for example, starting with an underscore. This makes it easier to spot all custom fields among your data.
In the image below, you'll see the formula for how we've created a calculated field for multiple costs. The parameter we just created—currency—is pink, and the new fields are green.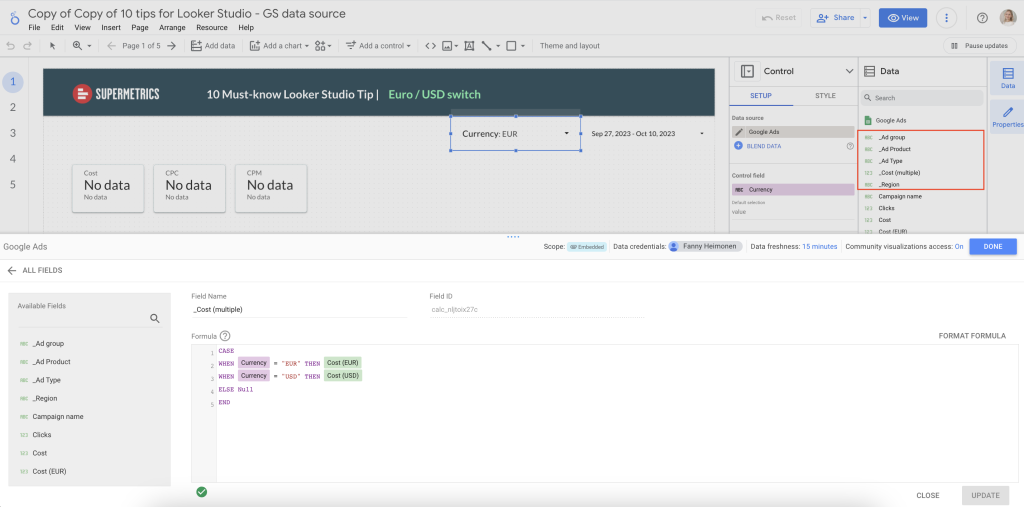 There are some prerequisites for creating new fields. In this example, you need to have the currency you're looking for already in your data. If you don't yet have it, you can make another custom field to transform it.
If you want to remove the underscores in your table or otherwise rename the custom fields, you can easily do that by clicking on the table and clicking on the metric you want to edit. You can also delete any unnecessary fields.
Check what embracing parameters looks like in action (video) >>
Tip 3: Shape your numbers to improve the readability of your dashboard
Often, your dashboards include many elements. This might cause your readers to suffer from cognitive overload. In other words, it's common that there are so many things on a report that the reader doesn't know what to look at.
That's why you should simplify your numbers and make them easy to read. You should decide, for example, how many decimals are actually needed for each metric. For example, a cost is much easier to digest and more visually appealing as 18K€ than 18,375.03€ as in the image below.

Shaping numbers is easy but has a huge impact on the report's readability. You can shape your numbers by choosing the element you want to edit, going to "Style", selecting "compact numbers", and defining the decimal precision.
You can use the same instructions everywhere in your dashboard. To shape your tables, scroll down in the "Style" panel and set each column to "compact numbers".
Tip 4: Data blending: The secret to more insights
Data blending can be a bit more complicated tip. But it's the secret to more insights. Data blending refers to merging data from different sources into one table or graph. To merge those sources, you need to select at least one common dimension or a join key—they'll show how the data sources are related.
If you're new to data blending, we recommend watching the basics of data blending to get you started.
There are endless use cases for data blending, and it's one of the most useful features in Looker Studio. Data blending can be used, for example, to measure the total spend across various channels for a specific campaign. With data blending, measuring total spend would be easier, as the field names vary between the sources. For example, on LinkedIn, spend is called "Total spent". But, in Google Ads, it's "Cost," and on Facebook, it's "Amount spent". This makes it harder to merge data to create an overview of your performance.
Follow these simple steps to get started with data blending in Looker Studio.
Step 1: On your Looker Studio dashboard, select any element and click the "Blend Data" option under the "DATA" panel on the right.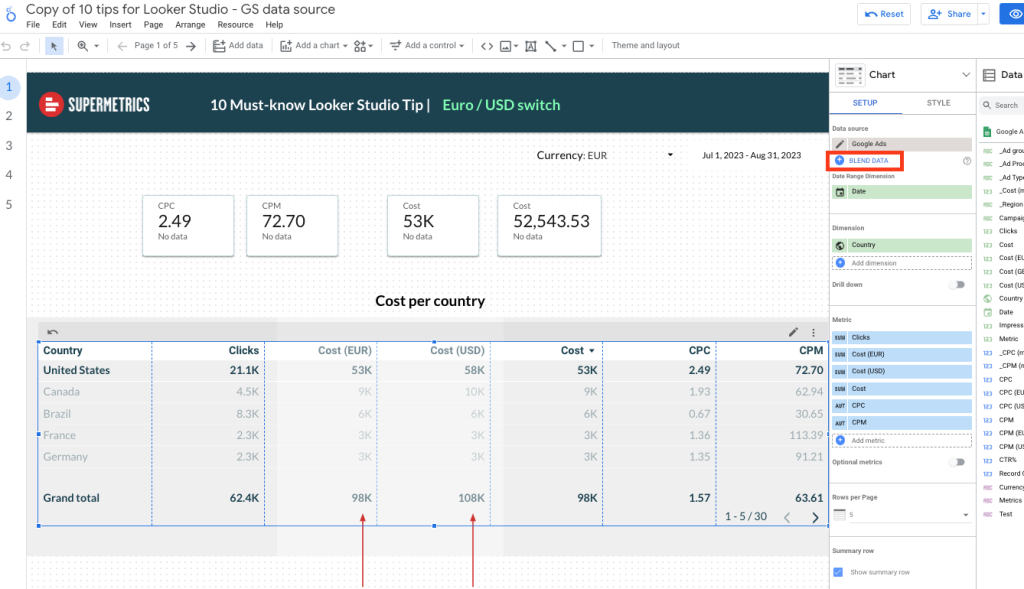 Step 2: Click "join table" and select your data sources. In the example below, we're using a predefined dataset in Google Sheets as our data source.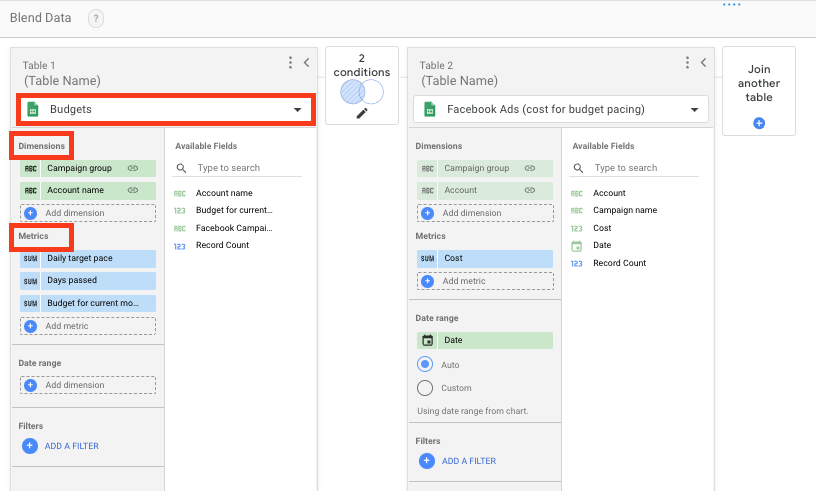 Step 3: Next, you need to configure the join by selecting the join operator and the join conditions.
You can blend data in Looker Studio with 5 different join operators. The results vary depending on the join operator you pick.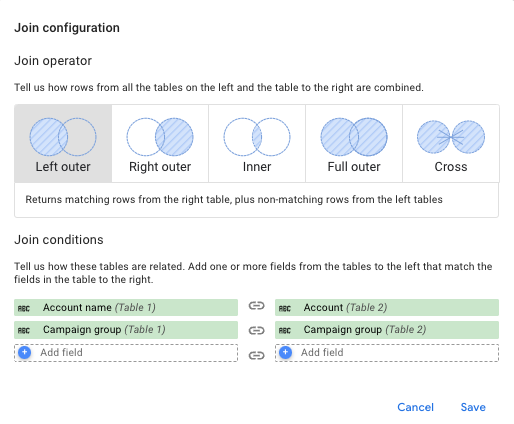 Step 4: Click "Save" and view your report.
Want to see some data blending examples in action?
We cover two example use cases in the 10 Must-know Looker Studio tips webinar:
Data blending in Looker Studio is a powerful feature, especially if you don't have access to a data warehouse like BigQuery, where you can create custom formulas and join things together more easily.

However, there are some limitations with data blending in Looker Studio. For example, it can slow down your report, it's hard to spot errors, and you can only blend five data sources. We've listed some challenges and how to overcome them using Google Sheets and Supermetrics Intelligence Cloud.
Tip 5: Conditional formatting
Conditional formatting is another easy tip, but it makes a huge difference on your dashboards. You can use conditional formatting in tables or scorecards. It lets you quickly spot outliers in your data by highlighting them with a specific color. One example use case is to highlight when you're over or under-pacing your monthly budget.
You'll find conditional formatting under the style panel.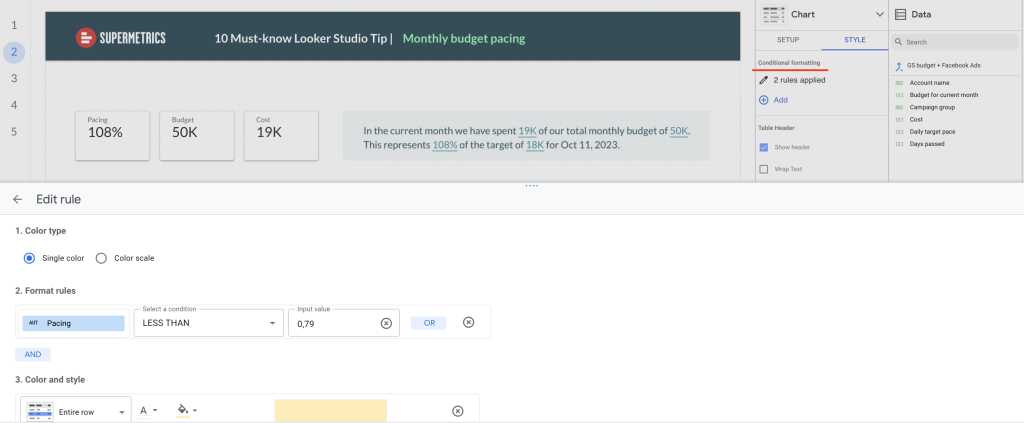 Tip 6: Use Tell Me chart to communicate your insights
As marketers, we often share the campaign reports with internal and external stakeholders. But, not all readers have the same level of data literacy. This means that they might not know how to read the dashboard and understand what's going on.
We've created a free "Tell me" chart that allows you to add sentences to highlight the main takeaways from the dashboard. The "Tell me" chart is dynamic, so the numbers in the sentence will update according to your results. Below is an example of what it looks like in practice.
For example, you can create a command, "In the current month, we have spent X of our total monthly budget of Y. This represents Z% of the target for Oct 11, 2023".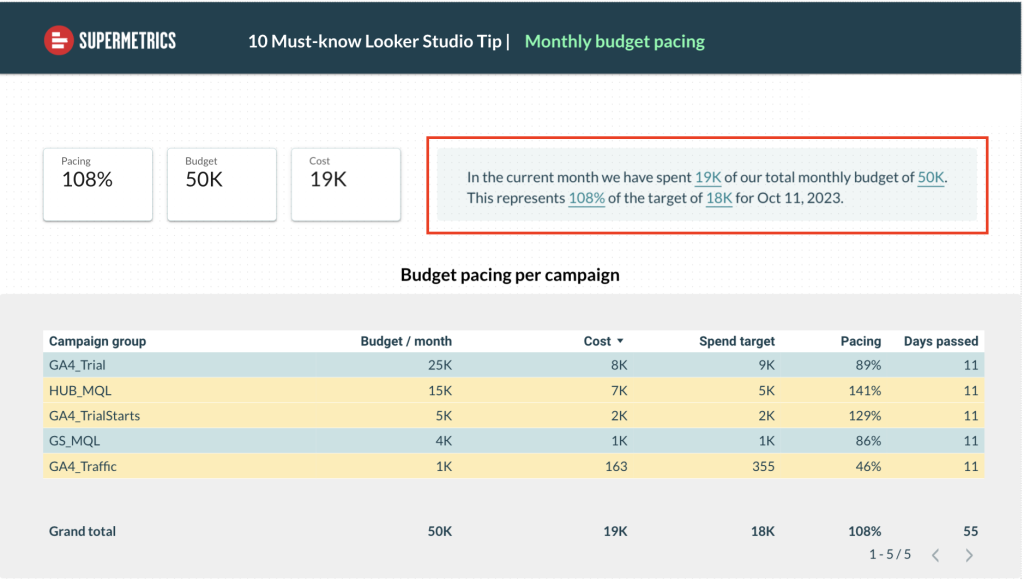 You can find the "Tell me" chart, as well as other Supermetrics charts, from the community visualizations tab and by clicking "Explore more". Just select the "Tell me" chart and drag it to your dashboard.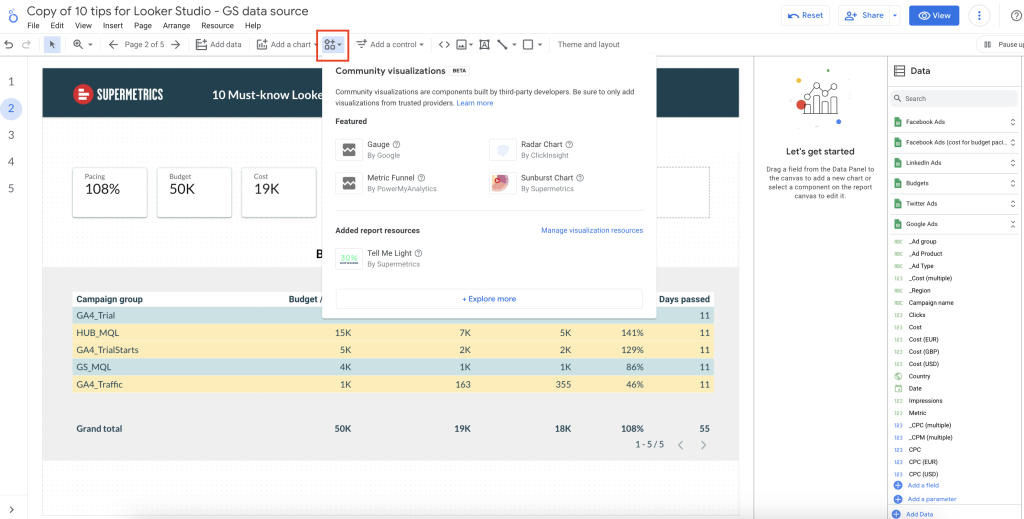 Tip 7: Regular expressions
A regular expression, or RegEx, is a sequence of characters that specifies a match pattern in text. You can use RegEx to search, extract, or replace data from text.
There are multiple use cases for regular expressions. We at Supermetrics have a unified naming convention for all our marketing campaigns. The campaign's name can tell us many things, like the ad channel, region, content type, and product. By using RegEx, we can split the data with each of those pieces and capture them individually.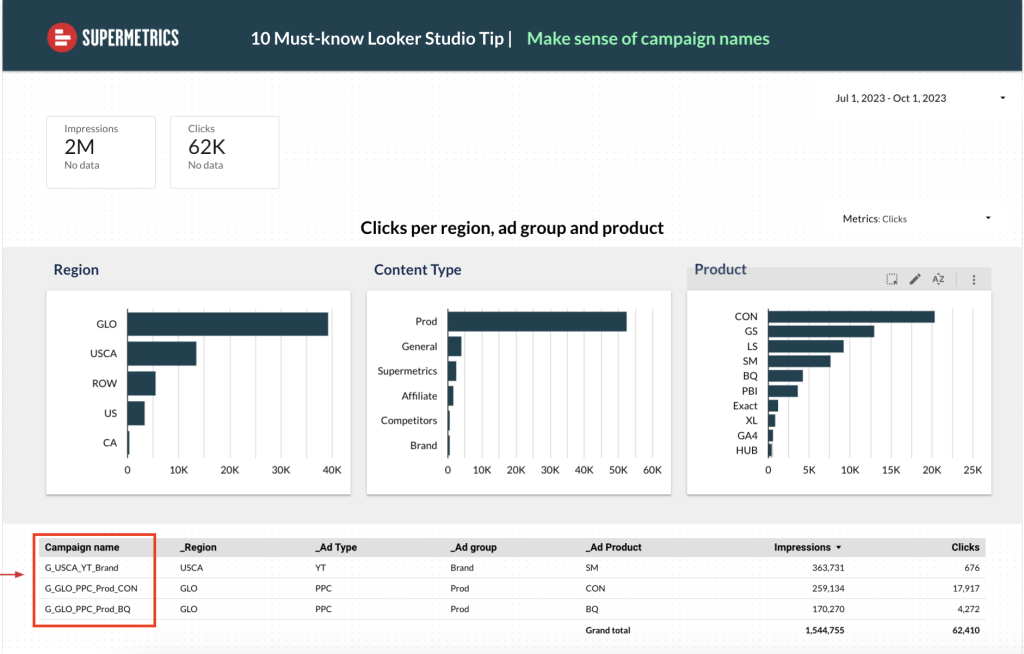 The RegEx formula shown in the image below looks like a lot of gibberish. It can be quite tricky to create and read, but one tip is to ask Chat GPT to create a regular expression for you.

Below is an example of how we asked Chat GPT for help. While making your request, it's important to mention you're using Looker Studio because there are different types of regular expressions with different language variations.
You can see that we told you we're using a specific RegEx extract formula and want to look for a specific RegEx impression. And specified that we need five regular expressions to extract each part of a string that's divided by an underscore, as in these examples.
"Looker Studio has a function that allows to extract data from a string with a regular expression.
The function has two parameters, the field name and the regular expression:
`REGEXP_EXTRACT([field name],"[regex]")`
I need 5 regular expressions to extract each part of a string that is divided by an underscore `_`.
An example of this string is "G_GLO_PPC_Prod_CON"
How would these regular expressions look like?"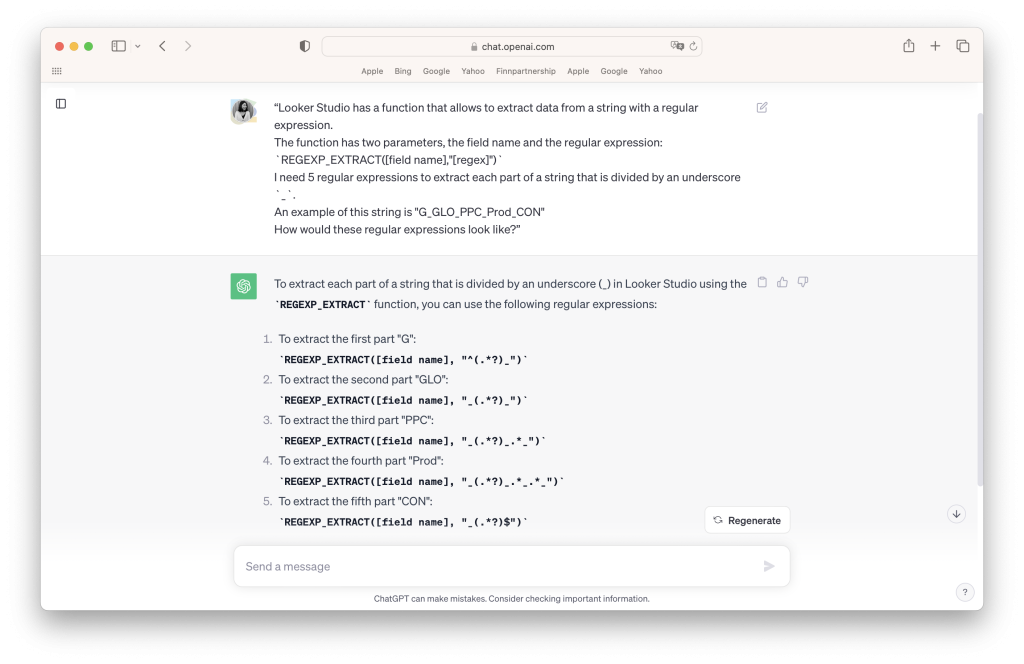 Want to see Regular Expressions in action (video) >>
Tip 8: Use charts as filters
In Looker Studio, you can easily add control filters from the top panel/navigation bar. But you can also use the charts directly as filters by just clicking on a dimension, like in the image below. This is an easy way to make your report more intuitive.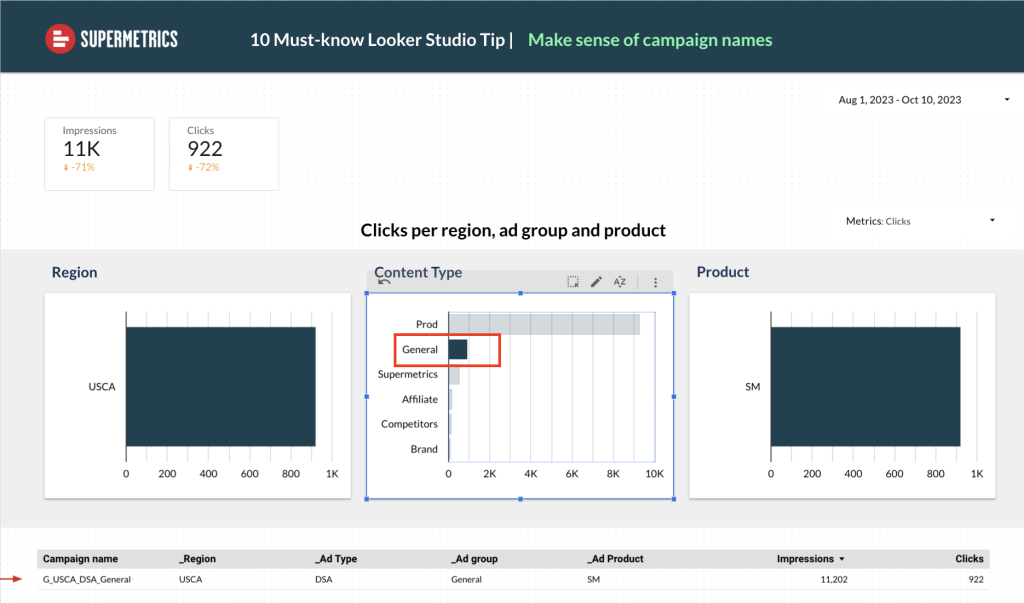 Tip 9: Create links and images in tables
Another great tip for improving the readability of your dashboards and finding insights is creating links and images in tables.
First, you need to add the video thumbnail URL to your dimensions. This will show it on your table. However, the URL format isn't the most viewer-friendly, so let's change it to show the actual image. Just click the pen icon, click the "Data type" drop-down, and change the type from "URL" to "Image".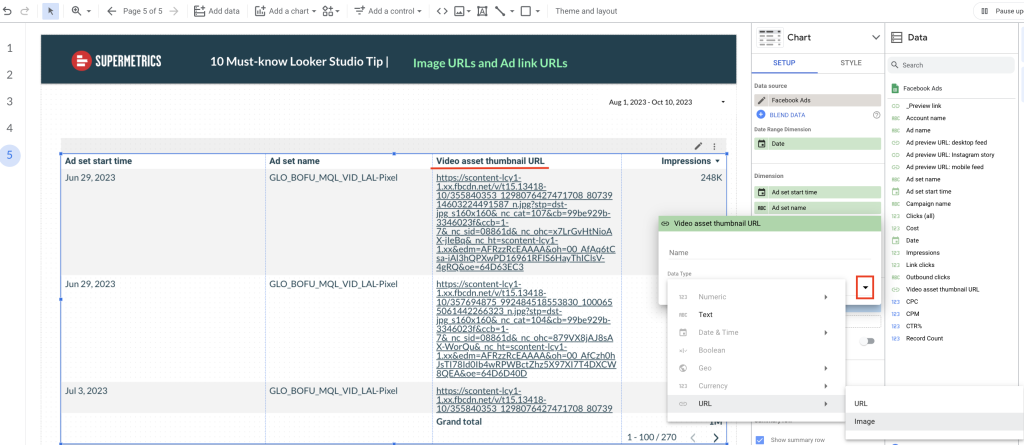 See how easy it is to add links and images to your tables (video) >>
Tip 10: Never stop learning
Marketing tools are constantly evolving. That's why it's important to never stop learning about new features and functionalities.
Below are listed some of our favorite resources to learn more about the Looker Studio features and best practices.
The best way to learn about a tool is to test it in practice. Want to see what you can do with Supermetrics and Looker Studio? Start your 14-day free trial.
Try Supermetrics for Looker Studio
See how easy it is to move all your marketing data into Looker Studio automatically with Supermetrics
Start free trial
About the author
Fanny Heimonen
Fanny is a Senior Demand Gen Manager at Supermetrics. She works with internal teams and external partners to drive demand for the Supermetrics brand. She's passionate about understanding customer pain points, making data-driven decisions, and continuous learning and optimization.
Ralph Spandl
Ralph, Head of Data Visualization at Supermetrics, works at implementing the first commercial Looker Studio chart library — a collection of data visualizations that allow you to push the limits of Looker Studio.
Milja Nevalainen
Milja is a Marketing Analyst in the Supermetrics Professional Services team. She helps clients with different data projects, from building reports in Google Sheets and Looker Studio to building a data warehouse. When she's not helping clients, Milja enjoys studying Chinese through Chinese TV-series.
Turn your marketing data into opportunity
We streamline your marketing data so you can focus on the insights.