Google Data Studio—or Data Studio—is a data visualization tool that helps you turn data into a meaningful story. It offers a user-friendly interface, a drag-and-drop feature, and integrations with many marketing platforms. That's why Data Studio is a no-brainer for marketers who want to present their data but have little to a bit of SQL knowledge.
To help you evaluate Google Data Studio, we'll discuss its pricing in this post.
Bonus: we also included some free reporting templates to get you started at the end of this post.
Skip ahead >>
Is Google Data Studio free?
Data Studio is a free tool—you don't have to pay anything to set it up. But, if you're looking to fetch data from non-Google platforms, you may have to pay for a third-party connector provider.
Google Data Studio connectors
Connectors allow you to integrate Data Studio with all your marketing platforms so you can pull data directly into your Data Studio reports and dashboards. Essentially, there are two types of connectors in Data Studio: free and paid.
Free connectors—Google-provided connectors
Let's start with Google-provided connectors. As the name suggests, these are connectors built and maintained by Google. They're free. However, they only let you connect to products and services in the Google ecosystem, including:
Google products: Google Sheets, Google Analytics, Google Ads, YouTube, etc.
Databases: MySQL, PostgreSQL, Google BigQuery, Amazon Redshift, etc.
Paid connectors—Third-party connectors
Third-party connectors allow you to fetch data from a variety of marketing and sales platforms, both from Google and others, such as Facebook, LinkedIn, and HubSpot, and these are typically paid on a monthly basis. For example, a single connector from Supermetrics for Facebook Ads costs $49/month. As of today, you can find almost 600 connectors from partners in Data Studio covering:
Social Media: Facebook, Instagram, Pinterest, LinkedIn, etc.
CRM: HubSpot, Salesforce, etc.
Web Analytics: Google Analytics, Adobe Analytics, etc.
Supermetrics for Data Studio pricing
If you go to the connector gallery in Data Studio, you'll see Supermetrics on the top of the list, and for good reasons.
Over 750K marketers worldwide are using Supermetrics to move data into different reporting and analytics tools, including Google Data Studio, and over 15% of all online ad spend is reported through Supermetrics.
Supermetrics is one of the most popular ways to get all your marketing data into Data Studio, and there are packages that cater to teams of all sizes. Let's take a look at pricing in more detail and see which plan is right for you.
Small to medium-sized teams
For small to medium-sized teams, we have four self-serve packages—single connector, essential, core, and super.
Single connector
The single connector package starts from $49/month and covers:
1 Supermetrics user account
1 data source
10 accounts per data source

For example, on Facebook, you can access up to 10 ad accounts. And on Google Analytics, you can access up to 10 views.
Essential
If you'd like data from more than one data source, the Essential package is for you. It costs $119/month and covers:
1 Supermetrics user account
9 data sources, including Facebook Ads, Instagram Insights, Google Ads, Google Analytics 4, etc.
10 accounts per data source
With this plan, you can add a data source at $35/month
Core
The Core package is $239/month, and it has more comprehensive coverage, including:
1 Supermetrics user account
24 data sources, including all data sources in the Essential package, plus TikTok Ads, Snapchat Ads, Twitter Ads, YouTube, etc.
10 accounts per data source
You can add up to 2 more data sources at $35/data source/month
Super
The Super package is suitable for small businesses with complex data needs. It's $579/month and includes:
3 Supermetrics user accounts
45 data sources, including all data sources in the Core package, plus Ahrefs, Shopify, Taboola, Outbrain Amplify, etc.
10 accounts per data source
Custom fields which let you enrich existing metrics and dimensions, or create entirely new ones to extract more insights.
Here's a quick summary of our self-serve plan for small to medium-sized teams.
Enterprise teams
If you want to add more people to your Supermetrics account or access a broad range of data sources, you can create a custom plan with our sales team. With a custom plan, have access to:
4+ Supermetrics user accounts for the Essential and Core package
6+ Supermetrics user accounts for the Super package
20+ data sources/account
Premium data source connectors—such as Twitter Premium, Criteo, Google Ads Manager, etc.
Data warehouse destinations
Custom fields
Premium support
A dedicated customer success manager
Why use Supermetrics for Data Studio
Here's how you can benefit from using Supermetrics with Data Studio.
Combine marketing, and sales data
Supermetrics integrates with over 100 marketing and sales platforms. From 39€/$49 for a single connector per month, you can easily pull data from different sources, including:
Web analytics: Google Analytics (or Universal Analytics), Google Analytics 4, etc.
Organic and paid social: Facebook, Instagram, TikTok, etc.
SEO: Google Search Console, Semrush, Ahrefs, etc.
Sales: HubSpot, Salesforce, etc.
Email: Mailchimp, Klaviyo, etc.
And many more!
Get in-depth insights
Rather than spreading ourselves thin, we focus on connector quality and try to get as many metrics and dimensions from the APIs as possible for the most important data sources. You can easily create custom reports and add different segments to get a more granular view of your website performance.
You can find more advanced dimensions that aren't available in the Google connectors for Data Studio.
Let's take Google Ads and Google Analytics as examples.
Google Ads: Supermetrics vs. Google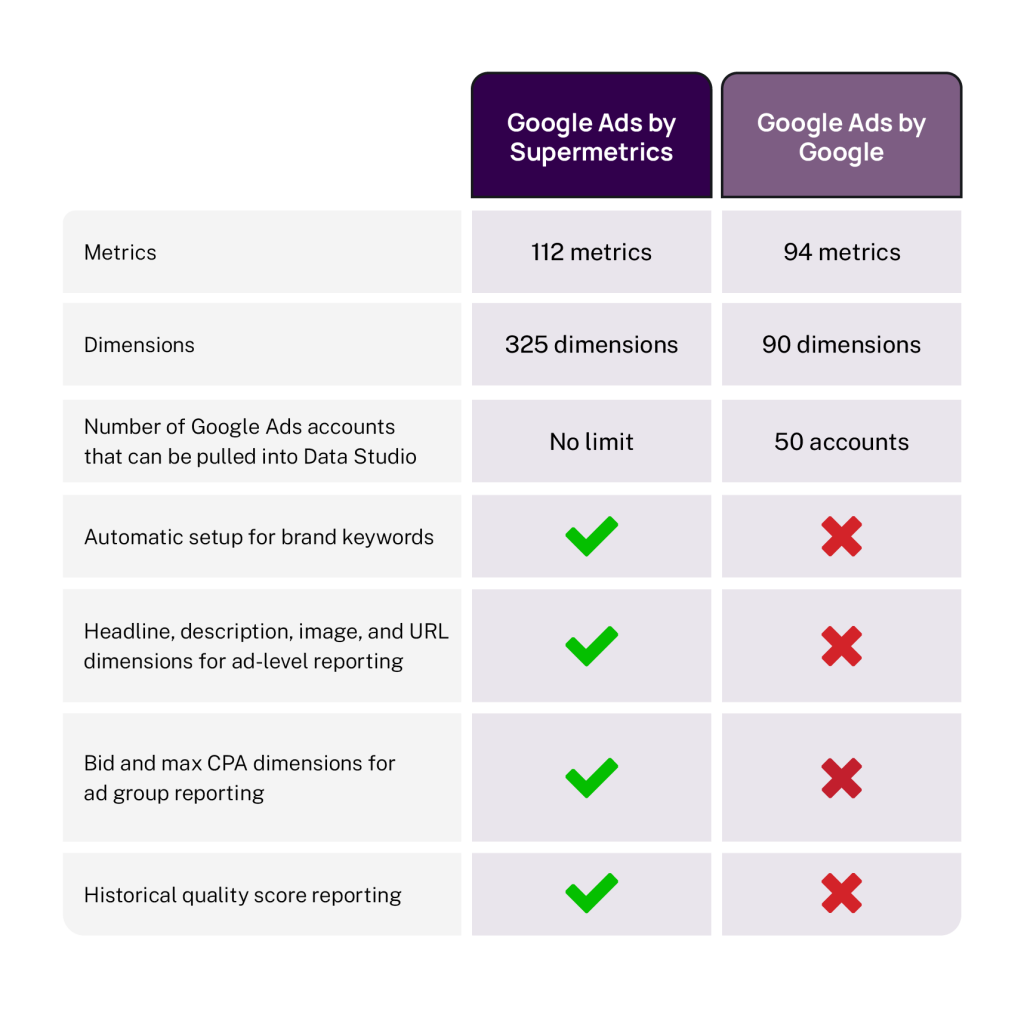 Google Analytics: Supermetrics vs. Google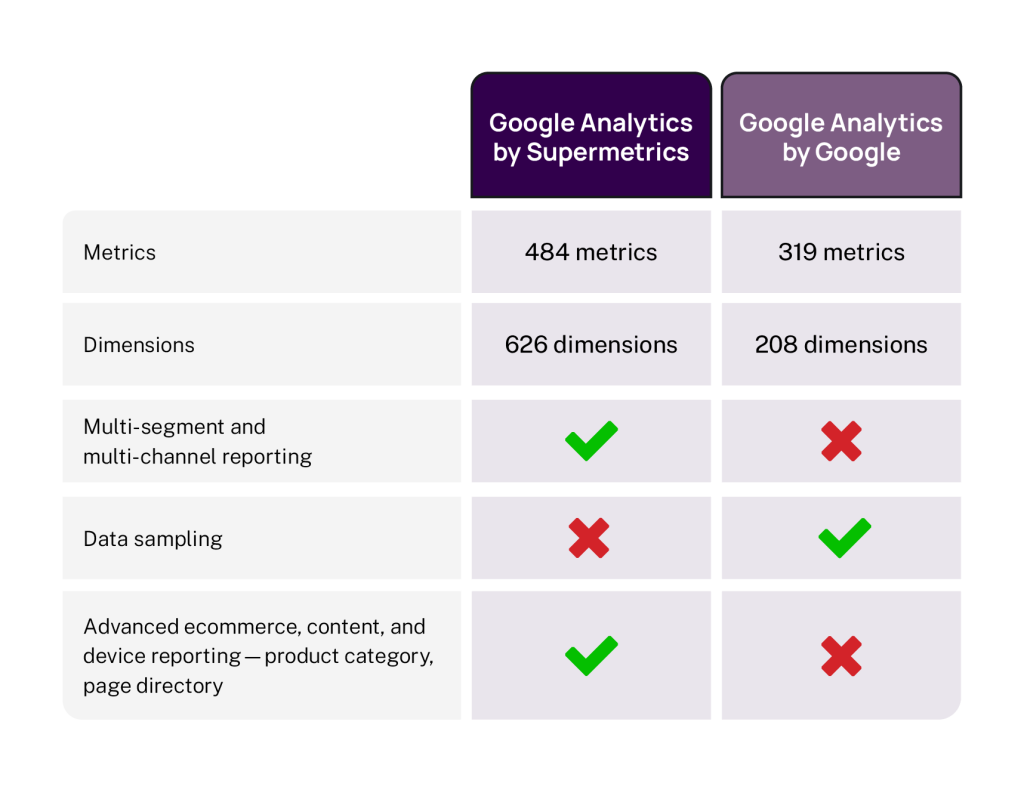 Create insightful visualizations with Supermetrics Charts for Data Studio
Data Studio offers a wide range of charts and graphs to help you visualize your data straight off the bat. One step further, we developed Supermetrics Charts to enhance the already existing data visualization capabilities in Data Studio. You'll use different charts to present your data, such as:
Combo scorecard
Gauges and progress bars
Bullet graphs
User journey
Funnel visualization
Site tree
5 free marketing dashboards for Google Data Studio
Building a dashboard can be challenging, especially if you're new to Data Studio. In the end, it's you against the blank page. That's why we prepared some ready-made templates to get you started.
Let's look at our top five marketing dashboards for Data Studio and see what's in it for you.
Facebook Ads performance
The Facebook Ads performance dashboard gives a general overview of your paid campaigns. For example, you can quickly see:
The most important KPIs: impressions, clicks, click-through rates, conversions
The best-performing campaigns
Conversions breakdown by country
Google Analytics 4 overview
Already moved or thinking about moving to Google Analytics 4? Since Google will sunset Universal Analytics soon, you better start the migration. Once you've set up your properties in GA4, you can use this template to monitor your performance. It helps you understand:
The total users and new users on your website
Active users growth or decline over time
How your monthly cohort behaves
Google Ads vs. Facebook Ads comparison
This template will come in handy if you're running ads on Google and Facebook. Instead of comparing apples to oranges, we suggest you use this template to monitor the performance of each platform. With it, you can see:
The click-through rate, cost per conversion, and cost per click on each platform
The distribution of cost, impressions, clicks, and conversions on each platform
The best-performing ads on each platform
Paid channel mix
When presenting your paid campaigns' results across channels, it's a good idea to keep it short and to the point. This means you should emphasize how much you've spent and what results you got back in exchange. With this paid channel mix template, you can easily see the most important metrics from Google Ads, LinkedIn Ads, Twitter Ads, Facebook Ads, Microsoft Ads, and Pinterest Ads. The template helps you answer these questions:
How's the performance of your paid campaigns?
How have your campaigns evolved?
What are the best channels?
Facebook Insights performance
If you're interested in understanding your audience's engagements on Facebook, this template is a great place to start. It tells you:
How your audience reacted to your updates—likes, unlikes, and net likes
Where your audience comes from
Audience breakdown by age and gender
Wrapping up
Google Data Studio is a great BI tool for marketers. By taking advantage of third-party connectors like Supermetrics, you can fetch data from more data sources and get more granular insights.
If you'd like to give Supermetrics a spin, start a 14-day free trial now.