There is no better tool for monitoring and optimizing the performance of web-based businesses than Google Analytics. With it, you can measure both off-site (promotional campaigns, SEO) and on-site (conversions, site usage, content) performance.
Once measured, the only thing that's left for you to do is to act on the data.
And that's why in this article, we'll review eight ways in which you can improve your marketing performance with Google Analytics.
Learning these tips on your own or from Google Analytics training courses can take a lot of time and money. But luckily for you, you'll learn them in this article for free, in just a few minutes.
So read on — or simply jump to the section you're interested in:
1. Identify high bounce rate and low-converting pages
When writing a new article, marketers hope that visitors will read it, browse through the site, and convert. However, oftentimes this is not the case as many people read the article and exit without viewing other pages.
This is very frustrating as creating high-quality content takes a lot of time and effort. If not for converting, you would at least expect visitors to view other pages from the site.
Fortunately, not all is lost for these pages. Usually you can improve the bounce rate and conversion rate.
But first you need to identify the pages.
The high bounce rate pages are available in Behavior → Site Content → All Pages report while low converting pages are available in the Landing Pages report.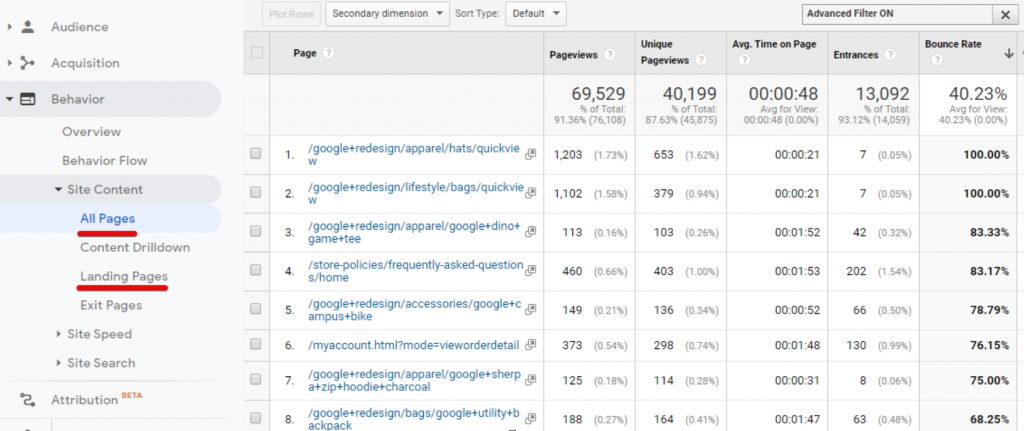 To exclude the noise from low-traffic pages, you could apply a filter to only include pages above a certain number of pageviews.
In the current example, we have included only the pages with pageviews higher than 100.

Improving high-traffic, low-conversion pages is a quick way to get more sales and leads so you should definitely not miss this opportunity.
2. Find and improve low performing pages from organic search
Another way to improve your marketing performance and traffic is to optimize pages that already rank in search engines.
Doing so is much easier than trying to rank new pages.
For faster results, try to go for pages (and terms) that rank on the second page (position 11 – 20). In this way, with just a few position improvements, you can get on page 1 which has a much higher CTR than page 2.
Assuming you've already linked your Search Console property with Google Analytics, you can get this data from the Acquisition → Search Console reports.

3. Use UTM parameters
Using UTM parameters in your marketing campaigns is another great way of measuring exactly how each particular campaign performs. With them, you'll know how well a particular campaign, such as an individual newsletter release or social media post performs.
And based on these findings you can later adjust the campaigns. Another benefit of using UTM parameters is that it decreases the traffic reported as Direct in Google Analytics. That is why adding UTM parameters in all newsletter, paid ads, or social media links is a must.
Once you start using them, the data will be available in the Acquisition → Campaigns → All Campaigns report.

4. Uncover high-converting traffic sources
Knowing which traffic sources convert and generate revenue is key in having success online. With this data, you'll save yourself time and money from low-converting traffic and focus instead on the high-converting kind. This in turn will increase your ROI and further grow your business.
To view the traffic source data, you can analyze the Acquisition → All Traffic reports.

For an even more detailed view of traffic conversion, you could analyze the Multi Channel Funnel reports.

5. Explore new markets
If your business operates on a global level, then another way of using Google Analytics is to uncover new markets for your products and services. You do this by analyzing the Audience → Geo → Location report. In there you can sort the data by sessions and conversion rate and see if there is any country that stands out.

If you find such countries, then they might be the perfect markets to start expanding your business to. You canapply the same techniques on a city or state level. If you notice a high demand from places you currently don't operate in, you should consider the option of expanding there.
6. Use content grouping
Content grouping is yet another great functionality offered by Google Analytics. With it, you can group your site content by categories, topics, authors, word count, price range, etc.

This feature is useful for many types of sites but blogs benefit the most from it. With it, bloggers and content marketers can see which categories visitors like to read about or which author writes the most engaging content.
Unfortunately, content groping isn't configured by default so to use it, you'll have to set it up on your own.
Once configured, you can view the data in the Behavior → Site Content reports.

7. Uncover potential demand and bottlenecks with internal site search
When users don't find what they're looking for, they either leave the site or use the internal search feature.
Thus, capturing the terms users search for is a good way of identifying potential product demand or struggles visitors face.

Although internal site search tracking is not enabled by default, you don't need to be an analytics expert to configure it on your own.
For this, you need to go to Admin → View Settings and at the bottom of the page, to enter the URL search query parameter that holds the searched keyword. This will vary from website to website but usually it is either s or q parameter.
After configuring the internal search tracking, you can see the captured search terms in the Behavior → Site Search reports.

8. Identify slowly loading pages
Conventional wisdom tells us that patience is a virtue. But when it comes to page load time, the opposite is true.
According to some reports, 40% of users will usually leave the site if the page loads more than 3 seconds. And with each increase in load time, more and more users exit the site.
To retain as many users as possible and to improve the overall user experience, your pages need to load fast. And the first step in this process is identifying slowly loading pages.
Luckily, Google Analytics tracks page load time by default, so knowing which pages load slowly is really easy. You just need to analyze the Behavior → Site Speed → Page Timing report for this.

Once you have analyzed each one of these reports, the only thing left for you to do is to act on the data.
As you have probably noticed by now, going through so many reports and manually filtering, sorting, or segmenting the data is confusing and time consuming. And the worst part is that you have to repeat the same steps on a weekly or monthly basis.
That's why I don't recommend analyzing data this way.
A much better way to visualize and analyze the data is to use an automated dashboard. By doing so you'll significantly decrease the time it takes to obtain the data and increase your reaction speed.
This is especially important for dynamic and fast growing companies that encounter changes on a regular basis.
And when it comes to free dashboards, no better tool than Google Data Studio exists. And while it's free, it still manages to provide complex solutions and capabilities in a user friendly way.
That is why for my clients, I almost always recommend it.
9. Create a dashboard in Google Data Studio
To create a new dashboard, while on the Data Studio's homepage, click on Create → Report.
On the next screen search for "Supermetrics" and select the Google Analytics connector by Supermetrics.

This is by far the best Google Analytics connector available so that's why both I and my clients use it. Beside the regular metrics and dimensions, it also allows to get unsampled reports and the multi-channel funnel data — something that most of the other connectors do not support. 
After selecting the connector, choose the views and segments you want to use with this data source.
For cases where you don't want your data to be sampled, enable the "Try to avoid Google Analytics data sampling" option.

Once created, we can start using the data source in our report.
And since we already figured out the metrics and dimensions we need to track, creating the visualizations and tables is just a technical step.
For the first report, it would be best to visualize the data in a table so from the Insert menu, we choose Table.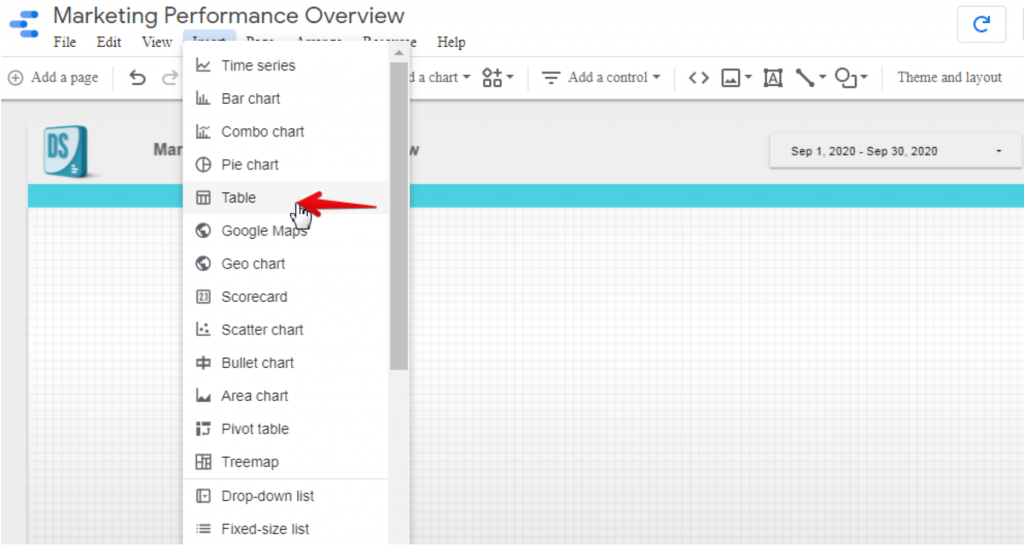 Next, we need to add the Page Path dimension and the Pageviews, Sessions, Users, Bounce Rate, Avg. time on page and Goal conversion rate metrics.

And since we also need the data broken down by content type, we should add a filter with the content grouping dimension at the top of the report.

Next, we can continue by adding a scatter chart and a table with top traffic sources sorted by sessions and goal conversion rate.

In the same manner, you should continue to add all reports discussed earlier in the article.
In return, this will allow you to have a complete view of your marketing performance and know what works for you and what doesn't.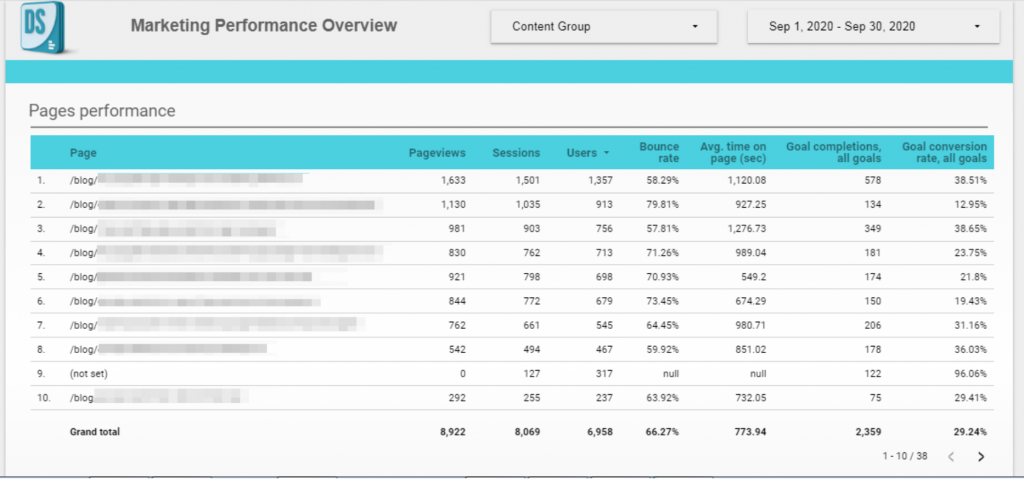 About the author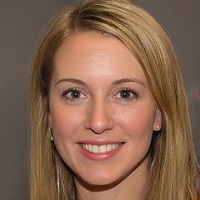 Carol is a passionate web analyst with more than 5 years of experience.
During this time, she has helped more than 20 business gain a better
understanding of their marketing, users, and websites. Her preferred
tools are Google Analytics and Data Studio but she's also proficient
with Adobe Analytics, Matomo, and Tableau. Read more of her work on
AnalyticsHelp blog.
Turn your marketing data into opportunity
We streamline your marketing data so you can focus on the insights.