Dec 19, 2022
Social media analytics: the ultimate guide
12-MINUTE READ | By Kristina Knut
[ Updated Aug 7, 2023 ]
Connecting and engaging with your potential customers at scale is what makes social media marketing so powerful. Think about it—you can reach a large number of people within seconds of posting your content.
Social media is one of the most valuable channels for deliberately elevating your brand in the eyes of your audience and maintaining your pricing power.
However, you can only reap the benefits of social media when you approach it strategically. And this is where tracking social media analytics is so crucial.
We've prepared a guide to start your journey toward understanding social media analytics.
Skip ahead >>
What is social media analytics?
Social media analytics involves collecting and analyzing data received from social media platforms. The results you get give you great insight into the impact of your company's social media marketing activities.
Why is social media analytics important?
Great marketing starts with understanding your data.
Staying on top of social media analytics helps you spend time on work that delivers the most impact to the business.
Think about it—you're always resource-constrained. There's never enough money or time. There's no room for a 'spray and pray' attitude, especially in times of economic downturn.
With each new piece of content or social media campaign launched, you collect a massive amount of information on how your audience responds to your content. Our own social media data holds all the answers to what we need to focus on.
Here's a list of some more specific benefits that show why social media analytics are such a crucial component of your digital marketing toolbox.
Social media analytics help you:
Understand your target audience better, such as their online habits, their likes/dislikes;
Identify which social media platforms to focus on by revealing traffic and engagement information;
Determine the more relevant types of social media content for your marketing plan;
Discover the style and tone of social media posts that work best for your target audience;
Analyze the strengths and weaknesses of your campaigns; and
Develop a more robust strategy for your social media presence that's intertwined with all other elements of your brand, such as sales strategies, other marketing campaigns, vision statements, and so much more.
These are only a few of the many benefits of social media analytics.
How to effectively use social media analytics
Social media analytics allows you to support your real-time marketing capabilities. More than half of the companies surveyed said their real-time marketing analytics has given them a better understanding of the customer journey and generated significant revenue growth.
The success of real-time marketing hinges upon real-time social media analytics—relevant trends and opportunities for your business will move on fast. You don't want to miss out on them.
Social media can be an inexpensive channel to quickly iterate and refine its positioning based on real-time data.
Social media analytics use case examples
Social media analytics can help you better grasp your content and audience. Below, we've listed a few hands-on instances and use cases for your social media analytics.
Maximize campaign performance
Social media analytics should guide your campaign planning. Go through your historical performance data to get an idea of what kind of messaging works best with your audience, what content formats you should invest in, and what platforms are the most efficient for spreading your message. With social media analytics, you can even get as granular as identifying trends for the best posting times for you. Get the most bang for your buck by looking at what your own data is telling you.
Stay on top of relevant trends
Social media is a real-time environment—things move fast. While you have your own voice and content plan to follow, it pays off to monitor trends. 'Trendjacking' is an opportunity to capitalize on current trends by inserting your idea through a meme, event, hashtag, or more. Boost your social media analytics by setting up a Google Trends dashboard to keep track of trending themes.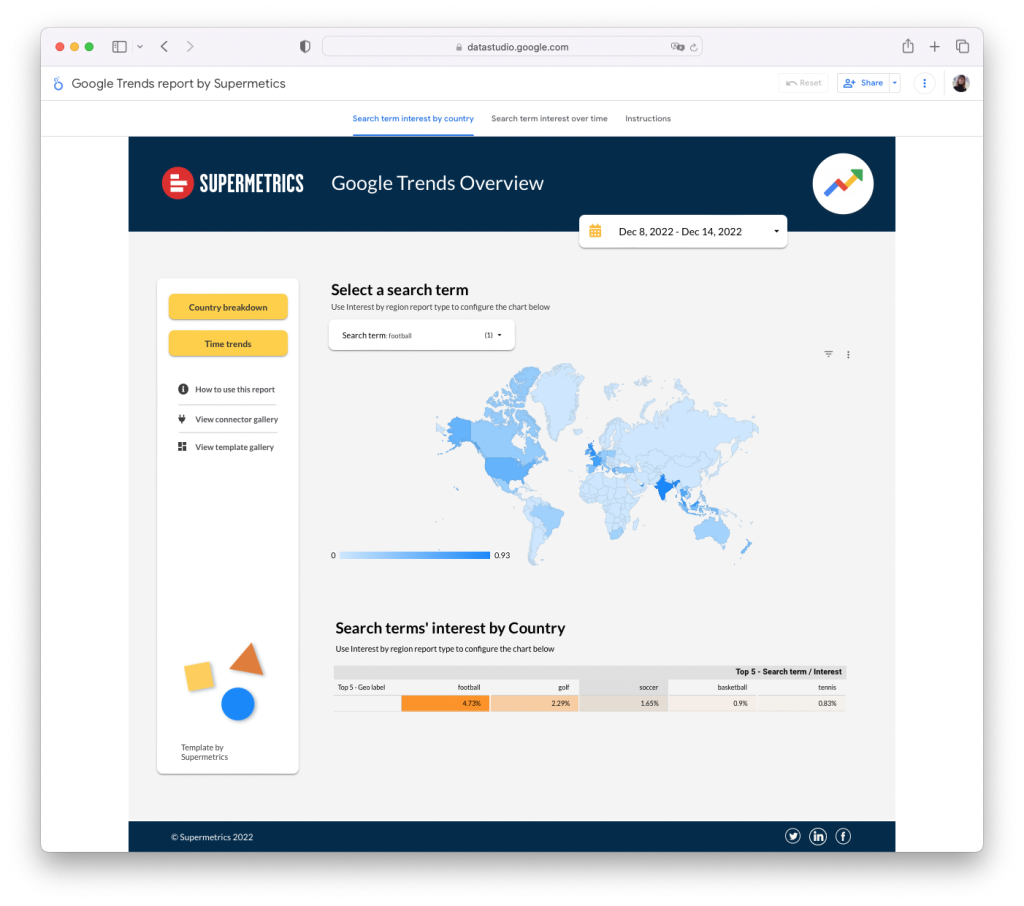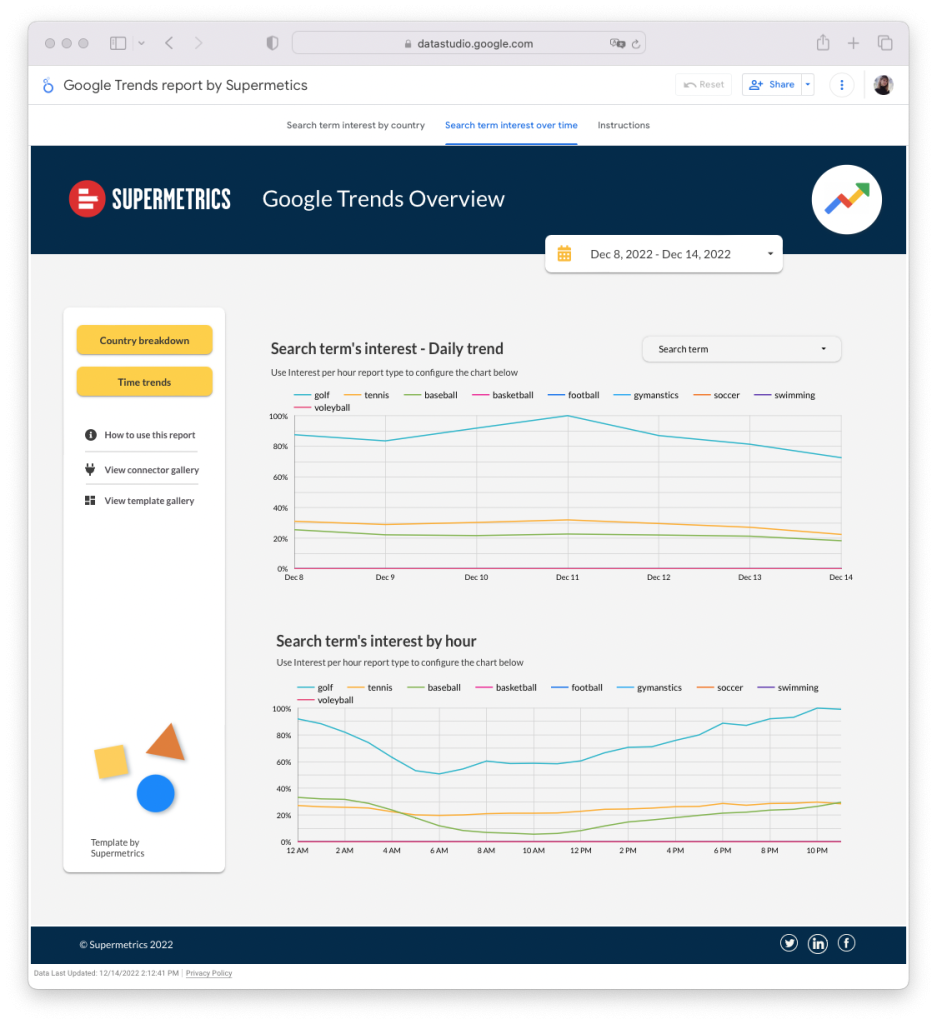 Support customer acquisition
Your social media accounts often serve as the first touchpoint in the marketing funnel. Social media is where discovery happens, you build trust, and consideration takes place.
Global internet users spend an average of 2h 27min daily on social media. And social media isn't just all cat videos—people turn to social media to be entertained and inspired. They seek out advice and engage with their favorite creators or in their favorite communities.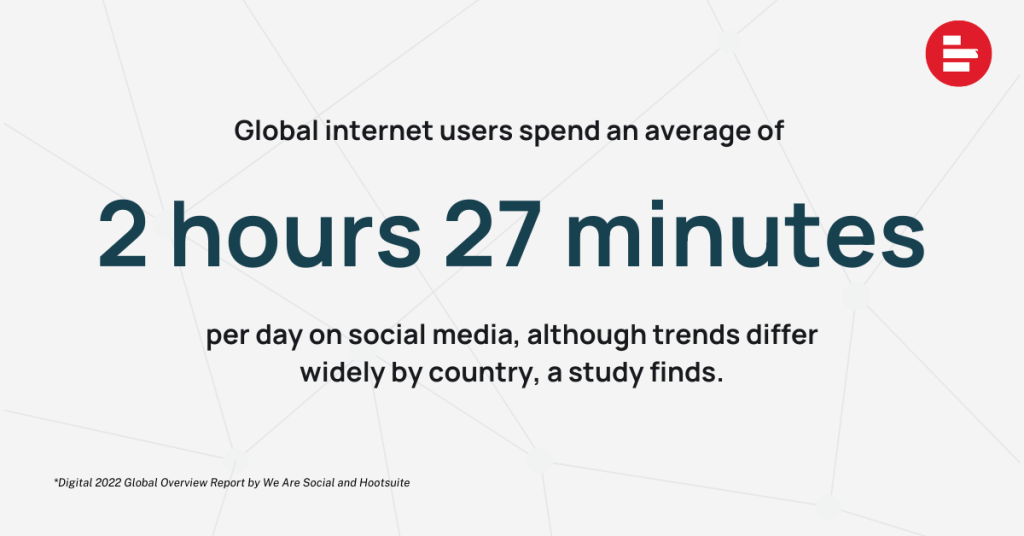 This is where great content becomes so valuable. You can craft relevant content for your consumers by knowing your audience, their pain points, and their wants. As you create targeted content of value, your audience continues to move along their discovery and consideration journey. This is why social media analytics are so important—data equips you with the information you need to create your best content.
Monitor brand sentiment
Social media analytics also helps you monitor and understand online sentiment about your brand. According to Harvard professor Gerald Zaltman, emotions are the number one factor in making a purchasing decision. With 95% of purchase decisions taking place in the subconscious mind of the consumers, how they feel about your brand matters.
Brand sentiment analysis goes beyond measuring the count of likes and comments your social media content has. Instead, brand sentiment considers emotions and opinions. This involves collecting and analyzing information in the content and conversations people are having about your brand online. Combine this information with your content performance data to get a holistic view of how your brand is perceived.
Social media is the public face of a company, and the better your first impression or, the faster you attend to problems, the better your image will be.
Efficient customer care
Your customers will talk about your brand online no matter what. It's also common for consumers to head to social media for customer support. Now that you're monitoring your social media analytics, including sentiment, your team can quickly identify areas where customers are unhappy and act quickly. But also, keep an eye on the positive news and shout it from the rooftops.
Improve crisis management
Brand health is an important indicator of a brand's success, and social media is an excellent source for insights into how your brand is doing. Use your social media analytics to see how your target audience responds to your content and what conversations they're having about your brand. You can aggregate so much data from social media, giving you insights and ways to assess a looming crisis. You can analyze the trends and see if there's a huge drop-off on a particular platform—or in general. This may be a red flag that you have a crisis on your hands that needs to be resolved. As you spot threats to your brand's health, social media is a fast and direct way to respond and stop a PR crisis.
Key areas to use social media analytics
We've given you the rundown on the variety of ways in which social media analytics can help your company. But what about the specific types of analytics you can focus on? How do we use social media data analytics in practice, and what kind of reports can we drum up?
Audience analytics
An audience report will give you an overview of how many followers you have on each social media platform. It'll also compare these figures with previous periods, allowing you to determine any positive or negative changes in your total audience number. But, remember that the audience count alone is considered a vanity metric, and audience analytics are best viewed in tandem with performance metrics.
Social media performance analytics
These reports will help you identify the effectiveness of your social media content. You've probably heard some of these metrics before, like-to-dislike ratio, engagement rate, impressions, video completion rate, etc. Even a comprehensive hashtag analysis can ensure that you're using the right tricks to expand the reach of your posts.
You can track almost every single detail through social media metrics, which can be both amazing and overwhelming. Identify which metrics matter most to your business, and let these guide your marketing efforts.
Competitive analytics
Every business has rivals. While your own performance metrics should guide your marketing decisions—listen to your audience—keep an eye on your competitors. Competitive analytics is about analyzing what your rivals are good at, what they're bad at, and how you can take advantage of these opportunities. We have a robust system for competitive analytics for Instagram and other websites that might help you get started: it's actually a lot simpler than it may seem.
Paid social media analytics
In addition to running organic social media marketing, paid social media is the key to reaching new audiences and driving sales. As you put money into amplifying the reach of your messaging, paid social media analytics will inform you of the ROI of your campaigns. Keep an eye on metrics like the click-through rate, cost per click, reach, and so much more.
Customer service and community management analytics
Social media isn't just for product research—customers also turn to social media as a support channel. 76% of consumers expect brands to respond within the first 24 hours of reaching out on social media. Customer service analytics give you valuable hints on areas your business can improve on. Notice anomalies like increased customer inqueries or if there's a trend in the kind of questions people are asking about your product. If you have a dedicated community management strategy, measure your success by monitoring brand engagement, mentions, and sentiment. Analyze conversations people are having about your content, services, and products.
Influencer performance analytics
There's a lot of hype around influencer marketing, but they can get quite pricy. If you're considering adding influencers to your marketing mix, you must track performance to confirm it's a cost-effective marketing channel. While influencers will be able to deliver on reach and engagement, don't let these vanity metrics distract you from metrics with real business value. Track metrics such as cost per acquisition (CPA), look for an increase in website traffic, or even the influence's engagement rate (IER).
Sentiment analysis of your profiles and ad campaigns
Social media sentiment is all about how people feel regarding your campaigns. Tracking your brand sentiment will help determine if customers enjoy your posts, find them off-putting, or ignore them altogether. This should guide your social content strategy. Remember to also benchmark against your competitors' sentiment for a more holistic picture of your performance.
Four steps to get started with social media analytics
You're now familiar with the benefits of social media analytics and have an idea of how this data can inform your marketing decisions. However, with so many factors to consider, how do you get started with properly analyzing your social media performance?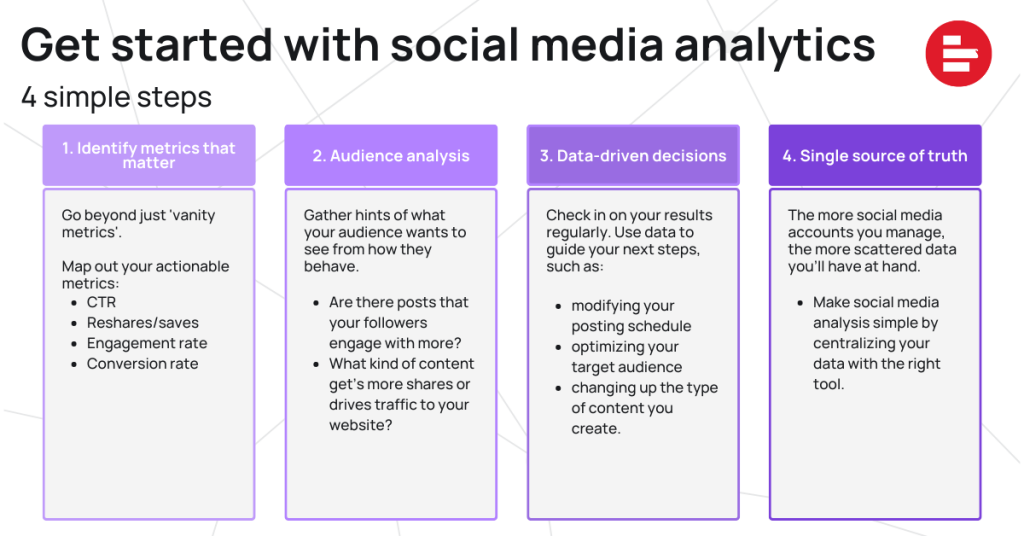 Here are four steps to help kick off your analysis:
1. Identify metrics that matter
Sure, it feels good to get a lot of likes on a post, but how do these help your business? Vanity metrics do deserve some attention, too. However, you should map out your actionable metrics, like engagement or conversion rates, and focus on driving impact there.
2. Audience analysis
Look for behavioral insights—you can get hints of what your audience wants to see from their behavior. Are there creative assets, such as videos or carousel posts, that your followers like to engage with more? What kind of content get's more shares or drives traffic to your website?
3. Data-driven decisions
Check in on your results regularly and use these to guide your next steps, whether it's modifying your posting schedule, target audience, or type of content you create. Your data insights hold all the answers.
4. Single source of truth
The more social media accounts you manage, the more scattered data you'll have. Make social media analysis simple by centralizing your data with the right tool.
Inform your next marketing decisions with social media analytics
Your social media channels are often the first and most direct touchpoint with your fans and potential clients. If you haven't leveraged your social media analytics yet, hopefully the benefits and tips listed in this post convinced you that social media analytics can have a big impact on your business.
About the author
Kristina is the Brand Social Media Manager at Supermetrics. She loves creating marketing content that introduces complex ideas in a simple, fun way. In her spare time, she's a connoisseur of fine memes and also possibly spends too much time on the internet.
Turn your marketing data into opportunity
We streamline your marketing data so you can focus on the insights.