Jul 9, 2019
Instagram Stories analytics: how marketers can measure, report & improve performance
By Supermetrics
[ Updated Aug 3, 2023 ]
10-MINUTE READ · By Simon Pilkington
Instagram Stories are by far one of Instagram's most popular features. And even with 500+ million views daily, Stories still has plenty of room to grow.
In fact, 48% of marketers believe that Stories will become increasingly important for businesses in 2019 and beyond.
The rapid growth of Stories signals the need for businesses to rethink how they measure and report on their performance.
Why? Because measuring the success of ephemeral content is a different beast than a traditional Instagram post. Not only are you analyzing totally different metrics, but also trying to make sense of dozens of different data points in a 24-hour period.
Likewise, Instagram's native reporting leaves a lot to be desired in terms of functionality.
If you're looking to squeeze more out of your paid or organic Instagram Stories, you're going to need to step up your analytics and reporting.
In this guide, we'll highlight how to make better sense of your Stories performance with a breakdown of key metrics and tips for more robust reporting.
What are the KPIs for Instagram Stories?
Before we get into the nitty-gritty of Stories reporting, let's talk about metrics to watch and what exactly they mean.
After all, you can't properly measure (or improve) your Stories performance without knowing what your KPIs are.
Keep in mind that the KPIs for Stories are split into organic and paid metrics.
Organic metrics can be found in Instagram Insights. Meanwhile, Paid Metrics are presented as part of the Facebook ads manager.
Psst, you can actually combine the two for the sake of streamlined reporting with the help of Supermetrics.
Organic stories KPIs
Here's a quick down of the performance metrics available in Instagram Insights and why they matter.
Impressions
How total views that your Story received. This is mostly a surface-level metric to track: as your follower-count grows, so should your impressions.
Reach
How many unique Instagram accounts viewed your story. This can help you understand what percentage of your audience is engaging with Stories alongside non-followers.
Taps Forward
How many times someone tapped your story to skip a post. This can be viewed as a sort of bounce rate.
Taps Back
How many times someone went back to view a previous Stories post. Taps back indicate that your post was of particular interest and worth seeing twice.
Replies
How many times a follower or viewer replied to your Story. This metric doesn't mean much out of context but can serve as a sort of conversion rate if your Story has a reply-specific call-to-action.
Swipe Away
How many people swiped away from your Story. This can also be seen as a sort of bounce rate, but also might signal that someone wasn't interested in finishing your story.
Exits
How many people left your Story to go back to their main Instagram feed. This metric is notable if someone leaves a series of Stories posts, indicating again that they weren't interested in seeing the entirety of your Story.
There are also response metrics available for features such as Stickers and Polls which are pretty self-explanatory. Instagram doesn't currently have native analytics available for Swipes Up, although you can track swipes via UTM parameters in Google's campaign link builder (which we'll cover shortly).
Paid Instagram Stories KPIs
From lower cost-per-click to cost-per-acquisition and beyond, Instagram themselves cite a variety of data-backed benefits of why Stories ads work so well. Here are some ad-specific metrics to consider in addition to the organic ones above.
Swipe Up
How many times someone swiped or essentially tapped through your ad. Think of this as your ad's click-through rate.
Cost-Per-Click
The monetary value of the aforementioned swipe up or click-through. This is obviously something to keep an eye on during and after a campaign to help break down your ROI from running Stories Ads.
Conversion Rate
How many people converted as a result of your Stories ad. Improving your conversion rate means having a comprehensive understanding of each element of your Stories including creatives, calls-to-action and so on.
And hey, that leads us directly to our next section!
How to streamline stories reporting and dive deep into your data
Now that we've talked about the metrics themselves, let's talk about how you can make the most of them.
The data baked into Instagram Insights and Ads Manager is certainly helpful, but those metrics aren't the be-all, end-all of what you can learn and report on. Below are some tips and resources that'll allow you to take a deep-dive into your data and integrate it into your existing marketing reports.
Go beyond Instagram's native reporting options
As noted, Instagram's native reporting leaves a lot to be desired.
For example, organic and paid analytics are reported in separated platforms. If you're running ads alongside organic stories, it makes sense to look at both data sets together for a more holistic understanding of your Instagram presence.
That's where tools like Supermetrics' Instagram Insights connector can be a game-changer. Connecting organic and native analytics saves you serious time by keeping you from bouncing between platforms.
Additionally, the Supermetrics platform measures your Story performance in addition to demographic data, engagement over time and top-performing content. With all of your data in one place, you can immediately assess which posts are scoring the most engagement without second-guessing. If you want to use the template pictured below, you can grab it here.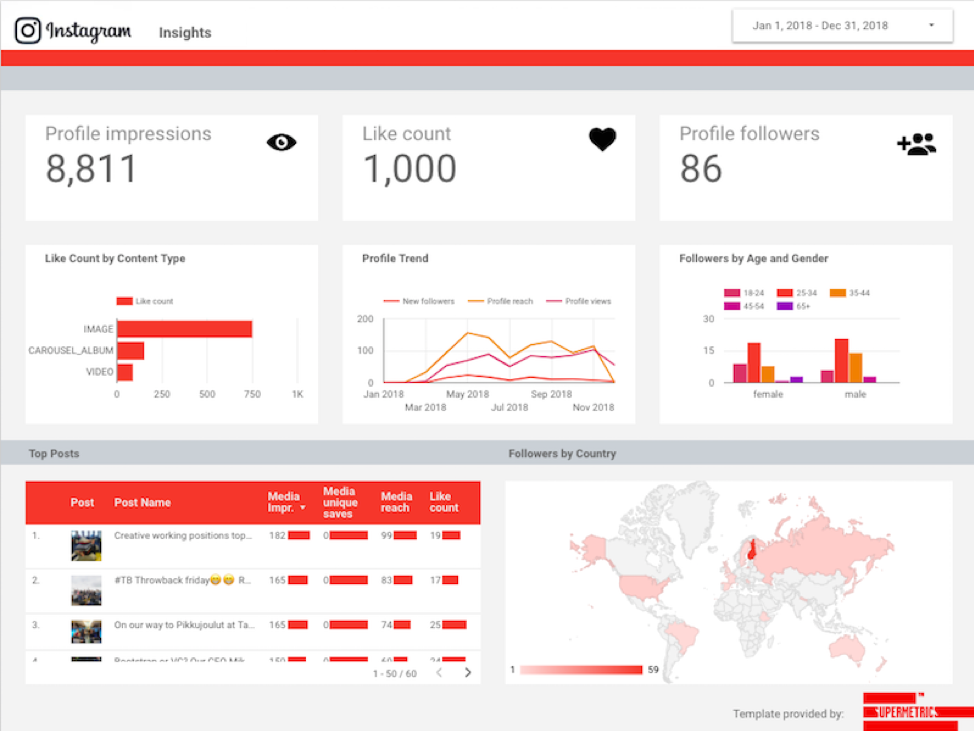 Oh, and don't forget that Supermetrics enables you to export your data into a single report via Google Sheets, Google Data Studio, and Excel among others.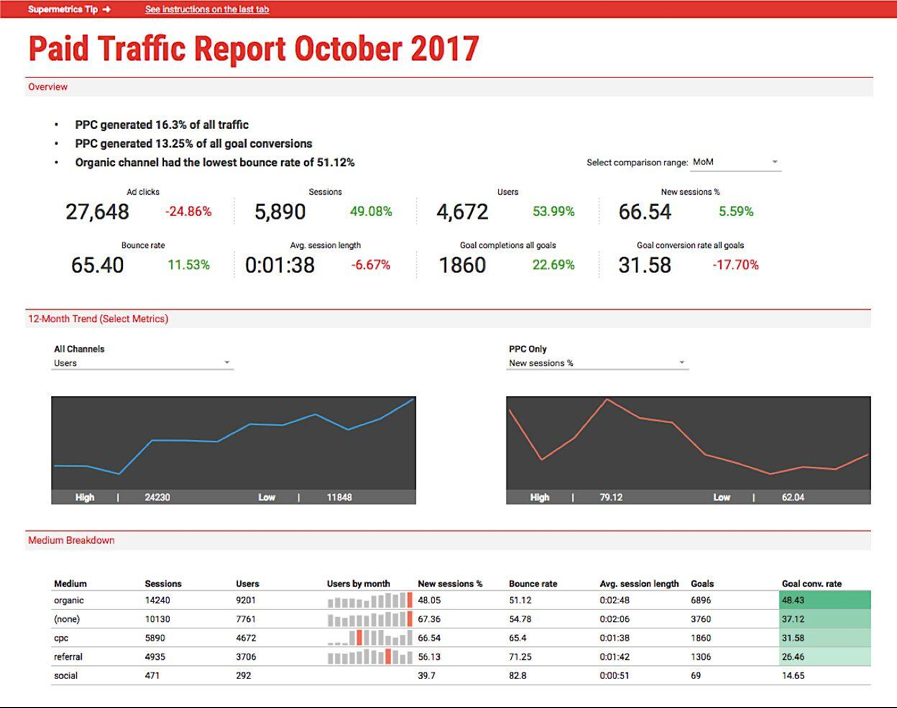 Set up UTM link-tracking in Google Analytics
As we mentioned earlier, tracking link clicks in Stories means setting up UTM link-tracking.
In short, you can assign a custom URL to your links that allow you to follow your followers' behavior via Google Analytics once you click-through. This allows you to assess top-performing posts and promotions in Stories.
Setting up a tracking link is fairly straightforward in Google's Campaign URL builder. Google recommends step-by-step how to label your link based on a destination URL and the details of your campaign.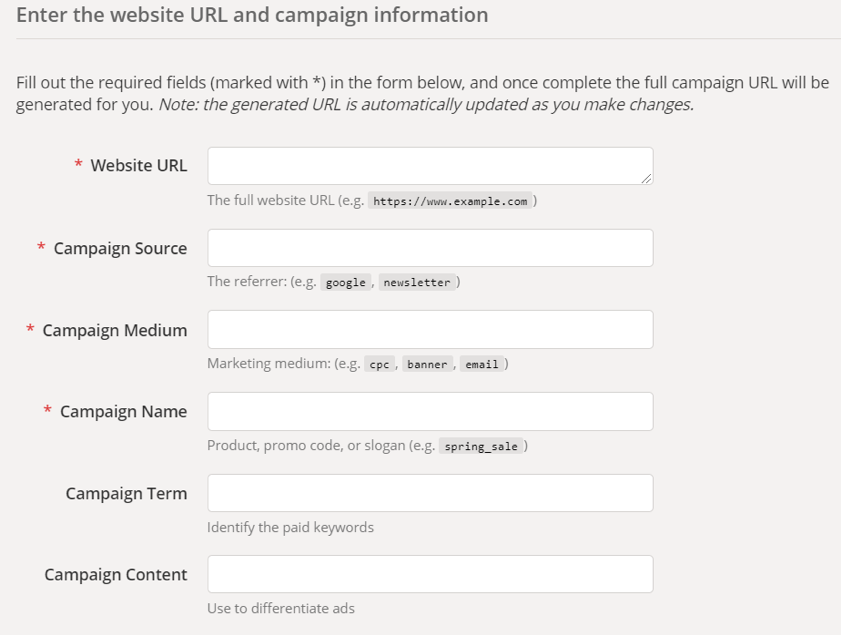 Then, Google spits out a tracking link based on your parameters.

Mind how you label your campaigns
Lastly, make a point to match your Story-specific campaign names to the ones that are already present in Google Analytics.
Doing so makes it easier to track and report on your campaigns. Specifically, this allows Supermetrics to combine on-site behavior data (such as bounce rate or session duration) within your reporting using combined data sources.
Ready to step up your Instagram Stories analytics & reporting?
As Instagram continues to roll out new features and the Stories platform continues to grow, analytics and reporting will only become more important to businesses.
Putting your data under the microscope is key to understanding which tactics are working and how to score a better ROI from your Stories.
Knowing your metrics and what they mean is only half the battle. The other half is streamlined, actionable marketing reporting which goes beyond Instagram's native analytics.
Having your organic and paid Stories metrics side-by-side makes it easy to analyze your overall Stories performance. With the help of tools like Supermetrics, the experts at Hello Social, and link-tracking via Google Analytics, you can better understand how your followers behave the business impact of your Stories.
About Simon Pilkington
Simon Pilkington is the digital marketing manager for Australian social media agency Hello Social. With almost a decade of experience working as a technical marketer, he specializes in creating and executing online growth strategies for international organizations.
Turn your marketing data into opportunity
We streamline your marketing data so you can focus on the insights.