Mar 11, 2021
Instagram competitor analysis: 5 steps to analyzing your competitors' performance [template included]
8-MINUTE READ | By Joy Huynh
[ Updated Oct 4, 2023 ]
TL;DR If you'd like to kick-start your Instagram competitor analysis right away, feel free to swipe our Instagram industry insights template. For more tips on analyzing your competition, keep reading.
Have you ever looked at your competitors' Instagram accounts and wondered how they get all that engagement? What's their secret?
There's only one way to find out: performing a competitor analysis.
In this post, I'll show you how to conduct an analysis to keep up with trends and stay on top of the competition on Instagram.
All you need is a 5-step checklist for analyzing your competitors' performance and a template to get started. Sounds good?
Fast forward:
What is an Instagram competitor analysis?
Competitive analysis is the process of researching and evaluating competitors' strengths and weaknesses in comparison to your own. Typically, this requires analyzing all the ins and outs of your competitors' business — including company overview, go-to-market strategy, pricing strategy, etc.
Before you freak out, nope, Instagram competitor analysis isn't that complicated. All you have to do is figure out your competitors' audience engagement, content performance, and hashtag strategy.
We'll talk more about this in a bit.
Why should you do an Instagram competitor analysis?
For newbies, looking at your neighbors helps you lay your Instagram strategy foundation. So, instead of reinventing the wheel, you can learn from your competitors' success.
For veterans, keeping an eye on your competitors allows you to stay on top of new trends.
Simply put, performing an Instagram competitor analysis helps you:
Benchmark your performance against the industry standard
Stay on top of industry trends
Improve your Instagram content strategy
Identify opportunities to outperform your competitors
Now that you know the what and the why, let's see how you can do an Instagram competitor analysis.
How to do an Instagram competitor analysis
You can do an Instagram competitor analysis in five steps:
Step 1: Identify your competitors
Step 2: Collect data on your competitors
Step 3: Set up a report
Step 4: Analyze the data
Step 5: Rinse and repeat
Let's take a look at each step.
Step 1: Identify your competitors
To kick things off, you first need to decide who you want to analyze on Instagram. The competitors you pick for analysis will determine the insights you get in the end, so choose wisely. You'll want to include 3-5 competitors, including big and small, direct and indirect competitors.
Additionally, you want to focus on the ones who are actively using Instagram to grow their business.
Besides monitoring competitors, I like to include one industry leader or curator account to stay on top of new trends. For example, for a clothing brand, you can follow accounts like Vogue, Dior, or Pantone, etc., for inspiration.
Next, let's take a look at different ways you can find competitors on Instagram.
Search for accounts
You can search for your competitors using the Instagram search.
Let's say you're managing a sustainable clothing brand. You can plug your keywords into the search bar and check under the "Account" tab. In this example, I'm using 'sustainable' as my keyword.
You'll see a list of accounts with 'sustainable' included in their accounts or profile descriptions. From here, you can easily choose which profiles you want to keep tabs on.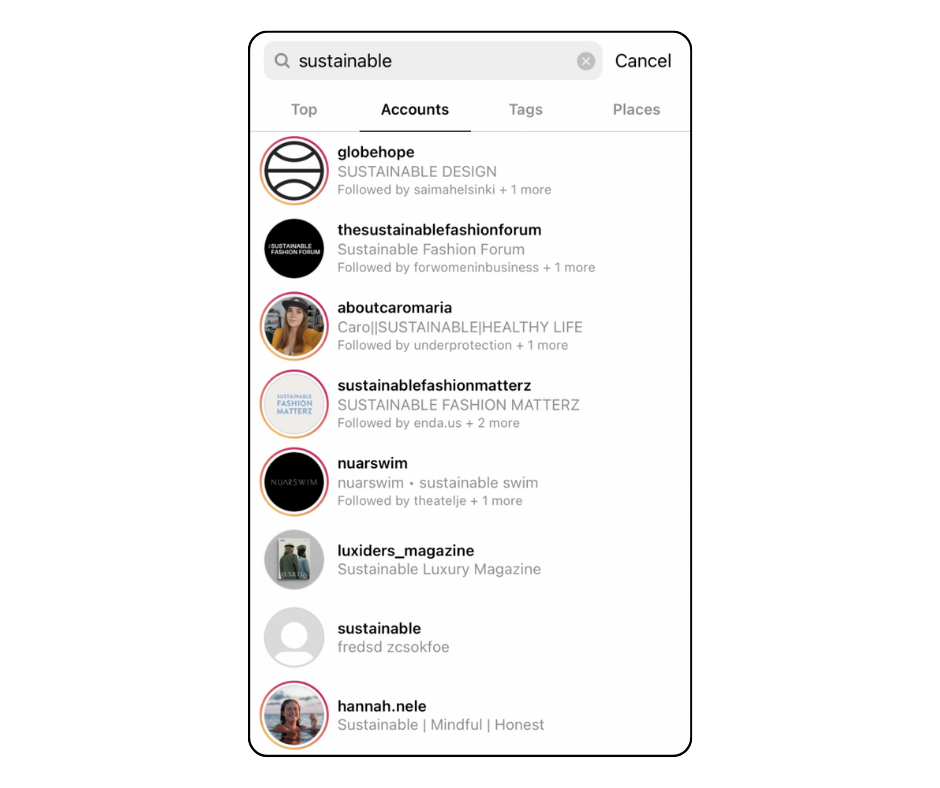 Search for hashtags
Here, instead of checking the results from the 'Accounts' tab, you'll want to explore 'Tags.'
You'll see a list of hashtags that include 'sustainable.'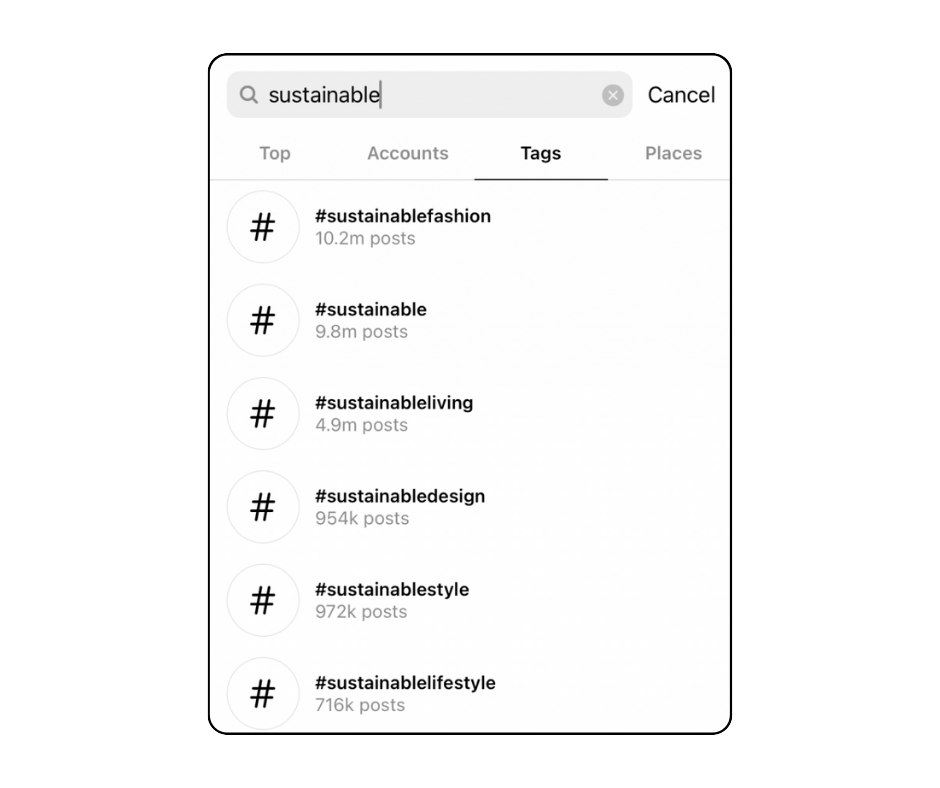 Each hashtag will show you a bunch of posts from different accounts. From here, you can decide which competitors you want to follow.
Tip 1: You'll see what hashtags people actually use on Instagram. You can include these hashtags in your posts to increase organic reach.
Tip 2: You can also use these hashtags to look for new influencers for your brand.
Suggested for you
Another way to find your competitors on Instagram is to check the "Suggested for you" tab on your profile.
In your profile, click the drop-down sign. You'll see other accounts that offer similar products or services similar to yours.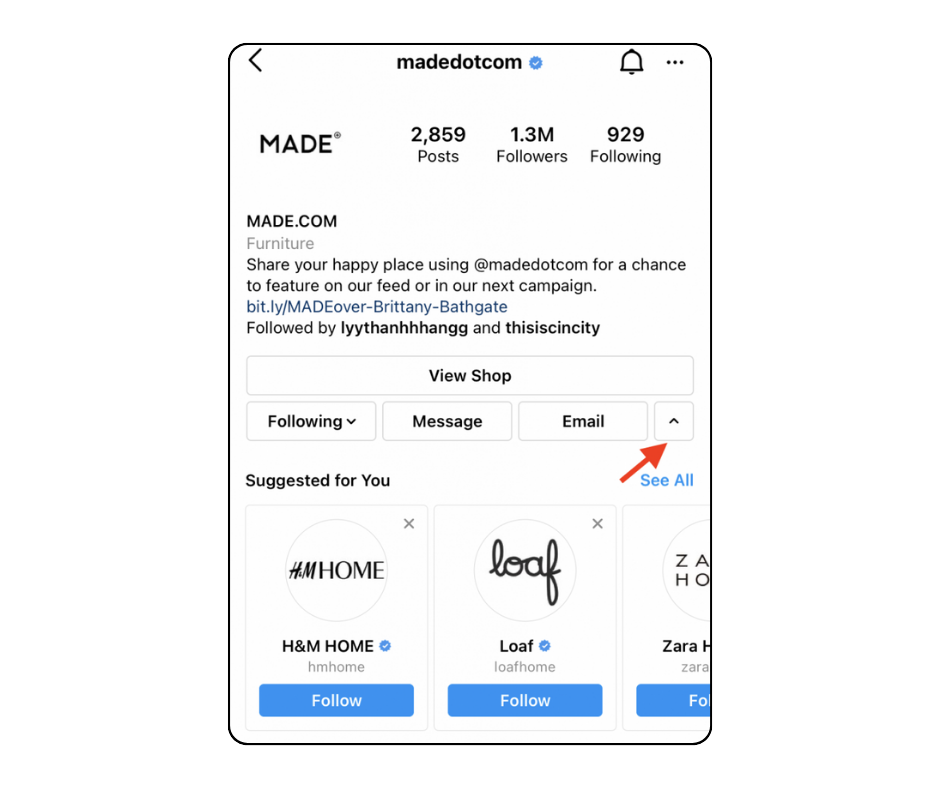 Step 2: Collect data on your competitors
Now that you have a shortlist of your competitors, it's time to collect some data.
Typically, you'll want to see how your competitors perform in these areas: followers, content, engagement, and hashtags.
Followers
Follower count is a good metric for measuring brand affinity. You can compare your followers to those of your direct competitors to understand how well-liked your brand is in comparison.
You can look at:
Follower count: the total number of followers your competitors have
Follower growth: how fast their followers are growing
Rather than looking merely at the follower count, you want to understand how fast your competitors' Instagram account is growing.
Content performance
Analyzing your competitors' content helps you identify the gaps in your own Instagram content strategy and find room for improvement.
You'll want to track:
Post count: the total number of posts on your competitors' accounts
Posting frequency: how often your competitors post on Instagram
Types of posts: this includes static images, videos, carousels, etc.
Engagement
Next, you'll want to understand how your competitors' audience engages with their content.
Engagement rate: the number of engagement actions divided by impressions
Engagement per post: the total number of engagement actions on each post
Hashtags
You've probably noticed that hashtags are everywhere on Instagram. Many brands use hashtags to boost organic reach and monitor brand sentiment. You can take a peek at your competitors' hashtag strategy by looking at:
The number of hashtags per post: the total number of hashtags they use in a post
Popular hashtags: what their brand hashtags are or any specific hashtags they use
Step 3: Set up a report
After step 2, you'll end up with a good amount of metrics in your basket. It's time to put those metrics together in a report.
You've probably noticed that at Supermetrics, we keep raving about Looker Studio for data visualization. The tool is super easy to use, and it has a ton of charts and graphs you can use for your report.
Here's the best part: you can use Supermetrics to automate data to your Looker Studio report. All it takes is just a few clicks.
To save you some legwork, we've created an Instagram industry insights template for Looker Studio.
I'll quickly explain what you'll find in this template.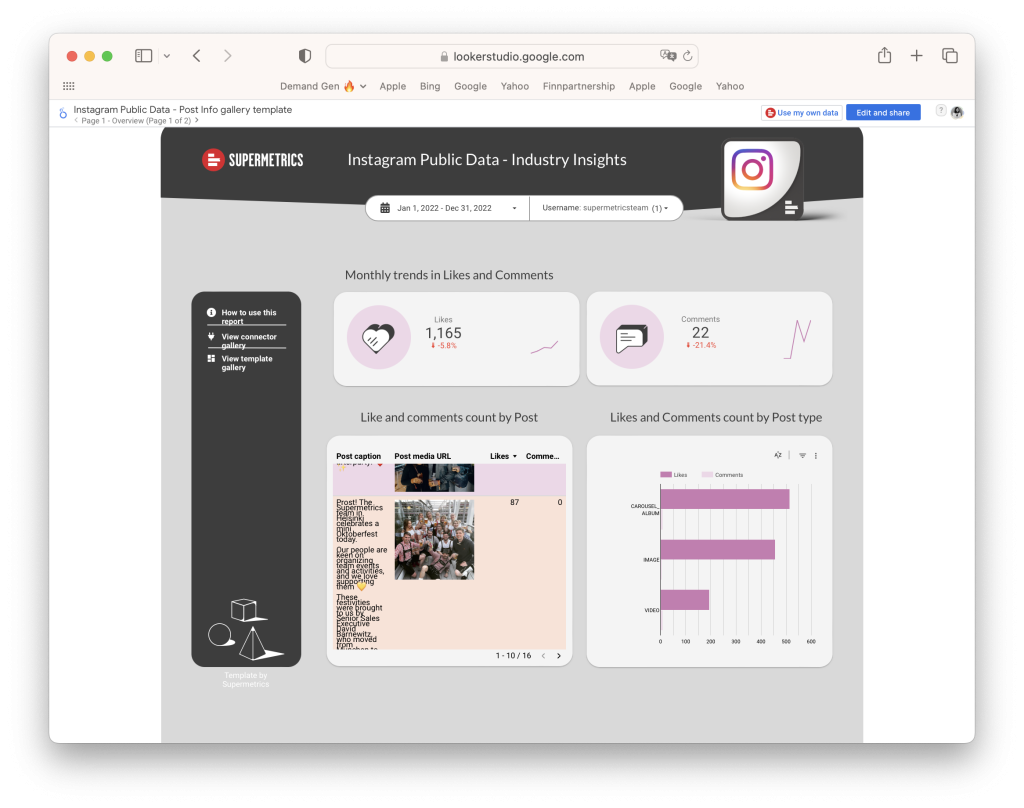 First, you can select the date range you want to monitor and choose which competitors you want to track in the drop-down menu.
The Instagram industry insights template helps you:
Compare your performance against industry standards
Analyze your competitors' top-performing posts.
Identify opportunities to outperform your competitors
You'll find scorecards and sparkline charts showing how many likes and comments your competitor has and how the number has changed over time at the top of the dashboard.
Next, we included a table showing their best posts. From here, you'll see post caption, post media URLs, and how many likes and comments each post has.
And finally, you'll find a bar graph showing the best post type. From here, you can tell what kinds of posts work best for your competitors.
Step 4: Analyze your data
Now that you have a good report in place, it's time to analyze your data and put the insights to good use.
Some questions to ask yourself:
How does your Instagram performance look compared to your competitors?
What content works best on Instagram?
What hashtags work best for your industry?
Are there any industry trends worth noticing?
Let's say your competitors repurpose their blog content into Instagram carousels, and they generate insanely high engagements. If this is something you haven't thought of, it could be a good idea to add it to your content mix.
Or, if you notice a spike in your competitors' follower count, you can check if they've done something different lately. Maybe they're collaborating with popular influencers. Or perhaps they're running a giveaway campaign that encourages people to follow their accounts.
Another good way to analyze your competitors' accounts is to look at their hashtag strategy. You may find some new hashtags to use in your next posts. Alternatively, you can monitor your competitors' hashtags to see what their brand sentiment is.
Step 5: Rinse and repeat
Each analysis has a specific goal. Feel free to create a new dashboard to keep track of different product segments or regional competitors. And remember to come back and look at new data over time so you don't miss new competitors and new trends.
Getting started with the template
If you'd like to try out the template, here's how you can do that.
First, open the Instagram industry insights template. Then click 'Use my own data.'
Next, under the 'New data source' field, click the drop-down menu and choose 'Create new data source.'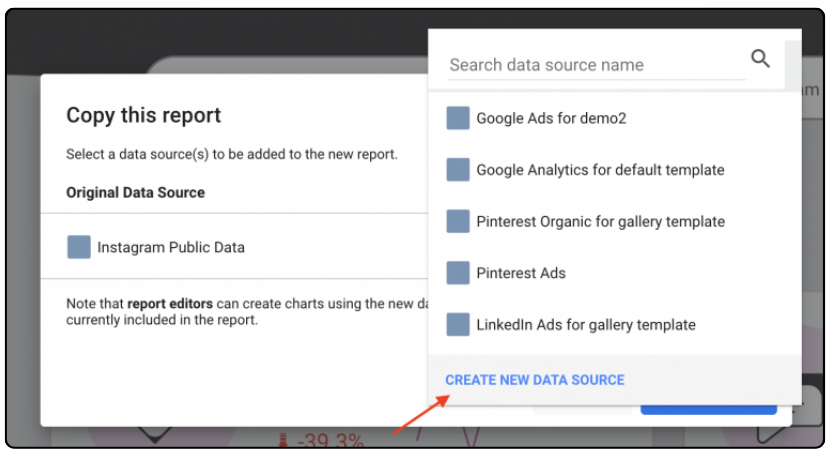 In the connector gallery, search for a connector called "Instagram Public Data by Supermetrics."
Next, complete the two-step authorization and give Supermetrics all necessary permissions.
Psst, by authorizing your account for the first time, you'll start a free 14-day trial of Supermetrics for Looker Studio.
Next, select 'Profile posts' under the 'Query type' drop-down menu, then click 'Next.'
There are three query types you can use:
Profile info: returns the basic account info such as followers, follows, posts, username, Instagram ID, etc. You can easily track follower growth and the posting frequency of selected accounts.
Profile posts: returns basic post metrics such as profile info, likes, comments, post URL, image URL, etc. You can find and analyze the top posts of your competitors' accounts.
Post search: pulls data related to a specific hashtag, such as post caption, post URL, likes, comments, etc. You can follow monitor hashtags that are relevant to your brand.
Even though the Instagram industry insights template uses the "Profile posts" query, you can choose the query you want and tailor the template to your needs.
In this window, enter the Instagram profiles you want to track. Use a comma to separate each profile.
Once you're done, click 'Connect.'
Now, click on 'Add to report.' → 'Copy report.'
And you're done. Your Instagram industry insights report is ready to use. Pat yourself on the back.
If you want to share the report with your teammates or clients, simply click 'Share' and enter their email addresses.
Wrapping up
Instagram competitor analysis is all about comparing your competitors' performance against yours. With the help of Supermetrics, you can easily find useful insights and inspirations to brush up on your Instagram account.
If you have any questions about the template, let me know on LinkedIn or Twitter.
Happy reporting!
Stay on top of your competitors
Use this Instagram Public Data template to keep tabs on your industry and new trends
Get it for free
About the author
Joy Huynh
Joy is the Demand Gen Coordinator at Supermetrics. Together with internal and external experts, Joy helps businesses get rid of the data chaos and turn marketing data into opportunity.
Turn your marketing data into opportunity
We streamline your marketing data so you can focus on the insights.