Oct 14, 2022
Marketing trends and inspiration: prepare for peak season
11-MINUTE READ | By Elise Dopson
[ Updated Oct 4, 2023 ]
You're a busy marketer already strapped for resources to implement the marketing strategies you pitched months ago.
To make matters worse, your boss asks, "What's the plan for peak season this year?" and you freeze. You can't take your eye off the ball and let short-term marketing suffer, but you also can't afford to lose out on sales when shoppers are in the mood to buy.
Keeping on top of trends and finding fresh inspiration is tough for marketers, but even more stressful during peak season.
In this guide, we'll share how to uncover marketing trends and inspiration fast—so you don't have to feel like a deer in headlights. Instead, you'll enter peak season with a data-backed strategy most likely to achieve business goals.
Skip ahead >>
What is peak season?
Peak season is the busiest time of year for your business. It's the period when customers are most likely to buy.
Peak season largely depends on the product you sell and the type of person buying it. An ecommerce business selling Christmas trees will have its peak season in November and December. Marketing agencies, however, might see an uptick in the first quarter of the year when businesses are ramping up spend to implement a new strategy.
However, there are some commonalities between peak seasons across the board. The Black Friday, Cyber Monday weekend is the busiest shopping season of the year. Agencies, ecommerce merchants, and SaaS companies take advantage of the $207 billion consumers spend throughout the weekend with flash sales and promotions.
Why is keeping tabs on the latest trends in marketing important during peak?
Peak season can feel like a free-for-all. Some businesses make the bulk of their entire annual turnover during that time, forcing them to put their all into marketing and sales to make hay while the sun shines.
Keeping up with trends often falls to the wayside. Marketers are so caught up in customer acquisition that the long-term business strategy falls behind. Then, when peak season is over, they start from scratch. They didn't spend time monitoring trends that would deliver a sustainable revenue stream once peak season ends.
Max Benz, Founder and CEO of BankingGeek explains, "As a marketer in a peak season industry, I've experienced firsthand the phenomenon known as peak panic. This is the feeling of anxiety and stress that comes from trying to keep up with the demand during the busiest time of year. It's a very real phenomenon, and it can be extremely debilitating."
Where to find inspiration for marketing campaigns during peak season
Staying on top of trends isn't something that should fall on the back burner as peak season approaches. These four data sources make trend-spotting more manageable, so you can act on insights and lean on them once peak season starts.
1. Look at your own historical data
The marketing strategy you've implemented in the past can help uncover emerging trends. Use quantitative data such as:
Marketing data, such as sales conversion rate by channel, social media engagement rate, and email marketing opt-in conversion rate.
Sales data, such as product/service conversion rate, average order value by source, and best-selling SKU.
Zero-party data contributed by your audience directly, such as quiz polls or survey results.
Website analytics, such as the highest-converting landing pages, those with a high bounce rate, and most popular exit pages.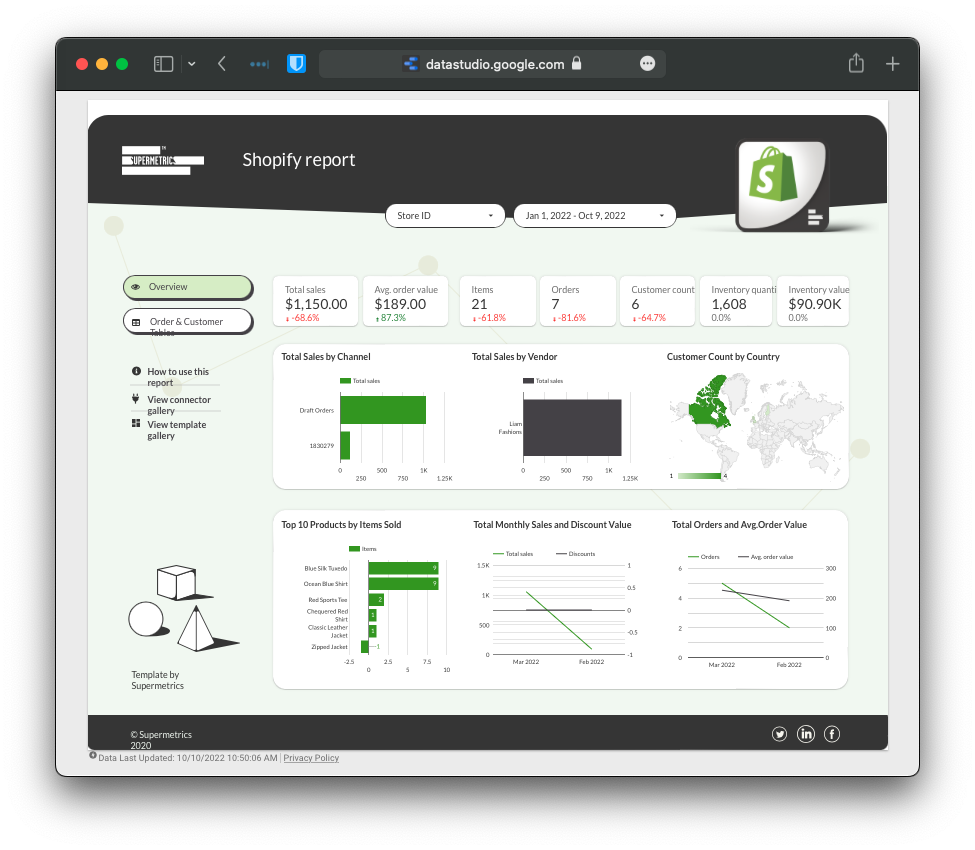 Combine this with qualitative data—words, phrases, and emotions your customers experience when interacting with your brand.
Richard Clews, Founder of Pants and Socks, says, "For internal data mining, we use Hotjar session recordings to look at how our users are interacting with our ecommerce store, and what type of landing pages are functionally driving sales."
2. Analyze industry trends using public data
Don't limit your trend research to your own data. Internal data can be your secret weapon, but looking at any data source in silo can quickly paint the wrong picture—especially if you're a smaller organization lacking in data.
Rely on public data sources to clarify your data and spot trends before they impact your business. That includes:
If you're looking for affiliate marketing trends, for example, use Google Trends data to discover which search terms are increasing in popularity. The Google Trends overview dashboard shows interest in football content peaks around transfer deadline season.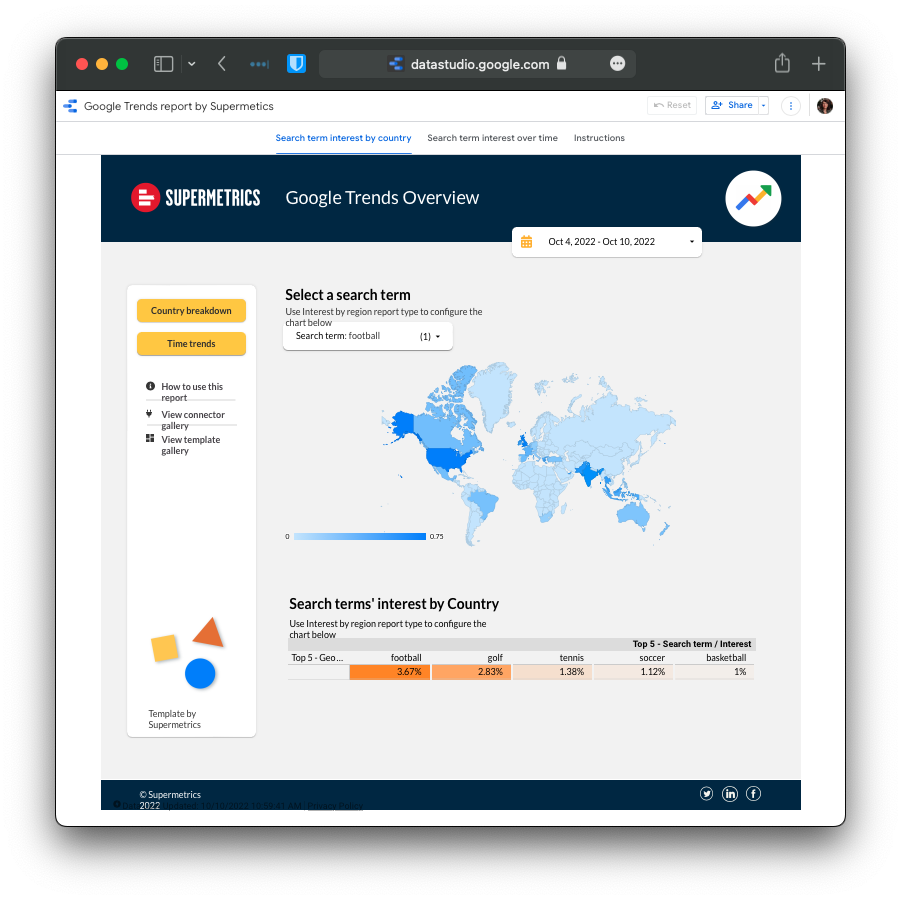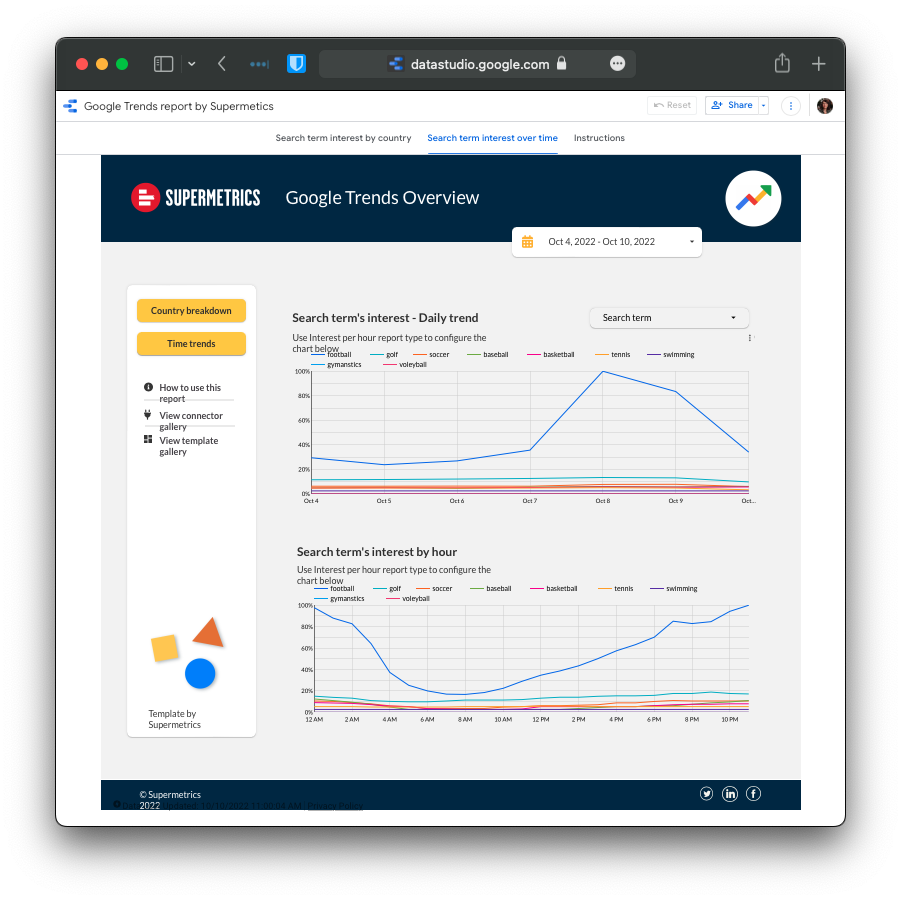 If SEO is your main traffic driver, it makes sense to target deadline season-related keywords a few months before that uptick, and re-optimize old URLs with new, fresh transfer news. It'll root your content in search engines and prove to Google that your website is still relevant for those search terms once they peak.
3. Dig into competitor data
Competitors often guard their sensitive data to prevent other companies from using it to their advantage. That doesn't mean competitive analysis is off the table entirely.
Use public data about your competitors to spot trends they've used during busy seasons. This could be as simple as evaluating their Instagram marketing strategy post-peak season, answering questions like:
How many followers did they gain throughout the last BFCM weekend?
What's the average engagement rate for content posted during peak season?
What themes are they focusing on in the lead-up to that season this year?
You might find that Klarna-related Instagram posts have a 2.6% engagement rate, compared to 1.56% for influencer-curated content. That's a stark difference, building a hypothesis that putting buy now, pay later payment methods at the forefront of your own marketing strategy will improve social media engagement.
"With Supermetrics, a lot of users would focus on the data sources and the ease of use with the connectors," says Lachezar Arabadzhiev, Founder and CEO, SkildLabs.
"But one very, very interesting example is that Supermetrics has public connectors. That's data that's available on various social media platforms which could be extracted with a simple connector. So if you want to do competitive analysis or focus on a specific cluster of data that's valuable to your business, you can do it easily by connecting it with Supermetrics.
Lachezar adds, "The data is public, and you can draw that into Google Data Studio in a matter of a few clicks."
4. See where your customers overlap with what's trending
It's all well and good to uncover trends happening in your industry. But if your target market doesn't engage with them, investing time and effort into capitalizing on the trend can drain an already-limited budget.
Compile your trends list and rank them in order of importance for your customers. Focus on those with the highest chance of ROI.
For example: putting this data together, you find that social media users have the highest website conversion rate. They're most likely to purchase heat-retaining coffee mugs.
Post-purchase feedback surveys say they do so because they watched a TikTok video from a hiking creator who endorsed the product, saying it kept their coffee warm after climbing a summit. Google Trends data also shows the word "hiking" began to increase at the start of the pandemic.
All of this data indicates hiking is becoming an increasingly popular activity. So, diversify your marketing strategy once the peak season rush ends. Partner with more hiking influencers and monitor whether the trend is a smart one for your business to continue capitalizing on.
As Richard Clews, founder of Pants and Socks, summarizes, "Sometimes we focus too much on technology, especially with keywords, but surveys and customer interactions are the most important source of uncovering trends or finding ones that will stick long enough for you to take advantage."
How to implement marketing trends during peak season
You've uncovered trends that'll see you through peak season and beyond. The real question is: how do you share those insights with your marketing team? And more importantly, how can you quickly act on those insights to increase revenue?
Sync your insights in a trends dashboard
Don't let the hard work you've put into trend discovery go to waste. Share your insights with the team by setting up inspiration and trends dashboards. You'll keep track of data without the stress of having to check different platforms individually.
Will Yang, Head of Growth, Instrumentl explains, "One tip that has made my life much easier is to create a system where all of my data is centralized in one place. This way, I don't have to export and clean data from multiple platforms. Instead, I can just log in to one platform and get the information that I need.
"You can also invest in a suitable data extraction tool to make it easier to get an accurate picture by automatically extracting data from multiple platforms and visualizing it in one place," Will continues. "This can be a huge time saver, especially if you have to deal with large data sets."
With Supermetrics, you can use public data connectors to move real-time data from each marketing channel into your own customized trends dashboard. Public data sources available include Apple, Facebook, Google Trends, Instagram, Pinterest, Reddit, Twitter, Tumblr, Vimeo, and VKontakte.
Analyze time to execute
Not every trend you uncover can be actionable instantly. Some marketing channels are a slow burn—the strategy you put together might not come to fruition for a few months (or years).
That doesn't mean you should avoid it altogether. Instead, Amanda Thomas, Managing Partner at Konstruct Digital, advises to "Be aware of time to market for specific marketing channels and trends.
"For example, if you're four weeks out until Christmas, and you notice a new trend, SEO might not be the correct channel to execute depending on how competitive the trend is. It just might not be possible to rank in time to have a benefit."
Separate fads from trends
A trend is something with long-term staying power. A fad, on the other hand, appears like a trend—but disappears as quickly as it became popular.
For this reason, Giacomo Piva, CMO, and Co-founder of Radical Storage, says, "Our number one tip is to recognize those trends which are here to stay and those which aren't.
"Social media trends especially can sometimes surge and then disappear within hours. However, the monitoring of larger industry trends enables us to see how consumers are adapting and how we, as a travel brand, may reflect that.
"Marketers should be aware that there's a very real risk of being burnt out in the attempt to respond to every passing trend," Giacomo adds. "Know what is relevant to you and what isn't."
Be realistic
Marketers are especially resource-strapped. According to MarketingCharts, three in 10 communication executives said not enough staffing was their biggest challenge. Some 26% said a limited budget holds them back.
"One of the most important things is to set realistic goals and expectations," says Max Benz, Founder and CEO, BankingGeek. "Don't try to do everything at once—focus on what's most important and take things one step at a time."
Max also recommends to "Take breaks when you need them and to delegate tasks whenever possible. By taking these steps, you can help minimize the impact of peak panic and keep your business running smoothly during the busiest time of year."
Alleviate marketing stress during peak season
Peak season is a stressful time for marketing teams, especially those already strapped for time and resources.
Use Supermetrics to create customized trends and inspiration dashboards that merge private and public data in one place. Present your findings to the team, and cut the time you spend manually hunting for emerging trends.
You'll spend more time acting on insights that move toward business goals—rather than sourcing them.
About the author
Elise Dopson
Elise Dopson is a freelance writer for SaaS and ecommerce brands and the founder of Help a B2B Writer.
Turn your marketing data into opportunity
We streamline your marketing data so you can focus on the insights.