Jun 11, 2019
Marketing reporting software: 15+ digital marketing tools for SEO, SEM, web analytics, visualization & BI
By Supermetrics
[ Updated Mar 14, 2023 ]
10-MINUTE READ · By Tina Arnoldi
Digital marketers have toolkits to help with both the strategic and tactical parts of their roles. In an earlier post, I talked about marketing reporting best practices to show the progress of your campaigns to both managers and clients. This time I want to cover 17 marketing reporting tools you can use to monitor, measure, and improve your digital marketing efforts for SEO, PPC, web analytics, and visualization & business intelligence.
Navigate this post:
SEO & PPC Reporting Tools
Backlinks – Free
Backlinks do still matter for SEO. Even though not any backlink will do, there are unfortunately still services where you can buy cheap backlinks to build up the number of links to your site. Do not do that because that is not going to help your website. It will likely only hurt you later.
The best place to start when building backlinks is to create a report seeing where you currently are. There are paid tools on the market but one of the freebie ones I like is the backlinks tool offered by Neil Patel. Very quickly you can see how many backlinks point to your site, which sites point to you and your overall domain score. You can also export the results if you want to analyze them further and as well as being free, it does not need any kind of login. Overall, this is a very efficient and effective way to create your own backlinks report.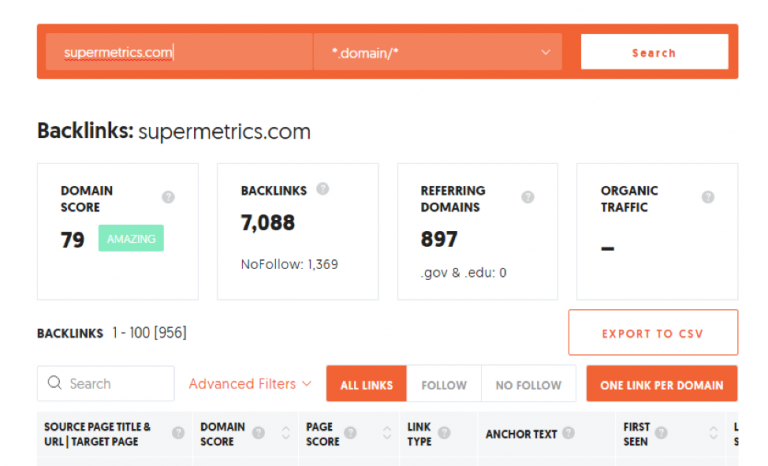 Answer the public – Free with paid upgrade
Answer the Public is an excellent report tool for SEOs and Content Marketers as it takes actual search terms people use and visualizes them into a cloud. The reports organize terms by categories with the types of questions people type into search engines. Below shows the results for the search term of marketing. That is not a word I would suggest when creating content or choosing keywords for your ads because of how broad it is. But this shows you the number of questions that you could end up with depending on what you search.
A one or two-word keyword is worth checking if you are researching a niche or obscure area. The tool allows you to see if it is something that people are even searching on before you create content or run a paid ad. If you have a lot of content projects, you can upgrade to the pro version for $99 a month as needed. This will give you unlimited searches so you can do a lot more than with just the free version.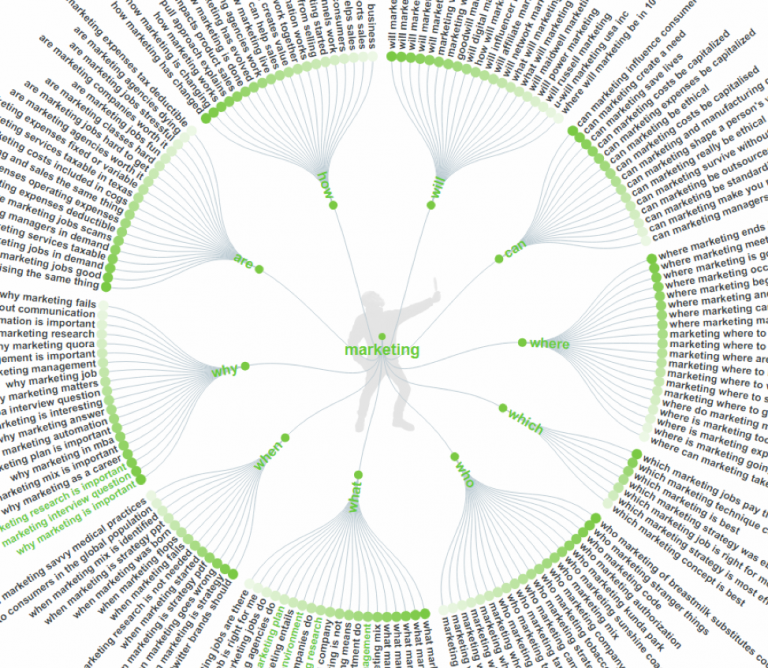 Google Trends – Free
I discussed Google Trends in an earlier post about Google Ad campaigns. But the tool is just as valuable for your SEO work because you want to know the keywords people use for both your paid and organic marketing efforts. This tool shows keyword popularity over time so you can see trends for your targeted keywords. Use long-tail phrases to help generate new content ideas.
Keywordtool.io – Free with paid upgrade
It does occasionally seem like Google knows what we are thinking. That is because of the autocomplete feature that you can turn on and off in your browser. But it is a helpful feature to have on, not only to speed up your own searches, but also because it offers insight into how other people search on Google.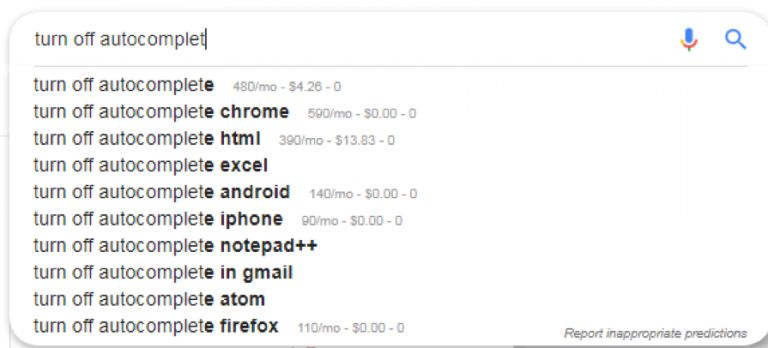 Google states, "We look at the real searches that happen on Google and show common and trending ones relevant to the characters that are entered and also related to your location and previous searches."
Keyword tool.io is a tool that utilizes Google autocomplete. Use it to perform keyword research especially when you need ideas for long tail keywords. The free version is limited and the upgraded version comes in at $199 a month. However, if you do extensive keyword research, it may be worth upgrading to access additional features, such as keyword use across channels.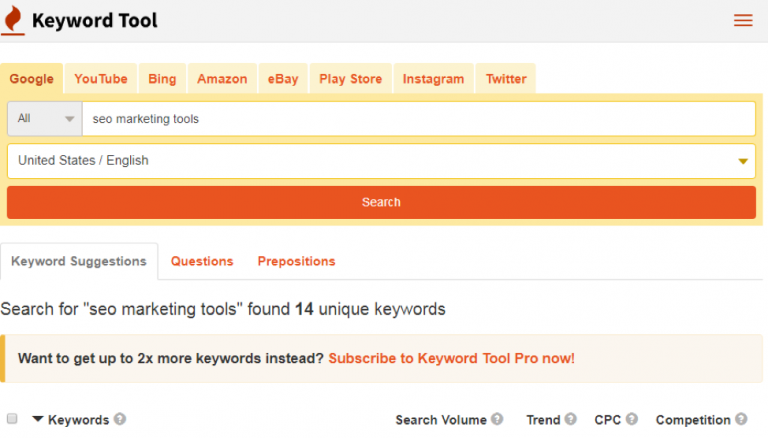 SpyFu – Paid
SpyFu is a resource for both paid and organic marketing research as well as to spy on competitors. You can test it out for free as seen below. Enter your URL to see some basic SEO data. Monitor client sites to see ranking changes compared to competitors and do keyword research for new or existing projects. For newbies, the amount of data is overwhelming so I would not try to tackle every feature available in the platform. Start with some basic marketing reports before experimenting with some more advanced ones.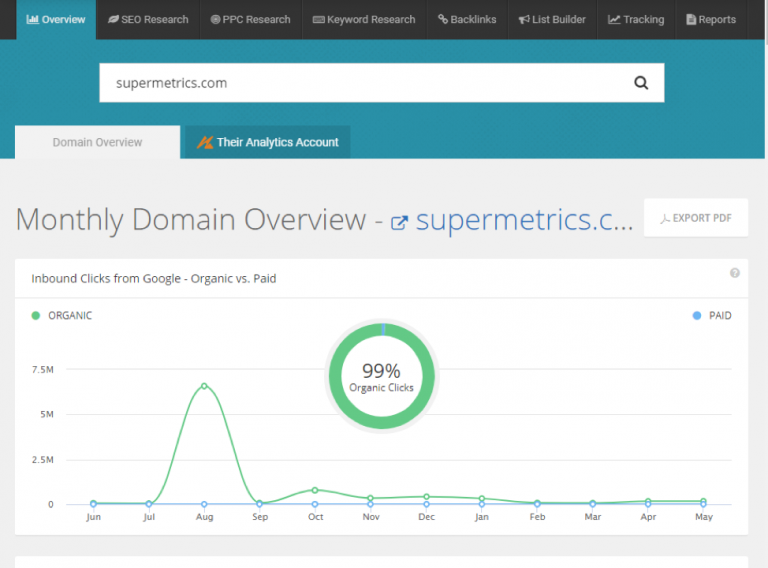 RankTank – Free with paid upgrade
RankTank is a gold mine for digital marketers. There are an incredible number of free tools on here that will let you create multiple marketing reports, as well as upgrades to a paid version for $149 a month.

Much of what you need to do with SEO can be found in this toolkit. In addition to the ones above, they have free tools for getting email alerts about important SEO changes, checking keyword search volume, and conducting a basic SEO site audit. If the pro membership of $149 a month is more than you need, you can make a donation to support the development of their free tools. I like this site for newbies to who may not even know what is possible or what they do not know. Start here to see what is possible.
Ahrefs – Free Trial with paid upgrade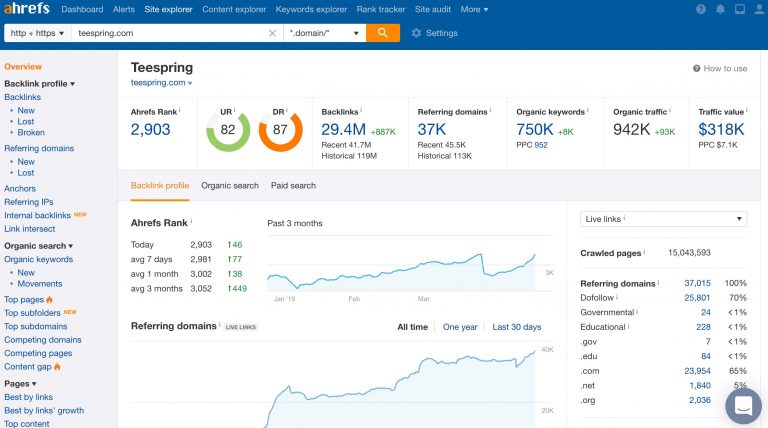 Ahrefs will provide you with a full range of tools for SEO marketers. From keyword research and domain reports to competitor analysis and site audits, Ahrefs is a powerful SEO product that goes well beyond marketing reporting. It has a relatively simple interface where you can enter your website and keywords and it will start returning data back to you fairly quickly. Once that is done, you have a dashboard where you can monitor each one of your client projects to see how their SEO metrics are performing.
SEO Site Checkup – Free Trial with paid upgrade

All SEOs need to do site checkups and this particular SEO tool does exactly that. Like SpyFu, you can take it for a test drive on their website for some basic data. It provides a score on your site along with recommendations on what to improve.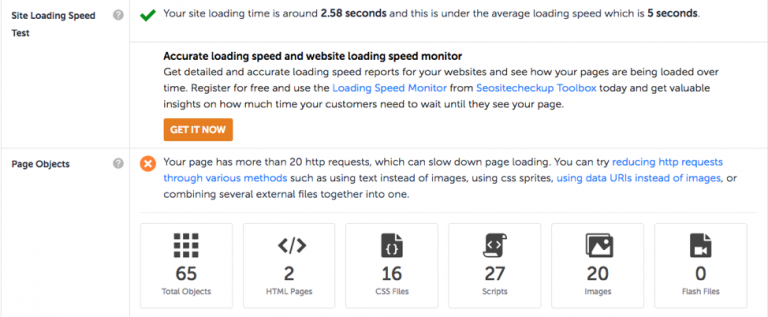 Each suggestion includes an explanation for what it means and why it matters which makes this a nice tool for newcomers to SEO. It is a good tool to start with to see what kind of shape a website is in before tackling an SEO project. More advanced marketers might want to use it in conjunction with another tool.
SEMrush – Paid
SEMrush is not just for paid marketing. It also offers an SEO toolkit to assist with research and reporting. It offers a look into how competitors are doing with SEO which includes the backlinks and the keywords where they rank. Users can get retrieve some data for free once they register or buy an SEMrush subscription which starts at $99.95 a month.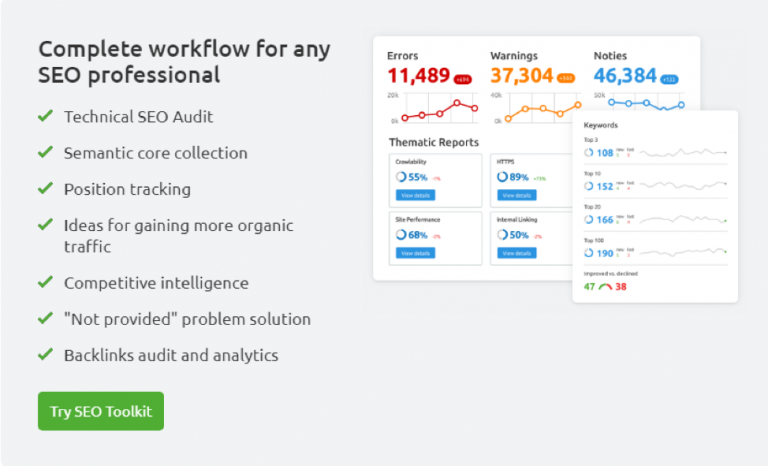 And SEMrush is a powerful tool for people who do more than SEO. Reports are available for paid traffic, social media, content, and market research.
Web Analytics Reporting Tools
Google Analytics – Free
I tell everyone to use this tool unless they are a big data shop using a paid platform. Some of my small business and nonprofit clients neglect this because they only have a couple of staff. They are too overwhelmed with the many hats they wear to deal with one-more-thing. But everyone needs to at least get Google Analytics installed to start tracking data and then learn how to use it later. The data collection is not retroactive so you cannot get data historically.
Once set up, you will want to look channel traffic for organic search to understand SEO performance. When you drill into organic search, you can see which search engines make up organic traffic such as Google and Bing.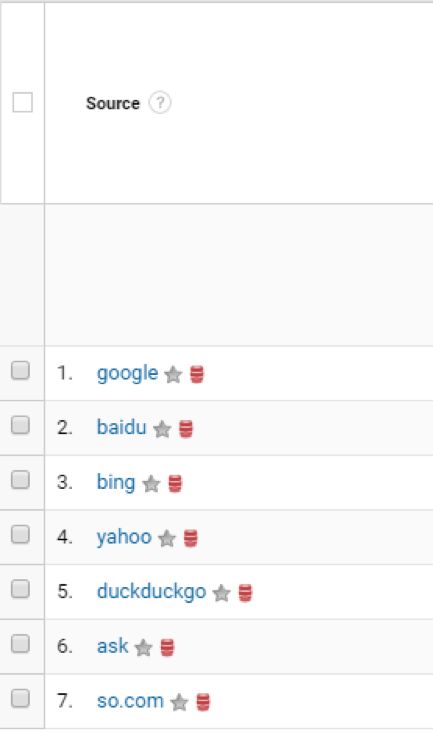 If you are ready to learn more about Google Analytics, there are articles here on the Supermetrics blog or take advantage of Google Analytics Academy which offers free classes to take you through the tool.
Da Vinci Tools – Free
Da Vinci Tools is a recent find for me, created by Stéphane Hamel, a name I have followed for a while in the analytics space. The below screenshot shows the goldmine of information that is available once you add this extension from the Chrome Store. It includes heat maps which make it easy to identify high and low data points and an AB test calculator, and features for Data Studio and Google Tag Manager.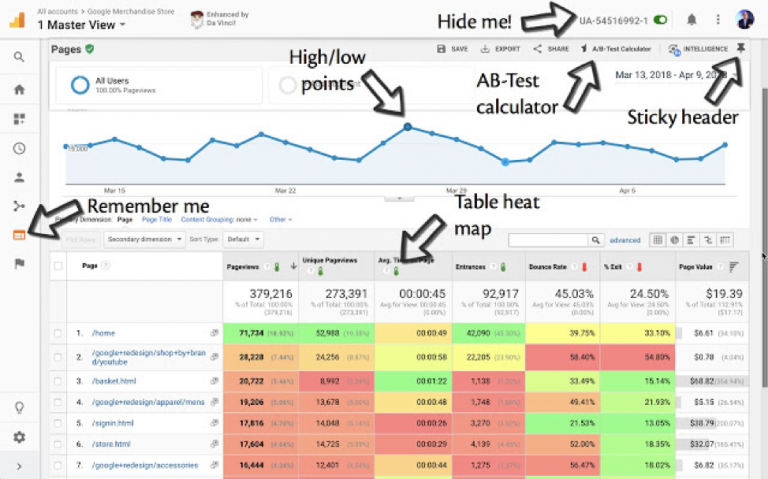 Search Console – Free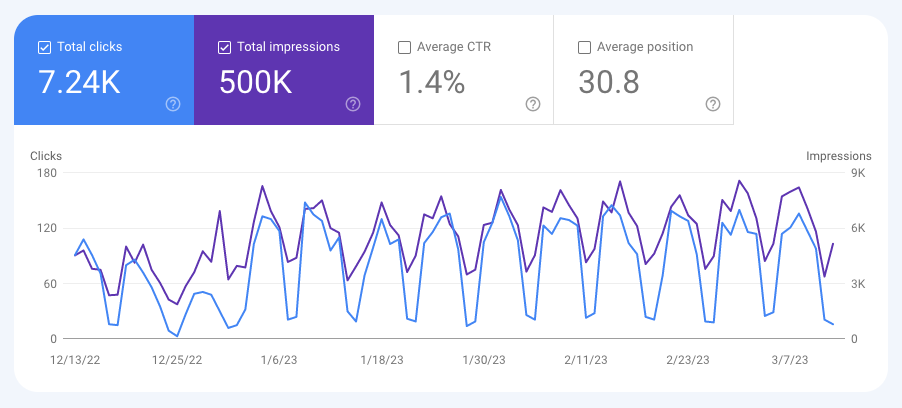 Please tell me you already use the Google search console. If you are not, stop what you're doing and get that set up because that is a must have for everyone who does SEO. Search Console is free and lets you know if Google thinks you are playing well with them or not.
Hotjar – Free with paid upgrade
Hotjar is an excellent product to analyze the performance of your website, understand visitor behaviour, and ultimate improve both the user experience and conversion rate of your website. It covers everything from heatmaps, visitor recordings and conversion funnels to form analytics, feedback polls and surveys all under one roof. It's a valuable reporting tool for marketers, designers, and web developers alike.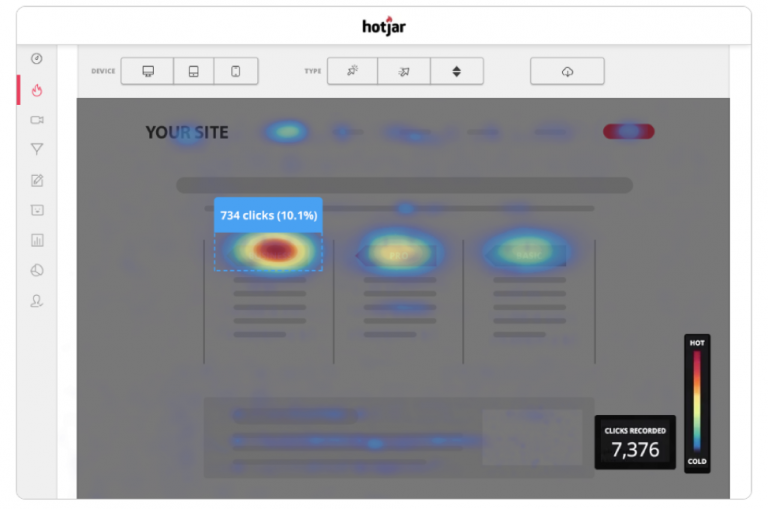 Marketing Visualization & BI Tools
Google Data Studio – Free
Google Data Studio is part of the Google Marketing Platform that will turn your data into interactive dashboards and marketing reports. You can connect data from Google products such as Google Sheets, Google Analytics, Google Ads, and Google BigQuery. Then with products like Supermetrics, you can connect data from all your marketing platforms including Facebook, Instagram, Twitter, and more. It's free to get started and you can also try Supermetrics for Data Studio with a 14-day free trial.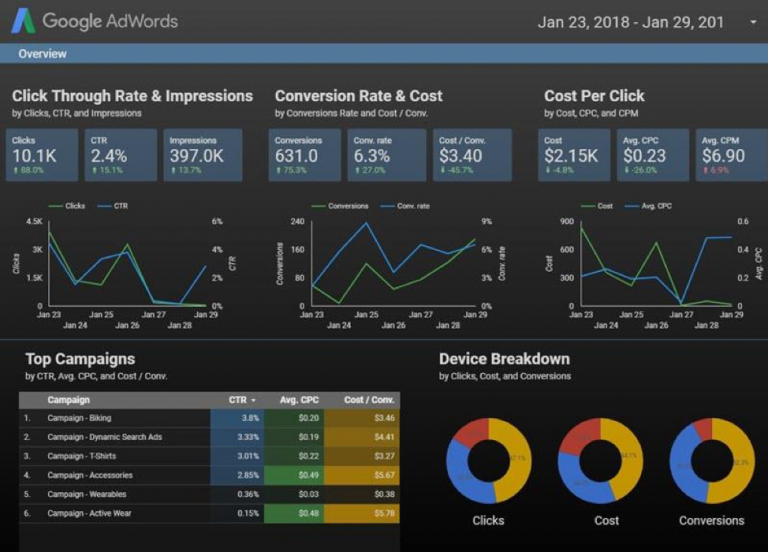 Cumul.io – Free Trial with paid upgrade
Cumul.io lets you create interactive charts, dashboard, and reports. There's no SQL editor, which makes it easy to use, but you're still able to create some complex visualizations. A simple four-step process to get started with Cumul.io is to:
Gather your marketing data in Google Sheets through the use of Supermetrics

Connect these Google Sheets to Cumul.io

Build a simple dashboard using drag & drop with up-to-date information at all times

Use your dashboards on a regular basis and modify them as your goals change through time
When building reports like this, make sure to follow these four rules for creating the perfect marketing reporting dashboard.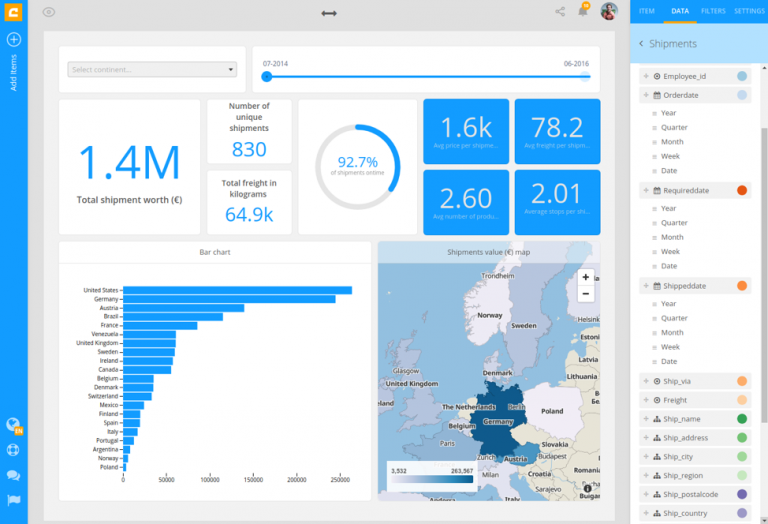 Geckoboard – Free Trial with paid upgrade
Geckoboard is another solid dashboarding product where you can build simple and flexible reports optimized for large TVs around your office. It integrates with many of the major marketing platforms although there are limitations when it comes to customization of dashboards, so you might need a developer to help you out if you'd like something more bespoke. Geckboard, like other BI platforms, is more about visualizing data rather than providing any functionality around analysis and forecasting, but can be very powerful in terms of keeping everyone in your office up to date on performance, not just the marketing team.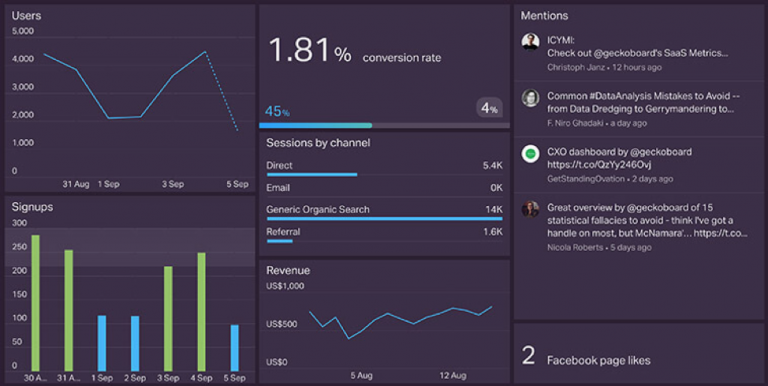 Bringing All Your Data Together
Supermetrics – 14-Day Free Trial with paid upgrade
This post is incomplete if I do not mention Supermetrics. We make it super simple to pull all your marketing data into one place so you can analyze and report on the performance of your marketing. The templates available here at Supermetrics make it easy for you to pull together data into one dashboard, and this is especially helpful when it comes to sharing data with a team that may not have a desire to log into these products to monitor data. The Traffic Dashboard Reporting Template is just one example of the high-level data easily available in the product.
If you want to track and improve your marketing performance, start you 14-day free trial of Supermetrics today!
About Tina Arnoldi
Tina Arnoldi is Analytics and AdWords Qualified and one of the few people in the United States recognized as a Google Developer Expert (GDE) for marketing. Her agency, 360 Internet Strategy, is also a Google Partner. You can learn more about her on LinkedIn.
Turn your marketing data into opportunity
We streamline your marketing data so you can focus on the insights.