Oct 23, 2020
Build a Google Ads budget pacing tool in Google Sheets [free template]
5-MINUTE READ | By Joy Huynh
[ Updated Aug 1, 2023 ]
TL;DR If you want to hit the ground running, take a copy of this Google Ads budget tracker template for Google Sheets. For more tips on how to improve your budget tracking, keep reading.
If you're a performance marketer, you'd probably agree that keeping track of your ad spend is a time consuming and error-prone process.
For one thing, you need to log in your ad platform several times a week or day to make sure your budget is well spent. There's little time for optimizing and improving your campaigns.
But worry not. Because today we're going to show you how to build a Google Ads budget pacing tool in Google Sheets.
This tool will help you:
Stay on top of your spend
Hit your target budget
Let's get started!
Which metrics should you monitor with your budget pacing tool?
The first step to building a budget pacing tool is deciding what data you want to track. To do this, you need to understand how a budget pacing tool works.
In short, it projects your spend based on what you've spent previously and the number of days remaining.
That's why you should keep track of:
Budget: your budget for a given month.
Cost: how much you've spent so far.
Days spent ratio: it shows the number of days that have passed.

For example, if you're on the 18th day of your campaign and there are 31 days in that month, your days spent ratio will be 0.5.
Spend projection: this figure tells you how much you'll end up spending at the end of the month if your daily spend remains the same.

Projection (or budget pacing): this number tells you if you're overspending or underspending and by how much.

If 0 < projection < 90%, then you're underspending and you may want to increase your bids.
If projection > 110%, then you're overspending, you may want to lower your bids.
(In theory, if the projection gives you anything less than 100% you're underspending, and vice versa. But in reality, it's hard to hit the budget exactly so the interval of 90-110% will make our projections more realistic.)
Budget remaining: how much budget you have left.

Daily spend required: how much you need to spend daily to hit your target budget.

Psst! When setting up your budget pacing tool, you might also want to account for differences in ad spend between weekdays and weekends.
Next, I'll show you how to build a report with this data.
Google Ads budget tracker and alert in Google Sheets
The Google Ads budget tracker and alert in Google Sheets consists of two main sections:
Single ad account overview
Budget pacing breakdown by all accounts
Now, I'll walk you through each section.
Single ad account overview
The single ad account overview allows you to see the spend and pacing data of a chosen account.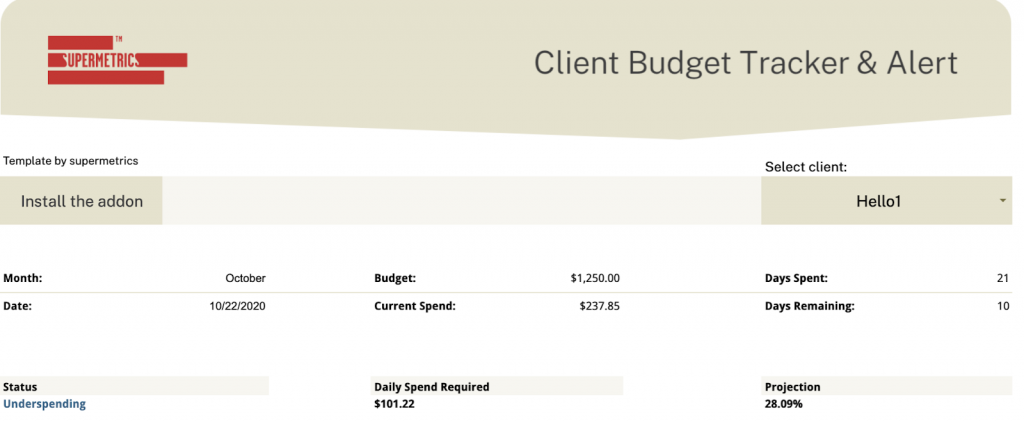 From here, you can quickly spot if you're underspending or overspending, and how much you should spend daily. You'll also see how many days you have left to pace your budget.
You'll see the performance of each account by selecting the one you want to review from the drop-down menu. This is super handy when you just want to see how your accounts are doing without going into too much detail.
The report also shows you which date and month you're currently in. You can use this data to stay alert of any upcoming holidays. For example, if you're running ads through December, you can increase your ad spend in the beginning of the month. Or, if you own a chocolate store, you can increase your bids a week before Valentine's Day.
Next, you'll see a bar chart presenting your current spend and required spend. It helps you keep track of and visualize your ad spend easily.

Budget pacing breakdown by all accounts
This section gives you more granular details into all your accounts.

First, you'll see month and date, total budget, and cost of all your accounts.
Next, there's a table showing detailed insights of your accounts' ad spend. You'll also see how much your accounts have spent so far and how much more you have to spend to reach the target.
To make it easier for you to spot changes, we've added conditional formatting to the projection column. It'll turn yellow if you're underspending, red if you're overspending, and green if you're on the budget. ?
And whenever you're not on the budget, the status column will alert you by showing "Requires attention".
How to get started with this template
Love this template and want to take it for a spin? Here's how you can do it.
First, you need to install the Supermetrics for Google Sheets add-on (skip this step if you already have Supermetrics for Google Sheets).
After that, you can launch the Supermetrics sidebar by clicking "Add-ons" → "Supermetrics" → "Launch".
Next, open and duplicate this template. Click "Add-ons" → "Supermetrics" → "Duplicate this file for another account."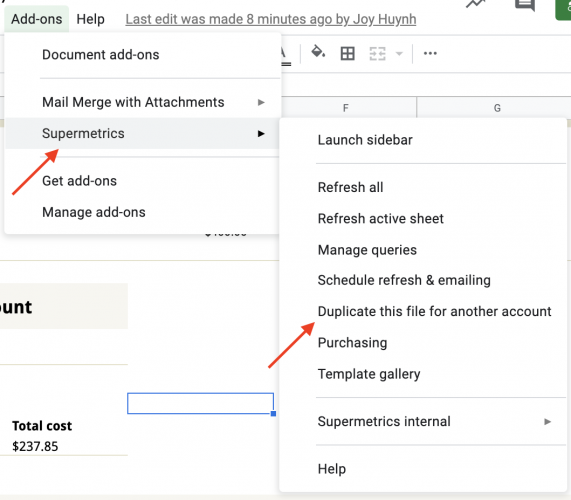 Then, choose the accounts you want to get data from and click "Duplicate the file."

After your queries have refreshed, click "here" to open your report.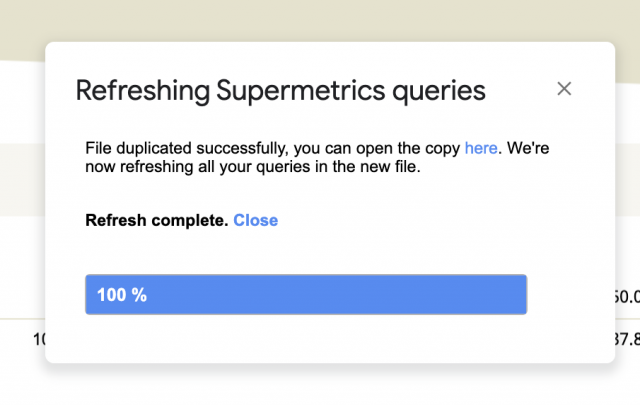 Set up rule-based email alerts
In case you want to pay attention when a particular account is overspending or underspending, you can use Supermetrics' scheduled refresh and emailing settings to stay alert of any changes that may occur.
Let's say you want to get a daily email update on how much budget you have left.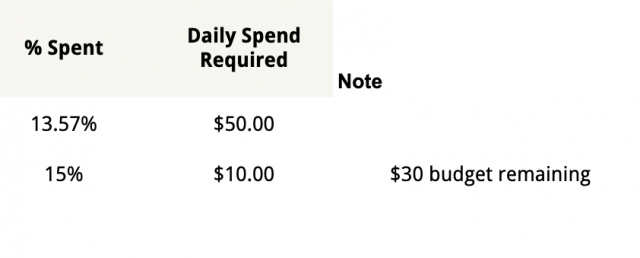 You can do this by going to "Add-ons" → "Supermetrics" → "Scheduled refresh & emailing."
If you choose the refresh email daily/weekly/monthly option, you'll see the advanced email settings. Then tick the "Conditional emailing" box and decide what criteria should trigger the alert.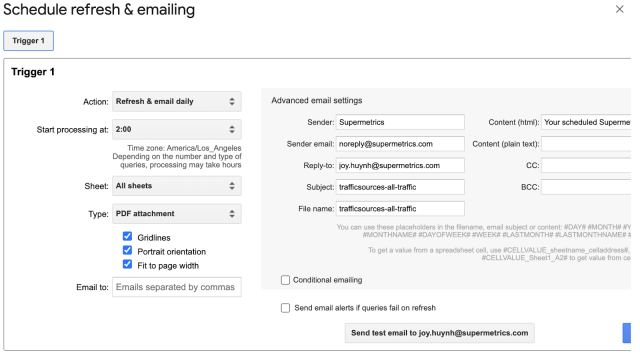 You can customize the subject line of the email however you want. Here I added the cell value and date to the subject line so I don't have to click on the email to know how much of the budget I have left.
After setting up the trigger, you'll receive an email alert like this.

Over to you ?
And there you go. Your Google Ads budget tracker and alert is ready. Simple as that.
The best part about this template is that you can apply it to your other ad accounts like Facebook Ads, Twitter Ads, or LinkedIn Ads.
If you have any questions about setting up this template, you can reach out to me on Twitter or LinkedIn.
Happy budget pacing! ?
Turn your marketing data into opportunity
We streamline your marketing data so you can focus on the insights.