May 9, 2022
Advertising without cookies: How to excel at performance marketing, reporting, and converting in a privacy-centric world
6-MINUTE READ | By Luke Kline
[ Updated Jan 18, 2023 ]
In recent years, the outcry for data privacy has greatly increased. Governments worldwide have rolled out laws mandating privacy, forcing large tech companies to meet legal requirements and consumer expectations. Safari and Firefox are already blocking third-party cookies, and Google will soon be following suit in 2023. The introduction of ad blockers and changes around device IDs has accelerated the move toward a world of increased digital privacy.
All of these factors are having huge implications across the board because ad platforms use third-party cookies to capture browser events and conversions that occur on your website or app.
In most cases, events and conversions include these:
Item in cart
Signup
Product trial
Session length
Subscriptions
Page viewed
In the past, you could simply download a standard web Pixel to share third-party cookie data directly with your ad platforms—Facebook, Google, TikTok, Snapchat—to identify lookalike audiences and retarget towards existing users.
The question now is, how do you deal with paid ads and reporting in a privacy-centric world? With third-party cookies going extinct, you'll have to find a new way to sync customer data to your ad platforms, and you'll also need a way to track and report on your campaigns. So how can you advertise without cookies?
Conversion APIs
Major ad platforms are introducing conversion APIs, which work in a similar way to third-party cookies. However, instead of using a web pixel to automatically collect and fire events to your ad platforms, conversion APIs let you manually send the data to the ad platform yourself.
This method is actually much more reliable compared to conventional third-party cookies because you're not just limited to collecting website interactions. Conversion APIs have a major advantage because they can receive data from offline conversion and events anywhere in the customer journey, whether that's lead events in your CRM, purchase events in your ecommerce platform, or interactions in your marketing platform.

With a conversion API, you can get all of this data in addition to the behavioral data that's already collected within your app or website to further enrich your ad platforms with even more accurate customer data.
There's a key problem though, in order to use a conversion API, you first need to consolidate all of your customer data into a central analytics database. The good news is, it's highly likely your engineering team is already sending all of your data to a data warehouse for analytics purposes. In most cases, this is done using an ELT (extract, load, transform). Supermetrics can be a great option for ingesting marketing data into the warehouse because it integrates natively with all of the major cloud data warehouses, including Snowflake, AWS Redshift, Google BigQuery, and Azure Synapse.

Once your data is in the warehouse, all you have to do is figure out how to sync it back to your ad platforms for retargeting and lookalike audiences. This is problematic because every conversion API is unique, so your engineering team will inevitably be required to build a custom integration or data pipeline for each ad platform in your marketing stack. Integrating your customer data into your ad platforms can be time-consuming and difficult. Alternatively, you could download and upload manual CSV files, but that's inefficient, especially if you need to sync the same data set or audience to multiple different ad platforms.
Hightouch for data activation
Data Activation should not be difficult, and with Hightouch, you can easily move your customer data into your ad platforms. Hightouch is a Reverse ETL platform that powers Data Activation by syncing data directly from your warehouse or BI tools to over 90 different destinations automatically.
Since Hightouch simply queries against your data warehouse, you can use SQL or even take advantage of the existing data models and custom audiences your engineering team has built-in your data warehouse. All you have to do is define columns in your source and map them to the appropriate fields in your destination.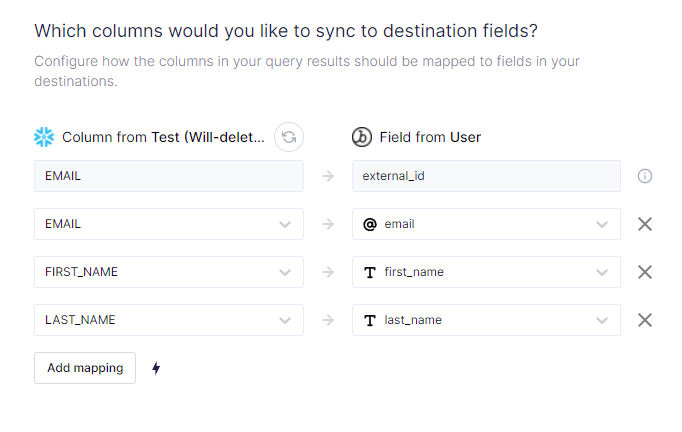 Best of all, your marketers can self-serve and create ad-hoc audiences at a moment's notice using Hightouch's Visual Audience Builder.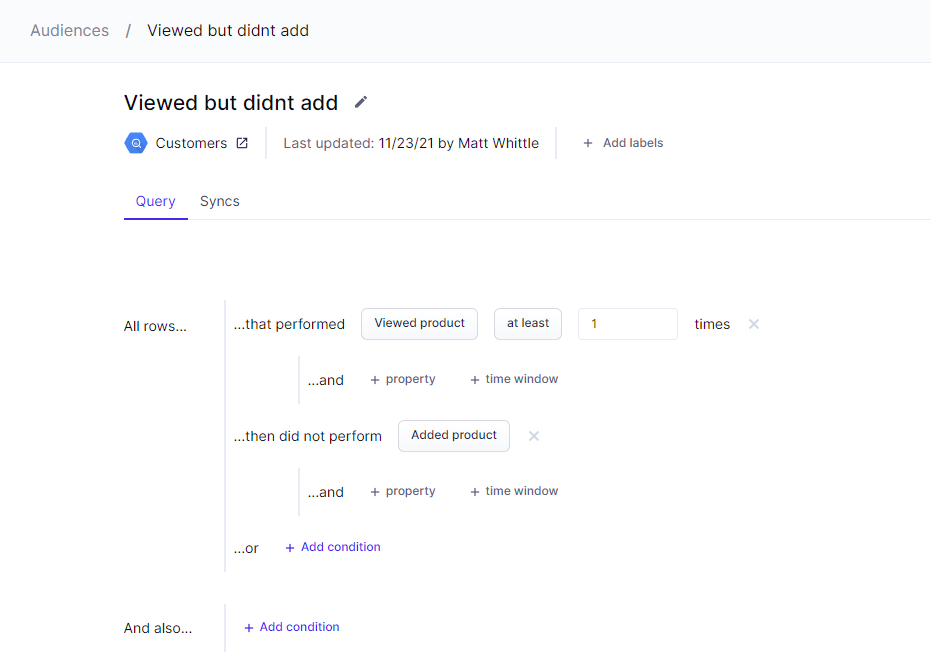 Learn how Compare Club reduced cost per lead by 10%

Once you've created your sync in Hightouch, you can configure it to run manually, on a set interval, or after your data has updated in the warehouse so you can focus on using your data in your MarTech stack.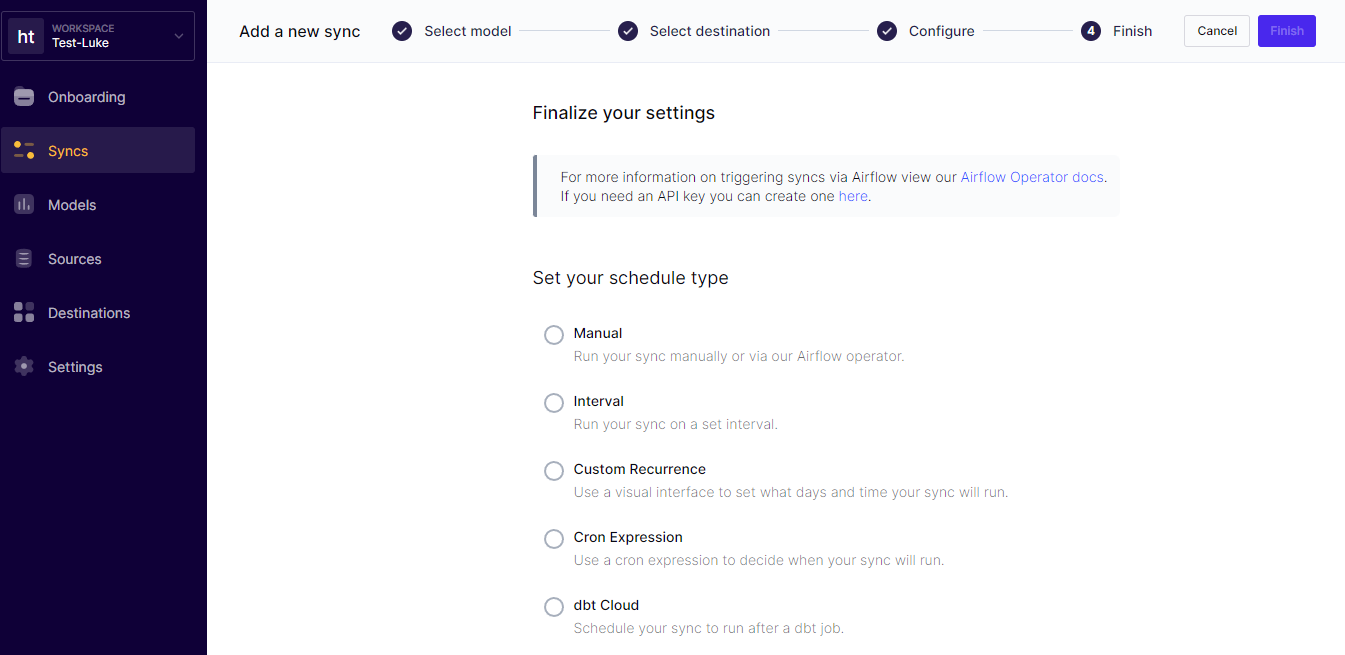 Reporting and performance marketing with Supermetrics
With Hightouch creating a continuous flow of data to your ad platforms, you'll inevitably be forced to hop back and forth between tools if you want to actively monitor your campaigns and track your performance. If you're using multiple ad platforms and marketing tools, this'll quickly become a nightmare. It's even more difficult if you have multiple accounts associated with each of your ad platforms. Analyzing simple metrics like clicks, impressions, cost, CPC, CPI, CPM, ROAS, CTR, is nearly impossible, and this is exactly where Supermetrics comes into play.
Supermetrics integrates with over 90 different data sources and makes it easy to aggregate and consolidate all of your marketing data across your entire MarTech stack into a centralized location, whether it's a BI tool, a spreadsheet, or a data warehouse or lake. With Supermetrics, you can refresh your data manually or set a defined trigger to choose the frequency your data should update, whether weekly, daily, or hourly.
You can track your marketing data in a spreadsheet, build an interactive performance marketing dashboard in your favorite BI tool, or even use your marketing data to build more accurate data models in your data warehouse or lake. At all times, Supermetrics ensures you see an accurate and holistic view of all your marketing data so you can avoid hopping back and forth between ad platforms.
Wrap up
With third-party cookies slowly going extinct, you'll eventually be forced to start using conversion APIs. You can either build your own integrations or use a fully managed platform like Hightouch to automate this process for you. Either way, you'll need to have visibility into your marketing campaigns, and Supermetrics can solve that problem. Together, Hightouch and Supermetrics make your data more accurate and actionable. If you'd like to test out this workflow for yourself, you can sign up for free with Hightouch and take advantage of a 14-day free trial with Supermetrics.
In the meantime, check out The Data Engineers Guide to 3rd Party API Integrations.
About the author
Luke Kline is a Product Evangelist at Hightouch, working on the marketing team. Previously Luke worked at Hashmap, an NTT Data Company specializing in analytics, data engineering, and cloud migrations.
Turn your marketing data into opportunity
We streamline your marketing data so you can focus on the insights.