Feb 9, 2021
Monitoring industry trends and competitors with the Instagram Public Data connector
4-MINUTE READ | By Joy Huynh
[ Updated Feb 17, 2023 ]
The new kid on the block has arrived!
We're excited to announce that you can now pull your Instagram public data into Google Sheets, Data Studio, Excel, and BI tools with Supermetrics.
With this connector, you can:
Gather public data from Business and Creator Instagram accounts
Create a hashtag report to monitor and analyze hashtags that are relevant to your brand and audience
Benchmark your competitors to see what they're up to and look for inspirations from the top account in your industry
Create cross-channel social media reports
Let's go through each use case in more detail.
Creating a hashtag report
If you're on Instagram, you'd probably notice that hashtags are everywhere. However, the last thing you want to do is #annoy #your #audience #with #irrelevant #hashtags. ?‍♀️
Now with Supermetrics, you can easily pull data related to a specific hashtag such as post caption, post URL, likes, comments, etc. to create a hashtag report.
This report will help you:
Find relevant hashtags for your posts
Find content for curating
Monitor branded and campaign hashtags
Identify influencers
Let's say you're managing an online clothing store and you'd like to a) curate some content for your Instagram account and b) find influencers for your next campaigns. You can search for posts with #ootd or #springfashion using this query: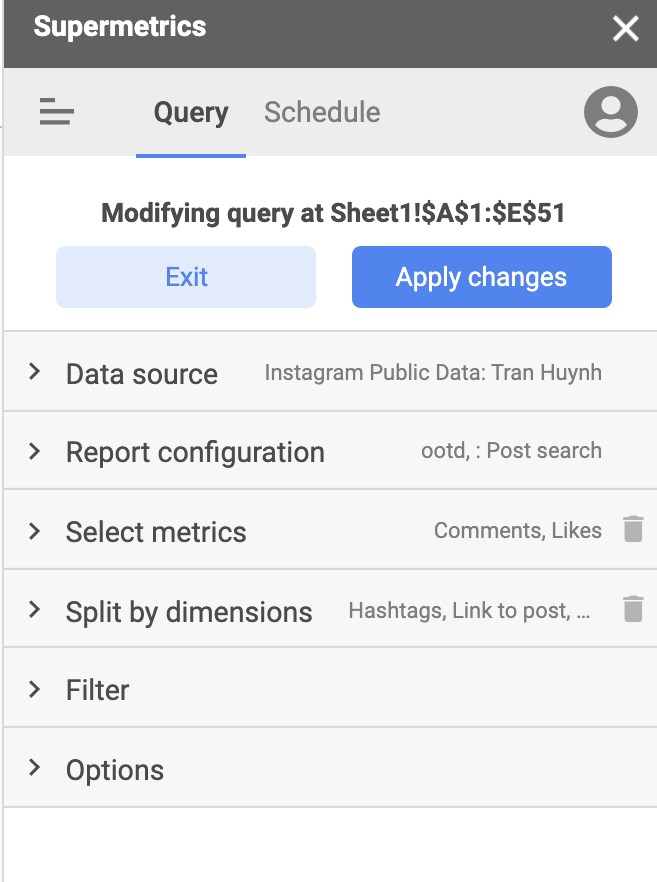 Data source: Instagram Public Data
Select query type: Post search
Report type: Recent (Choose "Top" if you want to see the best post according to the Instagram algorithm, or "Recent" if you want to see posts that are created within 24 hours)
Pro tip: Check the "Append new results to old" box if you want to update new posts at the end of the list. Otherwise, you'll get new posts every day.
Instagram hashtags: ootd, springfashion
Select metrics: Comments, likes (You can sort the data by likes to see what the best posts are)
Split by dimensions: Hashtags, link to post, post caption
Make sure you set up data refreshes to keep your data up to date.
Once you run the query, your data will appear in the spreadsheet like this. (I did some formatting to make it look a little more beautiful ?)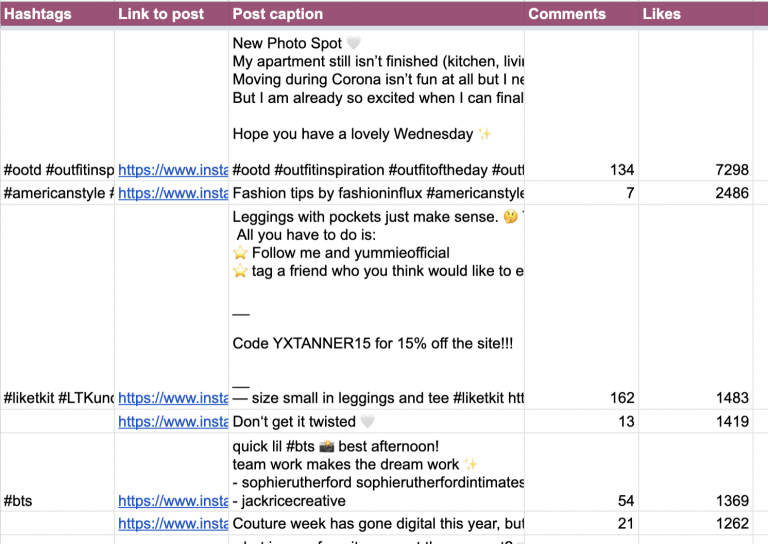 From here, you can see what the best posts are (tagged with #ootd and #springfashion) and check which profiles get the most likes.
You might notice some missing hashtags from the "Hashtags" column like this ?

That's because the list you'll receive compiles all posts where the authors put hashtags in the captions or comments. Meanwhile, the "Hashtags" column shows hashtags only included in the captions. The empty box simply means the hashtags were part of a comment.
Benchmarking your competitors
Many marketers want to follow what's happening within their industry on Instagram, including keeping tabs on the competition. Your competitors' Instagram accounts pack a ton of golden nuggets that you can use to improve your own performance.
To get you started with competitor and industry analysis, we've created an Instagram Public Data- Industry insights template in Google Data Studio.
This template will help you:
Compare your performance against industry standards
Analyze your competitors' top-performing posts
Identify opportunities to outperform your competitors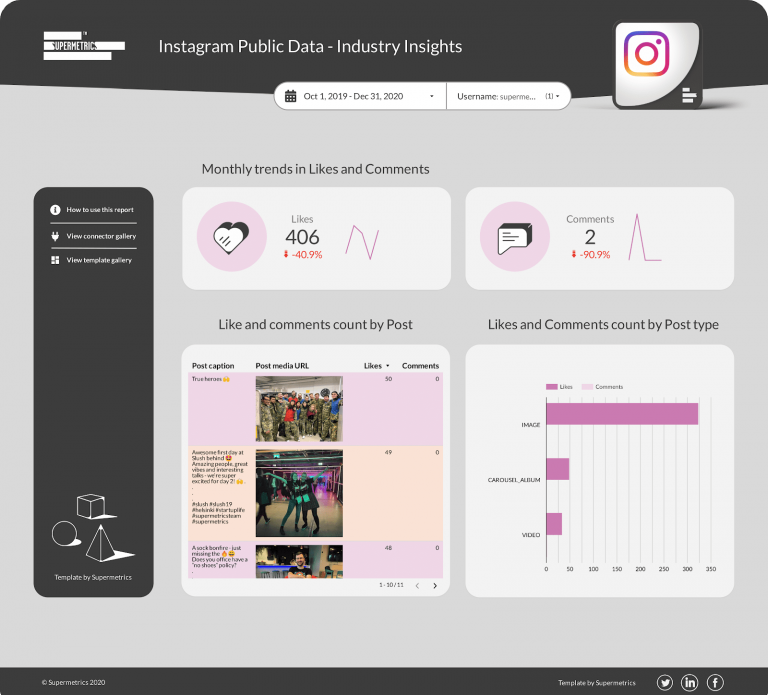 Get the Instagram Public Data- Industry insights template >>
Psst, note that you can only pull data from Instagram business and creator accounts.
Creating cross-channel social media reports
Now, I'm going to share some ideas on how to create social media reports with the Instagram Public Data connector.
You can combine Instagram Public data with data from other sources like Facebook, Twitter, or LinkedIn to gain a complete overview of your social media performance.
For example, you can monitor your followers on each channel to see how fast your account is growing and if you're reaching your growth targets. You can also analyze your data to see which posts work for which channels.
Psst, for Profile info, you can't fetch historical data of account followers or post amounts, however, you can use "Append results and scheduled refresh" features to gather data over time.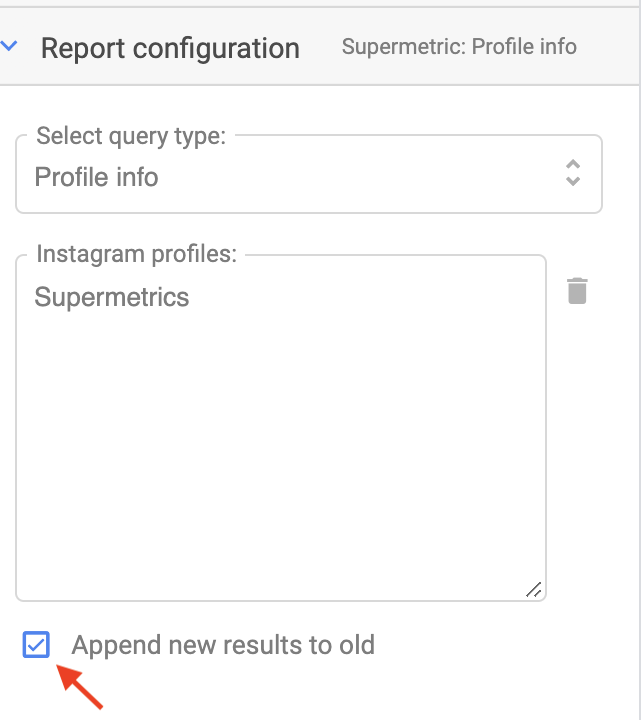 Or, you can analyze your Instagram public data with its siblings a.k.a Instagram Insights and Instagram Ads data (through our Facebook Ads connector) to understand your organic and paid performance. ?
Getting started with the Instagram Public Data connector
The Instagram Public Data connector will be available in the Pro packages of Supermetrics for Google Sheets, Data Studio, and Excel, as well as through the Supermetrics API.
If you have any questions about the connector, check out this getting started guide.
And when you're ready to level up your Instagram and social media reporting, start your 14-day free trial of Supermetrics.
Turn your marketing data into opportunity
We streamline your marketing data so you can focus on the insights.