Feb 24, 2020
From €10M to €20M ARR in 12 months: 10 growth lessons from Supermetrics
10-MINUTE READ | By Edward Ford
[ Updated Mar 10, 2023 ]
12-MINUTE-READ · By Edward Ford
In February 2019, Supermetrics passed €10M in ARR (≈$11M). It was a pretty big milestone for us and signified our transition from startup to scaleup.
Now, exactly one year later in February 2020, Supermetrics just passed €20M in ARR (≈$22M).
So how did we double our ARR from €10M to €20M in just 12 months?
Well, it was down to a combination of factors that stem from strategy and operations to tactics and plain old hard work — oh, and a little bit of luck. In this article, we'll share 10 of the most important factors that helped us hit this target. Hopefully you'll find these lessons helpful when growing your own business and SaaS company.
1. Don't skip strategy ?
Marketers love to jump into tactics. If you came here hoping to find a bunch of silver bullets to growth-hack your way to doubling ARR, then you might be disappointed (although there is some more tactical stuff coming up).
Growth starts with strategy. For us, we see the Martech 5000 and wider SaaS space consolidating into layers. Each layer will have a dominant leader, and we want to own the data pipeline middleware layer. We just want to help marketers move all their siloed data from all their platforms into the one centralized space where they want it. Whether that's a spreadsheet, a data warehouse, or a visualization or BI platform, Supermetrics will help you move all your marketing data into one place.
Our talented product development teams, led by Niklas, Viktor, Darius, and Peter, work damn hard adding new destinations and connecting all our products with new marketing platforms — and maintaining all those connectors. We've added more enterprise-level products, such as BigQuery and the Supermetrics API, to complement our Sheets, Excel, and Data Studio product line, which is all down to great people and great hires. In fact, our CTO Dups and team have almost doubled our engineering head count including expanding our development team to Vilnius, Lithuania. 
We've also added a sales-assisted funnel on top of our product-led self-serve funnel (more on that later) and have an inside sales team, an outbound sales team, and a customer success team to work with our biggest clients.
And everyone else has adapted to that. From marketing and customer support to data engineering and client tools, it's all about aligning behind that strategy.
It's the job of your CEO and senior leadership to clarify and communicate the strategy so everyone's on the same page. From there you can start geeking out on tactics, automation, and hacks.
But just never forget: strategy over tactics, all day!
2. Set ambitious goals — and align the entire company behind them ?
Hitting big milestones starts with goal setting. Our CEO, Mikael, is pretty clear about achieving sustainable 100% YoY growth. While some companies have this 'grow at all costs' mentality, we're as conscious of the bottom line as the top line. As Mikael discussed with Nathan Latka on his blog, we've seen pretty significant top line growth and look at models like Neeraj Agrawal's T2D3 as a good benchmark for growth. But to avoid being blinded purely by revenue, we also follow Brad Feld's rule of 40: this is where your growth rate + profit margin should be above 40. Powered by strong revenue growth and decent capital efficiency, we hit a number of 170 during 2019.
So healthy growth has always been the goal for Supermetrics, but as each year goes by and the baseline doubles, that becomes increasingly difficult to achieve.
However, we're constantly reminded about this number. In our monthly all-hands meeting, called Super Info Session, we start by reviewing our revenue numbers. And every morning in Slack, we get our sales numbers from the previous day along with trials by product, biggest renewals, and total sales this month. This keeps everyone, not just the commercial teams, up to date on where we stand regarding revenue.
But hitting this number is not just down to sales, growth, or marketing. It's everyone. This is where OKRs (Objectives & Key Results) come in…
We have our annual goals for the entire company. From there, each department sets their own goals that will help Supermetrics hit its company goals. These department goals are broken down into quarterly team OKRs with individuals setting their own OKRs that will help their respective department hit its goals. So it's a top-down/bottom-up approach to goal setting that gets everyone aligned. And trust me, it's not as rosy as it sounds. This is hard. It takes quite a bit of time. And we still have a lot of work to do. But with each cycle we seem to be getting a little better (and faster). But it's worth it, because it ensures the whole company is working in unison on hitting our goals.
3. Build a world-class sales team ?
As Kyle Poyer wrote in his excellent Open View article, 'your product sells itself, now hire sales'. As you can imagine, that's easier said than done. When your SaaS go-to-market is product-led, there can be an aversion to building out a sales function. For product and marketing teams, it's a case of "if it ain't broke, don't fix it." And for folks in sales, there can be uncertainties about how you'll fit in and if you'll be needed.
But when we only had a self-serve funnel, we found a lot of customers wanted to talk to someone before purchasing. As volumes increased, this led us to the situation where we decided to build out a sales team to better support those customers. We hired our first sales person, Martin, in summer 2018 at around €5M ARR. Before joining Supermetrics, Martin ran a sales team of +70 people and his experiences of scaling sales has been invaluable to our growth. His objective at Supermetrics was to build out a sales-assisted funnel to complement our self-serve funnel. By the time we hit €10M ARR, our sales team consisted of 3 people and sales-assisted revenue accounted for about 8% of total monthly revenue. Fast forward one year, our sales team consists of 20 people and sales-assisted revenue accounted for almost 19% of total monthly revenue. It's without a doubt one of the teams where we made the most hires last year.
Just because your business is product-led, it doesn't mean all your customers want to buy through self-serve. Having a sales team gives all customers the opportunity to talk to someone if they want to. And as we've launched our enterprise products, it's even more important to have an inside sales team who can work with these customers on finding the right solution to match their needs. Having Brandon & Kyle establish our US sales team has been a game changer for us too, since we can serve our biggest market in their local time zone.
We also launched a customer success team as part of our sales organization to look after our clients. Led by Alejandra, the focus here is, unsurprisingly, on renewals and expansions. And our awesome customer support team, led by Jouni, do an incredible job solving customers' issues and helping them with every imaginable question quickly and effectively — especially when supporting a large global user base from our Helsinki office. If that wasn't enough, they also run demos and close deals themselves.
So there's no doubt that a huge part of our growth is down to our amazing sales, success, and support teams.
4. It's self-serve & sales-assisted, not self-serve vs sales-assisted ?
So once you've established a sales team, how do you feed them? Well, with a fork.
We added a fork to our funnel and routed bigger opportunities through sales with other deals going through our self-serve funnel.
At first it was as simple as the diagram above. It was pretty much chance as to who went down which line. So when your sales execs end up on calls for $19/month deals, you know you need to fix something.
Enter Miika.
Miika joined Supermetrics to establish our growth function, which is a hybrid of growth, demand gen, and marketing ops. Since then, he's helped build out a more sophisticated onboarding flow that guides better opportunities through sales.
From here, it's a case of product, growth, data engineering, and sales working together to improve onboarding, increasing activation, and improving conversion rates of free to paid. With a decent number of people starting trials each month (around 10k), Miika can run various experiments and work with Anni, our Super Data Analyst, to figure out what's moving the needle. 
The important thing here is that we don't see the two funnels competing with one another. It's not about self-serve vs. sales-assisted, but self-serve & sales-assisted working together. As a SaaS business grows, things change. And for us in the marketing team, it's no longer about obsessing over self-serve revenue and basing success purely on that. We also need to look at sales-assisted revenue and nowadays, there are few things better than seeing our sales team crush quota every month!
5. Launch new products ?
Another way to grow is to launch new products. Rather than being a pure SaaS platform that you need to log in to, Supermetrics is a collection of products that help marketers move their data from the various platforms they use into the analytics and reporting tools they use. Since we connect data sources to data destinations, we can launch new integrations on the connector side and new products on the destination side.
In 2019 we launched two new products, Supermetrics for Excel and Supermetrics for BigQuery, to go alongside our Google Sheets, Google Data Studio, and API products.  Supermetrics for Excel brought our spreadsheet product to marketers who work in the Microsoft ecosystem. And Supermetrics for BigQuery gave marketers, data analysts, and data engineers a simple way to move their data into a data warehouse.  We know that spreadsheets are super powerful and many marketers spend a lot of time using them, but if you're using spreadsheets to store your data, then they have limits. Building a marketing data warehouse offers a much more robust solution to store and access all your historical marketing data, which you can then use to answer any question you might have about your marketing. Riku, who heads up our enterprise product marketing, and Andy, who leads our enterprise product team, have been working in tight-knit over the last few months and we'll be adding more data warehouse destinations this year so other companies can benefit from them in the same way our customers VanMoof and Katté & Co already have.
Everytime we add a new connector to our lineup, that also gives us — and our head of connectors product marketing, Anna — an opportunity to launch something new. Rather than offering hundreds of connectors that pull limited data sets, we focus on pulling as many metrics and dimensions as possible from the most popular marketing platforms. We're pretty careful with which connectors we build and our connectors Product Manager, Jessie, is in close contact with our customers and the marketing community to keep track of demand. When we choose one, we want to offer as many metrics and dimensions each API allows. Last year we added connectors such as HubSpot, Quora Ads, and Criteo, each one bringing Supermetrics to new audiences.
6. Get marketing to double down on what works ?
When you work in marketing, there are a lot of things to focus on. Is there a discipline that covers such a broad range of tactics and skills? Based on a recent LinkedIn update I shared, it seems a lot of marketers would agree.
So experiment with different channels and tactics, but once you figure out what works, double down on it.
As a product-led company, a big chunk of our acquisition efforts in marketing are built around the product. Firstly, distribution channels. If you can find distribution channels that tap into other networks, then you're probably onto something good. For us that's places like the G-Suite Marketplace, the Google Data Studio connector gallery, and the Google Cloud Platform Marketplace. On the connector side, there are places like HubSpot's App Marketplace.
As our user base grows, so too does word of mouth. Having people hear about Supermetrics from peers, colleagues, or friends who work in marketing continues to be super important, but it was crucial in the early days. We don't have such a natural network effect as say Slack, where the value of the product increases when others use it (you can't chat to yourself) so word of mouth has been pretty powerful for us.
Then we focus on tactics that align with high purchase intent. For example, we don't create much share-worthy content. Rather, our content is created search-first to address relatively high-intent search queries that our product provides a solution to. Whether it's "facebook insights data studio dashboard" or "marketing reporting templates", we want to be in the mix on the SERP. This is something I call the Walmart content marketing strategy, but as we grow, that strategy will most likely evolve.
We also experiment a lot with different forms of paid acquisition. Dmitry, who runs our PPC, is probably the biggest power user of Supermetrics inside of Supermetrics. PR is also becoming more important and Johanna, our Director of Comms, has generated a lot more buzz and interest in Supermetrics over the last year, whether it's press coverage, industry articles, or podcast interviews. Design also plays a big part in our marketing and our Head of Design, Ivana, works very closely with us. In addition to product UI & UX, she's leading the redesign of our website with Heidi, our super Web Engineer, and they have some big things planned for this year — stay tuned!
But a lot of what we do in marketing is tied closely to the product and with a relatively small team we can't really go big on everything. It's a case of figuring out what works and doubling down on those. For us, we've found good things typically happen when product strategy meets marketing strategy.
7. Measure what works (and what doesn't) ?‍♀️
To double down on what works, you need to know what's working in the first place. As our customer Sam Cesar from Sleeping Giant Media says, "If you don't measure it, you can't manage it."
Previously, we only had one funnel to track and measure. But as we added our self-serve funnel, things got a little more complex. It resulted in a stack that takes web analytics data from our WordPress site, onboarding data from our customer data & automation platform Exponea, and product behaviour data from our backend. A spreadsheet wasn't going to be enough, so we drank our own champagne (or "ate our own dog food", as our content marketing magician, Pinja, put it in a recent blog post), and used Supermetrics to move our data into BigQuery. From there we can build out marketing reports in Google Data Studio for higher-level reporting, which is great for trials and revenue, as well as for more granular analysis, like when we see noticable spikes or drops.
To give an example, below you can see one thing we look at to measure content marketing performance. It shows which articles people read before starting a trial relative to other articles. So we can see that in December 2019, the bottom three articles contributed to almost 60% of content-assisted trials of those articles listed in the chart. That's very handy information for us since we quickly know what is and isn't working. So going back to what we spoke about in the previous section, we know what kind of content we should double down on.
So measure everything to see what's working. Don't blindly follow vanity metrics but look at what's impacting important numbers for your business growth. For us, that's trials and revenue. While things like website traffic or organic traffic to the blog are useful for us to follow, we use them more as proxy metrics. Just remember to never lose sight of the big picture. Btw, if you're looking for help with measuring and analyzing your marketing performance, feel free to take Supermetrics out for a spin with a full 14-day free trial.
8. Go big on partnerships ❤️
The best way to build a rocketship is with lots of partnerships. Working with great partners like Google and HubSpot for example, has had a big impact on our growth. Again, this strategy works for us given the nature of our product, but if you can identify partnership opportunities that provide mutual benefits, you're onto a winner.
When building our HubSpot integration, we worked pretty closely with HubSpot's product team to solve pain points their customers had (like multi-portal reporting or accessing all your historical HubSpot data). On the marketing side, we made a splash by launching it at INBOUND last year and have written a lot about HubSpot reporting on our blog. HubSpot spoke about us in several presentations at INBOUND, they featured us as a top 10 enterprise app, and we continue to work closely with one another.
We've also run webinars with companies like Quora and Hanapin, we go big on promo campaigns with other martech companies when we launch their connector, and Google Analytics occasionally tweet about us – like they did with this awesome post by Branko Kral on SEO Analytics – which is cool!
The team at @Supermetrics has a detailed guide to how they approach SEO Analytics, including Step-by-step Process with Tools, Client Examples, and Resources https://t.co/lqkdGy7swq /by @brankofosho #measure pic.twitter.com/NnIzsAZJmK

— Google Analytics (@googleanalytics) December 9, 2019
Partnerships have always been big for us, on both the data source and data destinations sides, and they always will be.
9. Expand your marketing team with affiliates and channel sales partners ?‍♀️?‍♂️
Affiliate marketing has had a big impact for Supermetrics. Victoria, who heads up our affiliate program, established it from scratch just over two years ago. Now we have thousands of affiliates who generate over six figures in revenue each month. Our affiliates earn 20% recurring commission on referrals with a 90-day cookie life (that's the time between a referral's first visit to our website and their purchase), which are pretty decent benefits. And with early updates on new product launches, a personal affiliate area with easy access to earnings data, marketing and promotional materials, as well as monthly payouts and unlimited earnings potential, there are a lot of benefits to joining our affiliate program — btw, if you'd like to join you can sign up here.
The great thing about our affiliate program is that it extends our internal marketing team of 15 into an exponentially growing pool of marketers, educators and brand advocates . Many affiliates were customers or super fans before joining the program and they write about Supermetrics in their local language, they arrange local meetups, and spread the word about us on social — so a big shout out to all our super affiliates! ?
On top of affiliates, we also launched our channel sales program last year. While our affiliate program is built for individuals, our channel sales program is built for marketing agencies. Jukka, who heads up our partner program, is providing agencies the opportunity to earn commission or resales margin when selling Supermetrics to their clients — more info here if you're interested in joining.
Quite a few SaaS companies have affiliate or partner programs, but for Supermetrics they've definitely been a big factor in our growth.
10. Hire awesome people and build a super culture ?
Much like this article, growth starts with strategy but ends with culture.
There are the old cliches, like culture eats strategy for breakfast, but it's kind of true. Without people and a strong culture, it's impossible to put together a plan and execute it.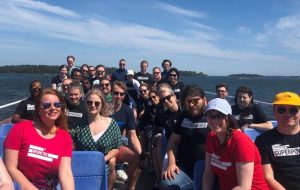 Supermetrics Summer Day 2019
As a Finnish company, the Supermetrics culture is very Nordic. Things like modesty, hard work, trust, equality, and respect play a big part in how we work. Days are very flexible so you can fit work around other things going on in life. There are structures, but it's very open and anyone can go to anybody about anything. Everyone takes their shoes off when they get to the office. In addition to no outdoor shoes, there are no egos or assholes. There's just a pretty authentic and hard working team of very smart people who like to get shit done and have fun.
Take your shoes off and grab a pair of super slippers
We started 2019 with about 30 people and ended close to 80. We opened two new offices in Vilnius and Atlanta and moved into a much bigger one in Helsinki. And a massive part of growing the team and scaling the culture goes to Viivi and Marika, our incredible People Ops team! They keep finding amazing people, such as Brandon and Darius who are leading our US and Lithuanian teams, among many others. When scaling so quickly and opening up new offices around the world, there's a risk culture gets lost. But when you see people chipping in and staying up late in Europe to help close a deal in the US out of their own free will, you know you've got a good thing going.
We have quite a few open positions, so if you're interested in joining Supermetrics then check them out and apply!
Oh, and one more thing. A super mörkö in each office also helps…
Viivi hanging out with Mörkö after opening our original Vilnius office
In summary…
Growth starts with strategy. It's about focus, alignment, and then execution. Underpinning that is culture.
We've learned a lot, had a lot of fun, and hopefully we'll be sharing how we went from €20M to €50M ARR sometime next year.
Turn your marketing data into opportunity
We streamline your marketing data so you can focus on the insights.