Sep 3, 2019
Superpower your HubSpot analytics & reporting: Supermetrics for HubSpot is here!
By Supermetrics
[ Updated Jun 5, 2023 ]
It's finally here!
We are thrilled to announce that you can now pull your HubSpot marketing & sales data into Google Sheets, Google Data Studio, and Microsoft Excel with Supermetrics!
For marketers around the world who use the HubSpot platform, Supermetrics opens up a whole new world of reporting & analytics possibilities. Continue reading to learn more about our HubSpot connector's superpowers and try our free plug-and-play reporting templates.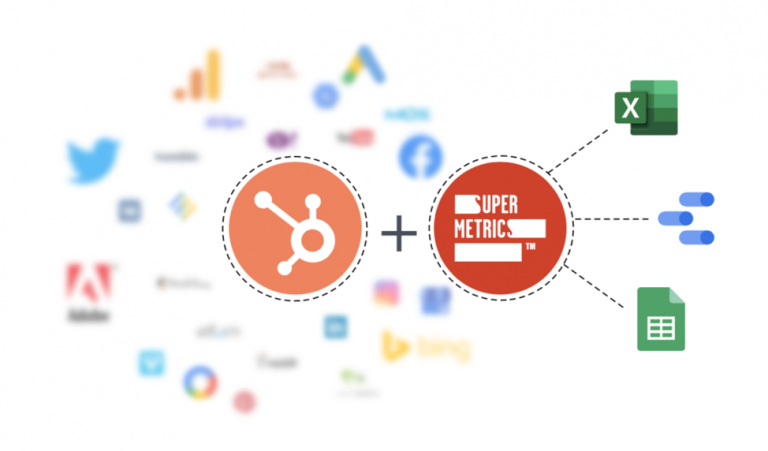 From inbound marketing to full customer lifecycle management
As HubSpot has grown from a pure inbound marketing product to a comprehensive end-to-end customer management platform, so too has the amount of data collected within every customer portal. For in-house marketing teams and agencies alike, there's a huge need to make all that data accessible, reportable, and meaningful. Marketing reporting is no longer about measuring website visits and leads generated. It's about combining organic marketing efforts & paid media metrics with sales activities to get an end to end reporting overview of all your conversion funnels. With our new connector, we want to help marketers free all their HubSpot data so you can analyze it any way you want, create any report you want, and close the reporting loop.
The new Supermetrics connector for HubSpot was launched today at INBOUND 2019 and introduced during Scott Brinker's keynote, 500 Apps to Grow Your Business: A Grand Tour of HubSpot's Platform Ecosystem.
The benefits of HubSpot + Supermetrics
With Supermetrics, HubSpot marketers will now be able to enjoy an array of benefits, including:
Save time and eliminate manual work by simply pulling all your HubSpot marketing & sales data into a single spreadsheet or dashboard
Slice, dice, and analyze your data any way you want
Measure the performance of your entire conversion funnel, from new visitors to closed customers
Create custom automated reports for your manager and clients that refresh daily in Google Data Studio
Effortlessly combine data from multiple HubSpot portals and create your own custom multi-account reports
Combine your HubSpot data together with data from all your other marketing platforms, such as paid, social, and web analytics tools and get a complete overview to your marketing performance
Customer stories
Agencies and in-house marketing teams have already been using Supermetrics with HubSpot to solve some of their biggest reporting and analytics challenges. Here we want to share their stories and show what marketers can do with this powerful combination of HubSpot & Supermetrics.
"Operation close the loop" with Vuelo6
Vuelo6 is a performance marketing agency and HubSpot partner based in San Juan, Puerto Rico. Like many HubSpot partner agencies, Vuelo6 began life as an inbound agency but has evolved to provide full-funnel services that deliver business results. Maricarmen Vargas, Digital Account Manager, said that "We have several automated dashboards set up for clients and they all include KPIs measuring progress for the current month versus our goal. Until this point, there was always a bar missing, which was customers, but now with Supermetrics' HubSpot connector, we've been able to add that. This connector has helped us greatly on what we call "Operation Close the Loop", focused on ROI and leads-to-customers dashboards."
The Vuelo6 team now join their clients in sales meetings and transparently report on business performance using HubSpot, Supermetrics, and Google Data Studio. André Carlo, Accounts Director and Lead Strategist said, "We spent a lot of time on improving our processes and ensuring we could measure things accurately. By shifting from content & inbound to full-funnel performance we've been able to combine art with science and show the business impact of our work with clients. Supermetrics has helped us do this and now we've been working with bigger HubSpot clients and are expanding internationally and further into the United States."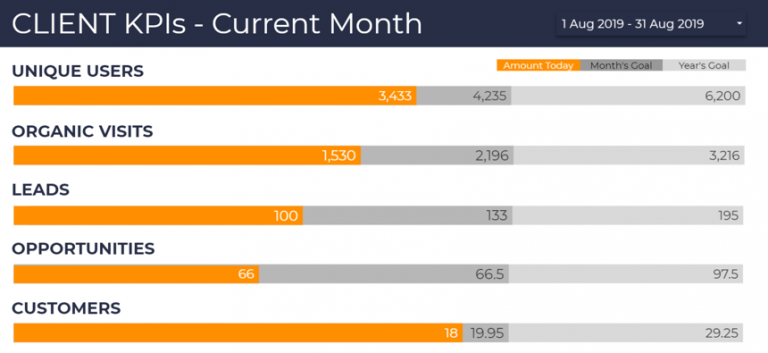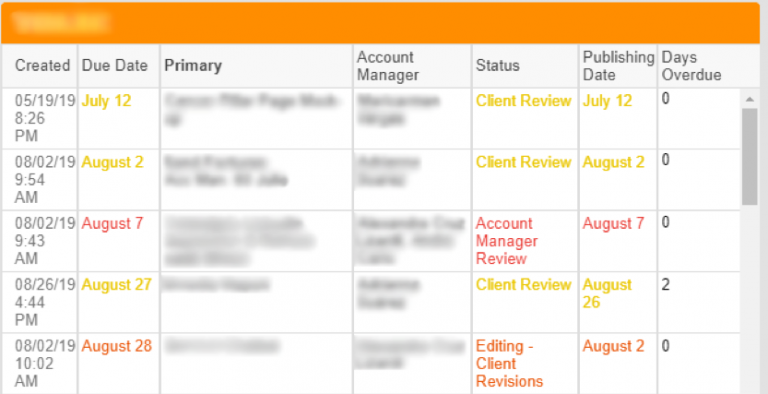 Cross-platform reporting with AcreTrader
AcreTrader is an investment platform for farmland based in Fayetteville, Arkansas. For Harrison Hollingsworth and the AcreTrader marketing team, HubSpot is one of their primary business tools and marrying marketing data from all their platforms with sales data in HubSpot has been one of their biggest challenges. Now, with the new HubSpot connector from Supermetrics, they've been able to combine paid media metrics with sales activities from HubSpot to get an end-to-end reporting overview of their conversion funnel.
Harrison said that "With auto refreshed HubSpot reporting and combined paid media metrics, we will be able to increase visibility across our entire business. Supermetrics has already saved our marketing team hours each week by automating cross-platform reporting. Now, the HubSpot Connector will allow us to combine the results of both our Sales and Marketing efforts to better identify drop-off points throughout the entire conversion process."
Unlocking a greater freedom of data analysis & reporting with Advance B2B
Advance B2B is a growth marketing agency and diamond HubSpot partner based in Helsinki, Finland. By bringing HubSpot data into Google Sheets with Supermetrics, the Advance B2B team has been able to analyze and report on the entire customer journey with a new degree of freedom. This includes an improved understanding of channel performance, creating more bespoke sales and marketing reports in dashboarding tools like Databox, as well as getting a deeper insight into their conversion funnel.
Samuli Ahola, Growth Marketing Strategist, said that "Filtering of data in Supermetrics is sweet! It's very, very handy and since it can be filtered using so many HubSpot metrics and properties, it's a silver bullet for any calculations or analyses you need to make. Whenever facing limitations in basic HubSpot and Databox reporting, Supermetrics helps tons. It makes things much more customizable and it's much easier to do calculations in Google Sheets, and then decide what exact data you want to visualize in Databox. Supermetrics is much more flexible than any other data product I have used."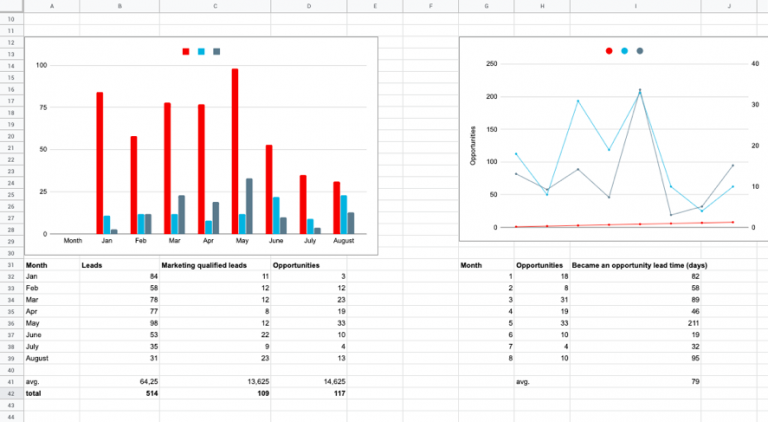 Get started with our HubSpot reporting templates
In order to jumpstart your HubSpot reporting, we have created a set of free plug-and-play reporting templates, which seamlessly work with the Google Sheets, Google Data Studio, and Excel HubSpot connector provided by Supermetrics.
HubSpot email performance and sales funnel reporting templates for Google Sheets
In order to run successful email campaigns, you have to constantly monitor their performance and develop effective optimization strategies. The HubSpot Email Performance template is perfect for this task: you will immediately see the key metrics (such as email opens and link clicks among others) together with campaign delivery data. Within the template you can jump to the following tabs to see more detailed numbers.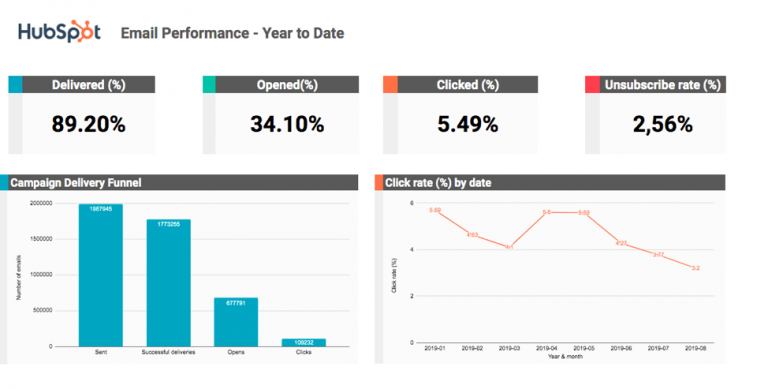 With the Supermetrics Sales Funnel template, you'll get a great overview to your sales performance. You will instantly see key sales metrics, funnel breakdown, and performance numbers by sales rep. Just like with the previous template, you can turn to the next tab for more detail.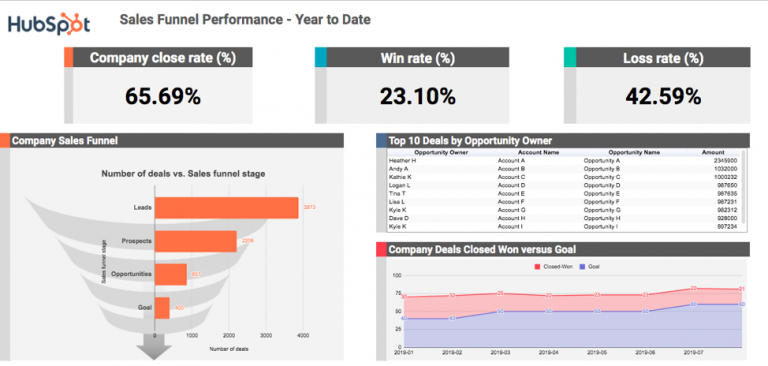 Want to try these templates?
You can easily start using them in 3 simple steps:
1) Install the Supermetrics add-on (skip this if you've installed the add-on)
2) Launch the Supermetrics sidebar (Add-ons' menu -> Supermetrics -> Launch sidebar)
3) Go to Add-ons menu -> Supermetrics -> Template Gallery
You will find and add Hubspot Templates under the "Analytics" section.
HubSpot account overview reporting template for Google Data Studio
Our Google Data Studio template gives you an overview to the key areas of your overall HubSpot performance. You will be able to see your contacts, leads, and companies statistics to quickly identify areas for improvement.
To get the template, select "Use report template for new reports" option when connecting HubSpot integration in Google Data Studio.

HubSpot & Supermetrics: Great alone, better together
Supermetrics CEO, Mikael Thuneberg, said that "We've been working closely with the HubSpot team over several months to bring this product to market and the entire Supermetrics team is really excited about our newest partnership. HubSpot is one of the biggest marketing & sales platforms with a very active community of users and so it's great to finally bring this connector to Supermetrics customers. This has been one of the most requested integrations and we're really happy to help HubSpot customers with their reporting and make better decisions informed by all their data."
Pricing & packaging
The Supermetrics HubSpot connector will be available to HubSpot Starter customers on a Supermetrics Super Pro plan for Google Sheets, Google Data Studio, and Microsoft Excel. HubSpot Professional & Enterprise customers will be able to access the connector through our sales team. If you'd like to discuss the packages we have available, you can grab a time and chat with a member of our team.
If you want to take our HubSpot connector for a test drive, you can start a free 14-day trial of all our products.
We're really excited to be bringing HubSpot into the Supermetrics connector family and help marketers all around the world superpower their HubSpot reporting and analytics! In addition, check out our Hubspot connector in the Hubspot Marketplace.
Turn your marketing data into opportunity
We streamline your marketing data so you can focus on the insights.