Oct 31, 2019
HubSpot reporting: how to make the most of it
15-MINUTE READ | By Isha Shinde
[ Updated Jun 12, 2023 ]
You create a ton of data at every step of your campaign – from publishing blogs, creating and deploying campaigns, capturing leads, converting contacts, retargeting them, and much more. To make sense of this data, first of all, it's crucial to track your performance.
This article will look at how you can use all the data to analyze and improve your marketing and sales performance.
Things we'll cover:
Let's dive in…
What is marketing & sales reporting?
Reports are designed to understand what is working well and what needs improvement — it gives you an overview of the performance of your business.
Marketing and sales reporting helps you analyze the performance and drive clear results of your business success. It lets you identify the issues so you can start working on improving them.
Even though sales and marketing teams have a similar goal to work towards, i.e., to sell the product, there are still a lot of differences between the reporting of the two.
Marketing reporting specifically focuses on metrics like campaign performance, website traffic, return on investment, bounce rates, conversion rates, leads, and MQLs. There are tons of other marketing metrics you can derive from all your marketing channels and platforms, but to analyze the progress, it's essential to decide the KPIs based on your goals. Your marketing reports might differ depending on the depth and type of marketing strategy.
But sales reporting focuses more on the customer and sales team's interactions. The sales metrics can be sales volume, sales forecast, sales funnel, customer lifetime value (CLV), opportunity win rate, and response time to leads.
What is HubSpot reporting?
HubSpot integrates hubs like Marketing, Sales, Service, Content management, and Operations Hubs, which connect all the data to form a powerful CRM platform for growing businesses. With HubSpot's built-in reporting and other tools, you can create reports for overall marketing and sales performance to track the progress on the number of KPIs.
In this guide, we'll focus on HubSpot reporting, but that's just one aspect of marketing and sales reporting.
HubSpot reporting basics
Before diving deep into reporting, let's first have a look at the basics of HubSpot reports.
One of the benefits of HubSpot is that it can be used as an all-in-one sales and marketing platform that combines your CRM and marketing software.
"We've seen, especially through the pandemic, that the buyer's journey is no longer linear. Your web visitors won't directly turn into customers. There are many touch points, and buyers are doing their own research before committing to one brand or company. Being able to meet them where they are and personalizing each interaction is crucial to winning their engagement and trust.

By capturing data from each point of a customer journey and viewing it holistically in a CRM, you'll be able to build highly personalized campaigns that speak directly to a customer's needs and interests."

Erica Agrodnia, Manager Growth Automation Marketing, HubSpot
While it brings the majority of your marketing and sales data under one roof, there are still some limitations to HubSpot's reporting capabilities, which we'll address in this article. While purchasing the reporting add-on does improve things, third-party tools are also a great way to superpower your HubSpot reporting (again, more on that later).
When it comes to HubSpot's built-in reporting tools, there are three different categories to look at. Let's go through them individually.
HubSpot Reports
HubSpot reports are the data summary that you can then use to create the cards in the dashboard. Unlike other data analytics and visualization tools where you can more specific exploration of data.
You can create different reports in HubSpot based on your subscription packages. You can create custom reports of different types in HubSpot:
Single object reports: analyze contacts, companies, deals, tickets, quotes, custom objects, payments, activities, line items, or feedback submissions.
Funnel reports: measure the conversion rates between certain stages in a customer's lifecycle or deal's pipeline. You can create a custom events funnel if you have an Enterprise subscription.
Custom report builder: an advanced report builder that allows you to analyze objects concerning marketing, sales, and service activities.
Contact attribution reports: a measure of which sources, assets, and interactions impacted a lead generation.
Deal creates attribution reports: a measure of which sources, assets, and interactions impacted deal generation.
Revenue attribution reports: a measure of which sources, assets, and interactions had the greatest impact on revenue.
HubSpot reporting add-on
HubSpot's reporting add-on is a supplementary tool available for $200 monthly. It gives businesses a central dashboard that brings all of your marketing and sales reports. This allows marketing and sales teams to keep updated with all the metrics they're accountable for. The tool allows you to create up to 300 such dashboards and 3,000 custom reports.
HubSpot Analytics tools
HubSpot analytics is the extension to explore more and gather insights into the data compiled in the reports. This helps give you a deeper understanding of your marketing trends and customer behavior, which lets you improve your overall marketing effectiveness.
Let's look at some of the analytics tools provided by HubSpot below:
Sales Analytics – Insights on all the sales activities like pipelines, sales forecast, sales rep performance, deals, etc.
Custom Behavioral Events (Beta Version) – Lets you create the custom events so you can track the button clicks, goal triggers, and user engagement.
Traffic Analytics – HubSpot Traffic Analytics lets you track the traffic on your website by viewing traffic by source, topic cluster, device type, country, and more.
Campaign Analytics – This is one of the most useful of HubSpot's analytics tools for marketers. HubSpot campaigns are used to tag marketing-related assets, using which you can measure the performance of the asset's marketing efforts collectively. It allows you to measure the effectiveness of your marketing campaigns in five different areas:

Influenced contacts
Sessions
New contacts
Influenced deals
Influenced revenue
Whether it's tracking blogs, social media posts, or calls to action, the campaign analytics tool brings all of the information related to a single campaign together and gives a useful overview of performance. It also makes it easy to track how many leads and revenue your campaign has generated.
Contact Analytics – It lets you track and manage all the contacts by stages, information, country, created date, etc.
Sales Content Analytics – It lets you track the performance of your sales-related assets (like brochures, templates, etc.)
Forms – It lets you monitor all the forms on and off the site so you can manage them efficiently.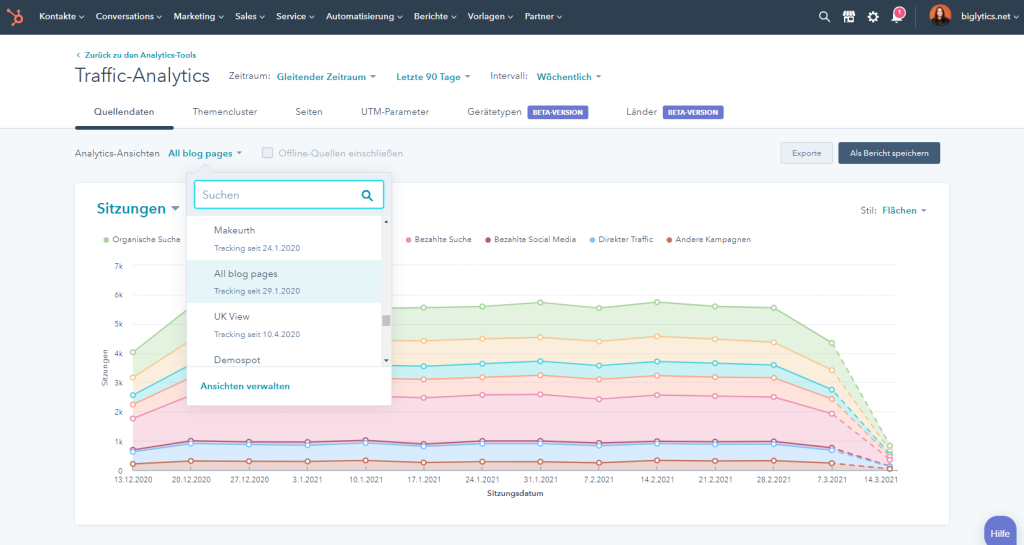 HubSpot Dashboards
HubSpot's reporting dashboard is essentially the homepage of the HubSpot platform. It's a collection of different reports to give you a high-level overview of your performance when you open the software. When you first create the HubSpot account, you instantly get a standard dashboard. As you use more, you can customize it, add other reports, or even complete a new dashboard per the requirement.
Customized dashboards can contain marketing and sales reports, which can also help "close the loop".
"Marketing teams can consolidate data from different touch points into a single platform, allowing for comprehensive reporting on ROI."

Erica Agrodnia, Manager Growth Automation Marketing, HubSpot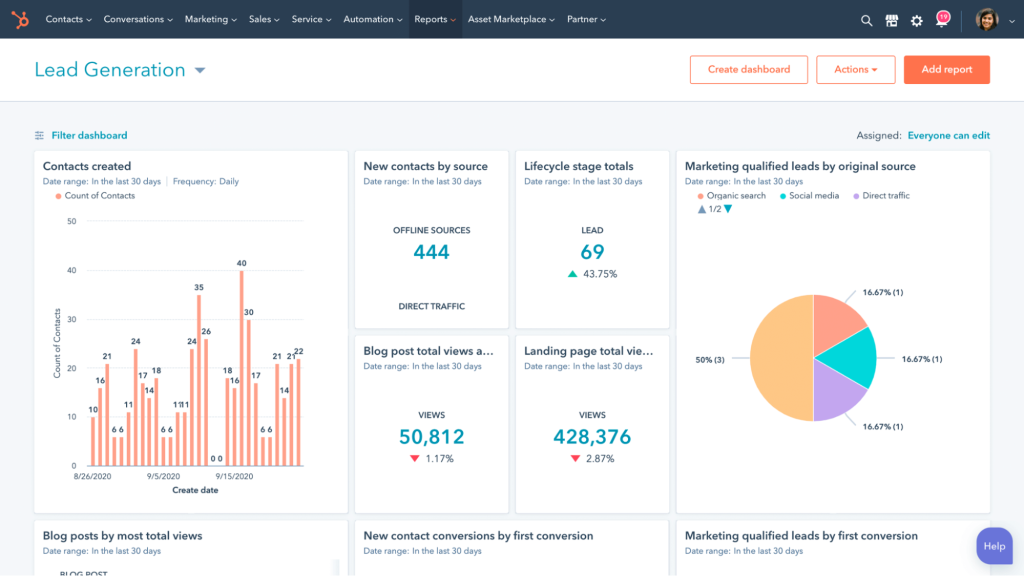 What are the pros and cons of HubSpot reporting?
Pros of HubSpot reporting
If you use HubSpot as an all-in-one sales and marketing platform, creating reports without additional tools or integrations is convenient.
If you use the CRM, HubSpot brings together most of your marketing and sales data, which makes it possible to report across the entire customer journey on one platform.
An intuitive user interface that makes it easy to create reports for marketers that don't need to get too granular with their data.
Purchasing the HubSpot Reporting add-on gives you access to central dashboards that bring your sales and marketing reports.
Cons of HubSpot reporting
You can't add external data from other platforms to HubSpot. It allows you to use the data from HubSpot Hubs to create reports or dashboards.
You're limited by a user interface that's restrictive when it comes to the customization and visualization of reports. It doesn't allow you to analyze the data in-depth, as the report layout can't be customized beyond basic features.
HubSpot dashboard or reports don't allow you to connect data from multiple accounts or portals. This makes it difficult for agencies with multiple accounts to create reports that draw on data from all of their portals. Likewise, in-house marketers with different portals for different markets or brands will face the same problem.
How to overcome HubSpot reporting limitations
Due to the limitations of HubSpot's reporting capabilities, most marketers will look towards using third-party tools. These tools help them save time, minimize manual labor, and analyze their data in a more comprehensive way.
But how should you be using these tools, exactly? Below are four examples of how using third-party tools can improve your HubSpot reporting. We'll be using Supermetrics as an example, but the same principles can be applied to your tool of choice
Blend HubSpot data with other marketing data
HubSpot doesn't let you import any other data in the reports — you can only use data available in different hubs in HubSpot. So if you're using other tools like Mailchimp for email marketing, Google Analytics for web analytics, Salesforce for CRM, Semrush for SEO, or any other tool, you can't get that data in HubSpot to create a report where you can see a bigger picture of your marketing efforts. With the help of tools like Supermetrics, you can bring the data from 100+ sales and marketing platforms to the destination of your choice.
"I wasn't able to create this specific report in HubSpot; I was able to use Supermetrics to pull the needed data from HubSpot into Google Sheets, mix it with data from other platforms, and create the report in Google Looker Studio. Supermetrics has allowed us to develop ideas for our business that we previously thought were difficult. It gives you the tools to be creative and think outside the box."

Maricarmen Vargas, Digital Account Manager, Gravital
Read more: Marketing data integration — What is it and Why you should care.
Analyze HubSpot data in a spreadsheet
The nature of HubSpot's user interface and reporting capabilities make it difficult to analyze numbers in depth. With HubSpot, you can't add custom calculations, drill down your data, choose visual elements of your choice, or slice and dice data as you require, which is possible with Spreadsheets.
The main problem with using spreadsheets is the need to manually transfer your data into them, which can be a slow process.
Using a tool like Supermetrics, you can automate this process by importing all of your marketing and sales data into Google Sheets, Looker Studio, or Microsoft Excel without chaos and errors.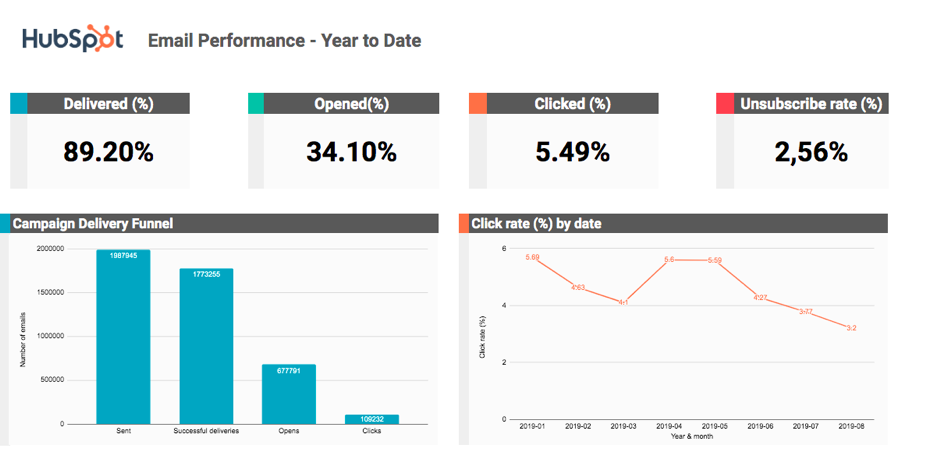 What's the benefit of moving your HubSpot data to the reporting tool of your choice?
Answer specific questions by creating a HubSpot report with Supermetrics for Google Sheets
Store large amounts of historical data and perform complex data transformations by pulling your Hubspot data into a data warehouse
Create an interactive client-facing dashboard with Supermetrics for Looker Studio.
Create multi-portal HubSpot reports
Including data from multiple HubSpot portals in your reports is something that can provide marketers with plenty of added value. It allows you to track the performance of metrics like visits, contacts, or revenue goals across the accounts that you might have with different brands, country teams, or companies.
But, creating multi-portal reports is very time-consuming on HubSpot's platform. You would ordinarily have to go into each of your HubSpot portals to fetch the data you need to build a multi-portal report.
This becomes much easier when using the right third-party tool. Supermetrics allows you to easily select what data you want to pull into a report and then pull it from as many portals as you want. The result is less time spent on manual work and more time spent on analyzing the performance of your collective marketing efforts.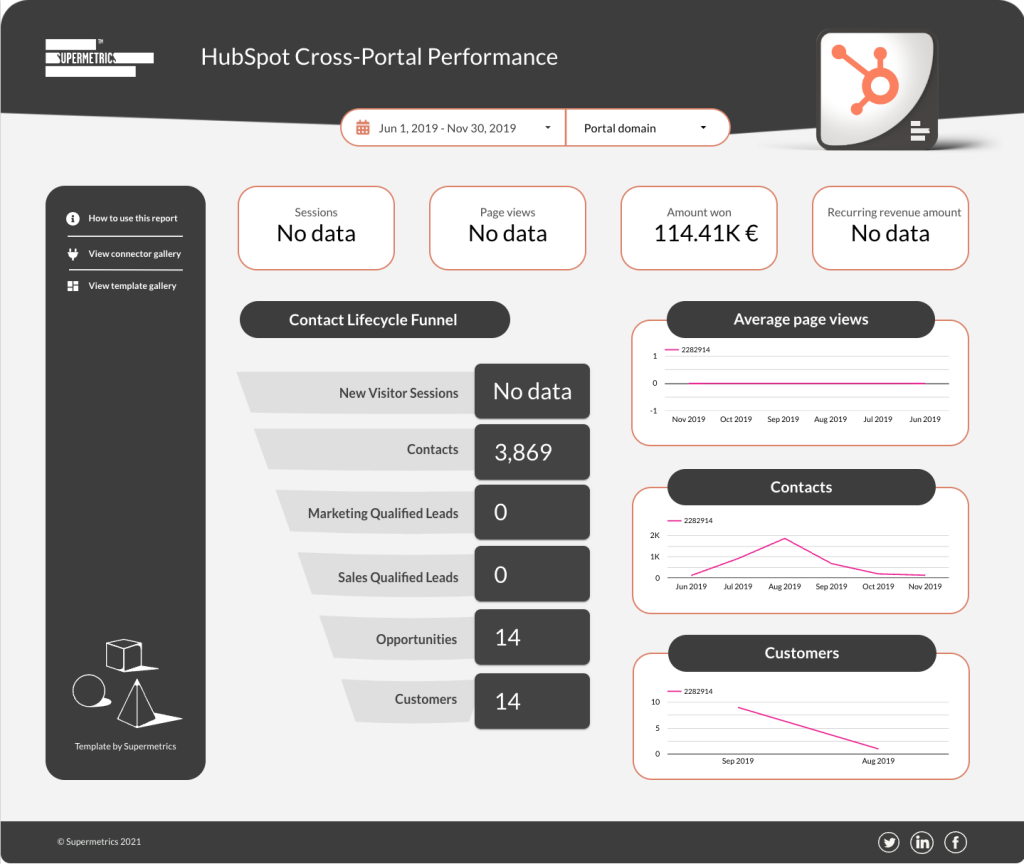 Automate your HubSpot reporting
Automated reporting sets up reports to be delivered at regular intervals or after triggered events. This saves you endless amounts of time and eliminates the chance of metrics being botched when they're manually transferred into reports.
Before you'll be ready to automate your reporting, you just need to build a reporting template. This can be done with a reporting and data visualization tool such as Looker Studio or even with spreadsheets like Google Sheets or Excel.
Rather than manually transferring your data from HubSpot and other sources into Google Data Studio, however, you can use Supermetrics to pull your selected data for you instantly. Once your template is created, you can select how often you want your automated report to be updated. Depending on what you want to use it for, this could be daily, weekly, or monthly report refreshes.
"Since using Supermetrics with HubSpot, I can pull data and crunch it together. It's super quick and easy. If you add up all the time saved compared to our old process, it would be about 5-6 hours per month and that's not including the time we've saved our designer. Now our reports are created in the time it takes you to open up a Google Sheet and hit refresh."

Erik Ickes, Director of Marketing, Heinemann Publishing
You can also set automatic notification triggers, so you can always be on top of the metrics which matter to you.
HubSpot reporting templates
Creating reports from scratch can sometimes be tedious work, which is why we love templates. They're easy to use, give you immediate insight into your data, and can be customized to meet your specific needs.
Supermetrics give you free templates for Looker Studio and Google Sheets to kick-start your reporting journey.
Looker Studio templates for HubSpot
Google Sheets templates for HubSpot
How to create a HubSpot reporting dashboard
HubSpot reporting dashboards are a key reference point for any marketer that wants to understand at a glance how they're performing across several related areas.
Steps to create a marketing dashboard
Your HubSpot reports play a key role in helping you understand how you're performing on a daily, weekly, and monthly basis, so it's important that your dashboards are set up to give you the most useful data possible. Here are five tips to keep in mind when creating a new dashboard:
Choose one specific topic to build your dashboard around.
Decide what you want to achieve and only track the metrics and KPIs that will help you do so.
Present your data clearly and logically by carefully considering your visualization options.
Track the customer lifecycle in full by combining marketing and sales data.
Design your dashboards in a way that ensures they point towards actionable steps for improvement.
Read more: The not-so-secret recipe I use to design ~80% of my Google Data Studio dashboards
What are the main reporting challenges
Let's look at the three main reporting challenges that people face, and how to tackle them.
Analyzing the data
How should I analyze the report to come up with an action plan on how to optimize my marketing campaigns?
Marketing technology, data, and analytics is the top priority for CMOs—beating brand promotion, customer experience, and revenue management. Because marketing analytics helps you spend more time on productive work, gain powerful insights, make better decisions and improve your return on spending.
With so much data available, you're not alone if you're overwhelmed by the number of KPIs available. But turning that data into insight has never been more important. Let's go through some steps that can help you analyze your data.
Organize the data: A data delivery solution like Supermetrics for Hubspot streamlines the secure delivery of data from 100+ sales and marketing platforms. You can focus on the insights—and get to the right answers faster—while having the heavy lifting of data sourcing taken off your plate entirely.
Establish data governance: assign a team member responsible for keeping your repository clean—such as a data analyst or marketing leader.
Define your north star metrics: Decide the important metrics that matter to your business and your goals.
Slice and dice marketing data: Dig deep into your dataset to look for marketing trends, using data analysis to benchmark metrics from several platforms against each other. If you're evaluating the success of a particular Facebook advertising campaign, for example, don't use metrics contributed by Facebook in a silo.
Relay data back to consumers: Don't just collect data for the sake of it but make sure you derive actionable insights from it and use it back to retarget your audience with a more personalized approach.
Report regularly: Data can unveil patterns—you'll only see them when you report regularly.
Read more: HubSpot marketing analytics: 6 agency marketers share their reporting secrets.
Selecting metrics to report on
What metrics should I add to create a comprehensive overview of all my marketing platforms' performance?
A metric is a driving force behind your marketing dashboard. They're usually anchored to business goals, such as reducing churn, increasing customer loyalty, or driving new revenue.
Before creating any dashboard or starting with the analysis, you should first brainstorm the top three categories (for example, Facebook Ads performance) of metrics for your dashboard and why. Of those three categories, which three metrics (for example, ROI) best illustrate the insights you want from that category? That's going to be the main driving force of your dashboard.
Read more: The not-so-secret recipe I use to design ~80% of my Google Data Studio dashboards
Choosing a reporting tool
Choosing the tool for your reporting needs might be difficult as everyone has different reporting needs. But following a few simple steps can help you decide.
Map out your needs: First, consider what kind of data you need to do your job to the best of your ability. Think about your business and marketing goals, and then list the specific metrics you should track to successfully monitor your marketing performance.
What's missing?: Consider what your current tools offer and ask yourself if anything is missing. Can you analyze your data in as much depth as you would like? Are you satisfied with their features and functionality, or would you like more customization options?
What should your reports look like?: Ask yourself what kind of reports you want to create. What's most important, easy-to-understand visualizations or advanced analytical functions? If you want to create dashboards that give clear overviews of your marketing and sales performance, then a range of visualization options should be a priority. If you want to carry out comprehensive data extractions or really dive into your numbers, then robust analytical functions in spreadsheets are a must.
Pricing: Of course, you also have to factor in the cost of your new HubSpot reporting tool. Some of them are free, such as Looker Studio, but others offer free trials that will let you try before you buy.
Check for integrations: Lastly, assess your current tools and identify the ones that hold your most crucial data. You want to make sure that your new reporting tool will be able to integrate with these key services. If native integration isn't possible, you'll need to find the relevant connector apps.
Read more: 13 best HubSpot reporting tools for marketers
If you'd like to easily create more useful and actionable HubSpot reports, then start your Supermetrics free trial today!
Turn your marketing data into opportunity
We streamline your marketing data so you can focus on the insights.