HubSpot reporting: how to analyze and improve your marketing and sales performance
Edward Ford
More from HubSpot
HubSpot is a great platform for marketing, sales, and service teams that want to grow their business. To do this effectively, you need a clear overview of how all your campaigns, initiatives, and assets are performing. That's where HubSpot reporting comes into play.
What is HubSpot reporting?
HubSpot reporting is the practice of evaluating your overall marketing and sales progress by using a combination of HubSpot's built-in reporting tools and additional products. Reports are meant to give you clear insight into how your business is performing across a number of key metrics.
Many marketing and sales teams rely on HubSpot reporting to get a clear overview of what they're already doing well and what they need to focus on.
But how exactly can you go about improving your HubSpot reporting? And how can you translate these reports into better marketing and sales results?
These are the questions that we've set out to answer in this handy guide. Whether you're seeking enlightenment on the finer points of reporting or want to superpower your analytics with the help of third-party tools, this article is meant for you.
Navigate this post:
Before jumping into HubSpot reporting, let's start with a quick primer on marketing & sales reporting…
What is marketing & sales reporting?
Marketing and sales reporting is the process of measuring progress, showing value, and identifying actionable steps to improve performance and meet your goals.
One report will almost always look different from another, but they'll typically be split up into a few main sections. These include: Summary, traffic metrics, engagement metrics, conversion metrics, and business impact metrics. 
You can choose your specific sections based on what kinds of metrics are important to your marketing and sales teams. Deciding on which metrics to track all starts with figuring out what your goals and objectives are, as well as which metrics best demonstrate return on investment (ROI).
In this guide we'll be focusing on HubSpot reporting, but that's just one aspect of marketing and sales reporting. To learn more about reporting as a whole, take a look at our ultimate marketing reporting guide.
The basics of HubSpot reporting
HubSpot reporting allows you to follow the end-to-end experience of your customers. By staying informed of both marketing and sales data, marketers are able to "close the loop" and understand what happens with the leads that were passed onto sales. 
One of the benefits of HubSpot is that it can be used as an all-in-one sales and marketing platform that combines your CRM and marketing software. While this brings the majority of your marketing and sales data under one roof, there are still some limitations to HubSpot's reporting capabilities, which we'll address during this article. While purchasing the reporting add-on does improve things, third-party tools are also a great way to superpower your HubSpot reporting (again, more on that later).
When it comes to HubSpot's built-in reporting tools, there are three different categories: 1) reports, 2) analytics tools, and 3) dashboards. Let's take a look at each type, one by one.
1. HubSpot reports
Default reports in the areas of marketing, sales, and service are provided by HubSpot. Some of the different types of reports are listed in the HubSpot Dashboards section of this guide. Unlike the analytics tools, which allow for more specific exploration of data, HubSpot reports provide readable summaries that help businesses make sense of their data and understand how they are performing in different areas. Reports are most commonly viewed as part of a dashboard.
HubSpot Professional, Enterprise, and Reporting Add-on users can also build custom reports. This article on creating custom reports from HubSpot provides a thorough explanation of the different types of reports and how they can be built.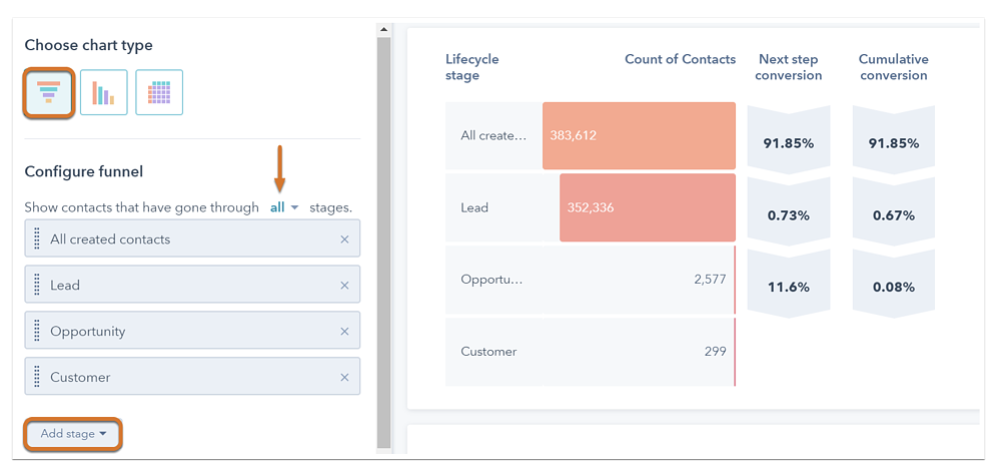 HubSpot reporting add-on
HubSpot's reporting add-on is a supplementary tool that's available for $200 per month. It provides businesses with a central dashboard that brings all of your marketing and sales reports together, which allows marketing and sales teams to keep up to date with all of the metrics they are accountable for. The tool allows you to create up to 200 such dashboards and up to 2,000 custom reports. 
2. HubSpot analytics tools
While HubSpot reports allow you to compile and organize the data that you've previously collected, HubSpot analytics tools are designed to let you drill into your data a bit further. This helps give you a deeper understanding of your marketing trends and customer behavior, which in turn lets you improve your overall marketing effectiveness.
HubSpot offers various kinds of analytics tools, but we feel that the following are the most important ones:
Traffic analytics
HubSpot's software tracks your site traffic, and this data can be analyzed by accessing the traffic analytics tool. 
Through the traffic analytics tools, you can monitor:
Where your visitors are coming from

How your topic clusters and individual pages are performing by key traffic metrics

The effect of traffic tags or UTM parameters on your traffic data 
These features allow you to see data on metrics such as conversion rates, new customers, and page views per session.

Website analytics
The website analytics tool provides you with data on how your website is performing under a host of different metrics. These include page views, bounce rate, and average time spent on page. You can choose to analyze blog posts, landing pages, or website pages, and all data can be filtered to meet a specific time range.
Ads
You can analyze the performance of your online ads by connecting HubSpot to your Facebook, Google, and LinkedIn Ads accounts. You can view reports that show performance overviews of impressions, clicks, customers, and several other statistical areas.
You can also analyze ads dashboards. These display metrics such as engagements, click-through rates, and the number of total contacts broken down by the current lifecycle stage.
Campaign analytics
HubSpot campaigns are used to tag related marketing assets and content, which in turn helps users to measure the performance of their collective marketing efforts.
Campaign analytics is one of the most useful of HubSpot's analytics tools for marketers. Why? It allows you to measure the effectiveness of your marketing campaigns in five different areas:
Influenced contacts
Sessions
New contacts
Influenced deals
Influenced revenue
Whether it's tracking blogs, social media posts, or calls to action, the campaign analytics tool brings all of the information related to a single campaign together and provides a useful overview of how that campaign is doing. It also makes it easy to keep track of how much leads and revenue your campaign has generated.
3. HubSpot dashboards
Reporting dashboards are typically the first thing you'll see after logging into your HubSpot account. Containing an overview of up to ten different reports, dashboards provide easily digestible summaries of how you're performing in several related areas.
HubSpot provides default reporting dashboards that cover the areas of marketing, sales, and service.
Default marketing dashboards present up to ten reports that focus on the most common marketing metrics, such as page views, conversion rates, and email performance.
The default sales dashboard consists of five reports. These are deal forecast, deals closed vs goal, team activity, sales performance, and productivity.
Default service dashboards can be used to view your ticket, knowledge base, and customer feedback performance.
Dashboards can also be customized to include up to ten reports of your choice. After creating a report, it can simply be added to one of your dashboards. Customized dashboards can contain both marketing and sales reports, which can also help with "closing the loop".
The benefits and limitations of native HubSpot reporting
Let's break down some of the pros and cons of HubSpot's native reporting capabilities.
Benefits of reporting in HubSpot
If you use HubSpot as an all-in-one sales and marketing platform, it's convenient to create reports without having to use any additional tools or integrations.
If you use the CRM, HubSpot brings together most of your marketing and sales data, which makes it possible to report across the entire customer journey on one platform.
An intuitive user interface that makes it easy to create reports for marketers that don't need to get too granular with their data.
Purchasing the HubSpot Reporting Add-on gives you access to central dashboards that bring all of your sales and marketing reports together.
Limitations of reporting in HubSpot
You can only use data already in HubSpot. This means that you can't bring data into HubSpot from any other marketing tools that you might use.
HubSpot's reporting features make it problematic to analyze numbers in-depth, as you would be able to do on a spreadsheet. While it is possible to build a report on HubSpot and export the data into a spreadsheet, this process can't be automated without using a third-party product like Supermetrics.
You're limited by a user interface that's restrictive when it comes to the customization and visualization of reports.
You're unable to combine data from more than one HubSpot portal. This makes it difficult for agencies with multiple accounts to create reports that draw on data from all of their portals. Likewise, in-house marketers with different portals for different markets or brands will face the same problem.
In the next section, we'll provide some clear examples as to how you can overcome these limitations and take your HubSpot reporting to the next level.
How marketers can superpower their HubSpot reporting
Due to the limitations of HubSpot's reporting capabilities, most marketers will look towards using third-party tools to help them save time, minimize manual labor, and analyze their data in a more comprehensive way.
But how should you be using these tools, exactly? Below are four examples of how using third-party tools can improve your HubSpot reporting. We will be using Supermetrics as an example, but the same principles can be applied to your tool of choice.
Blend HubSpot data with other marketing data
This is essential if you're using any other tools or platforms in addition to HubSpot. Whether that's an email marketing tool like MailChimp, a web analytics tool like Google Analytics, or a landing page creator like Unbounce, marketers that don't exclusively use the HubSpot ecosystem will require a third-party tool to build reports that give a total overview of their marketing performance.
By using a tool like Supermetrics, marketers are able to build reports that incorporate data from all of their different marketing and sales platforms. Harrison Hollingsworth and the marketing team from AcreTrader are HubSpot users that previously had trouble blending sales data in HubSpot with their marketing data from multiple platforms. By using the Supermetrics HubSpot Connector, they are now able to combine their sales activities from HubSpot with paid media metrics. Read more about cross-platform reporting with AcreTrader here.
Analyze HubSpot data in a spreadsheet
The nature of HubSpot's user interface and reporting capabilities make it difficult to analyze numbers in depth, which is one reason why many marketers use spreadsheets like Microsoft Excel or Google Sheets. These tools are simple to use and enable you to apply mathematical formulas and functions to really drill down into your data. Spreadsheets can also be customized to include visual elements of your choice, such as charts and graphs.
The main problem with using spreadsheets is the need to manually transfer your data into them, which can be a slow process. Using a tool like Supermetrics, however, automates this process by importing all of your marketing and sales data into Google Sheets, Google Data Studio, or Microsoft Excel. You're then able to slice, dice, and analyze your data in any way you want.
HubSpot Email Performance Report Template for Google Sheets by Supermetrics
Create multi-portal HubSpot reports
Including data from multiple HubSpot portals in your reports is something that can provide marketers with plenty of added value. It allows you to track the performance of metrics like visits, contacts, or revenue growth across the accounts that you might have with different brands, country teams, or companies.
Creating multi-portal reports, however, is very time-consuming to do on HubSpot's platform. You would ordinarily have to go into each of your HubSpot portals in order to fetch the data you need to build a multi-portal report.
This becomes much easier when using the right third-party tool. Supermetrics allows you to easily select what data you would like to pull into a report, and then pulls it from as many portals as you want. The result is less time spent on manual work and more time spent on analyzing the performance of your collective marketing efforts.
HubSpot Marketing Performance Report Template for Google Data Studio by Supermetrics
How to automate your HubSpot reporting
Automated reporting is the process of setting up reports to be delivered at regular intervals or after triggered events. This saves you endless amounts of time and eliminates the chance of metrics being botched when they're manually transferred into reports.
Before you'll be ready to automate your reporting, you just need to build a reporting template. This can be done with a reporting and data visualization tool such as Google Data Studio, or even with spreadsheets like Google Sheets or Excel.
Rather than manually transferring your data from HubSpot and other sources into Google Data Studio, however, you can use Supermetrics to pull your selected data for you instantly. Once your template is created, you can select how often you want your automated report to be updated. Depending on what you want to use it for, this could be daily, weekly, or monthly.
How marketing agencies can improve their HubSpot client reporting
Traditionally, marketing agencies have struggled with various problems and limitations with their client reporting practices. These include some of the points that have been listed above, such as excessive amounts of manual work and difficulty when it comes to analyzing data in a comprehensive way. Almost all of these problems can be solved by using more robust tools in order to superpower your HubSpot reporting.
Another important way for agencies to improve their HubSpot client reporting is to "close the loop" by analyzing and reporting across the entire customer journey. Achieving this means agencies are able to provide better insights and results for their clients, as well as further demonstrating the value of their marketing work.
This was the experience of Vuelo6, a performance marketing agency that shifted from an inbound to a full-funnel marketing approach in order to better show the business impact of their work. They were able to do this by using Supermetrics to bring data from HubSpot into their automated dashboards on Google Data Studio. This allowed them to create dashboards that demonstrated to their clients the ROI and lead-to-customer results of their marketing efforts.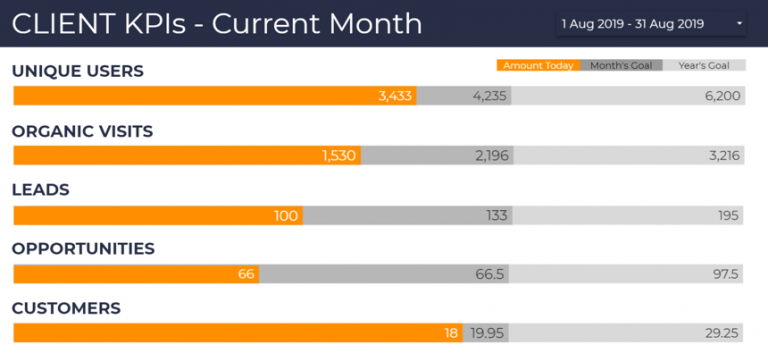 Vuelo6's closed-loop report using HubSpot & Supermetrics
How to create a HubSpot reporting dashboard
HubSpot reporting dashboards are a key reference point for any marketer that wants to understand at a glance how they are performing across several related areas. Before you start creating your dashboards, however, it's important to know what you want them to achieve and how you can get the most out of them.
Marketing dashboard best practices
Below are six things to keep in mind when building a HubSpot reporting dashboard. For more information, check our four rules for creating the perfect marketing reporting dashboard.
· Determine your goals
Decide what you want to achieve with your dashboard and which KPIs you should include to help you do so.
· Give your dashboard a home
If you want to include data from multiple sources, then you will want to use a spreadsheet or visualization platform like Google Data Studio. Supermetrics allows you to connect your HubSpot data to Google Sheets, Microsoft Excel, and Google Data Studio.
· Keep it simple
You want to have a clear purpose of what your dashboard is used for, so build it around one specific topic.
· Think visually
Your data will be much more understandable if it's presented in the right visual format. Keep in mind what kind of message you want to show and which chart type gives a good visual representation of that concept.
· Close the loop
Bring marketing and sales data together in your dashboards to ensure that you can track the customer lifecycle in full.
· Make your dashboard actionable
When building your dashboard, think about how each graph, chart, or table can be directly linked to a step that can be taken to help improve performance.
HubSpot reporting templates
Creating reports from scratch can sometimes be tedious work, which is why we love templates. They're easy to use, provide you with immediate insight into your data, and can be customized to meet your specific needs.
Reporting templates are generally free and can help you to assemble dashboards that can be personalized later on. You can also use dashboard templates that will provide you with broad overviews of your marketing performance straight away.
Supermetrics provides free templates for Google Sheets, Google Data Studio, and Microsoft Excel, as well as a HubSpot email performance reporting template, a HubSpot sales funnel performance reporting template, and a HubSpot marketing performance template. These automated reporting templates allow you to visualize data that has been pulled from different sources, including HubSpot. Once your automated report has been set up, you can select how often you want it to be updated.
HubSpot Sales Funnel Performance Report Template for Google Sheets by Supermetrics
How to turn your HubSpot reports into action
Even though you've already superpowered your HubSpot reporting capabilities and created a tailor-made dashboard, there's still the question of how to act on your newly acquired data. Helping to improve your marketing performance is the goal of HubSpot reporting, after all. But how should you go about taking action?
Strategize
HubSpot reporting is not an end in itself. Rather, it is a way to monitor your marketing performance and identify what is and what isn't working. In order to turn this analysis into action, you need to create a strategy for using your data.
You can do this by creating a model that can help you understand what's important. One of the most common models to use is: Reporting → analysis → conclusion → hypothesis → action → reporting. For an explanation of how to use this model, have a look at our ultimate guide to marketing reporting.
Be agile
Creating a cyclical pattern of monitoring, analyzing, and acting on your data will help you get the most out of your HubSpot reporting. One way of doing this effectively is to adopt an agile marketing model.
In case you're unfamiliar with the concept of agile marketing, it aims to improve adaptability, predictability, transparency, and speed in the event of a change. This is done by teams concentrating their efforts on high-value projects and then working in sprints in order to complete them. Once each sprint is over, teams have a sprint retrospective to evaluate the success of completed projects and focus on making incremental improvements as they move forward.
With regards to HubSpot reporting, agile marketing allows you to constantly analyze data and then react to your findings. By measuring the impact of your projects after each sprint is over, you're able to use the data from your HubSpot reports to determine what worked, what didn't, and what you can do next time in order to achieve even better results.
But what does agile marketing look like in practice? Let's say you implemented an agile marketing model and wanted to run two sprint tests: One aimed to test the effectiveness of your paid acquisition campaigns, while the other focused on gauging the impact of your written vs. video content. The tests might look something like this:
We wanted to find out what the cost per marketing-qualified lead (MQL) was from our paid channels. After analyzing the data, we determined that most of our leads were coming from Facebook and the majority of those weren't translating into sales. It turned out that the cost per MQL was lowest for LinkedIn. We subsequently decided to produce more ads for LinkedIn and less for Facebook.
Looking at our HubSpot reports, we wanted to calculate the new monthly recurring revenue (MRR) we had received for our different types of content. We determined that our video content was giving us the most paying customers. Therefore, we decided that we will do more to promote it.
Moving towards an agile marketing model begins with a change in your team's mindset and culture. Check out this guide on how to get started with agile marketing from CoSchedule if you want to learn more.
Choosing the right additional HubSpot reporting tools
We've already established the importance of using third-party tools to boost your HubSpot reporting capabilities. Now it's time to consider which tools will be most beneficial for you.
Map out your needs
First, think about what data you need in order to determine how you're performing and make a list of all the metrics you will need to track. This will differ depending on what type of marketer you are. If you're an inbound marketer, for example, you might want to track data from HubSpot Marketing Hub, your CRM platform, Google Analytics, Google Ads, and your paid channels. If you're a content marketer, you might want to combine data from Google Analytics with your HubSpot blog and Marketing Hub numbers.
Consider your existing tools
Next, consider what you're getting from the tools you currently use. Are you able to drill deep enough into your data? Are you happy with their features and functionality, or would you like to have more control?
Check for integrations
Lastly, keep in mind that your chosen reporting add-ons should be able to integrate with your key platforms and tools. If native integration is not possible, you will need to find the relevant connector apps for HubSpot. Check step two of this HubSpot reporting guide to read more about third-party tool integrations.
You can now make a shortlist of tools that meet your requirements. To help you choose the best one, here's a list of some of the most popular tools:
And for a more comprehensive overview, check out some of the best HubSpot reporting tools to help you analyze and improve marketing performance.
Conclusions
Optimizing your HubSpot reporting is essential if you want to better understand your data and subsequently improve your marketing performance. That means using tools that allow you to save precious time by reducing manual labour, as well as helping you dig deeper into your data so you can find exactly what you need. Finding the tools you need to report effectively will also put you in pole position to turn your data into action. Just make sure you monitor and analyze your HubSpot reports on a regular basis, and consider implementing an agile marketing model to take things to the next level.
If you'd like to easily create more useful and actionable HubSpot reports, then start your Supermetrics free trial today!
Further reading on HubSpot & marketing reporting
HubSpot Closed Loop Reporting: How to Get A Complete Overview to Your Flywheel's Performance
13 Best HubSpot Reporting Tools for Digital Marketers
HubSpot Vs Google Analytics: A Comparison of Website Analytics Tools for Marketers
Marketing Reporting: The Ultimate Guide for Digital Marketers – including Dashboards, Templates, Tools & Software
Superpower Your HubSpot Analytics & Reporting – Supermetrics for HubSpot is here!
20+ Free Marketing Reporting Templates for SEO, PPC, Social, and Analytics from Supermetrics
How to Automate Your Marketing Reporting with Google Data Studio
The Ultimate Marketing Reporting Playbook: 29 agency marketers share their expert tips to help you improve marketing reporting
Marketing Reporting Best Practices: 14 Tips To Create Digital Marketing Reports Your Manager And Clients Will Love
Marketing Reporting Software: 15+ Digital Marketing Tools for PPC, SEO, SEM, Web Analytics, Visualization & BI
Turn your marketing data into opportunity
We streamline your marketing data so you can focus on the insights.