Oct 13, 2023
SuperSummit: The virtual event about marketing measurement and data you don't want to miss
3-MINUTE READ | By Joy Huynh
[ Updated Oct 16, 2023 ]
Privacy-first measurement, big data, and generative AI are all the rage these days.
But how can companies incorporate these pillars into their marketing and data strategy to grow their business?
That's what we'll figure out at SuperSummit, an online event where you can learn what the future holds for marketing measurement and how to stay ahead of the curve.
Keep reading to learn more about SuperSummit and see why you don't want to miss out.
Navigate the post:
What is SuperSummit?
SuperSummit is a recurring online event that brings together the largest brands to discuss the big shifts defining marketing measurement and data in 2024. You'll hear from industry leaders like Meta, Google, LinkedIn, and Supermetrics.
If you're interested in learning more about the latest developments in the marketing analytics and data space and implementing them into your business, SuperSummit is the place for you.
The event takes place on October 25, 2023. The first session will start at 11 a.m. EDT or 5 p.m. CEST. You can join for free. If you can't make it, you can sign up to receive the recordings.
SuperSummit: The Future of Marketing Data
Join leading brands to discover big changes shaping marketing measurement and learn what it takes to succeed in marketing in 2024.
Sign up for free
Why should you join SuperSummit?
SuperSummit is an event for marketers and analysts to learn more about marketing measurement and data in 2024. At SuperSummit, you'll get to:
Dive deeper into the shifts shaping marketing measurement.
Learn from the industry leaders.
Get actionable takeaways and frameworks to improve your data strategy.
Access the on-demand videos and materials.
What will you learn at SuperSummit?
Traditionally, marketers have been using data to review past performance. However, in this new era of marketing, looking at the past will only get you so far. Instead, you also need to use data as headlights to inform your next action and predict the future.
That's why at SuperSummit, we'll talk about the big changes shaping marketing measurement and data, including measurement and privacy, big data, and generative AI.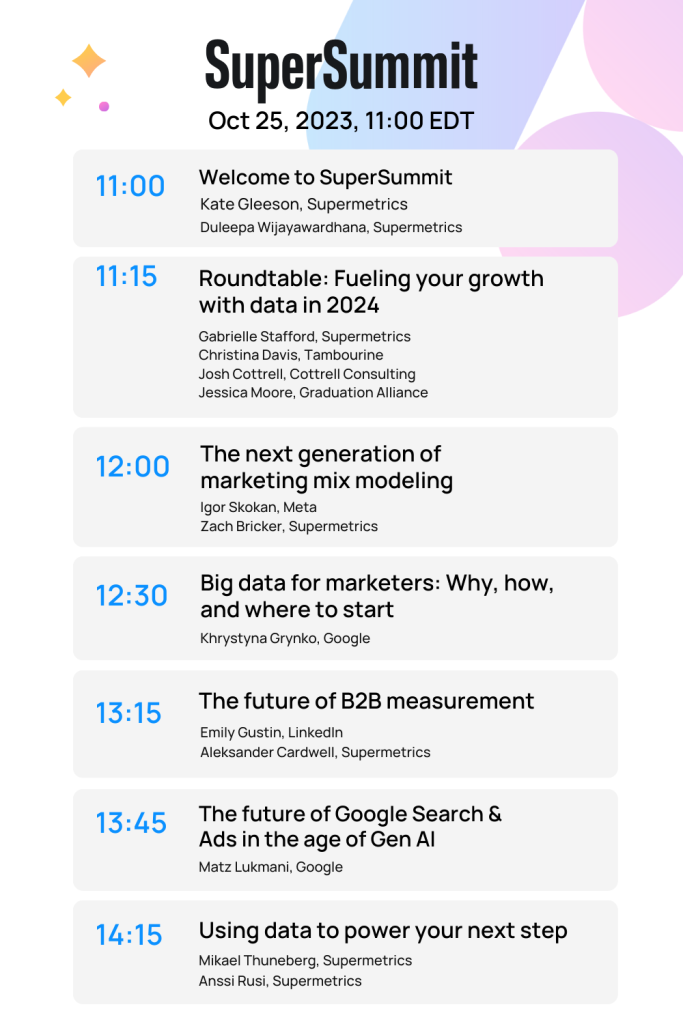 Measurement and privacy
Long gone are the days when marketers could track pretty much everything. Companies are looking into alternatives to monitor and measure marketing performance. For example, investing in a first-party data strategy and/or marketing mix modeling.
At SuperSummit, we'll explore measurement approaches that don't rely on third-party cookies to help you navigate this privacy-first era. You'll learn:
The next generation of marketing mix modeling by Igor Skokan, Marketing Science Director at Meta, and Zach Bricker, Lead Solutions Engineer at Supermetrics
The future of B2B marketing measurement by Emily Gustin, Senior Associate at LinkedIn, and Aleksander Cardwell, Director of Product Marketing at Supermetrics.
Marketing leader roundtable: Fueling your growth with data in 2024 by Gabrielle Stafford, CMO at Supermetrics, Christina Davis, VP of Media & Analytics at Tambourine, Josh Cottrell, Data Consultant at Cottrell Consulting, and Jessica Moore, Digital Marketing Director at Graduation Alliance
Big data
Data. It's everywhere, right? There are 328 million terabytes of data generated every day. But, according to Gartner, 86% of companies lack a full overview of data. Most companies have data problems. They're struggling with managing and making sense of the data created from different activities.
Without a proper strategy, data becomes a liability rather than an asset.
Together with a data leader from Google, we'll explore how you can effectively manage your data and use it to improve marketing ROI.
Watch out for the following session:
Big data for marketers: Why, how, and where to start by Khrystyna Grynko.
Generative AI
2023 is a big year for generative AI. Since the launch of ChatGPT, within less than a year, many companies have introduced AI into their products. For example, Supermetrics introduced a new ChatGPT feature in Google Sheets and Excel that helps users generate report summaries.
AI is changing the way marketers do marketing. In case you're worrying, AI won't replace you anytime soon, but marketers and analysts who know how to use AI to their advantage will surely do.
At SuperSummit, we'll look at the new era of search ads, including how Gen AI is changing the way consumers search for products and the new tools marketers can use to navigate and succeed in this AI-driven advertising era.
The future of Google Search & Ads in the age of Gen AI by Matz Lukmani, EMEA Product Lead at Google
Learn to use data to power your next step at SuperSummit
Those are the topics you'll learn at SuperSummit. The future of marketing data will continue to involve, but you can stay ahead of the curve by building a solid data foundation and using it to power your next step.
If how to apply privacy-first measurement, big data, and generative AI into marketing and data strategy piques your interest, join us at SuperSummit.
About the author
Joy Huynh
Joy is the Content Strategist at Supermetrics. With internal and external experts, Joy helps businesses eliminate the data chaos and turn marketing data into opportunity.
Turn your marketing data into opportunity
We streamline your marketing data so you can focus on the insights.