Dec 14, 2022
The social media reporting guide: get ready before the end of the year
10-MINUTE READ | By Linda Grönlund
[ Updated Jan 12, 2023 ]
It's the end of the year, and you know what that means: it's time to make sure your social media reporting is up to date. Keep reading to learn the steps you need to make sure your social media reporting is comprehensive, accurate, and gives you the insights you need. By the end, you'll be well-equipped to report on your social media activities for the year and make informed decisions about your upcoming strategy.
Skip ahead >>
What's a social media report?
A social media report is an analysis of the performance of a business' social media activities, such as the number of followers, engagement, reach, and other metrics. It's used to measure the success of a company's social media presence and to identify areas for improvement.
Why you should report on your social media marketing performance
Your social media performance says a lot about your brand. By extracting data from your latest posts, content, and messaging, you can better understand how much your brand resonates with your target audience. If you aren't consistently paying attention to metrics, you won't know how successful your brand actually is or if you're using your money wisely.
You may get a few hundred likes and a comment here and there, but what about everything else? How many people visited your website after your last post? Did anyone share your post with their following or save it for later? How does the engagement compare to your impression metrics? How many of the visitors actually converted?
Tracking your performance also helps you revise your social media strategies. Strategies are designed for the trial and error of the marketing world, so don't feel discouraged if the data shows a negative outcome. With these insights, you'll gain a better understanding of your performance. This will allow you to take a more targeted approach to the different platforms and establish your brand presence. End-of-year marketing reporting can also help you schedule your content during the best time of the week and make more informed content creation decisions.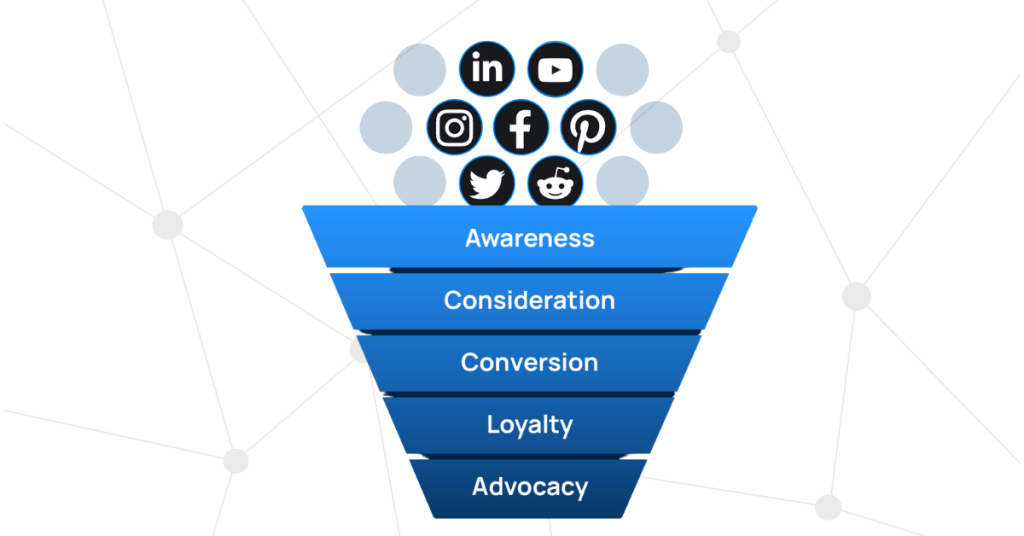 From a paid perspective, an annual social media marketing report can help you rethink your paid social media funnel and effectively use your advertising budget to convert prospects into paying customers.
At the end of the day, tracking your performance will unlock your potential and help you find what works. Once you find a type of content that resonates with your audience, you can   reflect on the effectiveness of your social media strategy and find ways to finetune your approach for the upcoming year.
What should be included in your annual social media report?
You should have both organic and paid social media in your annual social media report. Your KPIs will vary depending on your goal, strategy, and platforms. You'll want to set at least 2-3 KPIs at the beginning of the year and use each quarter as a new opportunity to check in on your progress.
Here's a checklist of KPIs to include, however, KPIs should be tied to a social media strategy and goals, so not every single one of them is needed. It's more important to measure metrics against your goals than have too many metrics just for the sake of it.
To put it simply: Want to know how your video is performing? Look at video views, and thruPlays. Want to know if people are converting after landing on your website? Look at conversions, sales, and conversion rate. Each campaign should have KPIs that reflect the campaign goals, and in your annual year report you'll simply put all the marketing efforts for Social Media together to find out what is truly working for you or not working at all.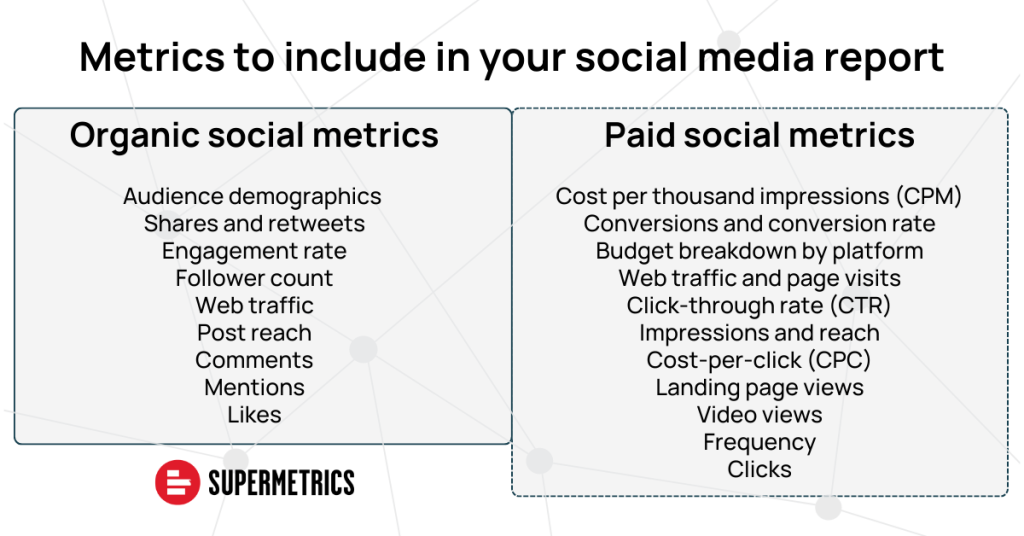 How to build your annual social media report
Taking on the task of building your annual social media report from scratch can be daunting. Instead, you'll want to utilize the resources you have readily available and use free reporting templates.
You can set up a daily KPI reporting spreadsheet. These are a google sheet that contains the top-level analysis of traffic, sales, your value, and more.
We also recommend a Paid Channel Mix Template in Google Sheets that can help you keep your paid search efforts all in one place. It will track Facebook Ads, Twitter Ads, LinkedIn Ads, and Pinterest Ads in one spreadsheet.
Consider setting up a reporting template for each platform, so you can track your organic performance. With the help of templates like our Facebook Page Dashboard, you can effectively understand engagement metrics, identify your top-performing post, and stay ahead of your follower growth rate.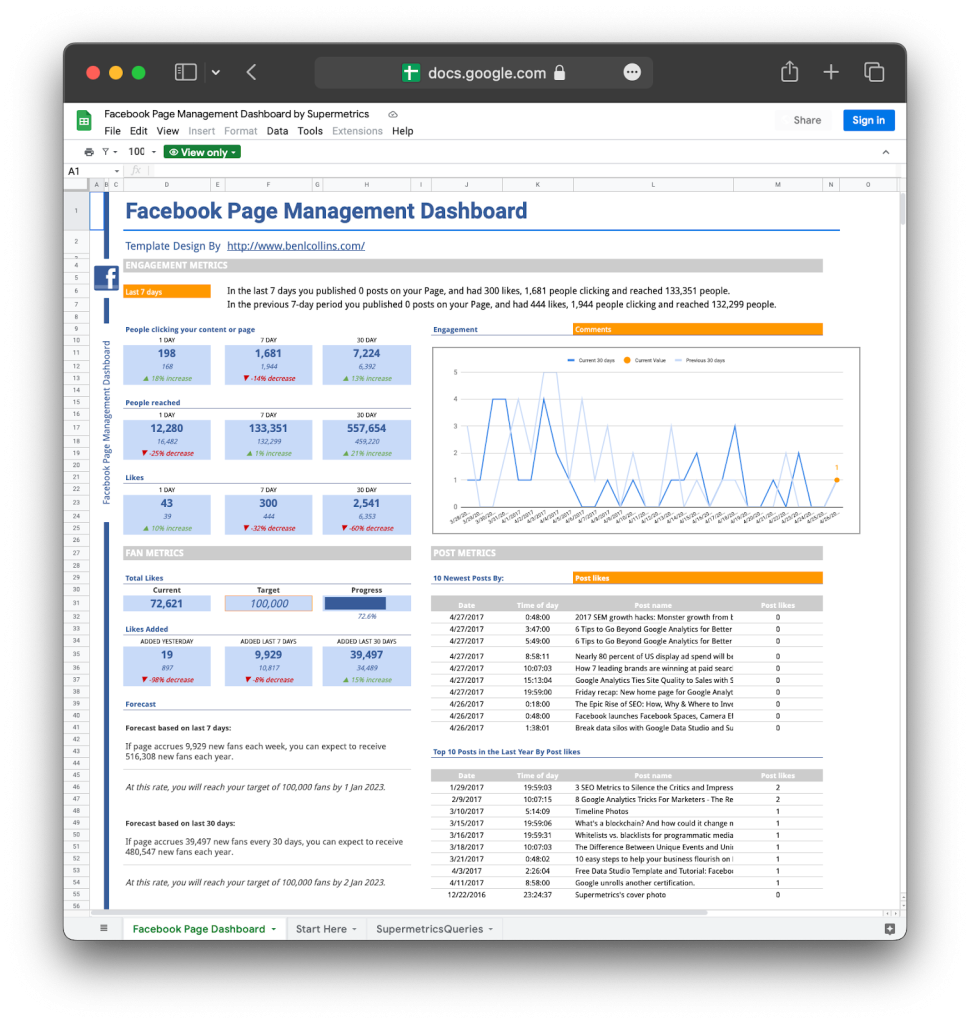 There are tons of resources for free social media report templates that can help keep you on track and streamline productivity. We have over 26 organic and paid reporting templates for social media that you can start incorporating into your annual reporting today.
Keep in mind that social media templates are not a one size fits all type of deal. When looking for a social media report, you'll want to look for one that helps you track the right metrics and use the right tools.
How to automate your social media report
With the different KPIs and range of social media platforms you may use, an annual social media report can have several moving parts, and it can be tedious to track everything on your own. To stay ahead of your analytics with marketing reporting, you'll want to use some more automation to speed up the process. Below are a few examples of how to use Supermetrics-supported destinations to create reports in seconds.
There are a few ways to simplify the process to ensure your reporting is working in the background of everything you do:
Google Sheets to Google Slides
Google Sheets is a go-to solution for marketers around the world to gather, visualize, and report on their data in a simple and intuitive environment. But did you know that you can create a presentation based on your spreadsheet data?
To automate your marketing reports in Google Slides, you can follow our five simple steps. Once your data is set up in Google Slides, you'll want to schedule data refreshes with Supermetrics. This will ensure you never need to manually build the same report again and helps you stay consistent with your data. Our Supermetrics sidebar is easy to set up and helps bring your data to life.
Google Sheets to Looker Studio
While many prefer to just send their data directly to Looker Studio using Supermetrics, you can also use a spreadsheet to bring in your data. When creating a new Looker Studio report, just click 'Add data' and select Google Sheets as your connector.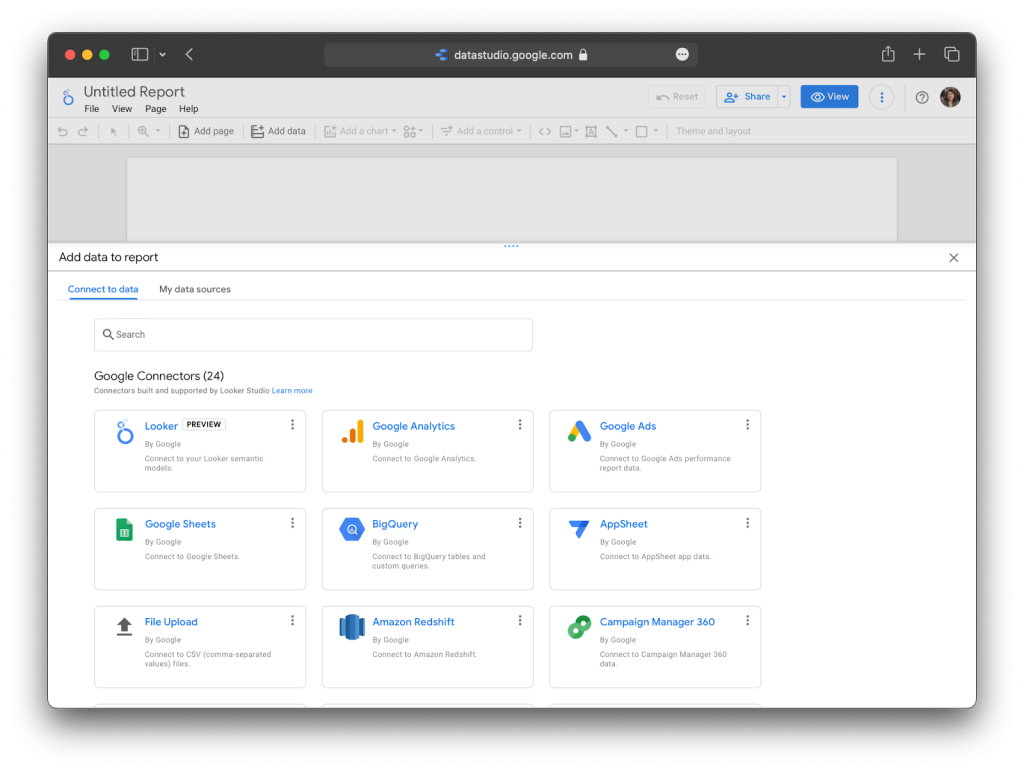 Google Sheets to ThoughtSpot
Another great way to get more out of your Supermetrics-powered Google Sheet is to pair it with ThoughtSpot. ThoughtSpot for Google Sheets is a free-to-use BI tool that allows you to not only visualize your spreadsheet data—but ask questions about the data as well.
Better yet, ThoughtSpot for Sheets automatically detects data coming from Supermetrics, so you can quickly find and create new opportunities for clients or drill anywhere to uncover that next winning campaign.
Data warehouse to a BI tool
For those who've started centralizing your data in a data warehouse using Supermetrics, you can use that warehouse to populate reports in your favorite BI tools. Some popular combinations include:
Excel to Power BI
Microsoft Excel is the original spreadsheet and is widely adopted around the world. Thanks to convenient integrations built by Microsoft, you can seamlessly pair your Supermetrics-integrated Excel workbooks with Power BI in a few clicks.
Supermetrics API to Power BI and other BI tools
For those who don't want to push data into a spreadsheet or data warehouse first but want to go directly to a BI tool, we also offer Supermetrics API. The Supermetrics API allows you to feed marketing data into Power BI, Tableau, Qlik, or any other BI tool, database, or data warehouse that supports JSON or CSV inputs.
As a social media marketer, you have enough on your plate. Report automation will take the hassle out of social media report tracking and give you time back in your day to focus on the bigger picture.
Our own social media manager, Kris has this to share, "Manual reporting can become a major time-suck, especially as your socials begin to grow and provide you with more data."
She continues, "With the variety of data management software tools out there, automating this most basic task—data transfers—is the first thing any social media marketer should do."
With the help of Supermetrics, you can quickly and easily set up automated tracking with BigQuery, API, Snowflake, Looker Studio, Excel, or Google Sheets. Our connectors automatically pulls from multiple marketing platforms, so you don't have to.
This way, you can create interactive data dashboards for your favorite social media platforms. With the interactive content, you can create engaging social media reports that will help track cross-channel engagement.
Top tips for visualizing your social media data and communicating your results
Data visualization helps marketers communicate the story behind data. The visual components tell a story, making it more engaging and turning your insights into something easy to understand and make informed decisions with.
Here are a few ways to effectively visualize your data and communicate your results to the rest of your marketing team:
Add context to your data: Your data needs to provide insights into why your social media strategy is or isn't working.
Remove clutter: We get it, data is fun! However, too much of anything is too much. You'll want to beautify your data visualization, ensure it's readable and adds value, and only add what's needed.
Avoid data distortion: Add labels to clarify understanding, clean your data, and keep things simple.
Get started with your social media reporting
As a social media marketer, your job is to always stay innovative and open to new possibilities. As trends come and go, you'll need to stay ahead of the curve with report automation and marketing reporting tools. Remember to trust data instead of only relying on your gut feeling.
About the author
Linda is a Paid Social Media Manager at Supermetrics, planning and executing paid social strategy and campaigns for Supermetrics.
Turn your marketing data into opportunity
We streamline your marketing data so you can focus on the insights.