Copy/pasting data from your web analytics platform to Google Sheets can be a total nightmare.
It's boring, time-consuming, and you're bound to copy data into the wrong cell at some point.
And that's why today, I'm going to show you how to import your website data to Google Sheets.
Ready? Let's go.
How to import website data to Google Sheets
Step 1: Install the Supermetrics add-on
To get started, you need to install the Supermetrics add-on for Google Sheets. You can find it on the add-ons menu in G Sheets → "Get add-ons" → "Supermetrics" → "Install."
Or, you can install Supermetrics from the GSuite Marketplace.
Next, sign in with your Google account and give Supermetrics all the necessary permissions.
After that, you can find Supermetrics under "Add-ons" in your Google Sheets.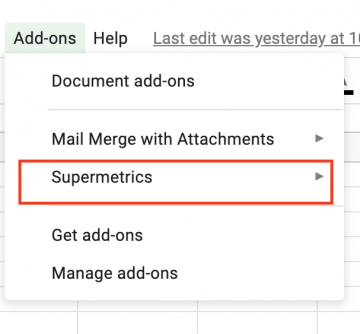 Here's how to install the add-on.
Step 2: Get your website data into Google Sheets
Now that you have the add-on, let's run your first query.
First, launch the Supermetrics sidebar. To do that, click on "Add-ons" → "Supermetrics" → "Launch sidebar".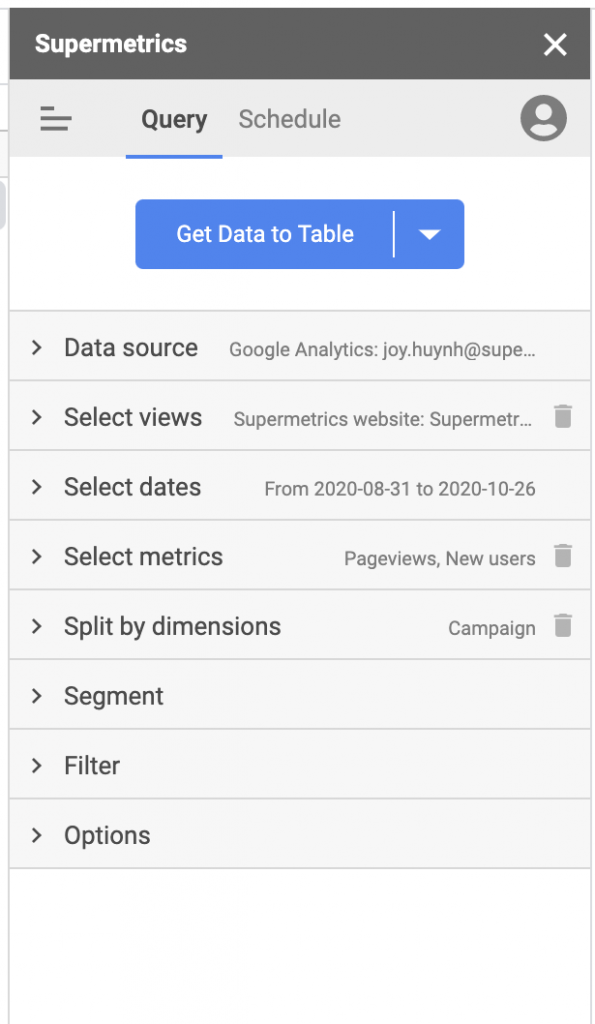 In the sidebar, you'll see:
Data source: this allows you to choose the data source you want to pull data from. To pull website data, you can choose Google Analytics, HubSpot, or Adobe Analytics.
Select views: this lets you choose the Google Analytics view (or property) you want to get data from.
Select date: this is for setting the date range for your data. You can either choose one of the preset dynamic date ranges or set your custom range.
Select metrics: here you can choose the metrics you want to add to your report.
Select dimensions: choose how you want to split your metrics.
Segments, filters, and options give you even more control over your data. For example, you can segment your traffic based on devices, sources, or browsers.
Or you can filter your data in descending order in the options section.
Once you're happy with your query, click on "Get data to the table." And when your query is done, your data will load to the spreadsheet.
In case you want to modify your query, simply click on any cell containing data from the query in question, and the sidebar will reopen. Then click on "Modify" to make any changes you want.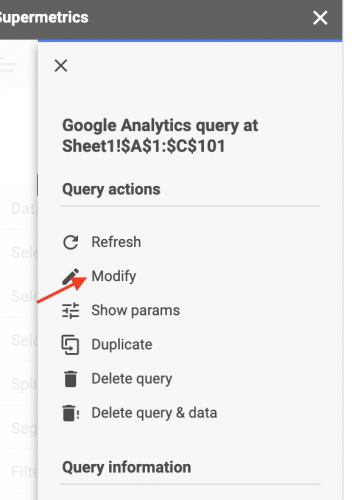 Watch how to run your first query:
Step 3: Set up automatic refreshes and triggers
If you want to analyze the same data points daily, weekly, or monthly, you can use Supermetrics to automate new data transfers to your Google Sheets.
To set up a trigger to your spreadsheet, go to "Add-ons" → "Supermetrics" → "Schedule refresh & emailing."
From here, you can choose how often you want to refresh your report (daily, weekly, or monthly) and whether you want an email notification when it happens.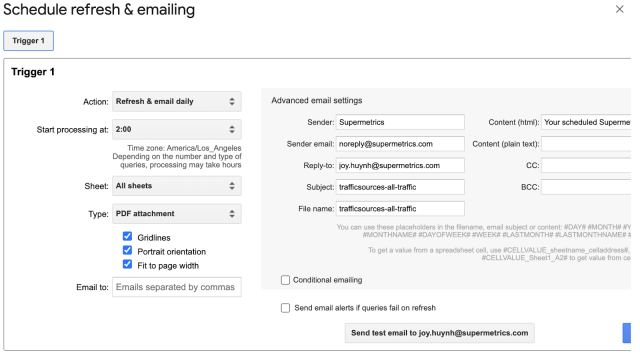 Learn how to set up triggers:
Web analytics templates for Google Sheets
Instead of spending hours building reports from scratch, you can swipe our ready-made templates and tweak them to your needs.
Here are a couple of templates to help you analyze your website data.
Website traffic report
Traffic equals opportunity. The more traffic you have to your website, the more chances you have to convert visitors into customers.
Analyzing your traffic will help you understand:
How your website is performing in general
What devices people use to visit your website
What sources bring the most traffic
What your top landing pages are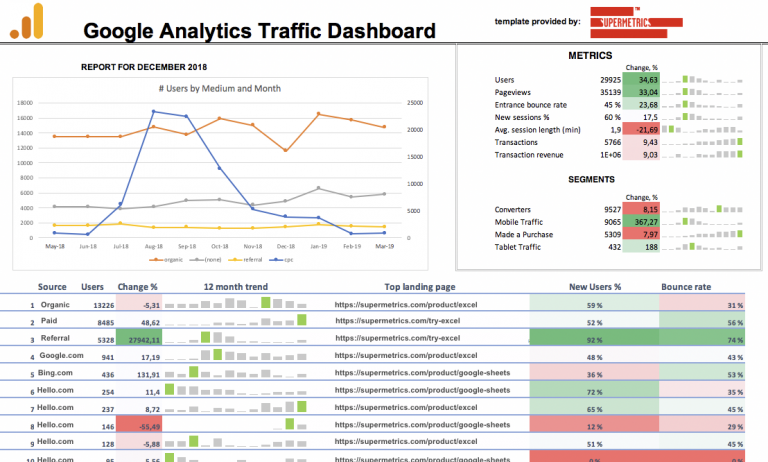 Get the website traffic template >>
Post-click analysis
Your ad did a fantastic job in attracting visitors to your website. Does it mean your visitors will convert? The answer is: it depends.
If the visitors find the solutions they're looking for when they land on your website, they may convert. Otherwise, they'll leave.
And the only way to know if your landing page is up to the task is to perform post-click analysis.
With post-click analysis, you'll be able to understand:
Customers' conversion paths
What stops visitors from converting
How well your paid traffic converts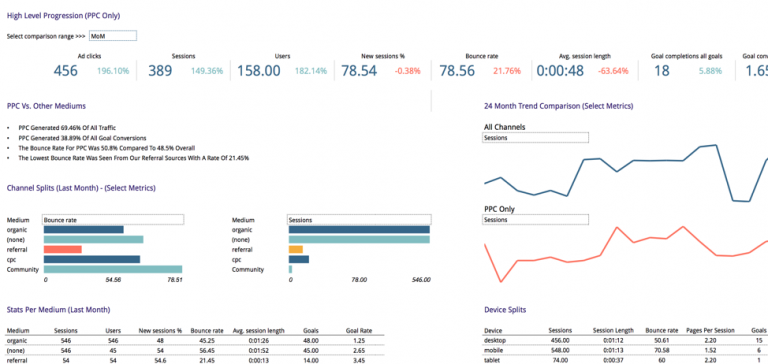 Get the post-click analysis template >>
Ecommerce performance
One handy report for ecommerce marketers is this ecommerce performance spreadsheet. You can combine your website data with paid ads data from sources like Google Ads and Facebook Ads to see how your online store is converting.
You'll see:
What your current average order value is
How much you're paying to acquire new customers
What your current ROI is
What your ROI projection is based on your past performance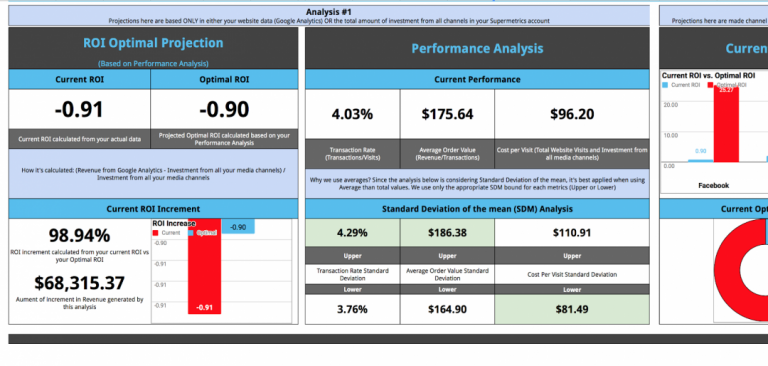 Get the ecommerce performance template >>
SEO content audit
You'd probably agree that publishing new content is not the only way to drive more traffic to your website. And if you're looking to optimize your existing website pages, say hello to your new best friend: a SEO content audit.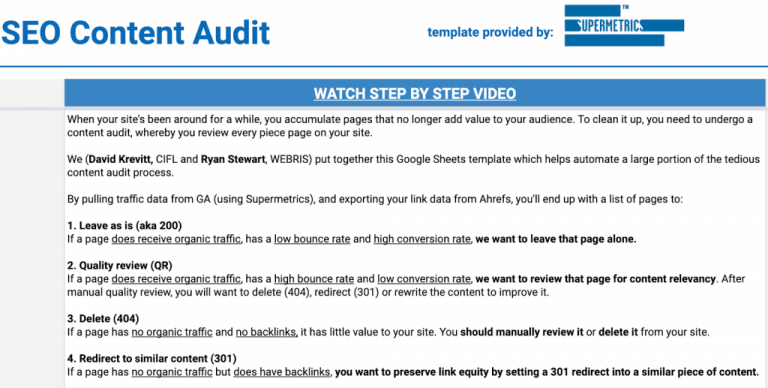 Get the SEO content audit template >>
You can combine your website data with your SEO data from Semrush, Ahrefs, and/or Moz to decide which pages you want to keep, optimize, or unpublish.
Psst! We wrote a detailed article about how we do SEO content audits at Supermetrics. You can check it out for some inspiration.
No more copy/paste
Yaaas! We did it guys. We got rid of the most boring part of marketing reporting: manual data collection.
Now it's up to you to decide how you'll analyze your data and what kinds of reports you want to build.
And if you want to feature your awesome reports in our template gallery, let me know on Twitter or LinkedIn.
Happy automating! ?
Turn your marketing data into opportunity
We streamline your marketing data so you can focus on the insights.