HubSpot reporting dashboards: how to create the ultimate marketing report
More from HubSpot
When we talk about HubSpot reporting dashboards, you're likely to think about your dashboards within HubSpot itself. These can provide you with valuable insights into your marketing and sales performance by grouping together and displaying key metrics from up to ten different reports.
But besides HubSpot's native functionality, you can also create custom dashboards by importing your HubSpot data into a number of third-party tools. These could be spreadsheet tools like Google Sheets or Microsoft Excel, or data visualization and dashboarding tools like Google Data Studio.
There's a number of reasons why HubSpot users might want to create dashboards outside of HubSpot, but let's have a look at two of them:
Firstly, you're unable to bring data from your other key services into HubSpot, which means that your dashboards won't provide you with overviews of your total marketing and sales performance.
Secondly, creating dashboards outside of HubSpot gives you access to greater customization and visualization options. This can make it easier to understand your data and drill deeper into your numbers.
In this article we'll outline the exact steps of how you can build rich, customized, and comprehensive dashboards for your HubSpot data in Google Data Studio.
Best practices for building marketing dashboards
Your HubSpot reports play a key role in helping you understand how you're performing on a daily, weekly, and monthly basis, so it's important that your dashboards set up to provide you with the most useful data possible. Here are five tips to keep in mind when creating a new dashboard:
Choose one specific topic to build your dashboard around.
Decide what you want to achieve and only track the metrics and KPIs that will help you do so.
Present your data clearly and logically by carefully considering your visualization options.
Track the customer lifecycle in full by combining marketing and sales data.
Design your dashboards in a way that ensures they point towards actionable steps for improvement.
To dig a little deeper, have a look at our four rules for creating the perfect marketing reporting dashboard, the 7 laws of UX that can be applied to dashboard building, and the analytics and reporting tips of 6 HubSpot experts.
Building dashboards inside HubSpot
HubSpot provides you with default reporting dashboards that are split up into the categories of marketing, sales, and service. These are composed of up to ten reports that focus on the most valuable metrics for those departments.
You can also create custom dashboards that feature up to ten reports of your choice. HubSpot Professional users can only create one custom dashboard, whereas Enterprise users can create 25. Due to the fact that you're using an all-in-one platform that's likely to store the majority of your data, these dashboards are relatively easy to build. You simply find or create the reports that you want to be included and then add them to your dashboard.
While incorporating both marketing and sales reports into your dashboards is possible, it can be time-consuming to find the relevant data from your Marketing and Sales Hubs. Purchasing the HubSpot Reporting Add-on improves things here, as it allows you to create up to 200 custom dashboards that make it easier for sales and marketing teams to track the key metrics that they're accountable for.
The only problem is that the customization and visualization options of HubSpot dashboards are limited. HubSpot dashboards simply group together your reports and display their original visualizations, which are rather simple in nature and not suited to a deep analysis of your numbers. With customization options, you can resize reports and change their position on your dashboard, but that's about it.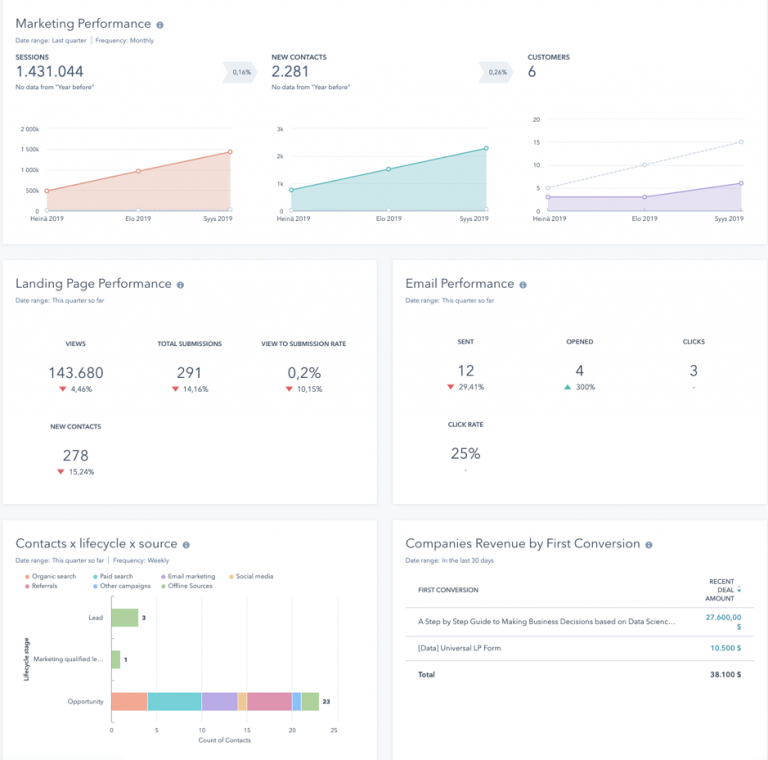 Using third-party dashboard tools for reporting and visualizing HubSpot data
The limitations we just covered, coupled with the fact that you're unable to bring data from outside sources into HubSpot, means that many marketers choose to build their dashboards with third-party tools.
If you want access to a broader range of visualization options, for example, then data visualization and dashboarding tools like Google Data Studio and Geckoboard are very useful. They allow you to create visually striking dashboards that can be easily understood and shared with colleagues or displayed on big screens. They also offer a more robust set of customization options than you will find on HubSpot.
Tools like Google Data Studio and Grow also let you import data from multiple sources and build dashboards that provide a definitive overview of your marketing and sales performance.
By using the right connector app, such as Supermetrics for Google Data Studio, you can also automate the pulling of your data so your dashboards automatically refresh as often as you wish.
Using Supermetrics to create a HubSpot reporting dashboard
Supermetrics makes it really simple for you to pull data from your key platforms, including HubSpot, and bring it into tools that are better suited for data monitoring and analysis. By using Supermetrics to bring all of your marketing and sales data into tools such as Google Data Studio and Google Sheets, you're able to create automated, interactive, and visually impressive dashboards that clearly present the totality of your data.
There are three options for building your perfect marketing dashboard with Supermetrics. Let's briefly take a look at each one:
Supermetrics + Google Data Studio
Google Data Studio is a free visualization platform that makes it easy to create beautiful and interactive dashboards. Seeing as it's a particular favorite of ours, we'll take a closer look at how to make a HubSpot dashboard with Google Data Studio and Supermetrics below.
Supermetrics + Google Sheets or Microsoft Excel
Google Sheets and Microsoft Excel are popular reporting tools that allow you to analyze your data in depth and customize your reports as you wish. Supermetrics for Google Sheets and Microsoft Excel provide native integrations with HubSpot and other key tools, while also allowing you to automate your dashboards.
Supermetrics API
Supermetrics API lets you connect your HubSpot and other marketing data with BI tools like Database, Power BI, and Tableau, which is ideal if you want to create more advanced dashboards.
Building the ultimate HubSpot reporting dashboard with Supermetrics and Google Data Studio
Here's a step-by-step outline of how you can use Supermetrics to create a HubSpot reporting dashboard in Google Data Studio:
Connect your data
Under the data sources tab, click on the "+" icon in the bottom right-hand corner to create a new data source. Search for the HubSpot by Supermetrics connector and click on it. You can then select your account and conversion window, give your data source a name, and finally click on connect to create your data source.
Create a new data source
Search for the HubSpot by Supermetrics connector and click on it
Transform data
You're now able to rename fields, format fields, and carry out other data transformations on the data source level.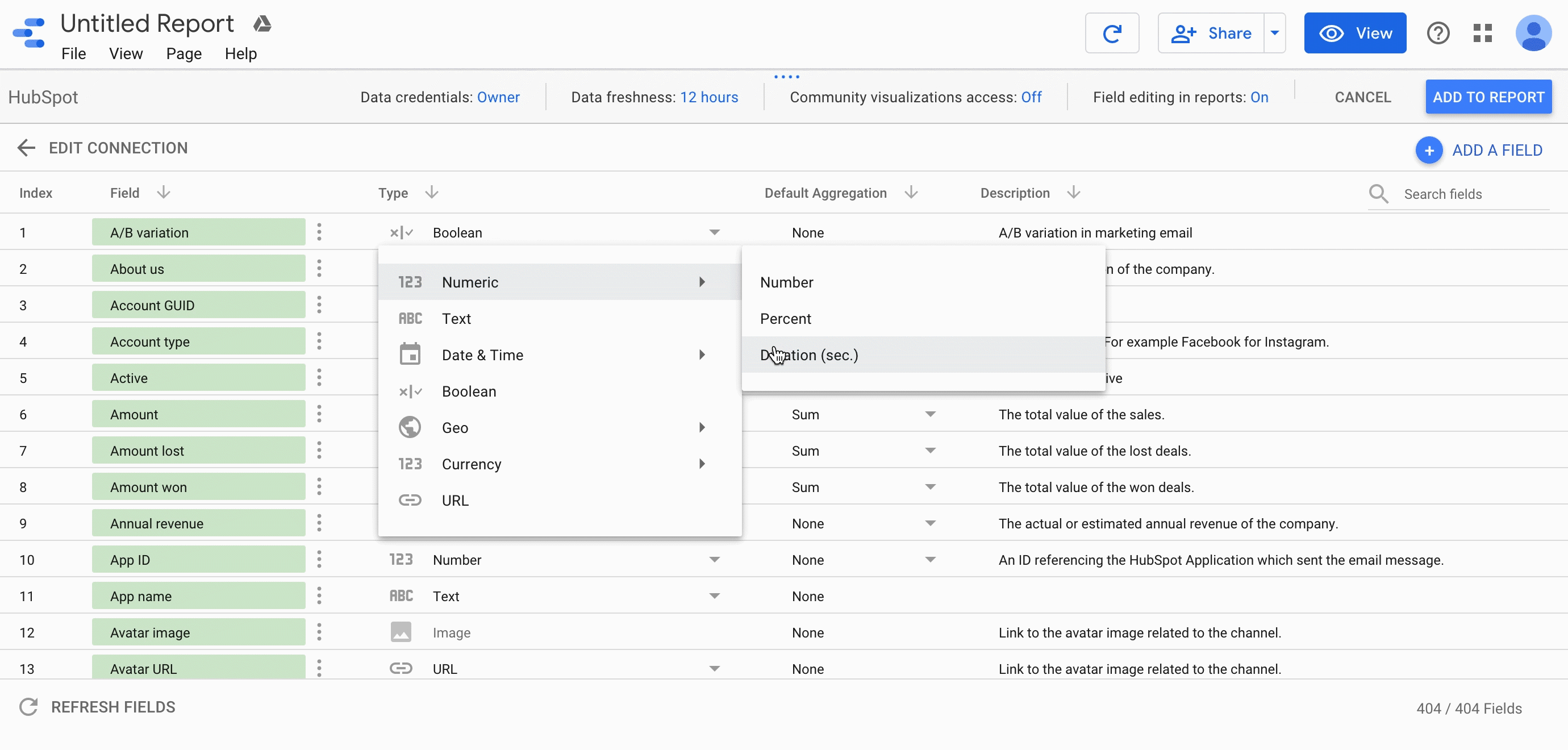 Create a new report
Click on the "add to report" button and add the HubSpot by Supermetrics data source to your report.
Visualize your report
You'll be able to choose from over 30 types of visualization charts, which include tables, scorecards, time series, bars, pie charts, and geo maps. As an example, let's select the time series chart.
Add dimensions and metrics
Drag and drop your dimension and metrics from the data panel. As an example, we'll visualize contacts by date.
Add filters
You can now add chart level filters to exclude or include certain types of data that you may or may not want to show. You can also add a date range for your chart and apply filter controls to get additional insights.
Customize your dashboard
Access the style panel to change the look and feel of individual visualizations or your whole report. Customization options include changing the background color of charts and reports, setting a custom size for the report, and adding legends for charts.
Share it with your team
Click the "share the report" icon in the top right-hand corner to share your new HubSpot dashboard with the rest of the team.
If you don't want to create your marketing reports from scratch, then why not try one of the free templates from Supermetrics for Google Data Studio, Google Sheets, and Microsoft Excel?
In summary
HubSpot reporting dashboards should provide essential summaries of how you're performing as a marketing team. By using Supermetrics to bring all of your marketing and sales data together, you're able to superpower your dashboards and ensure that they're more useful and actionable.
Why not see for yourself? Start your Supermetrics free trial today and start creating HubSpot reporting dashboards in Google Data Studio, Google Sheets, and Microsoft Excel. In addition, check out our Hubspot connector in the Hubspot Marketplace.
Turn your marketing data into opportunity
We streamline your marketing data so you can focus on the insights.