Jul 12, 2019
Google Sheets vs. Excel: which is better for digital marketing?
By Supermetrics
[ Updated Mar 6, 2023 ]
8-MINUTE READ · By Tina Arnoldi
Google Sheets vs. Microsoft Excel: which one is better for marketing reporting?
We're breaking this down to help you make a decision and are looking at the following criteria:
Capacity 
First things first, how much data are you working with? The basic rule is Excel for big data and Sheets for small data. The cell limits are 17,179,869,184 for Excel compared to 5,000,000 for Sheets. So, if you need to analyze more than five million cells, then you will need to use Excel. For most of us, five million is probably more than enough space, but if you're running big, global campaigns then you may quickly fill up a Google Sheet. In that scenario, consider Excel.
Speed
In addition to the above, processing speed is faster in Excel so if your data set has more than 5,000-10,000 rows, consider Excel over Google Sheets. Both Sheets and Excel slow down when reaching their max capacity, so the rule of Excel for big data and Sheets for small data holds true here. If you need to collaborate on a spreadsheet, Sheets is a more convenient and quicker option, but overall Excel is going to be the speedier choice when it comes to performance.
Collaboration
If you are responsible for marketing reporting, you will have an internal team or external clients that need to see the results. With Google Sheets, you have real-time collaboration so you are in a sheet at the same time as a colleague making edits. Changes are made directly in the sheet with edit rights or someone with only comment rights can highlight something for a colleague to review. You can also see who is actively working on your file and open a chat-screen on the right-hand side of your sheet to communicate about the data.
With the online version of Excel, you can share a sheet through OneDrive with editing rights for designated co-authors. What I unfortunately still see many people do is "collaborate" with a desktop version of Excel, meaning they email a sheet or save it on a shared drive for the next person to work on which is a nightmare. This runs up against issues with versioning. "I saved over it and forgot to rename." "Why are we both editing version 3?" With Google Sheets, you have a version history so you can see the history of saved edits to the documents and what exactly changed so it is very easy to undo and go back to an earlier version.
Sheets almost always wins the collaboration comparison against Excel.
Integrations
If you want to import marketing data into a spreadsheet, the old and painful method involved exporting CSVs and importing them again, manually copy/pasting data, or both. Now with products like Supermetrics, you can automate the pulling of data into both Google Sheets and Microsoft Excel. It is easier to import data rather than do an awkward copy and paste or manually add data from multiple sources, then map it to data from another platform.
With Supermetrics for Excel, you can integrate Excel with Google Analytics, Google Ads, Facebook, Bing, Twitter, Linkedin and other marketing platforms. You can also utilize Excel add-ins to embed content directly into your Excel documents.
With Supermetrics for Google Sheets you can do the same, but Sheets is more friendly when it comes to connecting to other data sources and integrating with other technologies. No surprise that Google Sheets integrates with the other Google products you already use, such as Google Analytics, Google Slides, or Data Studio. It is easy to integrate with other non-Google tools such as Zapier, CRM solutions or SaaS products.
Functionality
Most people use the basic spreadsheet functions in Excel which are also available in Google Sheets. For something more complicated, it is likely there is an add-on available in Google Sheets that will extend that functionality.
Excel has some pretty powerful features, especially when it comes to pivot tables. Pivot tables are useful when taking large data sets and turning them into digestible chunks through slicers and timelines for better filtering. The advanced functionality of Microsoft Excel may even turn some people off to the product because it can feel overly complicated. The simplicity of Google Sheets appeals to people who just want to do basic things in a spreadsheet. And because it is entirely online, there is nothing to install on a computer so there is no tech support needed in a corporate workplace to use Google Sheets, assuming it is not blocked from your network.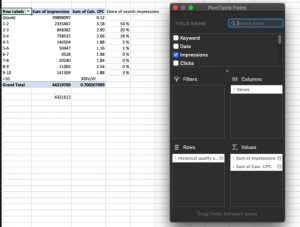 Excel has more in-built formulas and functions, as well as more chart options than what is available in Google Sheets. While there are a number of functions available for Google Sheets, including ones specific to financial data, Microsoft Excel has more advanced features for financial modeling.
But as powerful as Excel is, it is still is not a statistical software. People who need to do statistical analysis may want to consider software that is designed specifically for that reason or learn a programming language rather than wrangle with a spreadsheet.
Formatting & templates
Some people want "just the facts." Others want the bells and whistles in the reports. Both Excel and Google Sheets offer templates to appeal to both groups. The one go-to feature that makes tables easy to read is the alternating colors tool seen below in Google Sheets which you add with a click of a button.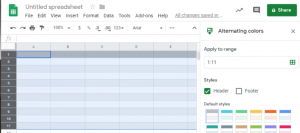 If you want more than that, there are free templates in the G Suite Marketplace to help you complete marketing tasks and add some style. A simple Google search will also bring up templates that users have designed and decided to share.
Of course, Excel has extensive formatting options and templates and we have five popular reporting templates for Excel here on the Supermetrics blog. We also have a collection of Google Sheets reporting templates to help you get started with your marketing reporting.
Price
Show me the money! For those in a big corporation, the cost may be completely irrelevant. But for those in a budget-conscious organization, the pricing of Excel versus Sheets may play a big role in your decision.
With Google Sheets, you can use the personal version for free or upgrade to the G Suite for Business. The personal version has enough features for most users and it is what I use frequently for side projects, sharing sheets with other people. With G Suite, you can manage permissions for groups which makes it more appealing for IT administrators with pricing starting at $6 per user per month. The enterprise version ($25 per user per month) includes smart search across the entire suite with Cloud Search, additional security features, and App Maker.
Microsoft's online version, Office 365 Business, starts at $8.25 per month per user and includes the desktop version of Office apps on PC or Mac. Online is the way to go for everything, especially when it comes to backups. But if you want a copy of Microsoft Excel only for your desktop, it retails for $130.
Company policy
A final factor is your company and the ecosystem of choice. Many workplaces use the Microsoft Office Suite, especially in corporate offices, which typically makes Excel the go-to choice. Other companies use the Google Suite, and I would argue that Google Sheets is a better choice when it comes to remote teams too.
Conclusion
While Sheets and Excel have many things in common, there are definitely situations when marketers should take one over the other. If you're working with small data sets and collaborating with others, then Sheets would be the way to go. If you're using big data and doing a lot of in-depth analysis yourself, then Excel would make sense.
But as one of our customers said, "Everyday stuff gets done in Sheets, sophisticated models get done in Excel." So it's not always a case of one or the other. If you're still not sure, you can always just get both.
If you want to automate your marketing reporting, then start your 14-day free trial of Supermetrics for Google Sheets and Supermetrics for Excel today.
About Tina Arnoldi
Tina Arnoldi is Analytics and AdWords Qualified and one of the few people in the United States recognized as a Google Developer Expert (GDE) for marketing. Her agency, 360 Internet Strategy, is also a Google Partner. You can learn more about her on LinkedIn.
Turn your marketing data into opportunity
We streamline your marketing data so you can focus on the insights.