6-MINUTE READ · By Paul Koks on November 14 2016
The truth lies far beneath the surface. What I mean here is that you really have to dig deep in your data to find the golden nuggets.
I always get a bad feeling when people talk about average bounce rate or average conversion rate. These numbers don't say much; you are getting somewhere if you can relate them to a certain segment.
In this post I will reveal three powerful segments in Google Analytics and how you can use them to increase the ROI of your analysis and business.
For training purposes, I will use the Google Analytics demo account so that you can easily follow along.
Segment 1: device category
A few weeks ago I was approached by the owner of a mid-sized e-commerce store. He had just finished his first analysis in Google Analytics.
This was his conclusive statement:
"All my visitors are leaving the website on the cart page, so I really need to optimize this page."
After a short chat on Skype it turned out that he didn't do any segmentation at all.
It's usually the case that a certain group of visitors is performing well and a different group is performing less.
After investigating it further, I could simply conclude that the cart page wasn't optimized for mobile visitors. Both the data and my on-site experience clearly pointed in that direction.
Learning: you can't ignore the device and intent of your visitor when trying to optimize the ROI of your business.
Device type – overall report
Let's look into an example.
Here is the standard "device type" report, focus on behavioral and conversion metrics of Google Merchandise Store:

The results indicate that:
Desktop is by far the largest segment and tablet is very small.
Most metrics are in the same range for the different devices, a few exceptions:

Visitors consume relatively a lot of pages and stay longer on the site on tablet devices.
E-commerce conversion rate is dramatically low on mobile devices.
You can imagine what would happen if you make an aggregated analysis and take it from there.
One out of six visitors arrive on the site via a mobile device and they convert four times as bad as on desktop. That's huge!
This is a great start, but you should want to dive a lot deeper.
Device type – segmenting your audience

I have selected three segments here. Please note that both the "mobile traffic" and "tablet traffic" segment are available in the "system segments" section.
You have to create the "desktop traffic" segment by yourself. I recommend to save this desktop segment to all the views you have access to!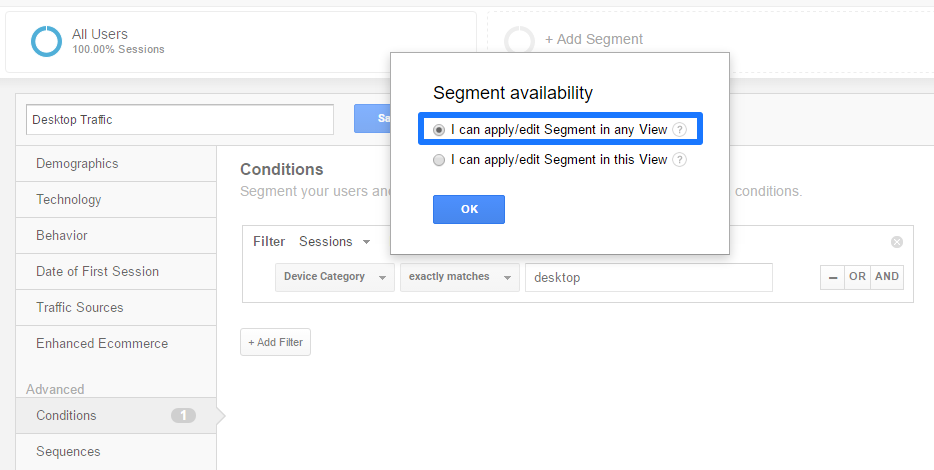 Selecting six months of data makes it more easy to spot trends:

As you can see, the tablet Conversion Rate in August was very high compared to earlier this year.
This is one of the powerful ways to derive powerful insights directly in Google Analytics.
In addition you can use these segments in almost any report (funnels are the exception) in Google Analytics.
A more advanced analysis could look like this:

Here is how I created this view:
Select the three segments Desktop, Mobile and Tablet.
Navigate to "landing page" report (Behavior >> Site Content >> Landing Pages).
Select "Landing Content Group" Product Categories.
Filter out (not set) entrances via Advanced Filter.
The data reveals:
Key metrics for visitors that enter your site on a product category page, their behavior and conversion rate.
The percentage of entrances for each of your categories and the conversion rate (including other stats) per device.
These insights are a great help in understanding visitor behavior per device. So once again, overall numbers are ok as a first start.
However, you need to make sure to further segment your data and dig deeper. Aggregating your different pages in content groups can be tremendously useful.
Next step
Unfortunately Google Analytics doesn't record cross device behavior on default (user ID implementation is required).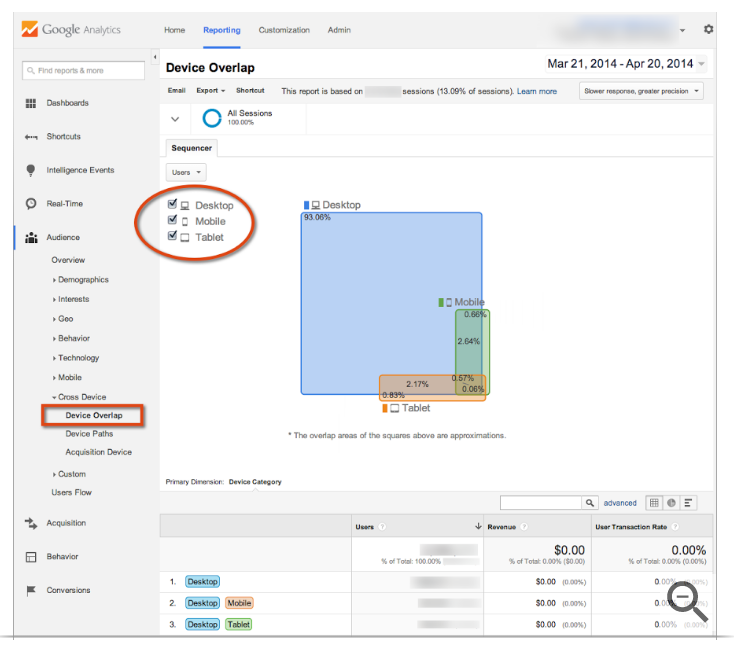 The Device Overlap report shown above is very interesting and helps to find out whether non-converting mobile visitors convert on desktop (or tablet) later.
In addition I recommend to run a survey to find out how many devices are used by visitors (that buy) on your site. So you can get a better idea about the purchase journey on your website and how many devices are used. These insights are very useful for setting up and intepreting (A/B) tests later!
In short, there is a ton of insight to be gained if you ask yourself the right questions and use the data in a smarter way.
Segment 2: geography
This segment is very useful if you run an international business or help clients that do business internationally.
Navigate to the Location report (Audience >> Geo >> Location) first.

At a glance you can see that:
90% of the transactions come from the US; conversion rate is far above "average".
Canada is the second country in the top 10 based on e-commerce conversion rate.
Most other countries do zero or near zero sales.
Let's assume Google would hire me to optimize their e-commerce conversion rate.
There are two actions I need to take first:
Find out the reasons why these other countries send so much non-converting traffic. Is it because of shipping legislations (only to US?) or other reasons?
Set up a segment that only includes US (and maybe Canadian and/or some other countries) traffic so that my conversion rate is a valid number to try to further optimize.
It's really important to address these international segments to find out in which countries people convert and where they don't.
Other reasons include, but are not limited to:
Cultural barriers / reasons to not buy your product.
Language issues; do you need a German, Spanish etc. version of your site?
Budget reasons; are your products too high priced for certain markets/countries?
Analyzing and optimizing goes far beyond understanding the simple working of segments in Google Analytics.
It's very useful to have strong analytics skills, but it's not enough.
Educating yourself on how to tell stories with data is very important as well to that you can better convey your message.
Start with combining quantitative and qualitative data and do some background analysis as well!
Segment 3: visitor type
You might have heard people saying: "The new visitor report information is not completely accurate, because of…".
And I can only agree with that. The numbers are less accurate than they used to be.
One of major reasons is that visitors use multiple devices and browsers to access your site. And the number of different devices used keeps on growing.
Here is the data for one of my websites (segment = direct traffic):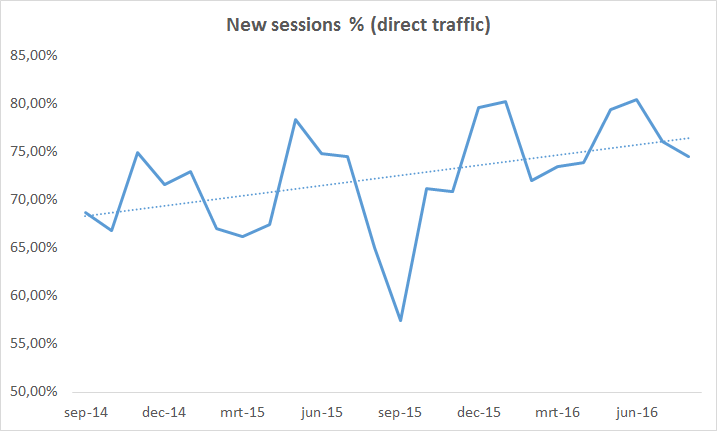 In a period of two years, you can see a steady climb in new session percentage. You will probably find similar numbers in your account if you make this visualization based on your numbers.
Why is it still useful then?
Data analysis is all about trends, analyzing historical data and predicting the future.
We still know how specific segments of visitors behave compared to each other although the individual numbers might not be fully accurate.
Here is an example:

Here is what we can see:
78% of the sessions come from new visitors.
71% of the revenue comes from returning visitors (!)
E-commerce conversion rate of returning visitors is six times higher than the CR of new visitors.
Of course you want to take decisions on numbers that you can trust, but such a big deviation doesn't come for a steady rise of the new visitor percentage in the last few years.
Questions to ask here:
Who are these new visitors and why do they convert so badly?
What can we do to increase the percentage of new visitors to convert?
Which channels drive the most new and returning visitors (dig deeper again!)?
Can we use smart discounts or other options to convert more first time visitors?
The 1,5 to 2% conversion rate is what we see very often. 98% of the people that visit your site don't convert.
But what if we could increase the new visitor CR and keep the returning visitor CR the same?

BAM! Getting 2% of your news visitors convert, leads to an increase from 1,66% to 2,62% on the overall conversion rate. So it's very worthwhile to pay attention to these ratios and to try to improve them.
Some last thoughts here:
Don't pay attention to the exact numbers and ratios, but spot trends, differences and insights will be uncovered.
Don't overlook micro goals in this context.
Email signups are great in every industry so do your best to convert as many first time visitors to a subscriber during their first visit.
Keep on testing to increase the conversion rates of your business.
By now you should realize that there is so much wealth to be uncovered via segmentation in Google Analytics.
The beauty of this feature is that you cannot ruin your data collection process. You will see the default data view again once you deselect your segments. No risk at all here!
Well, I hope you have picked up a few new ideas here.
Don't forget to comment and share it with your audience if you think they can benefit from this post as well!
About Paul Koks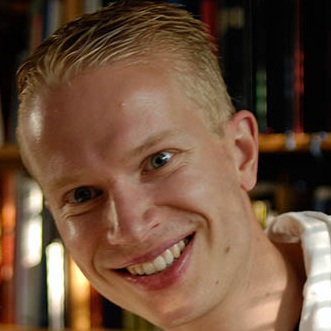 Paul Koks is an Analytics Advocate at Online Metrics and a guest writer for Supermetrics. He is a contributor to industry leading blogs including Kissmetrics, SEMRush, Web Analytics World and Online Behavior and the author of Google Analytics Health Check. Paul helps companies to capture valuable insights from simple data. You can find him on Twitter or LinkedIn.