Jul 19, 2022
Google Analytics 4 vs. Adobe Analytics: Which One's Best for You
10-MINUTE READ | By Tea Korpi
[ Updated Jan 13, 2023 ]
Making data-driven decisions is difficult without analytics tools to help you out. Even if your data already exists in marketing platforms, CRM, financial systems, or survey tools, this scenario doesn't give the insight you need to draw decisions from your data.
Luckily, there are multiple analytics platforms to choose from. We'll cover two of them: Google Analytics 4 and Adobe Analytics. We'll go through the key differences in how you can use them to report and analyze your data. Let's first take a look at both platforms in detail.
Fast forward >>
What is Google Analytics 4
Google Analytics 4 is the new version of Google Analytics, introduced in 2020 and will replace Universal Analytics in 2023. GA4 allows you to report app and web analytics all in one place. The tool has machine learning built into its core to help you better understand your customers at every touchpoint. Machine learning also helps identify trends from your data, such as predicting the churn rate from your customer base or calculating potential revenue from a specific segment to build audiences with higher potential.
How does Google Analytics 4 work?
Google Analytics 4 tracks user interactions across websites and apps in data streams, so you can easily create and manage reports from several sources. For example, you can create reports showing conversions across YouTube videos, paid ads, organic searches, and email campaigns. This way, Google helps build an understanding of your combined marketing efforts and, ultimately, make better decisions in the future.
GA4 uses event-based tracking, but the old Google Universal Analytics used website tags. This improvement allows you to monitor user interactions or events in real-time. The beauty of this new feature is that you can monitor searches while they happen instead of looking back at site searches.
Google Analytics 4 deepened integrations within the Google family. Several improvements have been made on, for example, the Google Ads integration. You can deliver more relevant content at the right time to your audiences. Web and app analytics are now working together, and you can easily understand your marketing efforts.
GA4 is privacy-centric by design, so tightening privacy legislation or changes with cookies shouldn't affect its use. Instead, it uses a flexible approach to measure and fill out any gaps if data is incomplete.
What is Adobe Analytics?
Adobe Analytics is part of the Adobe Cloud Suite, allowing you to analyze data from the entire customer journey and understand web behavioral data. The solution goes beyond web analytics and allows you to deepen your knowledge of customer and visitor behavior. The product is mostly targeted at larger companies.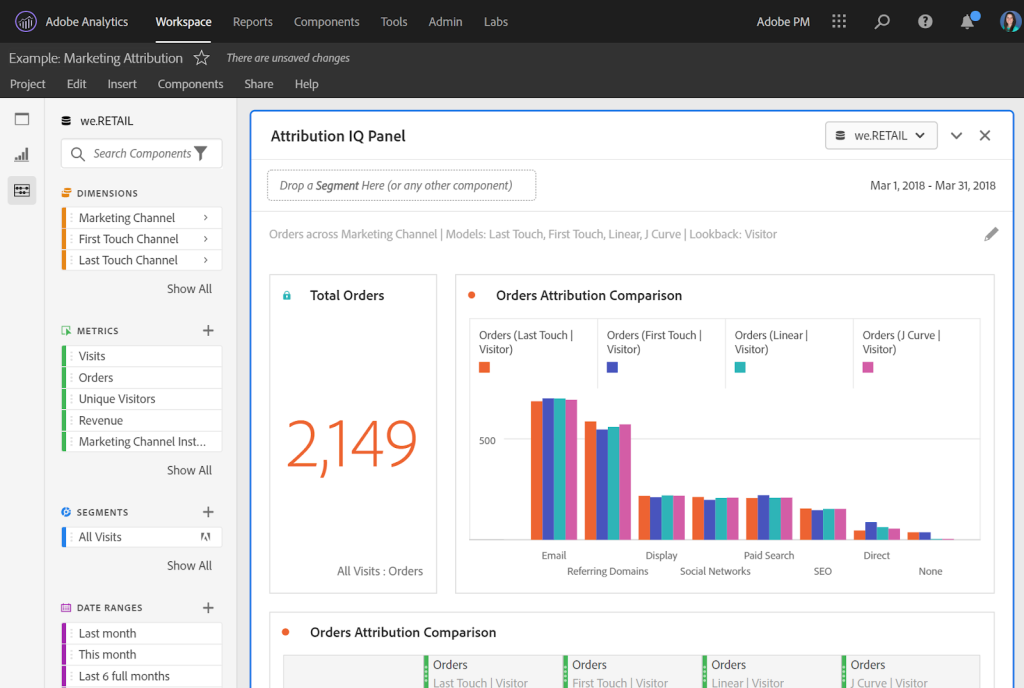 How does Adobe Analytics work?
The web analytics report in Adobe Analytics allows you to build an understanding of who comes to your site and why, the traffic sources, the pages, and products shown or visited—all in real-time. Combining the data with third-party analytics gives you a comprehensive picture of the customer journey.
Marketing analytics reports go beyond web analytics, but in the center lies the customer journey and its various online and offline channels. The view of the customer journey helps you paint a picture of your ROI, detect anomalies, and do cohort analysis to effectively dictate the budget.
The marketing analytics report gives you a great insight into the actions, but the attribution reports create insight into what works and doesn't. Adobe's attribution analytics uses machine learning to better understand each touchpoint. Understanding what works allows you to see the value of each piece of content.
Adobe also allows you to build predictive reports to see what might happen in the future. The feature uses machine learning and advanced statistical modeling to picture possible outcomes. Predictive reports are especially useful when predicting customer behavior, such as churn.
What's the difference between Google Analytics 4 and Adobe Analytics?
Now that we've inspected the two platforms separately, let's dive deeper into the factors that separate these platforms from each other.
We can't start a comparison without first talking about pricing. Google Analytics 4 is free to use until your company's website requires more custom event parameters or custom user properties. When you exceed the quota for GA4, you need to move to Google Analytics 360 with a hefty price tag. On the other hand, Adobe Analytics has a handsome price tag from the start, and enterprises are the platform's target audience.
Getting started
The platform gives you a ready-made home page and pre-made reports when getting started with Google Analytics. You can easily jump right into your data and start investigating. So setting up doesn't require that much knowledge of the platform itself. Adobe Analytics is a bit more complex.
The platform doesn't offer ready-made views, requiring you to build reports themselves. It would help if you were more data-oriented and more data mature to use Adobe Analytics.
Reporting and analyzing
After setup, a new level of differences appears with reporting. Let's start with a basic one, terminology. Here's a glance at the terminology differences between Adobe Analytics and Google Analytics 4.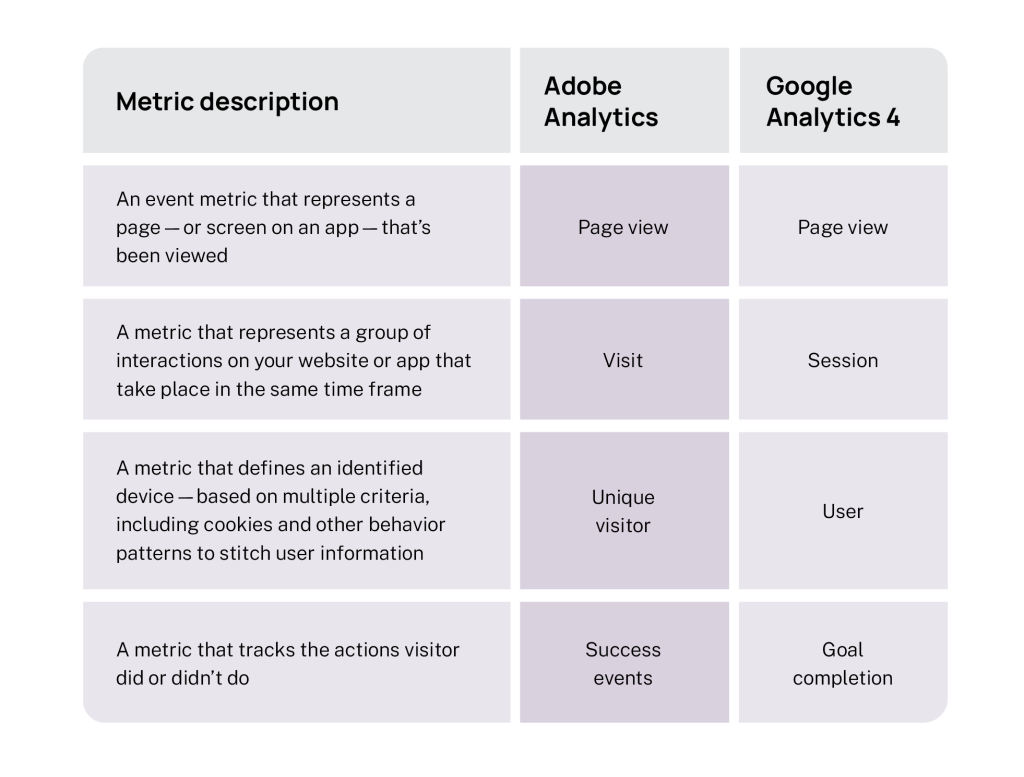 The home page view is customizable in Adobe Analytics and Google Analytics 4. So you can modify the experience that happens after logging in. In Adobe Analytics, you navigate a workspace environment, where you'll see all your reports and select any of these as the opening screen. In Google Analytics, you'll have a pre-built home screen where you can add reports.
Report builders in Adobe Analytics Workspace offer a wide range of templates and allow you to build reports with full freedom. Google Analytics has a report builder, but it has its limits. Google dashboards and custom reports allow you to add visualizations together but only using simple correlations, and Google has determined which data you can put into what column.
In custom reports, Adobe Analytics Workspace allows you to easily drag and drop anything anywhere and compare data. You can create complete breakdowns of your data. Moving the data from Adobe Analytics is made easy with Supermetrics data connectors. The connectors allow you to pull the data you need to a data warehouse, data visualization tool, BI tool, or spreadsheet.
Google custom reports have limits. You can access the data you need, but filters apply to each tab on your report. So without the filtering option creating comparison reports is difficult.
You'd need to move data to an external data visualization platform like Google Data Studio. You can do this easily and automatically with a Supermetrics connector.
Using ready-made reports
Both platforms have similar ready-made template reports to ease usage when using the reports tools. Let's make a bit of a comparison.
Google Analytics' behavior report allows you to report frequent events and metrics such as page views, engaging sessions, and other events. Similar to this is the Adobe Analytics site metric report that covers the basic metrics and allows you to report on bots and how the bots are behaving on your site.
Acquisition report in Google Analytics lets you report where the new and returning visitors are coming to your site. In Adobe Analytics, this report is split into a few different ones, allowing you to go into detail with specifics. The traffic sources report focus on referrers, the campaign report focuses on campaign codes, and the marketing channel report lets you focus on what you can do with the campaign code data.
Google Analytics's audience report lives up to its name. You can use the ready-made template to report user demographics, technology, and campaign acquisition. Adobe Analytics has divided these into visitor profiles and visitor retention reports.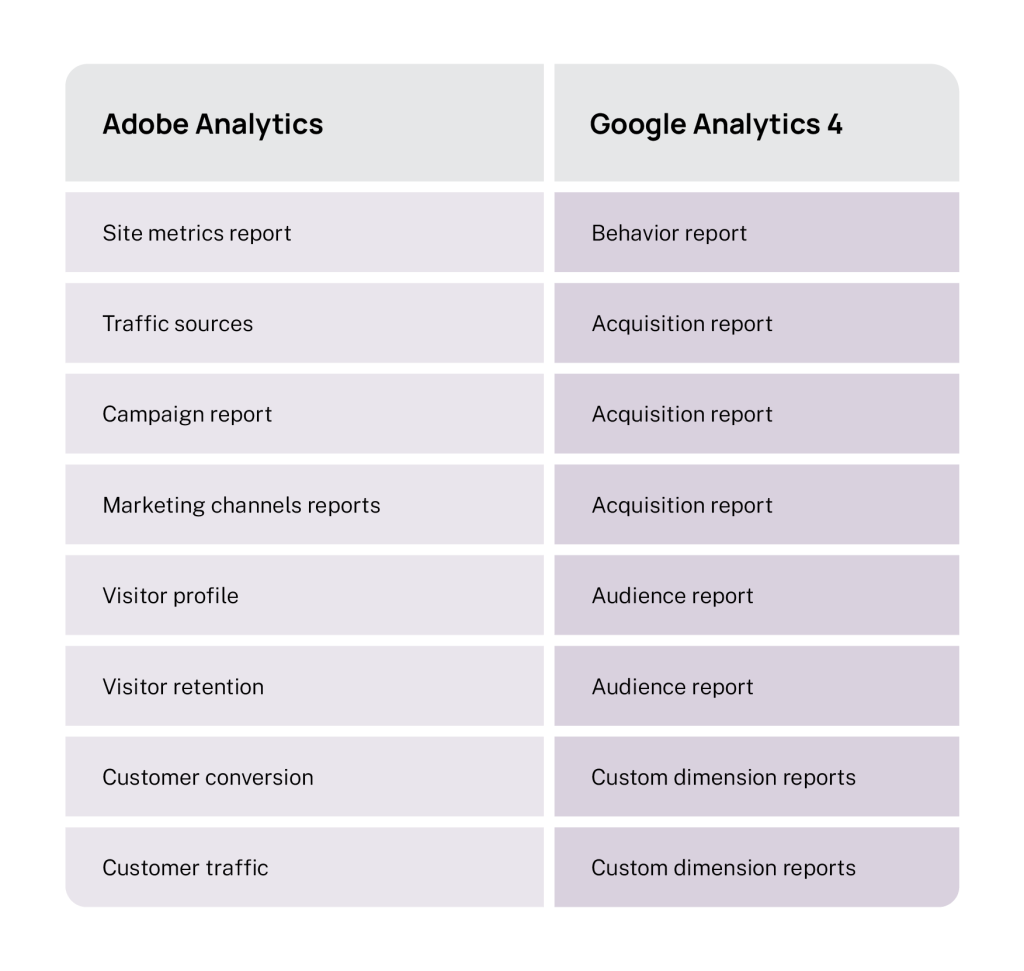 Which one to choose?
Now that you understand the differences between the two platforms let's jump right into figuring out which one to choose. The first thing you need to consider is your data maturity. Choosing an analytics platform should be a reflection of that.
You can achieve great things with Google Analytics, and it'll certainly serve you even if you're starting your data journey or you'd be on your way to excelling at it. Google develops its product family constantly so you can ensure your data analytics are in good hands.
As mentioned in the beginning, Google Analytics is easy to start without that much knowledge from data reporting. You'll learn as you use it. Reporting is made simple with reports you can modify to a certain level, but more advanced reports probably need to be done in an external tool like Data Studio.
There may come a time when Google Analytics' limitations are starting to catch up. You'd like to take a deeper look at your data and have a more comprehensive understanding of your customer journey, but the platform is slowing you down. Maybe it's time to think of alternative solutions like Adobe Analytics.
Adobe Analytics does make sense for a more established company that knows what it wants to achieve with its data. It would also be wise at this stage to have a data team in place or someone whose main responsibility is data management and reporting. Don't get discouraged by the groundwork you need to do after you start with the platform. Even though the platform doesn't offer the reports to you on a silver platter, Adobe Analytics shows its best qualities along the way.
To those who hesitate between these two, don't worry—it's not uncommon to use both platforms simultaneously. Use Google Analytics to glance at your data and check the performance daily, but Adobe Analytics serves you in more detail.
Ultimately, it matters more about what you'll do with the data and how you maximize your results. Having your data centralized in one location ensures overall control of your performance. In addition, you'll make the data accessible for the entire company regardless of your chosen analytics platform.
About the author
Tea Korpi is a Product Marketing Manager at Supermetrics, and she's passionate about helping marketers discover new ways and tools to help their day-to-day work life. At Supermetrics, Tea works closely with the product team to fully understand every product spectrum and position them for the customers.
Turn your marketing data into opportunity
We streamline your marketing data so you can focus on the insights.