May 16, 2022
Funnel.io vs. Supermetrics: A comparison guide
10-MINUTE READ | By Isha Shinde
[ Updated Aug 1, 2023 ]
Supermetrics and Funnel provide marketing teams with the ability to gather, store, and analyze data in a simple, flexible, and scalable way. This article will compare Funnel with Supermetrics to help you decide which one is right for your organization.
Before going into a deeper comparison, let's look at a basic overview first.
Supermetrics Overview
Supermetrics streamlines the delivery of data from 100+ sales and marketing platforms into the reporting and analytics tools that marketers already know. Supermetrics doesn't store the data on its server — it simply moves your marketing data from all your platforms into destinations like Google Sheets, Excel, Google Data Studio, and data warehouses such as Snowflake, BigQuery, and Amazon Redshift, among others. Once there, you can analyze the exact data you want and build custom marketing reports for your clients, management team, or your own analysis.
Funnel Overview
Funnel and Supermetrics both offer the same core features, but their functional model is different compared to each other. Unlike Supermetrics, Funnel uses a 'managed data warehouse' model. This means that Funnel essentially stores all data transferred through their system on a third-party server. Then, once the data is on their server, they send that data to the chosen destinations.
Given the similar core function of automating data collection and analysis in the platforms, choosing the right one for your business isn't easy, which is why we've compared both platforms in this article to help you choose the right tool for your needs.
In this article, we'll discuss how both platforms compare in these areas:
Let's dive into the comparison.
Funnel.io vs. Supermetrics: Data Source Connectors
When assessing data source connectors there are two main questions to ask: what platforms can I pull data from and what data can I pull from those platforms?
What platforms can I pull data from?
The platforms, or integrations, from which the user can pull in data and feed it to the destination are referred to as Data Source Connectors.
Both Supermetrics and Funnel have the same core functionality, ETL, and provide similar types of data source connectors starting from paid media to sales data sources.
The platforms covered by Supermetrics can be broken down into the following groups:
Paid media (including Facebook Ads, Google Ads, Amazon Ads and TikTok Ads)
Web analytics (including Google Analytics, Google Analytics 4 and Adobe Analytics)
Social media (including Facebook, Instagram, and Twitter)
SEO (including Google Search Console, Google My Business, and Ahrefs)
Ecommerce (including Shopify, Klaviyo, and Stripe)
Mobile and app analytics (including Apple Public Data, and Facebook Audience Network)
Email (including Mailchimp)
Sales (including Salesforce, HubSpot, and CallRail)
Check out all the data sources Supermetrics integrates with!
Funnel connects to significantly more platforms, whereas, with Supermetrics, we focus on integrating with the most popular and requested platforms and building deep connectors that can pull a huge amount of fields. If you look in terms of ease of use, a large number of Funnel's connectors are categorized as 'Custom,' which was designed for the customer's very specific needs and required to be configured separately.
Also, it's very important to look granularly into each connector as many of the connectors offered by Funnel pull a limited amount of metrics and dimensions— we'll talk about more details on this in the next section.
What data can I pull from those platforms?
The second aspect when assessing connectors is the type and quality of data you can pull from them.
At Supermetrics, we aim to provide as granular data as possible. In short, if it's available through the API, we'll do our best to make it available to you. You'll be able to pull a wide variety of metrics and dimensions from each data source connector, allowing you to create the exact reports you need.
Funnel.io pulls in fewer data points than Supermetrics. To compare the amount of data available, let's take three of the most popular data sources and see what you can get with Supermetrics and Funnel.io, respectively.

Supermetrics will give you granular access to all the metrics and dimensions available within a platform. In some cases, you'll also find available fields through Supermetrics but not within a platform's native reporting. For a full breakdown of all the available fields for Supermetrics' data source connectors, check out our documentation pages.
This means you're more likely to be able to set up your marketing report and dashboard the way you or your clients want it to be with Supermetrics.
Funnel.io vs. Supermetrics: Data Destinations
Now that you know what data you can get, it's time to see where you can take it.
Supermetrics lets you move data into the reporting and analytics tools you're already using, whether a spreadsheet, a data visualization, a BI tool, and a data warehouse or data lake.
Where can I move my data?
With Supermetrics, you can move your data into the following destinations:
Google Sheets
Excel
Google Data Studio
BigQuery
Snowflake
Azure Synapse
Amazon S3
Amazon Redshift
Google Cloud Storage
Azure Storage
SFTP server
Tableau, Power BI, Qlik, and other BI tools, databases, or data warehouses that support JSON or CSV inputs—with the Supermetrics API
Funnel.io also provides similar destinations except for Microsoft Excel and custom API—which can be used in Tableau, Power BI, Qlik, databases, or data warehouses that support JSON or CSV inputs.
How can I use my data for analysis?
With Supermetrics, you have the freedom to move and centralize your data depending on what suits your needs. If you need to analyze a specific dataset, you can move it into a Google Sheets spreadsheet. If you need to create performance monitoring dashboards and reports, you can use Google Data Studio. If you need to build a centralized repository of all your historical marketing data, you can use BigQuery. There are almost limitless ways to use Supermetrics depending on where you're pulling data from and where you're pulling it.
Supermetrics makes it easier to get started, by enabling all of its connectors to be self-serve, which means you don't need someone to set it up. And for destinations like Google Sheet, Google Data Studio, and Excel, we offer many pre-made reporting templates for most of the connectors, while for the Data Warehouse, we offer a standard schema to speed you to get started.
Funnel gives more flexibility in terms of data transformation, which can be easy and handy for small teams when you just need to use simple logic to transform data and you don't need to worry about version control or storing your organization's core transformation logic on a third-party server.
But if you have a big team or as you scale, it's very important to decide if you want to commit to having all your core transformation logic on a third-party server that can't be transferred even when you need to switch to any software from the funnel. With large teams, it's also important to consider the source and version control, as sometimes you might want to roll back to the previous version or check the source of the logic when working with data.
On the other hand, Supermetrics enables the users to modify, map, correct, or normalize the data extracted from data sources without storing it on third-party servers as Supermetrics performs all data transformations during the data transfer.
Funnel.io vs. Supermetrics: Data Security and Reliability
How secure and reliable is my data using these platforms?
Supermetrics is committed to the security of the data you process with us. Supermetrics doesn't store your data. All we do is move it from your marketing platforms into destinations.
Funnel, on the other hand, stores all your data first on its own servers and then connects and transfers it further to your destination. The transformation part in Funnel means that it cleans up, maps out, and groups your data before loading it to a reporting tool or data warehouse.
Looking at the 'data transformation' process, Funnel and Supermetrics follow very different approaches. Funnel essentially stores the data in its data warehouse to perform any cleaning, mapping, and grouping. While on the other hand, Supermetrics performs all data transformations during the data transfer, which means data does not need to be stored on third-party servers.
Both Supermetrics and Funnel are SOC2 Type II and ISO certified with the data protection and privacy frameworks outlined in the General Data Protection Regulation (GDPR) and the California Consumer Privacy Act (CCPA).
Supermetrics uses fully-encrypted caches to improve data delivery performance from certain data sources. Supermetrics does not sample your data, nor does it rename fields or change numbers. This means that your data flows through as-is, meaning that it should line up with the numbers you see on the platform.
Therefore, with inscription and direct API connections, your data will be more secure with Supermetrics. And with 750k users around the world and global brands such as Dyson, Nestlé, and the BBC as our customers, you can rely on Supermetrics as your marketing data connector.
How does each solution scale with you?
As your company grows, so do your analytics maturity and data needs.
You might start by creating simple marketing reports for your clients and managers or build easy-to-understand dashboards to monitor performance. As you become more analytically mature, that may evolve into deeper analysis in spreadsheets or more complex reports that blend large datasets from multiple platforms. You might outgrow spreadsheets as a data repository, and you look for something more suitable, like a marketing data warehouse. At the same time, you'll be able to move from restrictive and descriptive analytics toward predictive and prescriptive analytics.
At Supermetrics, we understand that data integration needs are not static. Data complexity grows with your business, especially for sales and marketing data. Our solutions keep pace as your needs change, going from spreadsheets and data visualization tools to data warehouses and data lakes. We have the right data delivery solution for your needs, no matter where you're on your data journey.
With Funnel's data warehousing model, which stores data on third-party, i.e., their data warehouse, it's really difficult to move to any other vendor in the future if your requirements outgrow the Funnel's solution.
In terms of scale, Supermetrics is significantly larger than Funnel. Supermetrics has 17,000+ customers (and over 700k users), whereas Funnel only has around 1500+ customers. Due to many customers, Supermetrics gets the privilege of learning from a much broader client base enabling it to make informed decisions on product development. And with a large customer base, Supermetrics also has the experience to work with various use cases so practically— it's more likely with Supermetrics than Funnel that the use cases similar to yours might have already been worked on before.
Funnel.io vs. Supermetrics: Pricing
Funnel typically has placed itself at a cheaper starting price point, which looks attractive at the initial stages and for small companies, but the price increases drastically with unexpected surges in usage and data flow.
Funnel uses a credit system called 'FlexPoints' as a unit of measurement. These FlexPoints are applied to packages, and if your use increases, you may need to purchase more FlexPoints to continue to use the system. This eventually becomes difficult for companies to budget their spending as you may never really know exactly how much you're going to end up paying.
And because of their managed data warehouse, Funnel customers suffer from vendor lock-in. Once you start using Funnel, it becomes hard to switch to any other vendor, even if things change and you'd like to.
With our plans, you always know exactly how much you'll pay and what the packages include. There are no surprise fees or surges in price due to increased usage or credit systems.
The managed data warehouse—and data transformation logic—also means that once you start using Funnel, it becomes hard to switch to any other tool, even if you're looking to change.
Summary
We hope this comparison helps you understand whether Supermetrics or Funnel is the right product for you.
If you're looking for an easy way to build simple marketing reports for your clients or managers and if you're okay with the data stored in 3rd party warehouses, Funnel could be your best bet. But if you're looking for a more comprehensive solution that offers a greater degree of details, customization, and scales as you grow, Supermetrics will be a better fit for your needs.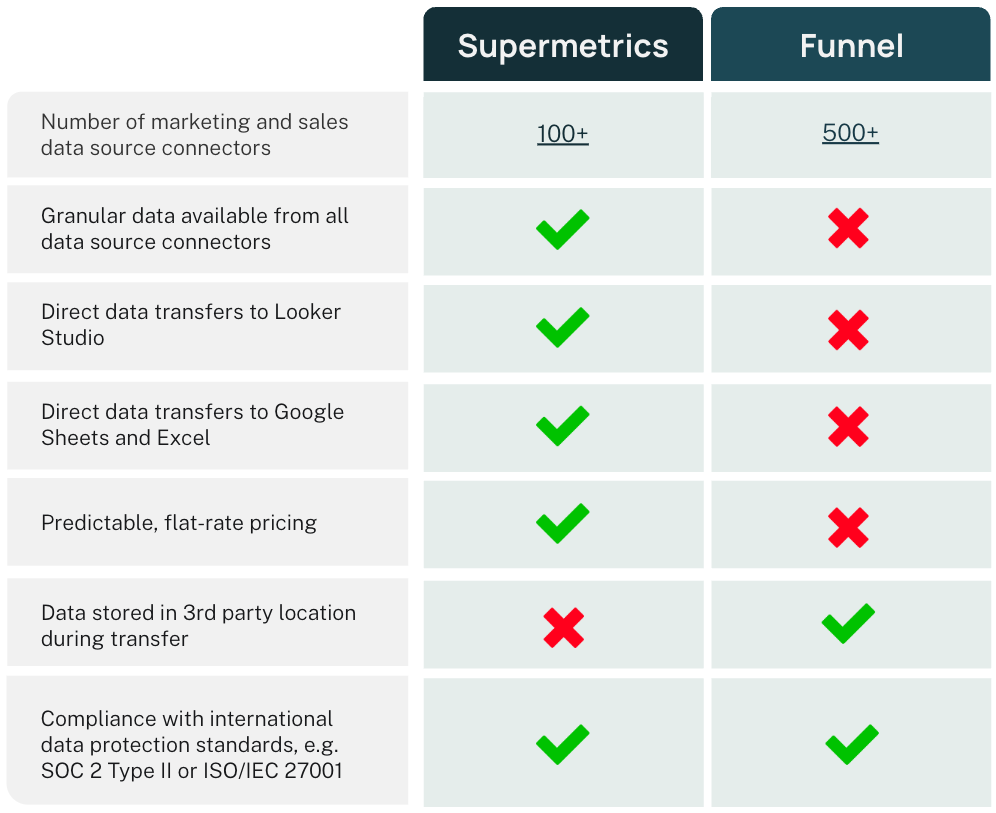 See Supermetrics in action
Book a call with one of our team members to see how your business could benefit from Supermetrics
Talk to sales
Isha Shinde
About the author:
Meet Isha, a Junior Demand Gen Manager at Supermetrics, who loves decoding data mysteries and empowering customers with data-driven marketing insights.
Turn your marketing data into opportunity
We streamline your marketing data so you can focus on the insights.