Aug 29, 2022
Supermetrics vs. Fivetran: a comparison guide
12-MINUTE READ | By Laura Hämmäinen
[ Updated Jan 13, 2023 ]
Fivetran and Supermetrics both offer businesses efficient means of gathering, storing, and analyzing data. This comparison article will overview both options to help you decide which would best suit your business needs.
But before going into a deeper comparison, let's first look at a basic overview.
Supermetrics overview
Supermetrics is a solution for streamlining data delivery from 100+ marketing platforms into reporting, analytics, and data storage tools that marketers know and love. We specifically designed the product to excel within the sales and marketing data space, meaning that the data pulled from each source is comprehensive and high quality.
Unlike many other solutions, Supermetrics doesn't store your data on its own servers. Instead, we transfer data securely and directly from source to destination. Supermetrics gives instant access to your data through destinations like Google Sheets, Excel, Google Data Studio, BigQuery, Snowflake, Amazon Redshift, and many others.
Fivetran overview
Fivetran and Supermetrics strive to fulfill the same promise, but there are significant differences between the two. While Supermetrics specializes in marketers' needs specifically, Fivetran takes a broader approach to moving data.
Fivetran can be considered a 'general store' for connectors with categories ranging from marketing and ops to finance and support. On the other side, by specializing, Supermetrics can deliver the depth of connectors and allow marketers to obtain all the fields they need from any data source. While Supermetrics prioritizes ease of set-up, Fivetran is more skewed towards technical teams.
Further differences between the two platforms include, for example, usability, pricing transparency, and depth of marketing connectors, which we'll discuss in more detail in this article.
But since both solutions have a similar core function of automating data collection and analysis, choosing the right one for your business isn't easy. In this article, we'll discuss how both platforms compare in these areas:
Supermetrics vs. Fivetran: data source connectors
When assessing data source connectors, there are two main questions: what platforms can I pull data from, and what data can I pull from those platforms?
What platforms can I pull data from?
The platforms, or integrations, from which users can pull data and send it to their analytics destination are called data sources.
Supermetrics currently offers 100+ marketing and sales data source connectors, but Fivetran currently has 70+. Fivetran offers additional connectors in other categories.
The platforms covered by Supermetrics can be broken down into the following groups:
Paid media—Facebook Ads, Google Ads, and TikTok Ads
Web analytics—Google Analytics and Adobe Analytics
Social media—Facebook, Instagram, and Twitter
SEO—Google Search Console, Semrush, and Ahrefs
Ecommerce—Shopify, Klaviyo, and Stripe
Mobile and app analytics—Apple Public Data, Adjust, and Appsflyer
Email—Mailchimp, Salesforce Marketing Cloud, and Pardot
Sales—Salesforce, HubSpot, and CallRail
Fivetran isn't specialized in marketing data, meaning that only a small portion of its connectors fall into the marketing category. Nonetheless, Fivetran has expanded its coverage to several marketing data connectors.
Supermetrics strives to cover all of the most popular and requested data sources. Customers can submit requests and follow our product roadmap to keep tabs on new launches.
What data can I pull from those platforms?
The second factor to consider is the type and quality of data you can pull with each connector.
The specialization in marketing and sales data has enabled Supermetrics to dive deep into all the different data sources. Our priority is to build thorough connectors that cover any use case marketers might have. If a metric is available through the platform API, Supermetrics is much more likely to support it than other providers.
Similarly, staying on top of and quickly adapting to changes in the APIs is core to our offering. Data needs to be granular and complete for marketers to make well-informed decisions efficiently.
Wide coverage in connectors isn't helpful if marketers run into data limitations due to necessary metrics lacking within a connector. Marketing data sources offer a lot of nuances, and it's important it all gets transferred into your chosen data source. We've gone above and beyond to ensure customers can pull exactly the data they need.
For example, we give the option to select a specific attribution window for paid media data sources. We also offer multiple granularities for metrics like reach and frequency. Since they can't be aggregated, marketers need to see them on different levels, like campaign or ad set.
Another key factor is that with Supermetrics, you're able to preview data before deciding to include it in a schema. This way, you can optimize your data pulls to cover exactly what you need.
These are just some of the things our marketing expertise allows us to consider, and this level of customization is unlikely to be offered by more generic competitors such as Fivetran.
The reason we're specialized in marketing is that it takes a village to achieve and maintain the necessary depth in both quantity and quality.
Marketing data sources live in constant flux, and our engineers work hard to keep the correct data flowing seamlessly into various destinations. Many companies turn to Supermetrics because maintaining these data connections independently is difficult, risky, and expensive. Supermetrics not only works in the background, but our experienced support team can help our customers no matter the problem they might encounter.
Fivetran's documentation does not disclose the number of metrics and dimensions it has for each connector. Supermetrics' coverage is clearly displayed for each connector on our website. For example, the Supermetrics connector for Facebook Ads covers 528 metrics and 227 dimensions.
Transparency in this area would greatly help potential customers in evaluating different solution providers. But, without truly specializing in marketing and sales data, Fivetran doesn't have the same wealth of industry knowledge that goes into building the required depth and granularity.
Supermetrics vs. Fivetran: data destinations
Now that you know what data you can get let's look at the destinations it can be delivered to.
Where can I move my data?
With Supermetrics, you can move your data to the following destinations:
Google Sheets
Excel
Google Data Studio
BigQuery
Snowflake
Azure Synapse
Azure SQL Server
Amazon S3
Amazon Redshift
Google Cloud Storage
Azure Storage
SFTP server
Tableau, Power BI, Qlik, and other BI tools
Databases or data warehouses that support JSON or CSV inputs—with the Supermetrics API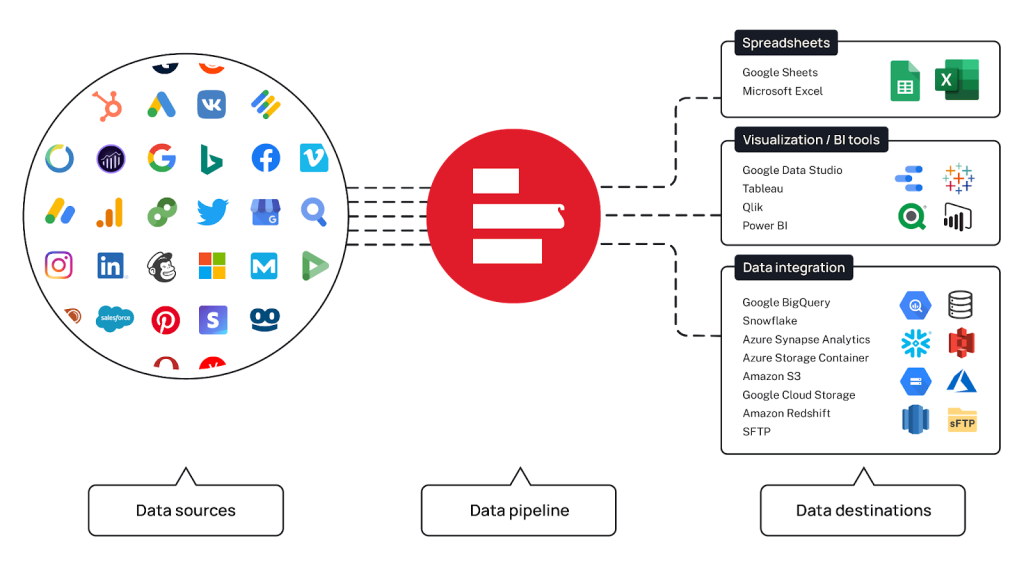 Fivetran's destinations lean on the side of data warehouses and data lakes, with options such as Azure Synapse, Snowflake, Redshift, BigQuery, and Databricks, among others. While these destinations are great for building your marketing analytics stack, at Supermetrics, we believe that it's crucial to have visibility on both the big picture and the little picture when it comes to data. This means that while the larger data infrastructure is absolutely crucial, individuals still need further easy-access data processes to analyze data flexibly.
That's why we find destinations such as Google Sheets and Excel so important. They allow individual marketers to work with data without reaching out to the data team when they need a new metric added to a dashboard. This way, Google Sheets and Excel can function as a data playground for marketers to test and build out useful queries that they can then pull into a data warehouse via a Supermetrics data transfer.
Supermetrics vs. Fivetran: usability
Supermetrics covers a multitude of needs when it comes to moving data. Whether you need to quickly analyze data in spreadsheet form, visualize it in a dashboard, tap it into a BI tool or integrate it into a data warehouse, we have your back. Supermetrics scales with you, but we also offer a comprehensive tool kit no matter the size of your company.
Because Supermetrics caters to all sizes and shapes, we find it necessary to offer flexible self-serve products in addition to customers going through a sales funnel. While our sales engineers are eager to discuss complex cases at length, many companies benefit from the availability of plug-and-play products such as our Google Sheets or Data Studio connectors.
Supermetrics prioritizes ease of implementation and helps collaboration between tech teams and marketing, where Fivetran is geared towards more technical teams for management and implementation.
Marketing teams must be able to work efficiently with data teams to build an optimal marketing data stack. Fivetran offers limited ways for marketers to collaborate with data teams on creating the data transfers they need.
The Supermetrics Query Manager allows marketers to preview any data that the transfers include before the data team commits to a full data transfer. The Query Manager is a unique but easy-to-use tool that removes the language barrier between data teams and less technical teams to give power to the data users.
Another key difference between Supermetrics and Fivetran is schema design. Simply put, schemas refer to a pre-defined set of metrics and dimensions to pull data from any given source.
Supermetrics uses denormalized schemas that are analytics-ready out of the box. Denormalization implies that data is delivered in a wide format without nested fields for enhanced time-to-value. This results in fewer tables and decreased complexity in table joins.
Fivetran offers normalized schemas, which means data isn't instantly ready for analysis. The normalization of schemas breaks tables into smaller data sets and connects them for logical storage. A greater number of joins may slow down the data transformation process.
We develop our standard schemas based on customer feedback and extensive research. We also offer the option to customize schemas to better fit the needs of your particular business case. There are almost limitless ways to use Supermetrics depending on where you're pulling data from and transferring it without worrying about security, ownership, or getting stuck.
Supermetrics vs. Fivetran: pricing
Fivetran has a consumption-based pricing model, which means they can only give estimates on what the actual monthly cost will end up being. The key component affecting the price is Monthly Active Rows (MAR). Estimating your MAR requirement will allow you to estimate the monthly cost of Fivetran.
The ambiguity around a metric like MAR can impact how data is used within an organization. If you have to be cautious about exceeding your budgeted monthly active rows, you might limit the insights your data could give.
Fivetran packages its offering into different tiers. Standard Select is the cheapest tier containing one user and usage capped at 500K MAR. Other packages don't have usage or connector caps.
Fivetran's pricing may be advantageous for companies with many data sources but a lower amount of data. Ultimately, this approach to pricing makes it difficult for customers to forecast actual costs and plan in the longer term.
The cost of Supermetrics is fixed based on the number of data sources, accounts, and users. Our predictable pricing model means you won't stumble into surprise fees or surges in price due to increased usage or credit systems. This allows marketing teams to budget more efficiently, as the transparency in cost allows for long-term planning and peace of mind.
Since Supermetrics offers many products, there are flexible ways of bundling these together. Our sales team will help in constructing the optimal solution for your business. We see many of our clients combining more complex data warehouse packages with Google Sheets or Data Studio connectors, which start as low as $39 per month. This guarantees a flexible data access model that extends from the grass-roots level to the global enterprise.
Summary
Hopefully, this comparison clarifies some of the differences between the two alternative solutions. There are multiple aspects to consider, and the right choice will depend on the nature of your business.
If your business needs many connectors, but the actual amount of data isn't very significant, Fivetran could be a good option. But if you're looking for robust expertise specifically in the field of marketing and sales data, Supermetrics offers unrivaled knowledge in the field. With over 15% of global ad spend flowing through Supermetrics, we have developed our products by learning from our 17 000+ marketing customers and their varying use cases.
If you need further proof, you can try any Supermetrics product for free for 14 days. Our sales team is also happy to demo any product to help you find a solution that works for your business.

About the author
Laura is a Demand Generation Manager at Supermetrics. With a background in performance marketing, she relates to the Supermetrics audience and delves into customers' challenges with a data-led approach.
Turn your marketing data into opportunity
We streamline your marketing data so you can focus on the insights.