[ Updated May 23, 2023 ]
Supermetrics specializes in data integration tools that make it easier for marketing analysts and business intelligence teams to move and integrate data to data warehouses, business intelligence tools, and applications such as Google Data Studio, Google Sheets, and Microsoft Excel.
We help your marketing, analytics, and BI teams transform data so that you can focus on the insights that fuel and grow your business.

How Supermetrics started
In 2009, Google released an API for Google Analytics. A Google engineer issued a challenge on an online forum: the first person to connect the API to Excel would be rewarded with a Google t-shirt. Working straight for a couple of nights, developer and analyst Mikael finally connected the API to Excel and won the t-shirt.
Soon after, Mikael realized he wasn't alone and launched Supermetrics to help companies profit from their marketing data. Many other marketers, analysts, and data-driven companies struggled to produce actionable results from their marketing campaigns. Supermetrics now serves 750,000 users globally. Our most popular data source, Facebook Ads, is used over 9 million times each week.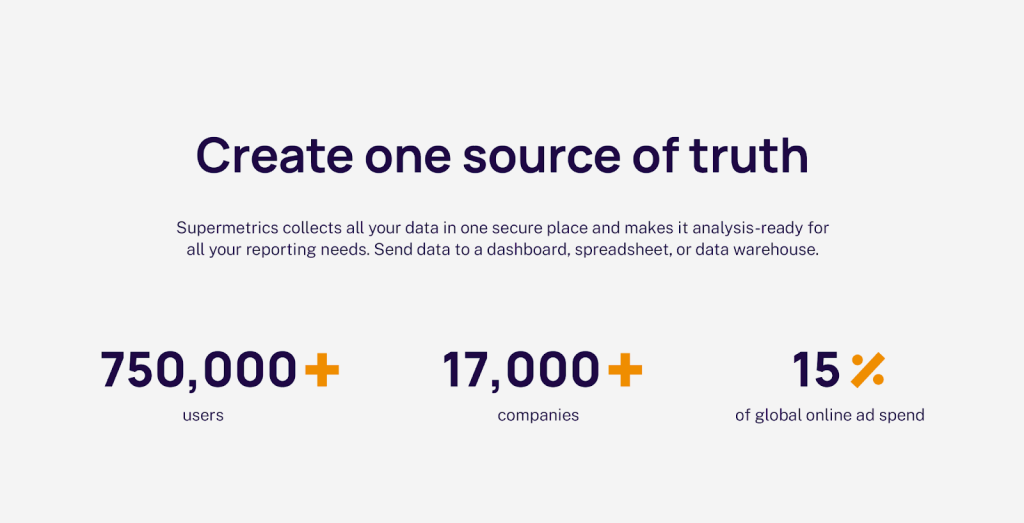 What does Supermetrics do?
We help businesses gain faster time to insight
Supermetrics removes marketing data complexity by helping you manage your data transfers efficiently and reliably.
We're essentially the pipeline between your data sources and where you want to analyze your data.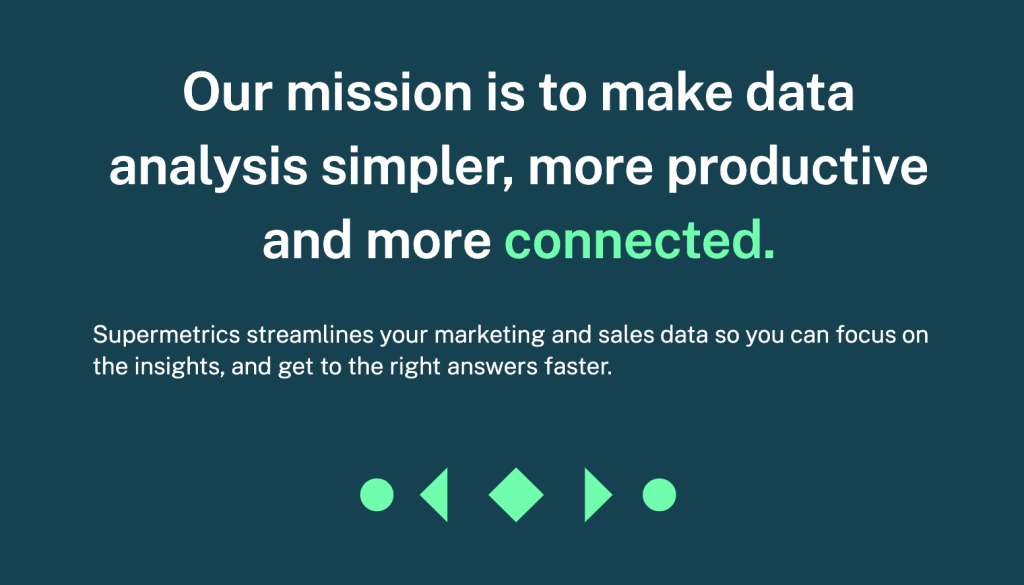 Why you should use a marketing data pipeline
The reasons why you should use a pipeline for your marketing data are simple if you want to remove data silos, get the insights your business deserves, improve operational efficiency, and create more personalized marketing campaigns.
The hard question usually is whether you should build it or buy it. If you build it yourself, then you have to manage the tedious and resource-consuming maintenance. If you outsource the custom building, it gets quite expensive, and the reliability is still questionable. So your best option is to buy a managed pipeline that's reliable, secure, and the cheapest way to get your marketing data in one place.
A managed marketing data pipeline is cost-efficient, easy to learn and deploy, has both extract-transform-load and extract-load-transform workflows, and enhanced data security.
Why you should use Supermetrics
With Supermetrics, you can easily show your results with less effort. All your metrics and dimensions centralized in one location and visible in a dashboard, allowing you to make better decisions faster.
You can:
Improve your return on ad spend
Provide your stakeholders with clear, actionable results
Spend more time on productive work
Avoid resource drains of consistent API maintenance
Transform operational data into analytics-ready data sets that grow your business
And go from data-driven to insights-driven
Supermetrics: trusted by Google
Every year, Google Workspace Marketplace lists its most trusted apps that meet its integration and security requirements. Google selects apps that it recommends to its customers based on rigorous testing. And Supermetrics is the only marketing data integration tool on that listing.
The apps listed in this program undergo rigorous usability and security testing to ensure they meet Google's requirements for high-quality integrations.
As the marketing analytics solution recommended by Google Workspace, Supermetrics was built to work where you already work.
Find us on now the Google Workspace!
Turn your marketing data into opportunity
We streamline your marketing data so you can focus on the insights.