Feb 15, 2023
Domo vs. Supermetrics: A Comparison Guide
7-MINUTE READ | By Isha Shinde
[ Updated Aug 1, 2023 ]
Are you looking for a data pipeline solution and considering between Supermetrics and Domo? Then this article is for you.
We'll compare Supermetrics with Domo based on areas like data connectors, scalability, usability, and pricing.
Navigate this post:
Before a deeper comparison, let's first look at a basic overview.
Supermetrics overview
Supermetrics automates data transfers from 100+ sales and marketing platforms into the reporting and analytics tools that marketers and analysts already use. Once there, you can analyze the data, find insights, and build reports for your own use, clients, or management team.
Supermetrics is SOC 2 Type II, GDPR, and CCPA compliant. We don't store your data on the servers. We only move it directly from sources to destinations—data in, data out.
Domo overview
Domo is a cloud-based business intelligence software that combines data integration, business intelligence, and data apps.
Unlike Supermetrics, Domo doesn't support moving data into Google Sheets and Looker Studio(formerly Data Studio). Instead, the company primarily focuses on data clouds, data warehouses, and data lakes. That's why a less technical audience like marketers may find Domo quite hard to use.
On the other hand, Supermetrics is built with marketers and agencies in mind. We can confidently say that we'll be able to support all your use cases as a marketer.
But, choosing the right one for your company isn't straightforward, given the common core function of automating data processing and analysis.
Let's dive deep into comparison now.
DOMO vs. Supermetrics: Data Connectors
The platforms, or integrations, allowing users to pull data for analysis or further processing, are called data source connectors.
When assessing the data source connectors, you should consider two questions—what platforms can you pull data from and can the platform scale with your growth?
What platforms can you pull data from?
Supermetrics and Domo offer ETL capabilities and a range of data source connectors, from paid media to sales data.
Some of the platforms covered by Supermetrics can be broken down into the following groups:
Paid media—including Facebook Ads, Google Ads, and TikTok Ads.
Web analytics—including Google Analytics and Adobe Analytics.
Social media—including Facebook, Instagram, and Twitter.
SEO—including Google Search Console, Google My Business, and Ahrefs
Ecommerce—including Shopify, Klaviyo, and Stripe
Mobile and app analytics—including Apple Public Data, and Adjust data.
Email Marketing—including Mailchimp.
CRM—including Salesforce, HubSpot, and CallRail.
One more important difference is that Domo is not designed for marketers and marketing agencies so many of their connectors are not related to marketing or sales domains at all but are from finance, hr and other domains.
Whereas Supermetrics is focused specifically on marketers and supports various marketing use cases. At Supermetrics, we build all the connectors in-house to maintain consistent quality and offer the most fields from each data source, allowing you to analyze your data more thoroughly every time.
Supermetrics focuses on integrating with the most popular and requested platforms and building deep connectors that can pull many fields. This makes it difficult to use and may not meet all needs and use cases. Check out all the data sources Supermetrics integrates with.
Supermetrics listens to customer feedback and incorporates it into our roadmap. We're continually researching and building new integrations to more marketing and sales platforms.
"Supermetrics has that hungry attitude of striving to be as useful as possible while listening to customers' feedback."

Sam Caesar, Search Account Manager, Sleeping Giant Media
To make it easier for the user to submit a connector request, you can check the roadmap to see if the connector you're looking for is under development—otherwise, you can submit your request.
DOMO vs. Supermetrics: Data destinations—Where can I move my data into?
A data destination is the reporting and analytics platform where you can store, process, and analyze your data.
Every organization has its tech stack, and sometimes when using a new platform, you need to learn the platform first, which isn't as easy as using your current stack. That's why it's a very important parameter to understand where you can finally move or store your data.
In addition to moving data to the data storage—data warehouse and data lakes similar to Domo, with Supermetrics, you can also move your data to almost any destination that you or your team is using, like spreadsheets, BI tools or data warehouses.
This gives you more freedom to analyze your data—for example, if you need to:
Do ad-hoc analysis, you can move data into a Google Sheets or Excel spreadsheet.
Build marketing dashboards and reports, you can use our data source connectors for Looker Studio
Create a centralized repository of all your historical marketing data, you can move your data into a warehouse like BigQuery or Snowflake.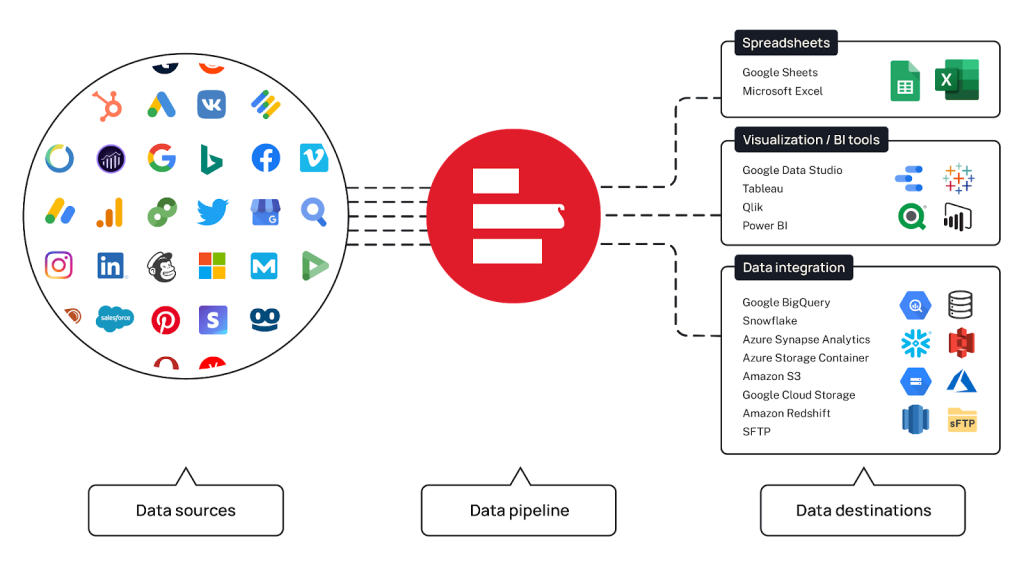 So if you're looking to automate your reports to Looker Studio or get all the data to Google Sheets, Excel, or Tableau for further analysis, then it's not possible with Domo. You'll always have to store your data first in the data warehouse or other data storage platforms— only then can you move the data further to any analytics, dashboarding, and visualization platform.
How can I use my data for analysis?
With Supermetrics, you have the freedom to move and centralize your data depending on what suits your needs. You can move it into a Google Sheets spreadsheet if you need to analyze a specific dataset. If you need to create performance monitoring dashboards and reports, you can use Google Data Studio. If you need to build a centralized repository of all your historical marketing data, you can use BigQuery.
On the other hand, as Domo can only transfer the data to data storage platforms, it's difficult to just analyze a small chunk of data without going through the entire process of data storage platforms.
Simply put, you must add that data to the data storage platforms whenever you need to analyze something.
Also, with Domo you have to view your data on the Domo dashboard—you can't export it, save it as a file, or view it on the BI tool of your choice. Domo wants to be your single data platform — ETL, storage, transformation, visualization, and altering all in one. This creates significant barriers if you want to use any other tools for specific functions that are.
Also, when transferring all this data to storage, it's important to ensure that you're transferring the correct data. With Supermetrics, you have the ability to preview live and ensure that your data is correct before sending it to a data storage platform, helping you increase your confidence that you're pulling the correct information and the data is accurate.
There are many ways to use Supermetrics depending on where you're pulling data from and where you're pulling it without worrying about security, ownership, or getting stuck.
DOMO vs. Supermetrics: Scalability
As your company grows, so too do your analytics maturity and data needs.
You might start by creating simple marketing reports for your clients and managers or build easy-to-understand dashboards to monitor performance. As you become more analytically mature, that may evolve into deeper analysis in spreadsheets or more complex reports that blend large datasets from multiple platforms.
You might outgrow spreadsheets as a data repository and look for something more suitable, like a marketing data warehouse. At the same time, you'll be able to move from restrictive and descriptive analytics toward predictive and prescriptive analytics.
With Supermetrics, it doesn't matter where you're in your journey as we can support you through all the stages in your data maturity, starting from moving your data to spreadsheets for analytics, to create custom dashboards and reports in Data Studio or other visualization tools as well as building a data warehouse where you can do a lot more complex models and analysis with your data.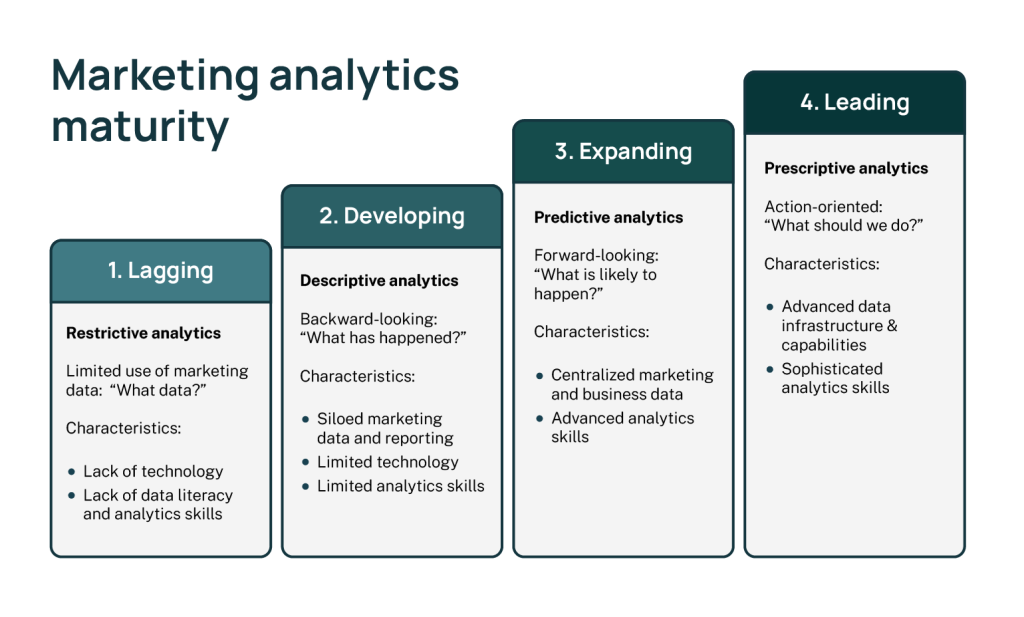 How does each solution scale with you?
At Supermetrics, we understand that data integration needs are not static. Data complexity grows with your business, especially for sales and marketing data.
Our solutions keep pace as your needs change, going from spreadsheets and data visualization tools to data warehouses and lakes. We have the right data delivery solution for your needs, no matter where you're on your data journey.
On the other hand, with Domo, you can only move your data to a data warehouse and data lakes which might not always be the organization's need.
"For us, growth is at the foundation of everything we do. It's our purpose, and Supermetrics is a product that's helped that. No doubt about that."

Ben Fitzpatrick, Head of Strategy, Webprofits
Supermetrics, with 15% of global online ad spend, has 17000+ companies (and over 700k users) which includes the fortune 500 in addition to thousands of SMB customers, gets the privilege of learning from a much broader client base enabling it to make informed decisions on product development.
And with a large customer base, Supermetrics also has the experience to work practically with various use cases— it's more likely that Supermetrics than Domo that the use cases similar to yours might have already been worked on before, especially with marketing and sales teams. Because at its core Domo is a cross-department enterprise solution, but Supermetrics is specifically for marketing teams and data teams who work with marketers. We've also come across some customers who use Domo for some parts of their business but like to add Supermetrics because they need more specificity for their marketing reporting.
DOMO vs. Supermetrics: Usability
Domo isn't designed and built by keeping marketing teams and agencies in mind. It's designed to be deployed across an enterprise in multiple departments, significantly increasing the time to realize value— hence, it isn't very easy to configure and manage with trained technical experts.
But with Supermetrics, you can choose as per your need. If you want to just do the simple analysis, you can use a Google sheet— for dashboarding, you can use Google Data Studio— or for advanced analytics— you can use data warehouses or data lakes. So you don't have to learn new software to get started— you can just quickly connect your data sources from a sidebar and get started instantly.
Supermetrics allows users to modify, map, correct, and transform the data extracted from sources without storing it on third-party servers. You can also preview the data before transferring it to the storage performs and all data transformations during it.
Supermetrics offers many destinations to move your data, but to narrow down the comparison, let's just look at data lakes and data warehouses as it's what Domo offers.
DOMO vs. Supermetrics: Pricing
Supermetrics and Domo both offer free trials for the users. Besides the free trial, Domo is very secretive about its pricing and does not give details on its website pricing models or cost. Compared with Supermetrics, Domo is an expensive product and is likely to be significantly more expensive than most Supermetrics packages. Also, the storage and customer support training and onboarding aren't included in the plan. You need to allocate a separate budget for that.
Contrary to this, Supermetrics offers several plans from which you can select the right one for your business needs.
"Over the years, I've periodically vetted alternatives for contingency planning purposes, and all other similar solutions are either too expensive, have many features we don't need or require developer time."

Josh Brisco, VP of Growth, Tinuiti
And with Supermetrics, you get fixed-fee pricing, so you always know what you'll pay and what the package includes. There are no surprise fees or surges in price due to increased usage or credit systems.
Summary
To summarize all the points we covered above, both Supermetrics and Domo are good tools for data pipelines, depending on what you're looking for.
Suppose you're looking for more of a business data platform to create executive-level dashboards and have an IT or technical team to support you on all the configurations and maintenance. In that case, Domo might be the right product for you.
But if you're looking for a data pipeline that's built specifically for marketers, which can cater to almost all of your marketing needs, allows you to transfer data to various destinations, including BI tools and spreadsheets, and can also give you a predictable pricing structure then Supermetrics might be the right tool for you. To instantly see Supermetrics in action, start your 14-day free trial now.
We hope this comparison helps you understand whether Supermetrics or Domo is the right product for you.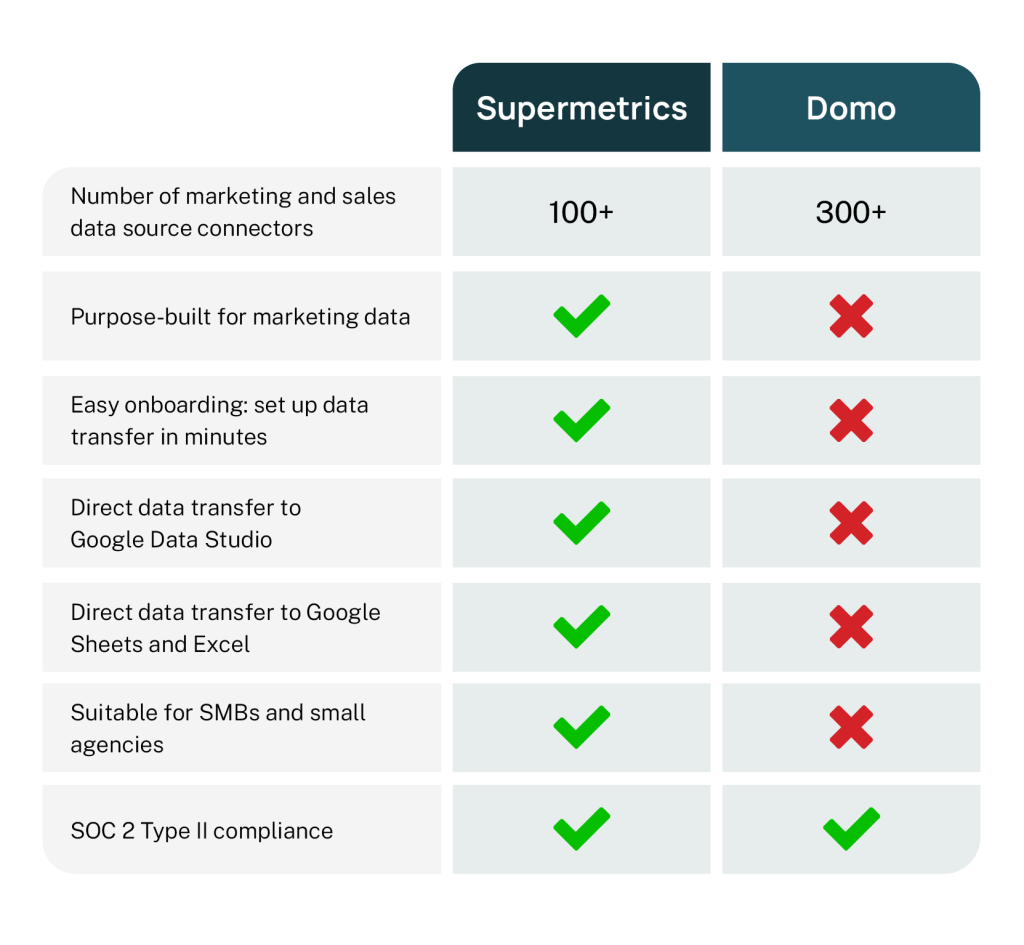 See Supermetrics in action
Book a call with one of our team members to see how your business could benefit from Supermetrics
Talk to sales
Isha Shinde
About the author:
Meet Isha, a Junior Demand Gen Manager at Supermetrics, who loves decoding data mysteries and empowering customers with data-driven marketing insights.
Turn your marketing data into opportunity
We streamline your marketing data so you can focus on the insights.