Jul 5, 2022
Google Data Studio vs. Tableau: A Comparison Guide
17-MINUTE READ | By Isha Shinde
[ Updated Oct 31, 2023 ]
Marketers need access to good and relevant data, regardless of whether you're analyzing your latest blog post or evaluating the performance of your year's biggest 360° integrated brand campaign. To do that, you need your data presented in an easy-to-understand and digestible format. This is why good business intelligence tools are more crucial than ever.
With these tools, you can blend data to explore, analyze, and visualize the data and find actionable insights. It also makes it understandable to all types of audiences and helps support important decisions.
Luckily, many different BI tools are available today, each with its strengths and weaknesses. In this article, we'll compare two top tools—Tableau and Google Data Studio—to help you decide which is right for you.
First, before going into a deeper comparison, let's look at an overview of both the tools.
Skip ahead >>
Google Data Studio Overview
Data Studio is a free-to-use, open-source data visualization, and analytics tool. It's a complete cloud-based tool and doesn't currently support a desktop version.
Unlike most BI products, Data Studio was designed keeping the marketers in mind. It has good integrations with major marketing and sales platforms. These things make Data Studio a good starting point for marketing teams or agencies.
Data Studio gives a very easy-to-adapt, user-friendly interface, making it easy to build interactive dashboards for reporting, so you don't always have to rely on technical teams.
Tableau Overview
Tableau has similar core functionality to Data Studio: data analytics, transformation, and visualization. It was originally launched as a desktop application, but they're also launching other versions with different functionality.
Unlike Data Studio, Tableau isn't specifically designed for marketers, so it's a bit more sophisticated and might be difficult to work with for people without technical skills. With Tableau being designed for a broader audience, it connects to all your different data sources and not just marketing and sales.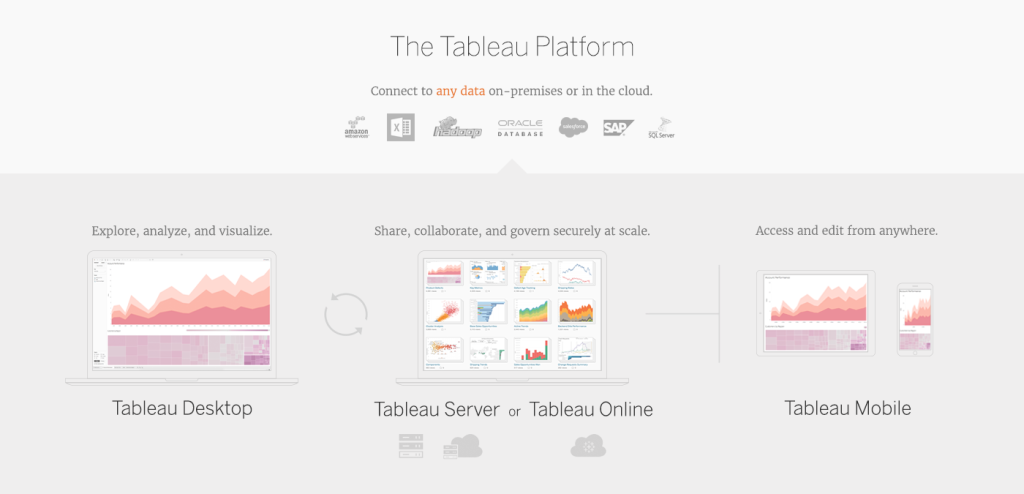 Currently, Tableau offers four versions of the tool:
Tableau can deploy models on Windows, Mac, iOS, and Android devices and is suited to absorb enormous volumes of complex data. A key feature is its adaptability, including integrations with different dashboards and web portals.
Both Tableau and Data Studio give many data connectors, including individual platforms to cloud storage and databases.
But, along with the similarities, several key differences in both platforms set them apart. The right option for you might depend on considering a few important parameters.
Let's look into a deeper comparison based on data visualization, pricing, shareability and collaboration, integrations, data blending, custom fields, learning curve, and advanced analytics.
Data visualization
Data visualization is one of the important steps in data analysis to understand your data completely. Consider the charts and graphs each program allows you to create when selecting your data visualization tool. You should produce images that speak to your audience and convey your point.
To choose the best data visualization tool, consider the graphics you'll need to create, as both Data Studio and Tableau offer a data visualization feature.
Data Studio is a data visualization feature that gives many interactive visualization options like graphs, charts, heat maps, pivot tables, scorecards, etc.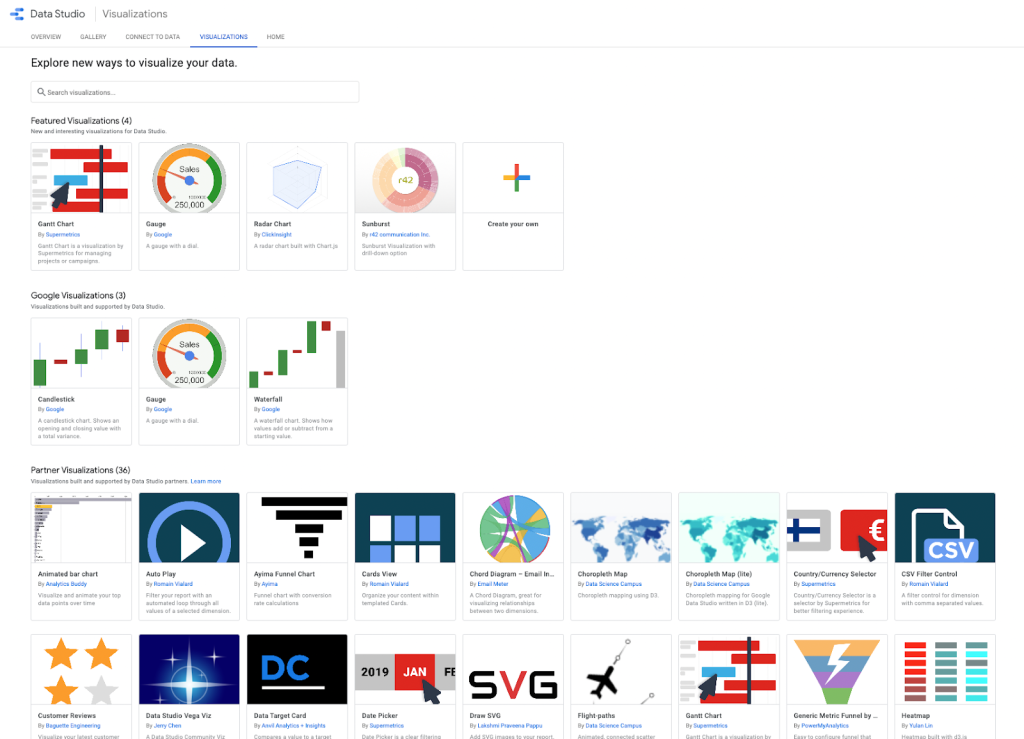 Data Studio allows you to create dashboards using data from different sources, generally from the connectors or Google applications. It's useful for marketing teams or agencies to understand the complete picture using data from paid ads, site stats, organic ranking, etc. It also gives a comparison option to easily monitor changes by comparing periods.
The dashboards in Data Studio are completely customizable to match the look and feel of the dashboard with your brand look.
Tableau has many more features and depth when compared to Data Studio. It gives very powerful data exploration and analytics tools. In terms of interactive charts and graphs, in addition to the Data Studio offerings, Tableau also offers infographics, cluster maps, and much more.
So if you're a casual business user or data scientist, Tableau will still be able to match nearly all of your use cases.
Pricing
Pricing is a major deciding factor for many organizations, which is also a big difference when looking at Data Studio and Tableau.
Data Studio is a free tool, so you don't have to pay anything to use it, no matter how big the team is. Unless you want to bring data from platforms that don't have Google connectors, you might have to look into the partner connectors' pricing plans for each one you want to use.
While Tableau doesn't offer a free version, it offers a free trial for 14 days. Other than that, all plans are billed on a license agreement, and you can choose either monthly or yearly payment terms.
Tableau has multiple pricing packages—like Creator, Explorer, Viewer, eLearning for Explorer, and eLearning for Creator—depending on the role and functionality level, you can purchase and assign the license. The basic 'Creator' license starts at $70​​ per user per month, where you can bring data, build, and publish dashboards.
The pricing structure for Tableau is designed so you can purchase a less expensive package for team members who won't be using the creating or editing dashboards. For example, the explorer package costs 42$ per person per month, while the viewer package costs 15$ per person per month.
Shareability and collaboration
Data Studio works well with all Google products, such as Firebase, BigQuery, Gmail, Forms, Google Docs, Google Analytics, and Google Sheets.
Data Studio is a good choice for organizations that use Google Cloud and other Google apps because it has native support for many data formats and simple, effective integrations.
The Google Data Cloud platform can present challenges with other software and tools, including relying on third-party connectors and integration tools. For example, the platform does not natively support Microsoft Excel files, so importing them requires additional steps and manipulation, such as converting them to a Google Sheet or CSV file.
Additionally, Data Studio may not always play nicely with other vendors' cloud data, requiring additional steps or software for importing. But, the platform integrates with over 150 cloud SQL, ecommerce, and digital advertising platforms.
Data Studio is very useful when working in a big team because it allows people to collaborate on the same data visualization simultaneously.

Tableau's sharing functionality isn't as straightforward and user-friendly as Data Studio, but it offers the sharing ability via its server.
It's directly linked to many data sources like Microsoft Excel, SQL, BigQuery, Snowflake, SAP, Salesforce, and Amazon Redshift. It can access data from all the major cloud-based data storage providers, including Google Drive, Microsoft OneDrive, Dropbox, and Box.
Tableau has the advantage of being part of Salesforce, which it integrates with. It's also strong in integrating seamlessly with Slack and other applications.
Tableau makes it very easy to share data between the internal teams in your company, but it's difficult to share it with external clients and stakeholders. To share the dashboards and reports created in Tableau, you need to use the sharing tools such as Tableau Server, Tableau Online, and Tableau Reader.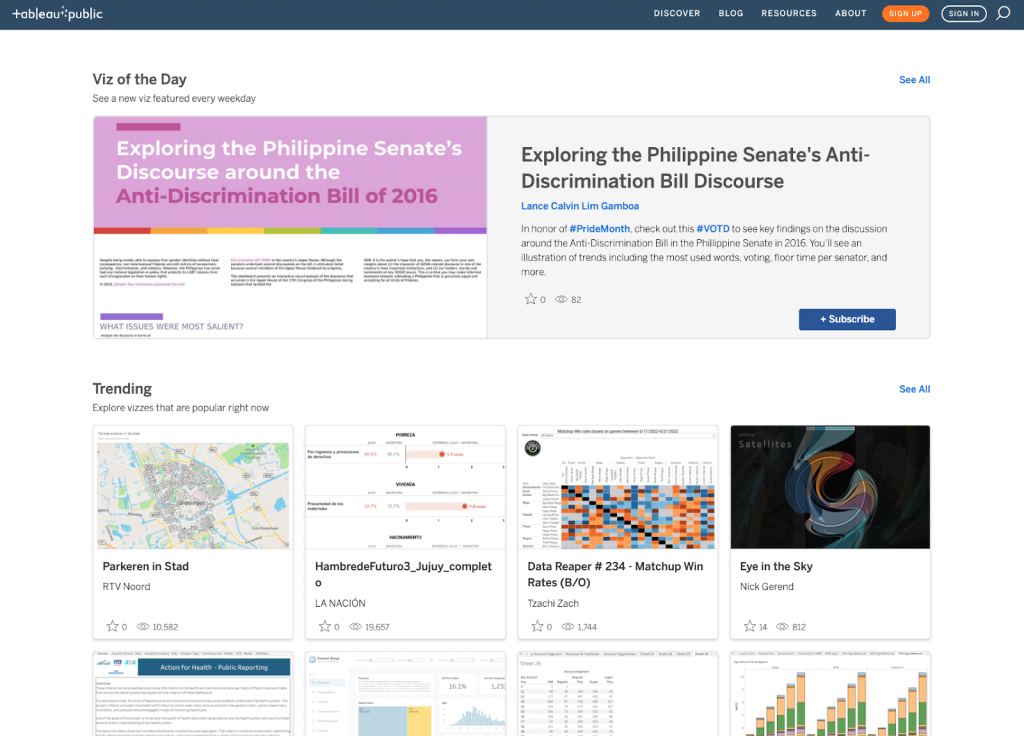 To explain further about the Tableau versions:
Tableau Desktop: You can share dashboards and reports internally or on Tableau Public.
Tableau Public. You can only share reports and dashboards on Tableau Public cloud with limited privacy and security, as anything on Tableau Public can be viewed and downloaded.
Tableau Server. You can focus on collaboration with the server version, so it comes with more security than Tableau Public and can share created reports externally.
Tableau Online. This web version of Tableau allows users to share the reports and dashboards with internal and external stakeholders. It gives more security using user authentication.
Tableau Reader. You have access to a read-only version as well, where users can view the dashboards or reports created.
To know more about shareability in Tableau, click here.
Integrations
Integrations are one of the core parameters to consider when looking at business intelligence software as it essentially determines how much of the complete picture you can see. Simply put, your BI tool must integrate with as many tools as you want to pull data from.
Integrations are also called data connectors as they connect the source to the destination so you can pull the data.
Data Studio gives an extensive list of connectors which includes 20 Google Connectors—that includes Google applications like Google Ads, Google Analytics, etc.—and 600 Partner Connectors.
Google has quite a few external connectors for which you need to use third-party connectors to pull the data. You can check Google's recommendations if you're unsure which third-party app to use for pulling data. Google and security firms evaluate these apps to ensure they're safe.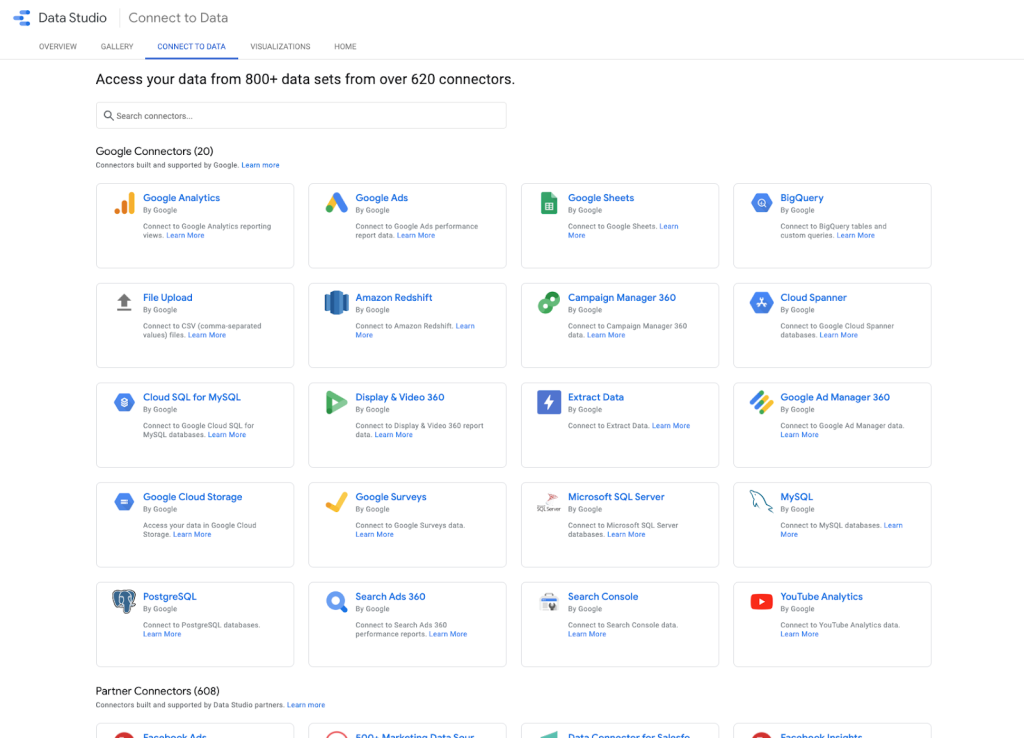 Unlike Data Studio, Tableau does not have a direct connection to all the Google products, but it still offers connections to a wide range of connectors using an API. You can view the list of all the connectors offered by Tableau here.
Tableau offers many connections to databases and file-based connections, or even SQL and NoSQL databases or even web-based HTML and Java sources.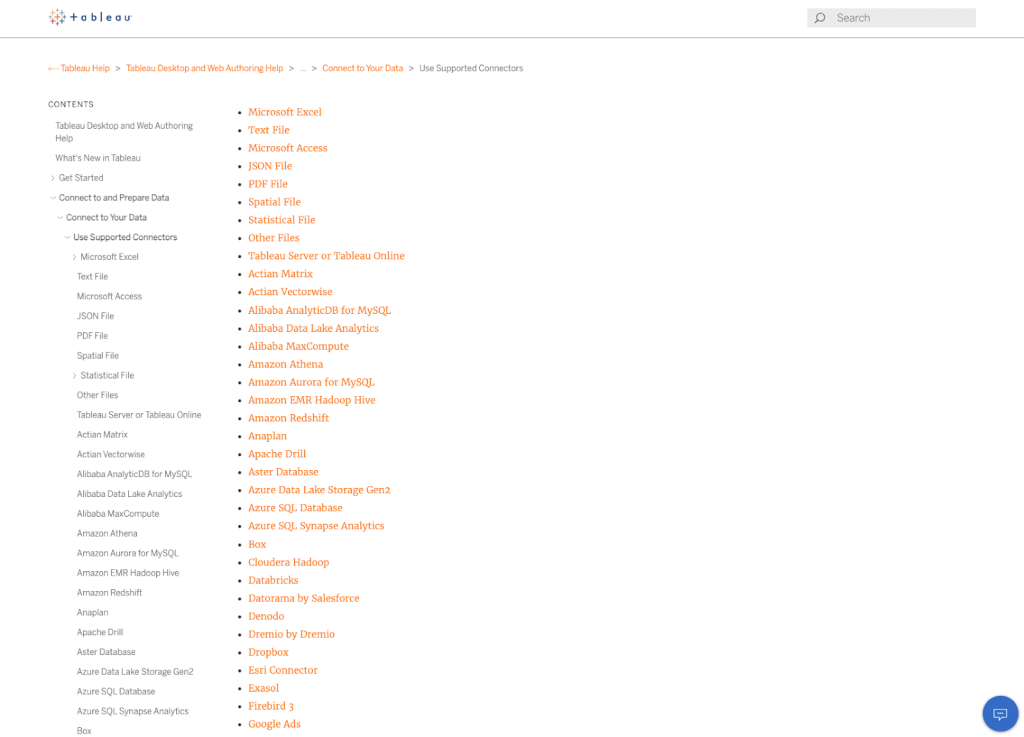 Both Data Studio and Tableau offer a wide range of data connectors. If you're missing some connections, you can use a tool like Supermetrics to help you move data from marketing and sales sources to Data Studio or Tableau. You can also automate data refreshes with Supermetrics.
Data blending
Data blending is when you merge data from various sources in a single dashboard to create visualizations. You can contrast and compare data from various sources using this feature.
Charts based on many data sources can be produced using the data blending feature of Data Studio, which is essentially a left outer join. Data from up to four separate sources can be combined as long as they have at least one join key or piece of shared information in common.
Each data source in the blend must share a collection of one or more join keys to unite the data. It's important to remember that this action only affects reports—your data sources dashboard won't display the results.
Initially, Data Studio featured the LEFT JOIN only, but now they have added four other joins: INNER JOIN, RIGHT (OUTER) JOIN, CROSS-JOIN, and FULL (OUTER) JOIN.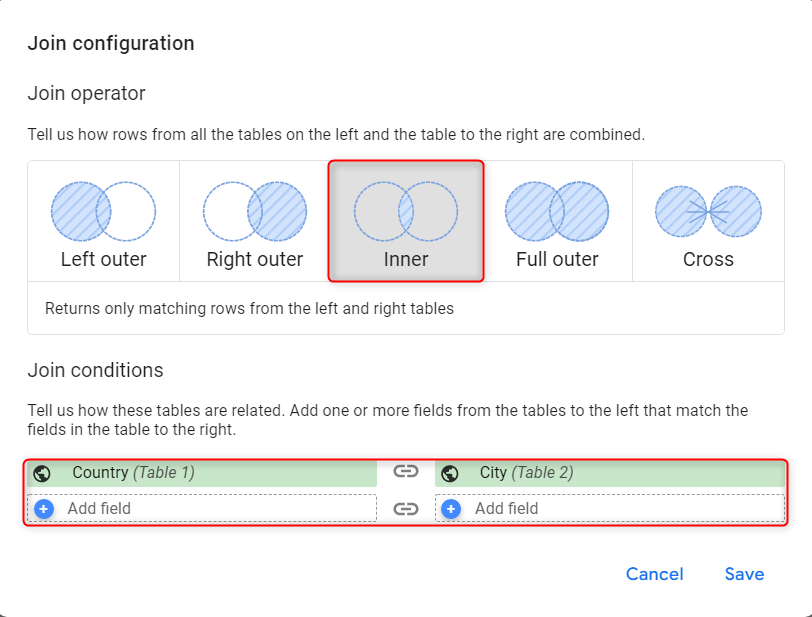 Tableau Prep is a tool that allows you to connect and visualize data from multiple sources. You can create a flowchart to visualize the steps in a process, the shape of your data, outliers or null values, and row-level detail.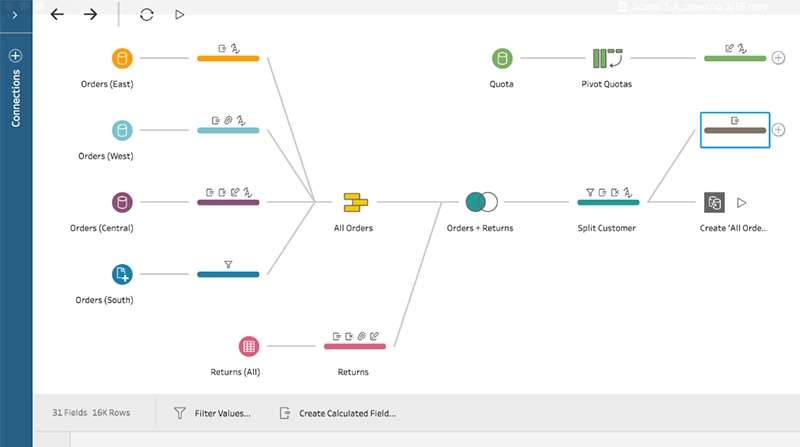 Data blending is more sophisticated in Tableau vs. Data Studio—it follows the following main ways for blending data.
Relationships
Relationships are the recommended approach and can be used in most circumstances. Relationships are flexible and can be tailored to the sheet-by-sheet organization of our data analysis. But, relationships between tables from data sources uploaded to Tableau Server or Tableau Online can't be created.
Joins
Joins combine tables by introducing additional data columns across related row structures. Before beginning the analysis, joined data sources must be rectified as they may result in data loss or duplications if the tables have different detail levels.
Unions
Union helps when you want to add more rows of data with the same column structure based on a matching column between the two tables.
Blends
Blends independently query each dataset and aggregate the outcomes to the appropriate levels. The outcomes are then shown in a view. Because of this, the blends approach can handle various detail levels and public data sources.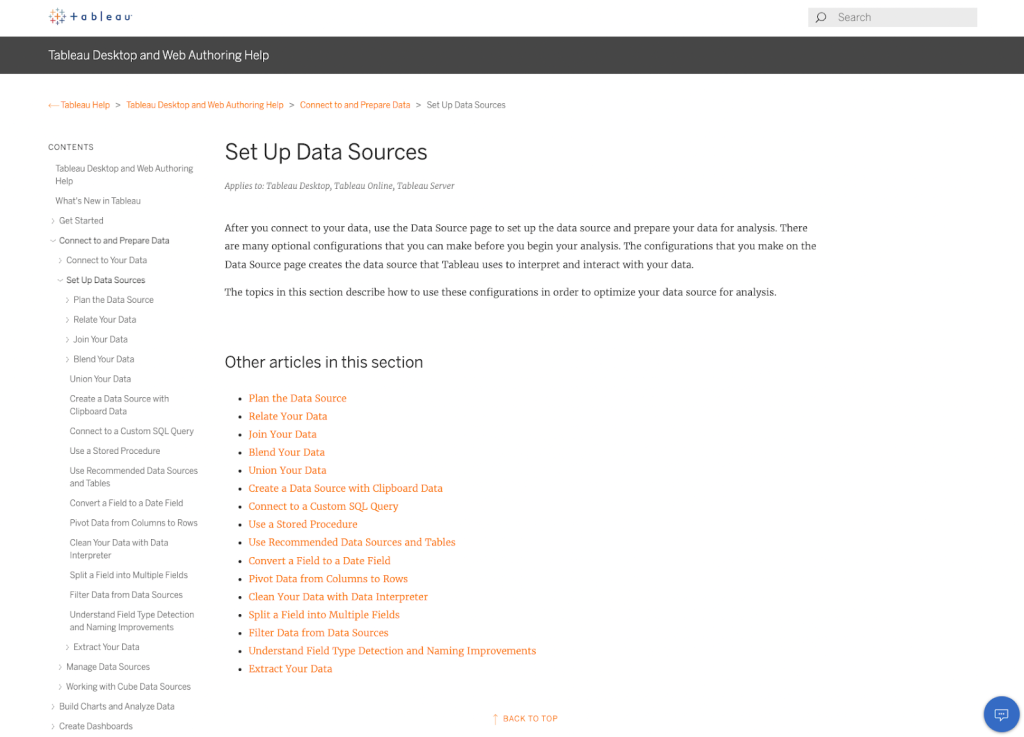 Custom fields
Custom fields or calculated fields are used for various cases like filtering out unwanted data, segmenting data, calculating ratios, converting the data type of a field, or even aggregating data.
With the tools Data Studio and Tableau, you can customize the fields and add calculations in the data source or just in the visualization required for your use case.
In Data Studio, you can use three types of manipulations to transform data—arithmetic, functions, and logic. While Tableau gives this on three different levels:
Basic expressions allow you to transform values or elements at the level of detail of the data source—a row-level calculation—or the level of detail of the visualization—an aggregate calculation.
Level of Detail (LOD) expressions compute values at the data source and visualization levels. The level of granularity you want to compute, though, is even more flexible with LOD expressions. They can be carried out at a more detailed level (INCLUDE), a less detailed level (EXCLUDE), or a completely autonomous level (FIXED).
Table calculations only let you change values at the level of the visualization's level of detail.
Learning curve
Data Studio is an easy-to-use tool that doesn't require complex software installations or registrations. Data Studio also supports a low level of complex functionality compared to Tableau, making it easier to start and work with, even for a layperson. Data Studio has a relatively simple learning curve, which can be an advantage for companies that want to set up short reports or dashboards without much technical knowledge.
The learning curve with Tableau is much more difficult than with Data Studio as it might require good training or a technical person on the team to unfold its full potential.
Tableau's interface is pretty straightforward, but it has many features and might be best suited for a trained analyst if you require a deeper analysis.
To support non-technical people with data analysis, Tableau offers the artificial intelligence feature 'Ask Data' and 'Explain Data' features where users can ask their queries and get simplified answers.
Overall, Tableau looks better suited to medium and large companies requiring high-level dashboards and reporting and a dedicated technical team to work on.
Advanced analytics
Predictive analytics
If you use Data Studio to analyze data, you won't be able to use predictive analytics methods like regression, time series analysis, or forecasting. This might be a big decision point for the companies that are more data-driven and have advanced use cases that might include forecasts and predictions.
Tableau offers a built-in data modeling solution that includes forecasting and trends, where you can instantly forecast data into any graph and look at it in more detail. This contrasts with Data Studio, which does not have these features.
For more advanced users, Tableau also has an R studio plugin. It allows you to move the data to R, where you can manipulate and create models via Tableau, and results can again be pulled back from R to Tableau.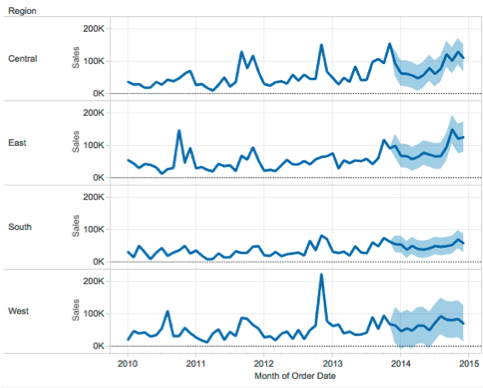 Supporting programming languages
Data Studio is a basic business intelligence tool—it does not support any programming languages like R or Python. If you want to use the more advanced features, you can connect Google Sheets to Data Studio and set Python to update it for smaller datasets. For larger datasets, you can use BigQuery similarly rather than Google Sheets.
On the other hand, Tableau supports languages like R and Python using integrations. You can use vast machine-learning libraries available with Python in Tableau just by using 'TabPy' API. If you're more familiar with R, you can integrate R using calculated fields and tap all the libraries, packages, functions, or even the saved data models.

Embedded analytics
With Tableau and Data Studio, you can embed a report to any website or application supporting the HTML iframe. This is a very easy-to-use feature and does not need knowledge of HTML.
In Data Studio, the embed report's link is automatically generated and can be updated in real-time as per the original dashboard. It's important to know that the embedded report is just a view-only version of the original dashboard.
To access this function in Tableau, you need to purchase it separately as it isn't included in the Tableau Creator plan. In terms of embedded reports, Tableau offers it using a set of APIs for integrations.
Data Studio vs. Tableau: Which one is best for you?
In summary, Google Data Studio and Tableau both produce strong visualizations through dashboards and other tools.
Data Studio is appropriate for marketing teams or agencies that need an affordable, easy-to-use yet powerful tool to automate their dashboard and client reports.
Additionally, it contains various data source connectors—mostly Google products—and if you can't find what you need, you can use third-party applications like Supermetrics. Data Studio only offers a small amount of data modeling and primarily calculated fields and does not allow predictive analytics.
In other words, if you primarily want to concentrate on creating straightforward, cost-effective, interactive dashboards, and simple modeling and operations are not necessary, Data Studio is for you.
On the other hand, Tableau is more complex and challenging for beginners to understand. It allows multiple layers of complicated data modeling and R and Python-based predictive analytics.
Tableau is a great choice for companies with the resources to invest in a robust business intelligence ecosystem. Tableau allows users to connect to multiple data sources and make complex correlations between datasets, making it ideal for deep analysis.
Similar to Data Studio, even for Tableau, you'll have to use the partner connectors to get data from outside the direct connectors. With Supermetrics API you can automate your data extraction to Tableau Prep Builder where you can perform complex data modeling tasks which usually require a data warehouse.
About the author
Isha is a Junior Demand Gen Manager at Supermetrics. Isha loves to uncover the meaning behind data and helps customers understand the importance of data-driven marketing.
Isha Shinde
About the author:
Meet Isha, a Junior Demand Gen Manager at Supermetrics, who loves decoding data mysteries and empowering customers with data-driven marketing insights.
Turn your marketing data into opportunity
We streamline your marketing data so you can focus on the insights.