Nov 29, 2021
The future of marketing measurement: How to win in a world of data
5-MINUTE READ | By Mikael Thuneberg
[ Updated Nov 6, 2023 ]
When I started my career as a research analyst in 2006, marketing was much easier than it is today. The industry was less crowded. Search opportunities in both organic and paid advertising were huge. Direct response ads were at their heyday. Marketers could track pretty much everything.
Probably, the hardest challenge was getting siloed marketing data into spreadsheets for analytics and reporting. And that's the reason I created Supermetrics in the first place — to help marketers like myself get all the data they want without the hassle.
Fast forward to today, measuring and consolidating marketing data are still big roadblocks for many companies. And honestly, the challenges will get even more complex as tracking becomes more difficult while you simultaneously accumulate more data.
In this post, I'll discuss more of the challenges of marketing measurement and how to overcome them.
If you prefer the same content in video format, check out this episode of the Marketing Analytics Show.
Three main challenges facing marketing measurement
1. The decline in trackability
Let's start with the death of third-party cookies.
Marketers used to be able to track the full customer journey from marketing activities to conversions. However, that's no longer the case. Big players like Google and Apple are banning third-party cookies.
As a result, it will be tough for marketers to create and reach the right audiences based on their online behavior on other websites or apps.
Additionally, evaluating and monitoring your marketing performance can also be a pain in the neck. Measuring models like multi-touch attribution (MTA) — which heavily relies only on clicks— will become unreliable and potentially obsolete.
2. The explosion of data
You're probably familiar with Scott Brinker's martech 5000 infographic, which illustrates marketing platforms and tools currently available on the market. It's probably closer to 10,000 now.
10,000.
Most companies accumulate more data than they can manage. More data also means more siloed data sitting across your tech stacks. Ironically, while the amount of data your business has is exponentially increasing, tracking is also becoming harder.
There's an ongoing battle to figure out the best way to deal with it all.
3. The rise in competition
Since almost everyone is doing online marketing nowadays, the competition is fierce.
In 2021, the average person comes across 6,000 to 10,000 ads every day. Consumers are drowning in the pool of choices, ads, and messaging. Marketers need to figure out a way to cut through the noise and stand out.
Finally, a crowded market means the cost of paid ads will increase all the time. It will be more difficult to get a good return on investment.
These three challenges lead us to the million-dollar question: How can companies prepare their marketing measurement strategies for what's coming their way?
Three steps to overcome the measurement challenges
Step 1: Grow your first-party data
First, you need to start growing your first-party data. Here's what it means.
Fill your CRM with quality data
CRMs are a cornerstone of your business. Any company that doesn't have a CRM needs to invest in one. The key here is to keep your CRM clean and relevant.
A great CRM is filled with quality data about your customers and prospects, not with garbage.
Create a central repository for your data
After you have a CRM in place, you want to think about bringing your data from different sources, including CRM, web analytics, paid ads, and martech tools, under one roof where you can quickly get the big picture of your marketing activities.
When you're just starting and don't have a lot of data yet, you can use spreadsheets like Google Sheets or Excel to store and analyze your data.
As your company grows, so does your data. At this point, you may think about graduating from spreadsheets to a data warehouse like Google BigQuery or Snowflake.
Rethink your ad spend
The next step is to re-evaluate your advertising budget depending on the results you're seeing. Although this may seem like a no-brainer to many, you're likely to miss opportunities here and there if you have a big budget.
Step 2: Future-proof your marketing stack for marketing mix modeling (MMM)
As you keep growing your first-party data, you'll also want to look into marketing mix modeling. Marketing mix modeling is a statistical approach that uses historical marketing and sales data to estimate future marketing activities' impact on revenue. 
Instead of depending on a weak chain of customer actions like multi-touch attribution, marketing mix modeling analyzes the relationship between marketing inputs and outcomes using statistical methods.
This way, marketers can better allocate resources between different marketing channels and tactics.
Even though marketing mix modeling is mainly a valid technique for larger advertisers with a sufficient budget, you can still prepare your marketing tech stack for this kind of analysis.
We see many companies moving into three tiers of marketing analytics stack, where each tier is one step closer to marketing mix modeling.
Tier 1: The basic marketing analytics stack
Marketers who are using spreadsheets like Google Sheets and Excel for reporting will eventually run into limitations. When your data accumulates exponentially —both new and historical data— spreadsheet tools will run out of their computing capabilities.
Additionally, blending this data across marketing channels and enriching it with non-marketing data in a spreadsheet.
To take the weight of your spreadsheets and make the most of your data, you can add a data warehouse to your stack. Your basic marketing analytics stack will look something like this.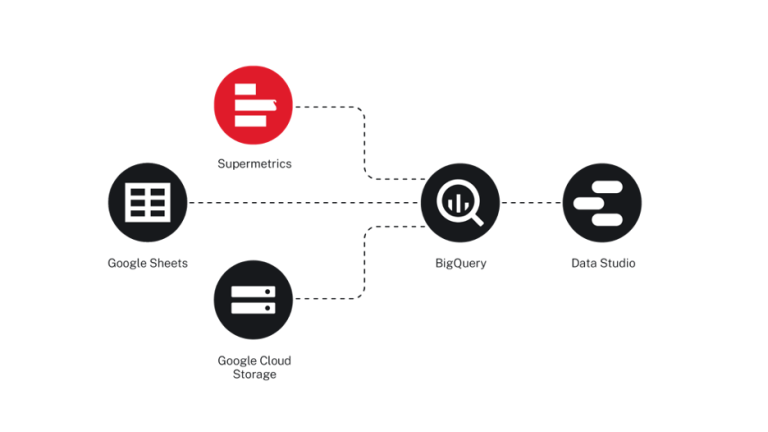 Essentially, you want to move all your data into a data warehouse. You can use a tool like Supermetrics to automate the data transfer. Ad-hoc data sources like Google Sheets or Google Cloud Storage can also easily be added as inputs to your BigQuery model.
On top of that, you can keep BI tools like Google Data Studio, Looker, or Power BI for reporting.
Tier 2: Separating reporting data from raw data
The basic marketing analytics stack can get you quite far if you're at the beginning of your data journey. However, as your business accumulates more data, you'll eventually realize that feeding data directly from sources to a data warehouse then straight into a BI tool isn't an optimal approach. If you're doing reports directly on top of the raw data, you're missing out on many opportunities there.
And that's where the Tier 2 stack comes in handy.
In Tier 2, you'll separate 'raw' data from 'reporting' data. You can do cleanups, transformations and enrich your data before feeding it to the reporting side. Typically, you'll want to use cron jobs to process data from the raw tables into reporting tables in this stack.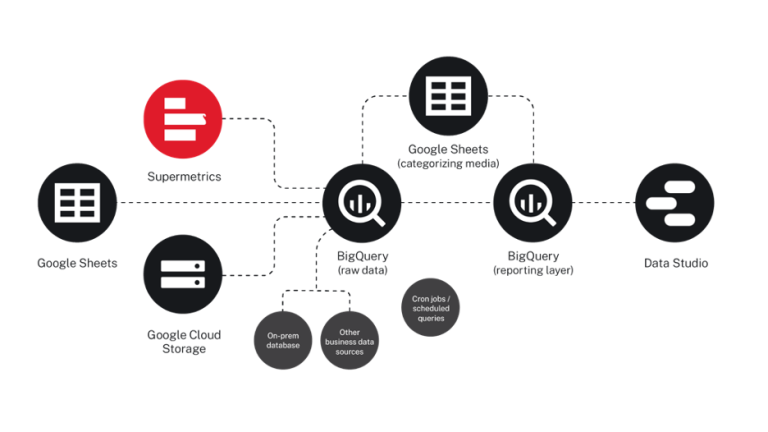 Many businesses can get really far with Tier 2. However, to maintain the data pipeline complexity, you need to depend on stellar documentation and human resources, which put tier 2 on shaky ground.
Tier 3: Future-proofing a Tier 2 marketing analytics stack
We see the most mature companies moving into or starting to have Tier 3. Fundamentally, there aren't many differences in the setup between the Tier 3 stack and the Tier 2 stack. The major difference here lies in four elements: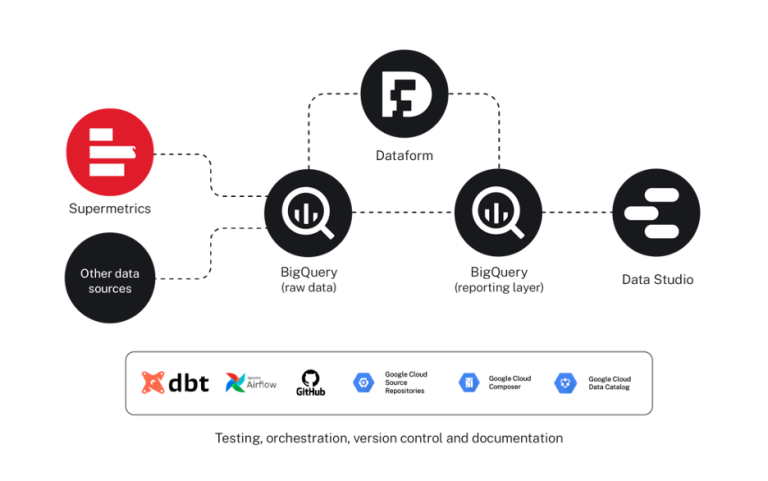 Step 3: Deliver contextual and personalized marketing using an operational data warehouse
Now comes the last piece of the puzzle. After having your data infrastructure up and running, it's time to deliver an exceptional experience to your customers.
One step further, you can have your marketing and ad data pushed back into your data warehouse. Then you can build out customer profiles and models using SQL. And finally, you can use that data to optimize your marketing activities and improve your messaging.
This is something only the top 1% of marketers have done so far. There's a high bar to enter. You'd need a sophisticated data team to pull it off.
But essentially, it'll help you understand the entire customer lifecycle and create personalized experiences for your customers.
Your turn
In conclusion, no matter what the future holds, you can stay ahead of the curve by building a solid data infrastructure. And that starts with:
Growing your first-party data.
Future-proofing your marketing analytics stack for marketing mix modeling.
Delivering personalized marketing using an operational analytics data warehouse.
If you're looking to automate your data transfer to a data warehouse, check out our 14-day free Supermetrics trial.
Turn your marketing data into opportunity
We streamline your marketing data so you can focus on the insights.