Why does it seem like the neighbors are having all the fun?
That's what working with marketing analytics often feels like. Finance, sales, and product all appear to have access to all the data they need with technology stacks that can churn out answers to their questions in seconds.
From their fully cloud-based set ups to beautiful dashboards in their BI tool of choice, it seems marketing is left trying to manually patch data together using outdated technology and on-premise databases.
The good news is that at Supermetrics, we think it's time to put an end to that.
We think marketers, analysts, and data teams deserve better. We think it's time to modernize the marketing analytics stack. We think you should have more power to get the exact data you need, when you need it.
That's why we're thrilled to announce our brand new product, Supermetrics for Snowflake.
For the first time, marketing, analytics, and data ops teams can work together on getting marketing data in and out of Snowflake. Free your marketing data from siloed platforms like Facebook, LinkedIn, and Google Ads and get it into a Snowflake cloud data warehouse.
If your organization is already using Snowflake, why should marketers be left out?
Why should marketers use Snowflake?
Most marketers will find themselves overwhelmed with the amount of data they have available. In fact, according to ClickZ research, 64% of marketers can analyze, at maximum, 40% of all of their customer data.
Spreadsheets run out of cell space fast and desktop processing power is limited. You might need something more scalable.
Snowflake has been adopted by many organizations worldwide, yet marketing departments are still left with old tools. Snowflake powered data warehouses offer all the storage and computing power you need to crunch marketing data.
Besides, getting data into Snowflake with Supermetrics connectors is easy; just a few clicks and you're done.
Snowflake isn't just a storage platform. It can also be used as a data source. Need to quickly pull cross-channel marketing and sales data into a spreadsheet? With Supermetrics for Google Sheets and Excel, you can pull data from your Snowflake instance and get crunching.
Want to build a Google Data Studio dashboard? Our native Data Studio connector helps you build up-to-date dashboards powered by Snowflake. Our export connectors aren't limited to marketing data, but you can pull any additional data you're storing in Snowflake to help you analyze and report on your performance.
Interested? Book a demo with our experts to learn more.
Why Supermetrics for Snowflake?
1. Automate data transfers
Siloed marketing and sales data is a billion dollar problem. As InformationWeek put it, you'll spend money on extra IT resources and gain a detached understanding of your customer's actions. After all, you can't reliably attribute revenue to specific marketing channels and tactics unless you understand the whole customer journey.
Transferring all of this data to a cloud data warehouse manually is labor-intensive and expensive. With Supermetrics for Snowflake it's easy. With our query manager, you can instantly set up transfers to your Snowflake instance and you don't have to worry about configuring transfers again. That's because once you've set them up, your data will automatically flow into Snowflake.
2. Take ownership of historical data
Instead of relying on your marketing platforms' data retention policies, you can use Supermetrics for Snowflake to take all historical data into your own hands. With a historical backfill function, you can expand your datasets to help you do historical benchmarking and quickly see how your current performance compares to past performance.
3. Build custom schemas
Do you have specific data needs or do you want to include certain tables in your analysis? With Supermetrics' custom schema builder, you can tell the connector which data to extract. Simply pick the metrics and dimensions you need, and Supermetrics will do the rest. Better yet, you can also reuse your schemas for other accounts, so you can extract the same metrics and dimensions from each source.
4. Analyze and visualize data with Google Data Studio
Storing data is only the first part of the puzzle. You can also visualize the data you store in Snowflake by using Supermetrics' custom-built Google Data Studio connector for Snowflake. Pull data from your Snowflake instance into Data Studio and use your cloud-powered data warehouse to crunch the data in your dashboards. No need for SQL scripting.
5. Reliable connectors
Supermetrics for Snowflake allows you to pull data from 50+ major marketing platforms. Our connectors pull normalized data and come with pre-built schemas to cover the most common use cases. With Supermetrics connectors, you don't have to worry about API changes. If anything changes in the source API, we make sure the connections are up-to-date and your data is flowing freely.
How to use Supermetrics for Snowflake

Supermetrics for Snowflake can be configured from the Supermetrics query manager. The query manager is an intuitive tool for handling your Snowflake transfers. You can easily connect all your data sources and select the data schemas you want to use. After you have connected these sources, you can set up transfers to your Snowflake instance from the transfer page. All this with just a few clicks.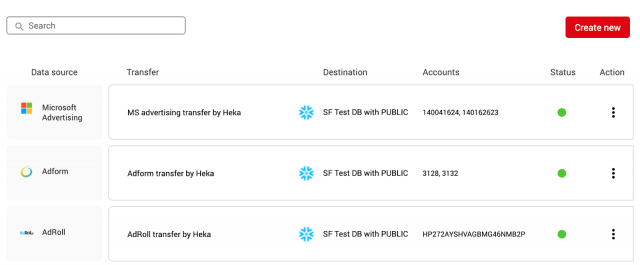 Not only does the query manager help you create Supermetrics for Snowflake transfers and connect marketing sources, it also helps you in troubleshooting any possible issues. With the query manager, you can easily see what is not working and pause your transfers. After you're done, you can simply restart the transfers without reconfiguring them.
Get started
If you'd like to see Supermetrics for Snowflake in action, book a demo with one of our experts.
And if you'd like to try it out on your own, start your free 14-day trial.
And remember, it shouldn't just be the neighbors who are having fun. It's time for marketing to crash the party. It's time to grow with data!
Turn your marketing data into opportunity
We streamline your marketing data so you can focus on the insights.